After we made it home, it continued to snow that night.  We were planning our trip to Missouri, but I had to plow the snow first.  Since the camper was already on the truck, I plowed snow with the camper loaded.  Otherwise I would have needed to unload the camper and put sandbags in the truck.  Why not just keep the camper on?  It's a lot of weight in the back of the truck.  So that's what I did.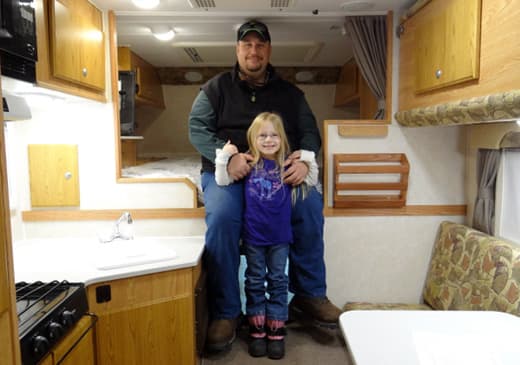 Above: Doug and Kate inside their Northstar Arrow
TCM: How does your daughter, Katie, like the camper?
Doug: One thing that's nice about homeschooling Katie is that she can come along with us.  She is in school wherever we go.  She officially starts school this year.
The Northstar Camper is her first camping experience.  We hope to use it to go to historical places.  Instead of just reading about historical places in books, which she will do, we can also go and visit them.  There's a bunch of Lewis and Clark stuff around here.  The truck camper will allow for a lot of learning experiences for her.  I learn by doing.  Kids tend to remember fun trips.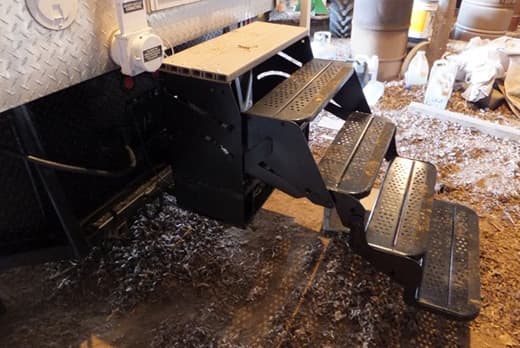 Above: The step system Doug added to his camper
TCM: Let's talk about your mods.  You entered three of them in our mod contest this year, but it looks like you have quite a few others.
Doug: I like to tinker.  For example, I added a step system to get into the camper.  I went online and bought four steps and a fifth on top. These steps are typically for fifth wheels.  I welded some risers and welded the receivers on the flatbed.  The flatbed is steel so I can weld anything on it.  It gives me endless possibilities compared to a box truck.  I wanted steps that were more stable for Katie getting in and out.
Above: Doug's barbeque mod. Click to enlarge.
My grill has two pivot points.  One is welded to bottom of flatbed and the other is on the passenger's side of the steps for stability while bouncing down the road.  When I want to use the grill it just swings out to the side.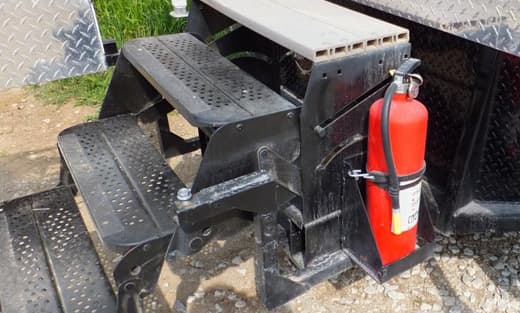 Above: The fire extinguisher Doug added to his camper
I added a fire extinguisher on my steps.  The local blacksmith had made a few extra brackets for our tractors so I used one of those.  I tend to be overly safe.  I put a big twenty pound fire extinguisher there.  It's bolted to the steps for easy removal down the road.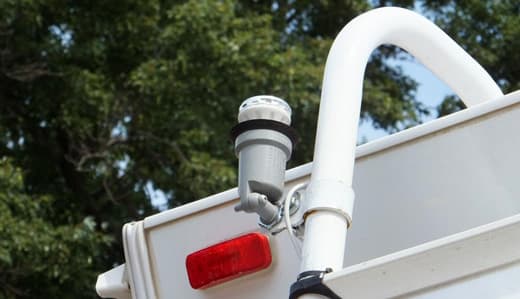 Above: Light added for the flag at night
I also got a light for our flag from the local hardware store.  Proper etiquette is important to me in respecting those who serve.  I keep a light on at night.  I spent four dollars on this mod.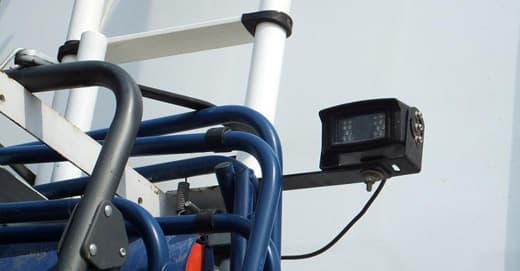 Above: Chair rack on ladder and backup camera