Doug Baughman tells us about his custom Northstar Arrow 8.5 flatbed, how he used it as a snowplow, his many mods, and plans for the Midwest Truck Camper Rally.

Every year it seems like we welcome another truck camper rally and, more importantly, a new truck camper rally organizer to our growing community.  This past August, long time Truck Camper Magazine reader, Doug Baughman, held the first annual Midwest Truck Camper Rally at Amana Colonies RV Park in Amana, Iowa.  By all accounts, the rally was a big success and Doug is already talking about next year's event.
Through our coordinations to promote and cover the Midwest Truck Camper Rally, we got to know a little more about Doug Baughman, his rig, and truck camping lifestyle.  It turns out he has quite an interesting and unique truck camper rig, which he continues to make more unique with an increasing number of modifications.  When we learned that Doug used his truck camper as a snowplow on the second day he owned it, we knew we had a story for TCM.
Meet Doug Baughman; farmer, family man, rally organizer, modder, and truck camper.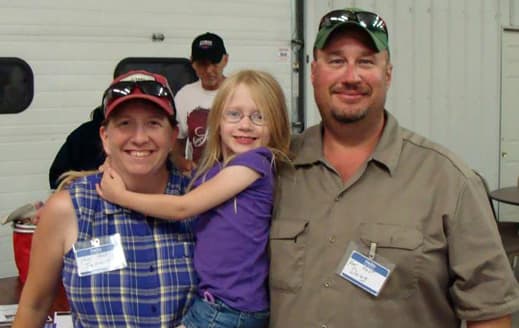 Above: Tammie, Katie, and Doug Baughman
TCM: How did you get started with truck camping?
Doug: When I was growing up, my family camped in a travel trailer maybe five weekends out of the year.  My wife didn't camp at all as a kid.
When we first got married, we bought a twenty-six foot travel trailer and camped with it for two or three years.  When our daughter, Katie, showed up we sold the travel trailer for expenses, plus there were things I didn't like about it.
A few years after Katie was born, we started thinking about a truck camper.  Farming, finances and an upset in our income made it so that we weren't able to buy until last Fall.  At one point, my farming experience and finances were upside down by seventy percent.  I lost a bunch of ground.  Now don't buy anything unless we have the cash to buy it.
Katie is six years old now.  I'll blink a few times and she's going to be sixteen.  Last year was a decent year for us, so we decided to upgrade our truck and buy a camper.  We looked at campers and found out that Northstars are built here in Iowa.  If we have any problems, we don't have to drive far.  We also liked the floorplan of the Arrow with the bench seat, so that's what we went with.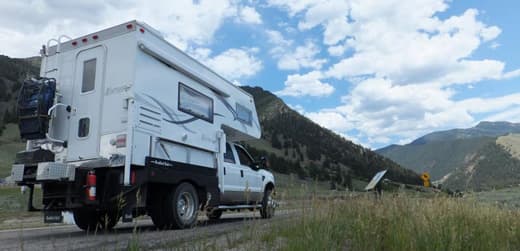 Above: The Northstar Arrow with storage boxes underneath
TCM: How did you come up with the idea for storage compartments under the wings of your camper?
Doug: I had a flatbed for farm use and was dreaming up a way to make storage boxes to store more stuff.  When I ordered my camper, I told Rex Willett of Northstar Campers about my idea.  He offered to help me put it together.  Northstar was already building campers that way for their pop-ups that go to Australia.  They were able to build the storage boxes, LED lights, rope lights, and speakers for less than I could build the storage boxes myself.
I didn't have the truck and bed at the time we ordered the camper, so Rex waited to make the storage boxes until I had my truck.  My flatbed has side gates that flip up and down.  They are about six inches tall.  There's a post that the gate holds up against.  That had to be cut out and lifted out for the door of the storage compartment to open. We had to make sure it would fit correctly.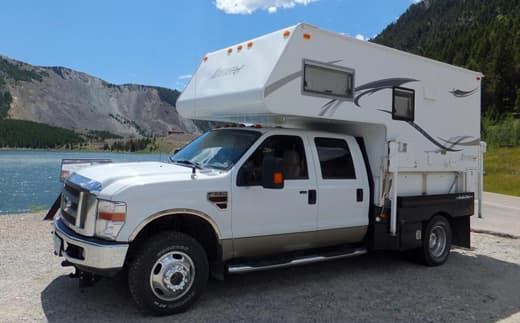 Above: South of Ennis, Montana
TCM: Did you have to special order your truck?