After serving in the US Army Special Forces, Troy O'Rourke has a new mission: gathering intelligence and deploying equipment to capture bass.  His Capri truck camper serves as transport and base.

If the experience of fishing was judged solely on the quantity and quality of fish caught, many fishermen would probably give up the sport.  Thankfully, fishing offers many wonderful life affirming moments that have nothing to do with the fish themselves.  Being near or on the water and sharing time with family and friends define the pastime as much as anything related to a rod and reel.  Of course, catching a big one doesn't hurt.
In Troy O'Rourke, we meet a US military veteran who has found a new career path from something he deeply enjoyed prior to deployment; fishing.  Now a professional bass fisherman, Troy travels the country in a Capri truck camper over 150 nights a year competing in fishing tournaments.  Once on site, he puts his 21-foot Legend bass boat in the water and gets to work.
Troy's mission has changed, but his focus and determination have not.  Look out bass.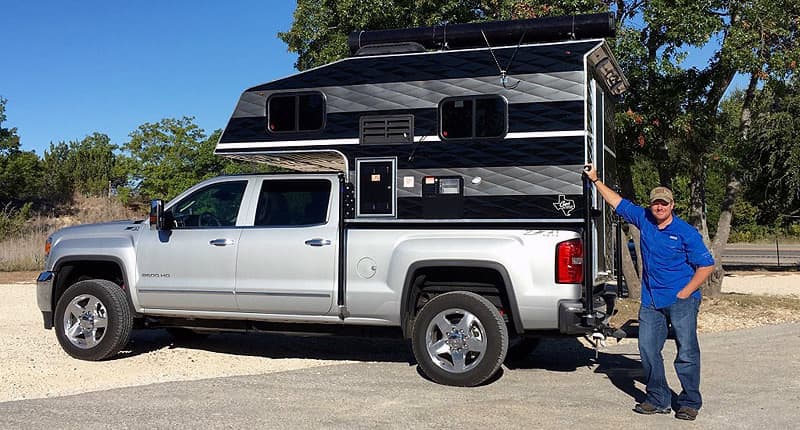 Above: Troy O'Rourke and his 2016 Capri Retreat
TCM: How did you first get into truck camping?
Troy: I've always enjoyed being in the outdoors and did a lot of tent camping as a kid.  When I got older, I purchased a tandem axle travel trailer and used it while competing in fishing tournaments.  For the tournaments, I had to either tandem tow with a bass boat or make separate trips for the bass boat and travel trailer.  That made things difficult.
As I progressed in competitively fishing bass tournaments all over the United States, I needed a camping system that was compact, safe, and light weight.  I also needed an affordable rig that would easily tow my bass boat and allow me to be comfortable for more than 150 nights of camping per year.  These requirements focused my choices to a truck camper.
I looked at every brand within a 200 mile radius.  During that search, I went to the Capri factory and met Pete D'Acosta, Owner of Capri Campers.
Capri is a small company, so they were able to customize a camper for me as a fisherman.  They built exactly what I needed.  I was even able to match the colors with my boat and truck.  It was extremely important to me that my entire rig was eye catching and really represents who I am as a professional bass angler and my previous career as a US Army Special Forces (Green Beret) soldier.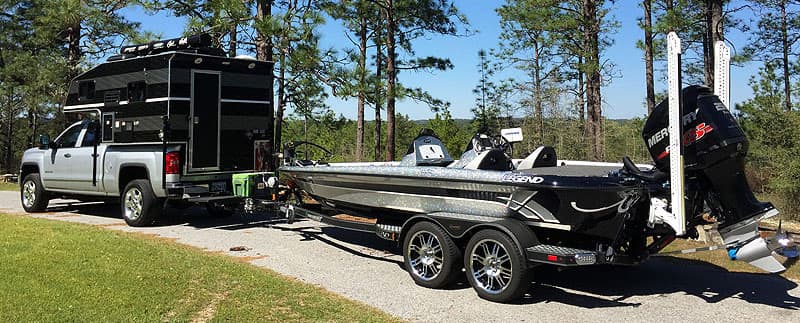 TCM: Thank you for your service to our country.  How does your service in the US Army influence your efforts as a professional bass fisherman?
Troy: My military career really shaped who I am in my everyday life.  It was a unique opportunity to transition from carrying everything I need for combat on me in a backpack and carrying everything I need for a bass tournament in my new kind of backpack, my ultimate fishing rig.
I like my equipment to match, look clean, and, most of all, be dependable.  From my generator on the front of my truck to the Mercury outboard on the tail end of my boat, I'm compact and can move from tournament to tournament the same as I did with my gear from mission to mission during combat.  Everything is functional and serves an important purpose to help win.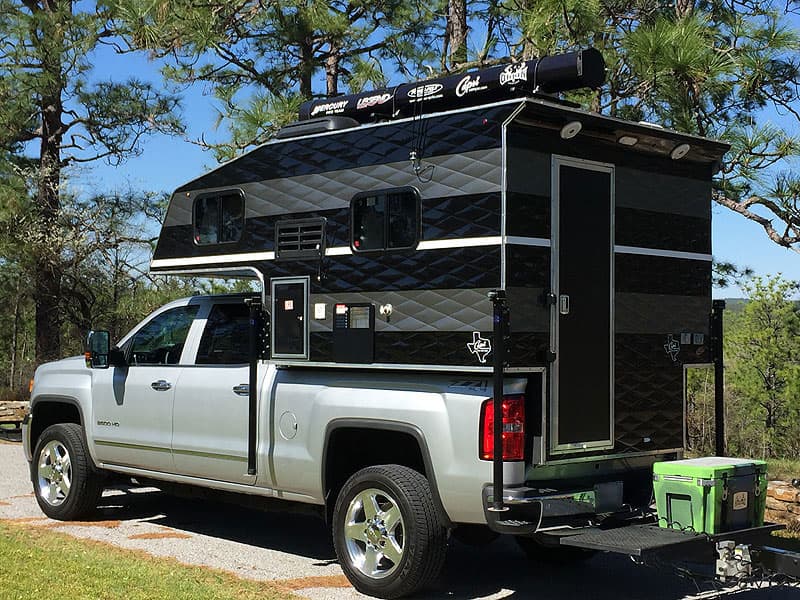 Above: Troy's Capri Retreat, a short bed model with a shower
TCM: With that kind of focus the fish and fellow fisherman had better look out.  Which Capri model did you get?
Troy: I ended up getting the Retreat short bed.  They were able to fit in a good-sized shower stall, a flat screen television, and a refrigerator.  I needed USB slots near the bed to do my mapping on my iPad.  It worked out really well.  I have everything I need to be able to do my homework before I go out on the lake.