Anyone who tows with a truck camper rig must see Roger Odahl's boat ramp solution.  And get your truck camping bucket list out.  Roger reveals his favorite destinations.

Gordon's great grandmother shared a funny story about sending her husband off to buy a dinner jacket for a party in the 1930s.  He disappeared for hours, finally returning without a dinner jacket.
"Joe Borden," she said sternly, "Where's your dinner jacket?"
He replied, "I didn't buy a dinner jacket, but I bought a boat!"
Gordon's great grandmother wasn't pleased at the time, but certainly laughed about it decades later.  Over a decade after her passing, we still laugh about that story.
Roger Odahl's story immediately reminded me of Gordon's great grandmother's story, and the now humorous stories that followed about their boat.  I say "now humorous" because I'm sure Roger's experiences, like Gordon's great grandparents, were not all funny at the time.
Owning anything complex, be it a truck, camper, or boat, isn't always roses.  It's a learning experience.  In fact, that's half the reason this magazine exists; so we can learn from one another's experiences, and share our sometimes common, and often unique stories.
Through this sharing we get to more of the good stuff and avoid more of the stories that are not funny now, and quite funny later.  Of course funny is the other half of what this magazine is about, so please keep having those experiences!
Thank you to Roger for sharing your ideas and recommending some destinations that are already on our truck camping bucket list.  For starters, a truck camper on the Bonneville Salt Flats must happen.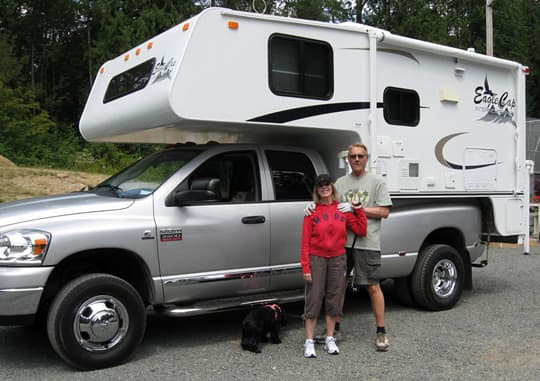 Above: Elaine and Roger Odahl picking up their Eagle Cap 950
TCM: How did you end up with a truck camper?
Roger: In the late 1990s, we rented a Class C motorhome and spent a week cruising Yellowstone National Park and Jackson Hole.  From that experience, we knew a RV was the way for us travel.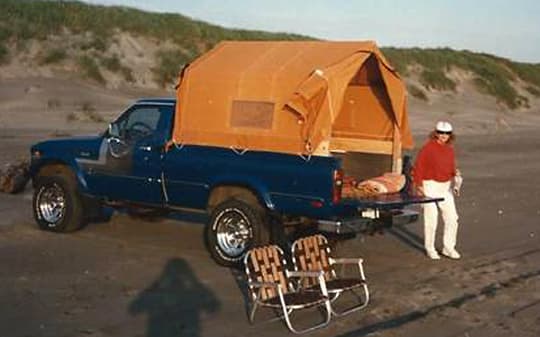 Above: Their Kwik Kamp Kanopy.  Roger had a GMC Sonoma which he added a lumber rack to the rear seven foot bed.  He designed a tent with an A-frame roof and a raised bed platform inside.  All their gear stored under the queen bed platform.
When I researched what type of RV we wanted, a slide-in camper looked more convenient and easier to maneuver.  Plus, the amenities available on modern truck campers would make our traveling much more comfortable.
Researching the different brands and floor plans we decided that a slide-out would be handy.  We also decided that a dual rear wheel truck was best, and we didn't want a camper that extended too far past the rear tailgate.
Right about then I found a 2004 Eagle Cap 950 on Craigslist three hours away.  The previous owner had purchased it new and only used it three times, never using the bath, shower, or oven.
On the way to look at it, I called a friend from Trailer Life to get his opinion on the Eagle Cap brand.  He was impressed with the Eagle Cap campers he had seen, and their build quality.  I was able to buy the camper for the price I wanted, making us happy campers.