For over twenty-five years, school teachers, Eckhart and Linda Franz have been exploring the back roads, waterways, and parks of North America.  And you thought the students had fun on summer break.

In May of 1972, Alice Cooper unleashed a hard rock anthem every kid knew by heart, "School's out for summer!"  Just thinking of that chorus is enough to make grown men shout, "Heck yeah!", run to their cars, and peel away with the windows down and stereo blasting.  There's nothing like the feeling of the last day of school.
What many of us didn't consider is how our teachers were thinking exactly the same thing.  The teachers may have kept their cool a little better, but they were no less excited to get out of school and start their summer vacations.  I'd like to think they waited until they were just out of sight of school grounds, and then peeled out, windows down, and stereo blasting.  See you next year kids!  Muh-ha-ha-ha!
Eckhart and Linda Franz are probably smiling ear to ear reading this introduction.  As teachers, they probably would only change one detail – the car.  Where their fellow educators were probably flooring it in Toyota Corollas, Honda Civics, and Ford Fiestas, they were heading for the mountains and lakes in their 2006 Chevy 3500 and 2005 Adventurer 90FWS truck camper.
Bye bye blackboard.  Hello boondocking!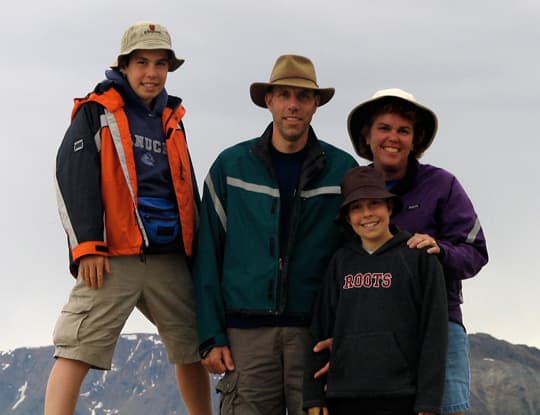 Above: Clayton, Eckhart, Linda and Tara
TCM: How were you first introduced to truck camping?
Eckhart: Both Linda and I had parents who owned truck campers while we were growing up.  My parents did an annual trip from Calgary, Alberta to Kaleden, British Columbia in a Chevy truck with an eight foot camper.  Linda's parents also had a Chevy truck, but with a nine foot camper.  They went on a variety of trips in British Columbia and into the United States.
When Linda and I first married, we camped in a tent.  In 1990, we decided to travel across Canada.  We bought a Toyota LE van and, with my father-in-law's help, built a frame in the van that we could sleep on and store our clothes, food, and cooking gear under.  The van worked great for our first extended camping adventure.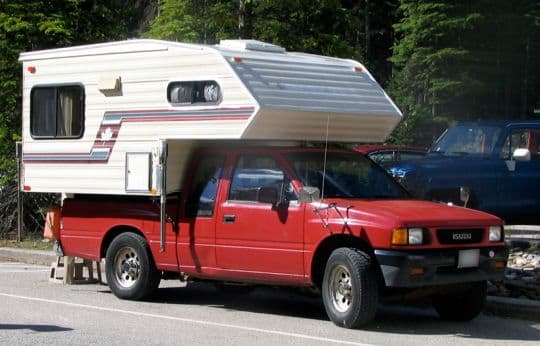 Above: Their 1992 Isuzu Space Cab pickup and 1990 Slumber Queen truck camper
Our son was born July of 1992 and, by the next spring, we had purchased a 1992 Isuzu Space Cab pickup and a 1972 Okanagan truck camper.  The camper had moisture damage and I had to reframe the overhang and do some other minor changes.  We used that camper for over ten years.
We then bought my in-law's Slumber Queen truck camper when they decided to stop camping.  In the ten years to that point, we did a lot of camping with them and explored many places in British Columbia camping mostly in provincial parks.  Both children loved camping and enjoyed having their grandparents with them.  Getting to sleep with their grandparents in their camper was a special treat.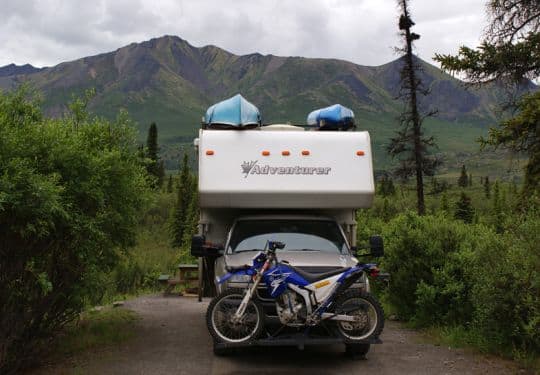 Above: The Franz's Adventurer 90FWS at Tombstone Mountain, Yukon
TCM: How did you end up getting an Adventurer 90FWS?
Eckhart: In 2006, we decided that we would like to take the family across Canada the following year.  We needed a larger truck as our fourteen year old, 6′, son no longer fit in the back of the Space Cab.  After checking a number of import trucks, we calculated that none of them had the payload capacity to carry our camper.  That's when we started looking into full-size trucks.
We ended up buying a 2006 Chevy Silverado 3500.  The deciding factor was that it had the more comfortable rear seats than Dodge and Ford.  I went for the diesel as I planned to own the vehicle for a long time.  I also went with the single rear wheel as we were starting to explore more back roads and did not want a dual rear wheel truck.