Charlotte: She takes care of the house.  It is safer to have someone we know taking care of it.  Then, when we're home, we can go inside to use the laundry.
Henry: Our biggest challenge of being on the road is our medications.  One of our family members is also retired military, so we have an agreement with the military hospital that he can pick medications up for us.  Our daughter in Alaska works for FedEx. He brings medications to her.  She gets our regular mail and medications, boxes them up and sends them to us.
Charlotte: Everything else can be done on the internet.


Above: Death Valley National Park, California

Henry: We have a Verizon MiFi mobile hotspot for internet access.  There hasn't been anywhere we haven't gotten it.  I can't say that about our AT&T cell phone, though.
TCM: We love Verizon's mobile internet service too.  We had a MiFi and now we use our iPhone as a MiFi device.  We haven't tested the iPhone on the road like we did the separate MiFi, but we'll be doing that soon enough.  Is there any state you haven't been to?
Henry: The northern New England states of Maine, New Hampshire, Vermont, and Rhode Island.  We'll go through some of them when we travel to Newfoundland.  We typically travel the northern route in the warmer weather and the southern route in colder weather.
Charlotte: Our main goal in the winter is to stay away from the cold and the snow.  Of course, we were in a blizzard a couple years ago in El Paso and this year in Tucson it snowed.
TCM: It's been a crazy year for weather.  What do you tow with your truck camper?
Henry: We tow two Yamaha Grizzly 450s equipped with winches.  We take our Yamahas all over Alaska into places you could not walk.  We enjoy trail riding, fishing and hunting.  During the winter, the Yamahas come with us to the lower forty-eight where we ride trails.

TCM: We saw your awesome rig all together with your ATVs when we had our towing article.  Where are some of your favorite places to go ATVing?
Henry: There's a trail in northern Wisconsin called the Tuscobia State Trail.  It's for ATVs in the summer and snowmobiles in the winter.  The trail is near Charlotte's aunt's house and it runs seventy-five miles.
Charlotte: It's an old railroad track from many years ago.  Now they groom it for ATVs and snowmobiles.
Henry: In Alaska we go ATVing anywhere we want.  In Arizona we ATV on the BLM land.  There are miles and miles of trails there.  We hit Quartzsite, Yuma, and a Marine Corp camp at Martinez Lake, which is off the Colorado River.
Charlotte: We also have two inflatable boats.  We have an eleven foot inflatable boat with an electric trolling motor that we take out on the lakes.  The bigger one we tow because it takes too much to inflate it on site.  The smaller one goes in our trailer.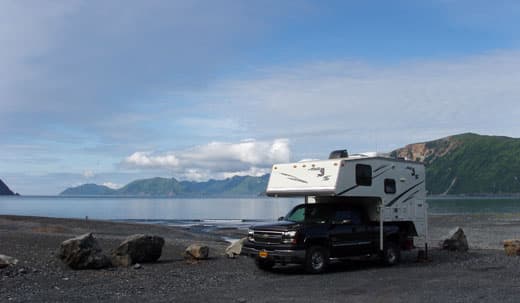 Above: Kodiak, Alaska
TCM: You live in Alaska and it sounds like you travel to the Lower Forty-Eight a lot.  What is the best route from the Lower Forty-Eight to Alaska and back?
Henry: Most people coming up from Lower Forty-Eight are pressed for time.  You need at least a three or four week vacation.  It will take you a week to get up and a week to get back.  If you are coming from the Midwest or the East Coast, go north up through Minot, North Dakota and up the Alaska Highway, and into Dawson Creek and Tok.
If you have lots of time and want to see beautiful scenery, the Cassiar Highway is much better.  That goes out of Bellingham, Washington and into the Yukon.  Then you would join the Alaska highway at Watson Lake and follow it  into Tok.  It uses some of the Alaska Highway, but not all.  It is a more narrow road.
If you are going to Alaska, one thing I always recommend is The Milepost.  Updated and published every year, The Milepost is a complete travel guide that gives you all the access routes to the Alaska highway.  It shows you all the gas stations, lodges, and campgrounds, mile by mile.  It's a must.