Henry and Charlotte travel Alaska and the Lower Forty-Eight every year visiting friends and family, ATVing, boating, and fishing, from coast-to-coast.  Want to know the best Alaska route?

The idea of one day living full-time in a truck camper is a recurring topic at Truck Camper Magazine.  We are fascinated with the daring notion that you can sell your house and live on the road.  It's not against the law.  It's not even that difficult now that you can do so many things over the internet.  Maybe someday we'll take that leap.
Until then, we really enjoy having a permanent home base.  Even when we're on the road, there's something reassuring about having a house to return to.  It's almost impossible to imagine what it would feel like to be on the road without a house to anchor the beginning and end of our adventure.  Perhaps it would be liberating.
The story of Henry Huizenga and Charlotte Webb brought this intriguing topic up for us once again as their lifestyle threads the, "full-time-or-not" needle in a way we've never quite seen before.  For one, they have two trucks, a truck camper, a fifth wheel, and a house in Alaska.  For two, they spend almost all of their time either in the truck camper or fifth wheel, even when they are home in Alaska.
Believe it or not, this isn't the first time we've encountered folks who stay in their campers when they're home.  It seems odd, but they explain that they are more comfortable in their campers than in their house.  There is a certain coziness and fun to living in a truck camper that is unequaled in our experience.
By example, Henry and Charlotte have presented us a new possibility; living full-time in a truck camper while still owning your house.  They let their daughter stay in theirs, but to take this concept one step further, why not rent your house for a year, allowing it generate income for your travels, after which you can decide if full-time truck camping is right for you?  With all of the potential complexities of renting, we're not sure we like that idea, but it's certainly interesting.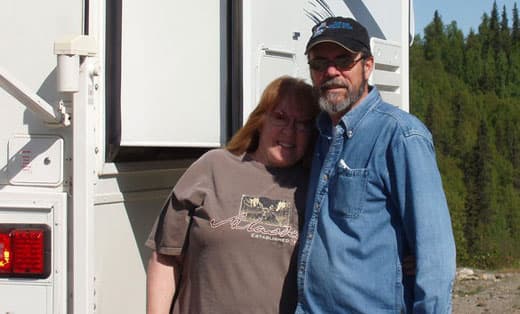 Above: Henry and Charlotte with their 2004 Arctic Fox 860
TCM: How did you get into truck camping?
Henry: I blame getting a truck camper on Charlotte.
Charlotte: When we got married he had a Toyota and a motorhome and I had a Buick.  We traveled in his motorhome, but I said that I'd prefer a Chevy truck and a truck camper.
That prompted Henry to look on Craigslist where he found a camper that had been used once by their grandkids and the truck had less than 20,000 miles on it.  He said, "Someone was listening to you".  It was a heck of a deal and the rig was in Kenai, which is a couple hundred miles from where we live.  We bought it that day and brought it home.
We kept our motorhome, but when we went out in the motorhome Henry always complained about the traffic.  I would say, "Can't we go out in the truck camper?"  He'd say, "No, no it's too small".  I'd keep saying, "Let's use the truck camper".
Finally he relented and said, "Okay".  The next two years we were traveling in the truck camper.  Right now we have two rigs.
Henry: Now we have two trucks, a truck camper, and a fifth wheel.  I have both trucks configured to pull the fifth wheel, but only the Chevy for the camper.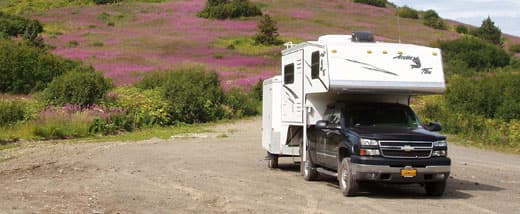 Above: Fireweed in Alaska
TCM: When do you use the fifth wheel and when do you use the truck camper?
Henry: We generally use the truck camper in Alaska.  Next year we are thinking about traveling to Newfoundland.  We will probably take the truck camper on that trip because of the ferry.  It's cheaper to take a truck camper on a ferry because they charge by the foot.