Larry Bowman, Jeff and Bobbi Buck, John and Carol Small, and Kathleen Metcalf share their custom Phoenix Camper builds, and the equally unique truck camping adventures that followed.

About a month ago we had a conversation with Cari and Robby Rowe, Co-Owners of Phoenix Campers, in which they described a few of the custom campers that had left their manufacturing facility in 2012.
"Most folks don't understand what we do at Phoenix Campers," stated Robby.  "There's no production line here.  100% of everything we do is custom; from the floor plans, to the aluminum framing, to the cabinetry.  We give our customers exactly what they want, without compromise.  You don't have to settle for what's available.  If you can dream it up, we can build it.  Challenge us."
It was this last statement that caught our attention.  Since he asked, we challenged Robby to give us the names of some of their recent customers so we could hear their custom Phoenix Camper stories.  It's one thing to say you can build 100% custom campers, it's another to actually pull it off.
Without a pause, Cari and Robby gave us the 411 on a few customers and Angela emailed them that afternoon.  Their customers responded with pictures and stories of their experiences with Phoenix Campers, and their custom campers.
Kathleen Metcalf: 2012 Phoenix 6-Foot Custom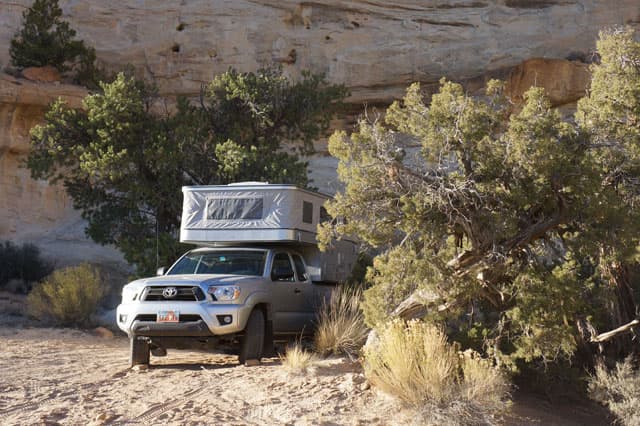 Based in Park City, Utah, my first criteria for selecting a camper was to have a lightweight, four-wheel drive rig to travel off-road in southern Utah for remote hiking and canyoneering.
Although I now appreciate the comfort and convenience of a camper, I don't want to miss the night sky and sunrise.  One of the main reasons I chose a Phoenix Camper was their pop-up mechanism allows for windows on all four sides, especially desirable in the cabover sleeping area.  Since the cabover sleeping area has a very low ceiling, I had Phoenix place a skylight there allowing me to lay in bed and look at the stars.
Prior to purchasing my camper, I did extensive research online.  I determined that working with Phoenix Campers would provide me with the custom options I wanted.  I went to the factory in Denver and liked what I saw, and started to map out my initial design with Robby.
Cari and Robby told me that every Phoenix Camper is custom built, and encouraged me to tell them exactly what I wanted.  I requested delivery of the completed camper in six months, so during that time, my design evolved as I got a better idea of what I wanted.  For ideas, I reviewed photos of sailboat designs, previous Phoenix Campers, and many other campers.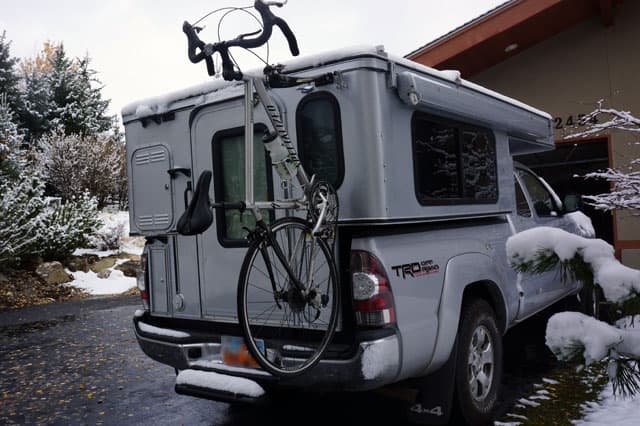 Two ideas I got during that time include rear bike blockheads and small marine transom steps in lieu of a larger rear ladder.
Phoenix accommodated my request for the healthiest camper possible by using water-based glue, substituting less-toxic materials when possible, and airing some materials outdoors, accelerating any possible outgassing.  Also, I installed linoleum flooring made with natural materials (without the plasticizing chemicals of vinyl flooring).  Sleeping in the small enclosed space of my camper, I wanted to minimize the potential negative health impact of indoor air pollution caused by the outgassing from the adhesives and materials.  I didn't want to be traveling in my camper and wake up with a headache!
I also have extra storage cabinets above seating area and extra drawers in the cabinets.  The seating in the dinette was made deeper for more storage.  It's a custom design of a seat extension so that the seating area converts to sleep two.
I provided Phoenix with the drawer pulls and switches that I wanted as well as upholstery and curtain fabric.  I wanted extra windows in my pop-up canvas and exit skylight over sleeping area.  I also have a convertible sink/stove combination with a glass cover.  On the exterior of the camper I have marine steps which have a lower profile than a ladder and Yakima bike forks.
Phoenix made the process of creating the customized camper that I wanted a great success.  Robby was very accommodating as I made changes, and offered his ideas as well.  Cari ordered the specific upholstery fabric, flooring, and cabinet hardware that I had shopped for online.  I returned to the factory at the beginning of production to finalize the design.  By that time I had a good long-distance working relationship with them.
It has been a great first season with the new camper.  We picked up the new camper in March, and made a couple of spring desert canyoneering trips to the San Rafael Swell.  This is open, beautiful desert country with vast mountain vistas, and twisting narrow canyons.  I immediately appreciated this new style of travel with the convenience and comfort of the outside shower, kitchen, and foregoing the schlepping of gear to set up camp and tents.
In July, we traveled to the Sawtooth mountains in Idaho to hike and enjoy a gathering of friends.  From a campsite near Red Fish Lake we had spectacular views of the jagged Sawtooth peaks and surrounding lakes and forests.  As women traveling, we appreciated feeling more comfortable in the camper.  The comfortable shelter of the camper was also great, as we weathered some torrential downpours.