At 9:30pm a sheriff's car was at Jim and Cindi Goodrich's home telling them to evacuate an approaching wildfire.  By 10:07pm they were on the road in their truck and camper.  Their house was set to sell just a few days later.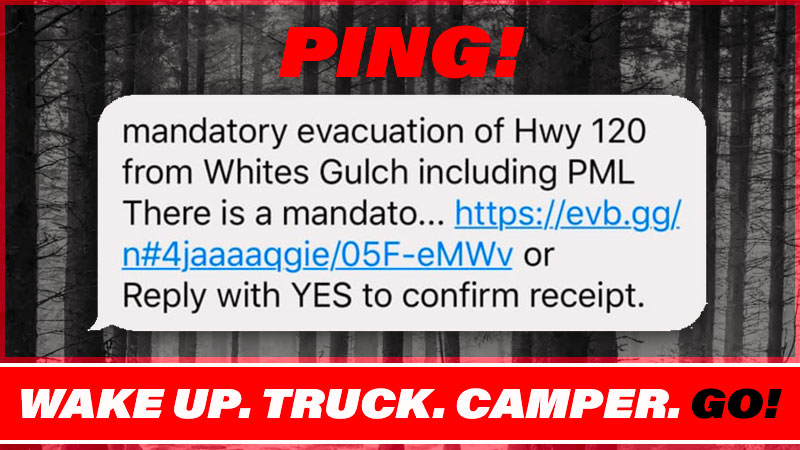 Living in an area that's prone to natural disasters can lead to complacency.  None of us can live on the edge all the time, so we relax.  That's okay as long as we are prepared and pay attention to official warnings.  Have a disaster kit ready.  Have vital paperwork together for quick retrieval.  And for many of us, have a truck and camper standing by, and a plan on where you can go.
When Jim and Cindi Goodrich got a text from the sheriff's office to evacuate a nearby wildfire, they were ready.  They had everything they needed packed in their camper, and several possible routes to escape.  Their prepared truck camper wasn't just their family emergency vehicle, but also their plan and peace of mind.
From his experience managing the local fire department, Jim shares some valuable advice for anyone who lives in an area susceptible to wildfires.  He also has some insights into what can be done for forest management to prevent the fires from becoming the horrific tragedies we've all seen on television.
There have been too many terrible fires in The West this year. Which one threatened your community?
Cindi: The fire that approached us was called the Moccasin Fire. The fire got within three miles of our community and there were only so many ways to get out. A lot of the ways to evacuate were already impeded by the fire. We had to evacuate because the roads were about to be blocked.
Jim: Groveland is in the Sierra foothills at 3,000 feet about 25-miles west of the northern entrance into Yosemite National Park. There are essentially two ways in and out of our community. The fire started at 1,200 to 1,500-feet elevation and started moving west to east up the mountain towards our community.
Initially, the fire spread quickly. Fire officials were worried about us not having a way out, so we took a backroad to escape. The next day the road had been blocked off, so we got out in time.
Were there any signs of the fire from your house?
Jim: Actually, no. We were not seeing a lot of smoke at the time we were told we might need to evacuate. The wind was blowing south and west, and the fire was a little south of us coming east. We didn't smell anything and didn't realize there was danger.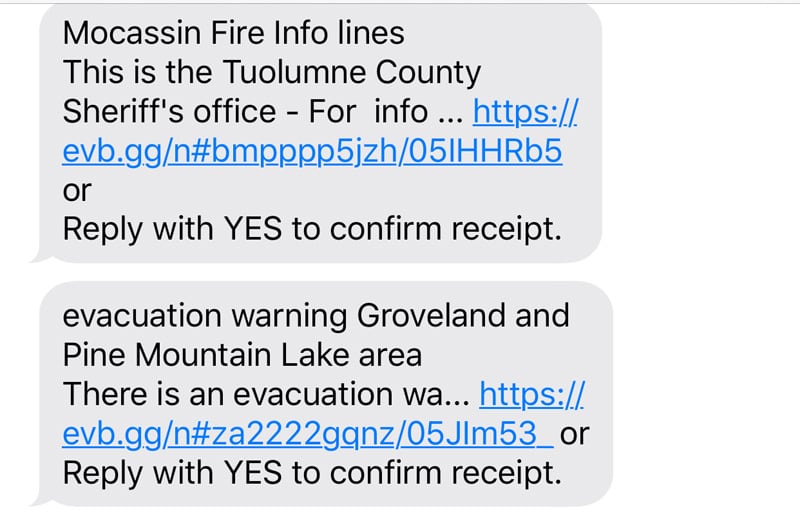 Were you able to take important things before you left?
Cindi: When we got the first text about a possible evacuation, we put important paperwork in my car. Any important paperwork that is hard to replace should go with you including marriage licenses, birth certificates and deeds.
It's important to have all of that ready ahead of time. Fortunately, that was all together since we were packing up our house to move.
Jim: We were able to pick up a banker's box and just move it. I recommend that everyone has a file with all their important documents that they can quickly grab.
I had digitized a lot of photos so I also packed my computer and drives. Plus we distributed our photos out to our kids, so they have copies. Also, have all your prescriptions together.
I was the manager of the fire department, so another important detail is to take your ammunition with you. If a firefighter has to engage your house, he/she doesn't want to get shot by exploding ammunition.
That's a very good point. Was your truck and camper ready to go?
Jim: Our truck was actually in for service that day preparing for our cross-country trip. Unfortunately, the shop was within one mile of the fire and was closed with the truck locked inside. When we got the possibility of an evacuation notice, I called the shop's owner at home. By late afternoon our camper was on our truck.
Cindi: We were still under warning at that point, so we decided to load our food from the freezer in our house into our camper. Anything that couldn't fit in the camper's freezer was put into an ice chest.
Then I got our clothes out of the closet and put them in the camper. We continued to be under a warning so we decided to have dinner and relax. We thought we would be good for the night. 

Jim: Then, we got a text from the sheriff's department to evacuate. That was around 9:20pm. By 9:30pm a sheriff's car was at our house telling us to get out right away.
We were ready to go. We got our dog and her food, and knew we could go shopping once we got somewhere safe if we needed more supplies.
By 10:07pm we were on the road.
Where did you go?
Jim: I took Highway 49 which runs north and south through gold country. The sheriff's department told us that the Mariposa Fairgrounds, 45-miles south of us, was an evacuation center. Sonora was closer, but I thought the road was blocked and that was north and west of us. We headed south and went to Mariposa.
It was pitch black in the mountains. There were no lights, and after packing all day, I was really tired. Twisty roads are not fun at night. Cindi was following me in her car.
If I had to, I knew we could pull over and we could stay the night somewhere. With our camper, we have a bathroom and a bed. Our pantry, freezer, and refrigerator were full of food. We had everything we needed to live comfortably. Having the camper gave us peace of mind. It would have been more stressful in our two SUVs.
Cindi: We got to the county fairgrounds at midnight. It took us that long to go 45-miles. We went through until we saw some other RVs. They had water and electric, so we pulled into a vacant spot and set up camp. We'd figure out what to do in the morning.
All of this happened in the middle of Covid. I would not feel comfortable staying in a hotel not knowing how well the rooms were cleaned. They can't really clean a mattress every day. We had comfort in our own germs. With our camper, we didn't have to worry about who else has been inside it.
In the morning, the Red Cross and Salvation Army came by and offered us breakfast and said that they would be covering the cost of the campsite as long as we were there. That day we found out that anyone from our area who did not have an RV received vouchers for motels in the area. They stayed in a nearby motel for free.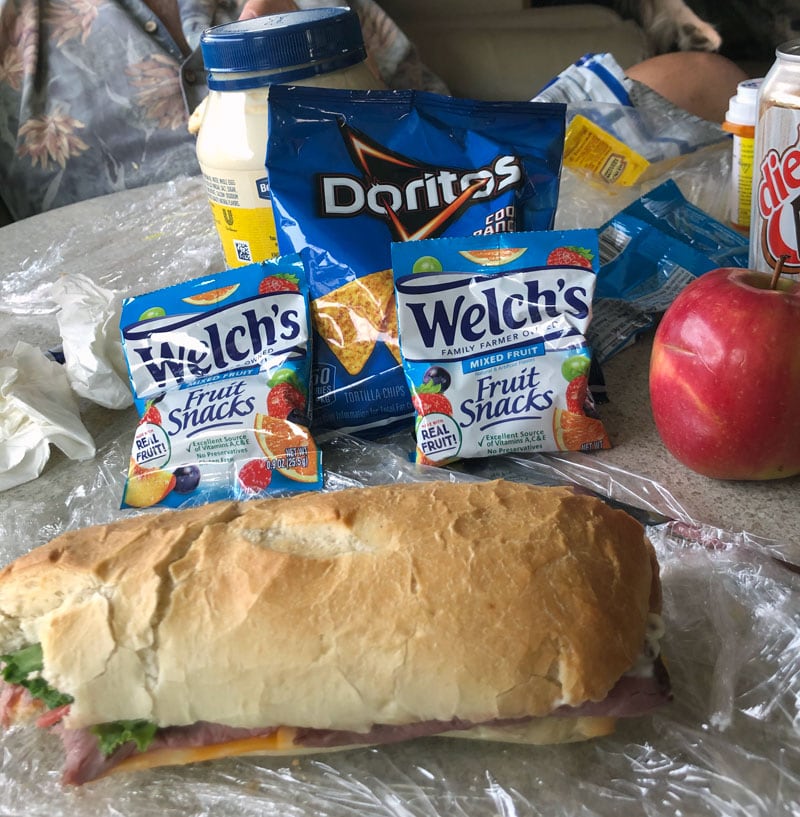 Jim: The Red Cross provided breakfast, lunch, dinner and snacks for free, delivered directly to our camper. They are going to get a generous donation from us this year.
Cindi: They also had dog food, leashes, poop bags, bottled water and anything you can think of for us to survive. There was a nurse there who asked about medical problems and if we needed prescriptions.
We had a fabulous experience. Unfortunately, friends of ours who went to Sonora didn't do as well. They had to pay and they did not get free meals. It was crowded there and they were closer to the smoke. We didn't have any smoke in our location. We were very lucky.
Was this your first time evacuating from a fire?
Jim: The Rim fire in 2013 was a huge fire. It was the biggest in California that year. For that fire, we evacuated west to a friend's house. We were initially headed to their house this time, but the road was blocked, so we went to Mariposa.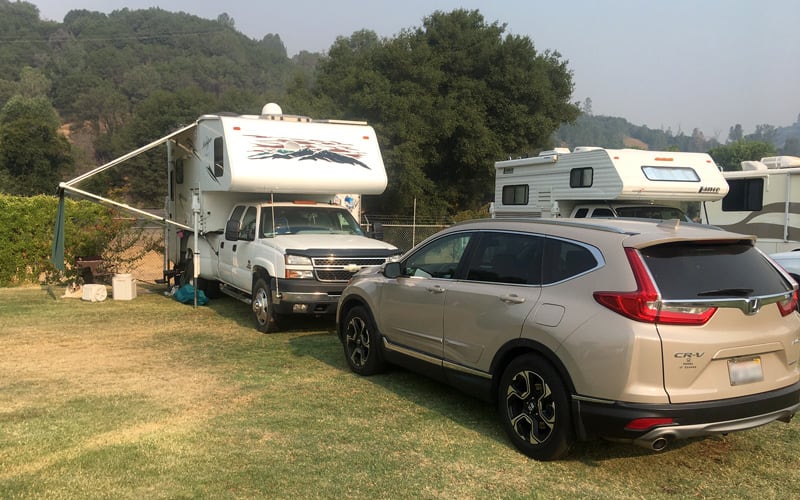 You must have been very concerned about your house.
Jim: I wasn't concerned about the house because it was insured and we had most of our important things with us.
Cindi: We hung out in the camper and read books on our iPads. For the most part, we were not that worried. Houses are material possessions and we were safe.
Jim: There were a dozen other RVers in the fairgrounds who were in similar situations. Some were people that we knew. We did sit and chat with them.
We also were on Facebook with a lot of friends to see how others were doing and texting neighbors at the hotels. We were all checking up on each other.
The days we were at the fairgrounds it was pushing 100-degrees, so we stayed inside our air conditioned camper during the day.
Tell us about how you were able to monitor your house while you were gone.
Jim: I have a Ring doorbell system on my house. As long as we have power and internet we can use it. With the Ring I could see outside the house and into the front yard from my phone. Unfortunately, the electricity was off when we left on Thursday and did not return until Sunday afternoon.
I also installed a camera inside the house and panned that camera. I left a ceiling fan on so that air was circulating. If the fan was moving, I also knew we had electricity.
With the Ring system, I could keep an eye on things. I knew people weren't coming to my front door because it has a motion detector. It's even captured mountain lions and deer.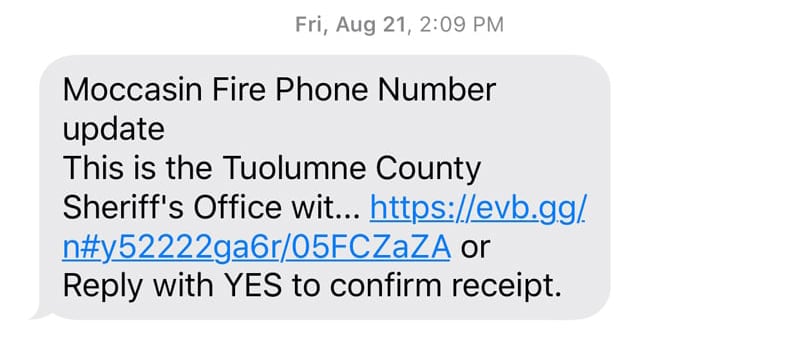 That's fantastic. How long were you away from your house?
Cindi: We arrived at the fairground around midnight on Thursday into Friday. We got back to our house on Tuesday. The firefighters had the fire contained at 2,800 acres. Luckily, it didn't spread. Our whole community was safe.

Jim: On our way back, there was smoke in the air, but we couldn't tell where it was coming from. It was actually more of a haze than smoke.
Years ago, the fire department and community built a fire line all around the community. It's a band that's 100-yards wide that was de-brushed. Unless there was a really bad wind storm, the fire would not be able to proceed because of that 100-yard band.
That was good planning. After the fire, did your buyers still purchase the house?
Cindi: Our house was supposed to close on September 2nd but, because of the fire, it was delayed until September 11th.
Jim: The loan and fire insurance wouldn't go through until the fire was 90-percent contained. At the time of the fire, our house was in escrow with only a week until closing. The timing was not exactly ideal.
The week after the fire was maddening and insane. We were way behind schedule with our packing. I put out a call to the Rotary Club and church asking if anyone could come help. We had two to three people a day helping us at all times. The community turned out for us. That's small town living.
Cindi: Before the fire, we tried not to pack some things because we were going to need them. Then we came back and someone had packed them. Things got separated, but we got everything figured out.
It might seem odd to some readers to knowingly move to a place that has a seemingly significant fire risk. Did the new buyers show any concerns?
Jim: They had fires where they lived in the Bay area. They felt they were unsafe there because there were many Covid cases there. There have only been 227 Covid cases in our county, and three deaths. For the new buyers, our home and town was a safe haven from the virus.
Here they were trying to get out of a metro area to escape Covid, and the home they're buying is threatened by wildfires. Welcome to 2020. Would de-brushing areas near neighborhoods help to control the fires?
Jim: From my fire department experience, I see two areas of concern. For the individual, it's the brush and trees on your property. You need those to be at least 30-feet from your house. There should not be any big shrubs next to your house. Trim your trees, and make sure the limbs are cut back. We call that defensible space. Do that for at least 100-feet if you can.
Cindi: In our community, the HOA went around and wrote up what you needed to do to clear your property. Most of the properties are well maintained for fire prevention.
Jim: Where we lived they just started to have forest management. Part of the timber harvesting arrangement is that the harvester has to maintain the property after harvesting to keep the underbrush clear.
If a forest is not managed, the brush causes the fires to ladder the trees and the fire goes up to the tree top. That's how the fire consumes the forests in minutes. If there is no brush on ground, it can't go up the trees as easily.
The national parks started conducting controlled fires after the big fire two decades ago in Yellowstone. Yellowstone, Yosemite, Glacier, Redwoods and several other National Parks also have controlled fires, but the U.S. Forest Service has held back because of their income from the timber industry. It's a disaster waiting to happen.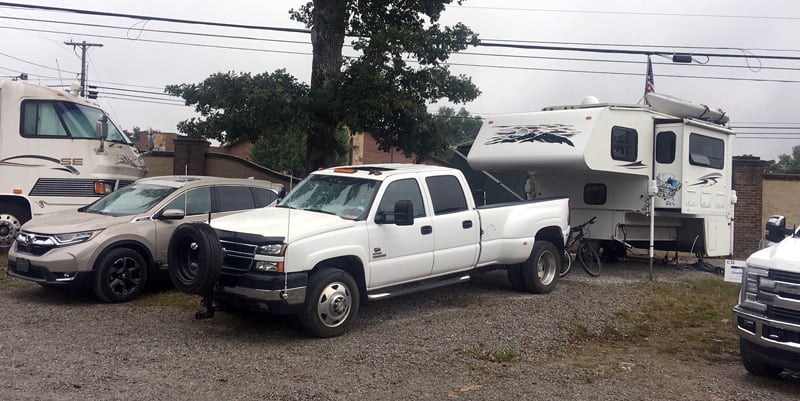 Since you sold your house, you have moved away from California and are now living in your camper. What's your plan?
Cindi: We found a community in Crossville, Tennessee called Gardens RV Village. The whole community is built around people who RV. In order to live here, you have to have a fully enclosed RV garage attached to your house. It's an established community that's RV minded. We found them and bought the land last summer.
Jim: We couldn't start building until our California home was sold. Right now, we don't have a home to move into. We had two choices; live in the camper or rent a place.
Our camper is our home for the next several months. We are used to living in our camper three to six-months at a time when we travel. At the turn of century we lived for two-years in a sailboat. Close quarters don't bother us. Plus, our new community has a free RV park called Homeless Hill (pictured above).
Cindi: Homeless Hill has full hookups and 25-sites. It's got a ranch house with free laundry and showers. In the ranch house is a living room, kitchen, and dining room. It's like a tiny home and it's all free for people who are building homes.

Jim: Essentially everyone here is waiting for their homes to be built. So, we're meeting new neighbors who are also building homes. Everyone is in various stages of their build.
Every day at 4:00pm we get together outside and talk about what's going on. We're finding out about doctors and where to find this and that. I go to walk our dog and get back three-hours later. Since Groveland was a friendly community, we were looking for a new friendly community. We are pleasantly surprised.
They have activities like building hot rods, woodworking, rebuilding John Deer tractors, crafts, and painting. For all of these activities, people get together. Plus, I will have a gigantic 60-foot deep garage because they are required to be built for a Class A motorhome.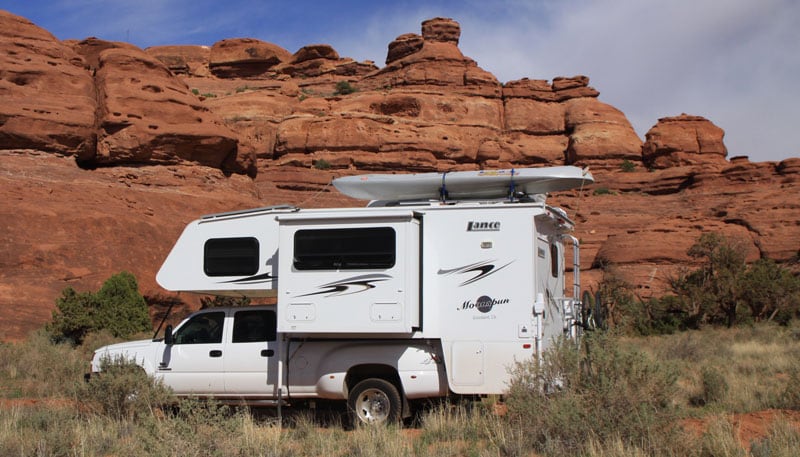 Above: A picture of their Lance 1191 from a previous trip to Canyonlands National Park, Utah
Well, you'll have plenty of room. Maybe put in a movie theater on one end. Is there anything else you'd like to add?
Jim: Danger can come from different disasters, not just fires. We just moved to Tennessee and have thought about the possibilities of the odd tornado or hurricane. There can also have an earthquakes and flooding here. These are things that force you to move fast. Everyone has to think about the disasters in their area.
If you don't know about the potential natural disasters in your area, ask the sheriff's department because they have an office of emergency services. Ask yourself, "What should I be concerned about and how should I prepared for it?"
We have our evacuation vehicle, which is a nice single-slide camper, a Lance 1191. It's a good size and very comfortable. You can't beat the peace of mind.