When Eric was a boy, his parents took him camping in their Alaskan Camper. Thirty years later, Eric takes his own son camping in his Alaskan Camper. From father to son, Alaskan to Alaskan.

Growing up in the Philadelphia suburbs, RVs were not a prominent part of my family culture. My grandparents had once owned a GMC motorhome, but that was the stuff of family legend and folklore by the time I was a young adult. Even among my friends and extended acquaintances, I rarely, if ever, heard of anyone RVing.
As for truck campers, I didn't even know what they were until I bought one in my early thirties. If it wasn't for the internet, I probably wouldn't know a truck camper from a Tonka truck. Even today, I often find myself explaining what truck campers are to East Coast folks who ask what I do for a living. Sometimes I joke with Angela that it would be easier to tell them we're plumbers.
The irony is that the East Coast has many excellent truck camper deelerships, a thriving truck camping community, increadible beach camping, and the world's largest truck camper event; The Mid-Atlantic Truck Camper Rally. As Bob Dylan sang, "The times they are a-changin'"
For those of you who grew up in areas where RVs and truck campers have been and continue to be an important part of the local culture, the above paragraphs probably sound quite odd. Then again, there are many things that we take for granted on the East Coast that are not common or known in other parts of the country. That's part of the magic of traveling, experiencing, absorbing, and reflecting on the differences that make up our national and world culture. I wish everyone could experience that. It would bring us closer together as people.
When Angela handed me Eric Williams interview to revise, I was immediately struck with the idea that his father had owned an Alaskan Camper when he was a kid and took him out truck camping. I can't help but feel a bit envious of what I imagine was an amazing childhood experience. While me and my friends were playing Atari 2600, he was out in nature with his family in their Alaskan Camper. I had no idea what I was missing.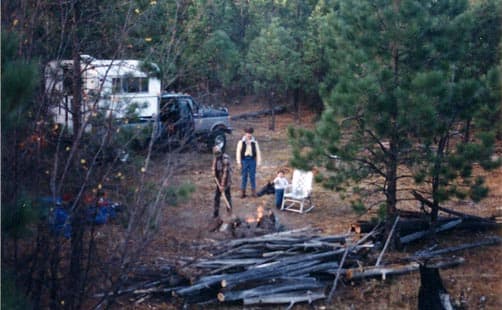 Above: Eric's family and their 1966 Alaskan
TCM: Tell us how you got into truck camping.
Eric: We've been camping forever. I was literally in diapers when I started camping. My dad would dunk me in nearby streams to clean me off when I got real dirty. We had a tent and camped out of the car.
In the early 1980s, we got a 1966 Alaskan. It just made it easier on my parents with kids to pull over and set up camp. Dad said he got the Alaskan because he could go on Jeep trails and he could get in and around the trees. He also didn't have to worry about crowds.
My family also got into skiing in the 1980s. Having the Alaskan was nice because we could get out of the cold weather. When we went to a ski area, we could hang out, play cards, and stay dry. That was fun.
TCM: Did you get the Alaskan because of your family history with Alaskan Campers, or for another reason?
Eric: Alaskan is the only camper for me! When you are in bear and cougar country, it's nice to have a hard sided pop-up camper. And when the wind and rain are sideways, you have no protection in a soft wall pop-up. With the Alaskan, you can hear the rain and wind, but you don't get wet. Alaskan's are compact, but there's still quite a bit of room. It's definitely better with bad weather and undesirables in the woods.
Having the equipment to get where we want to go is the ideal thing and with an Alaskan Camper we are able to do that. We even explore Jeep trails.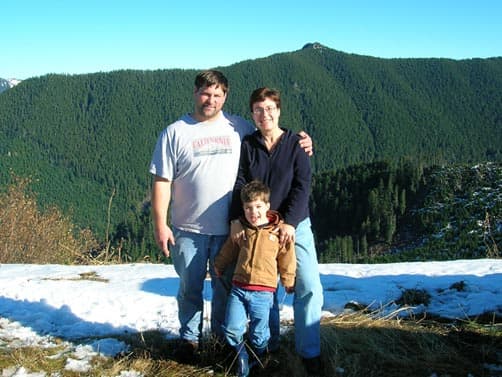 Above: Eric, Nancy, and Chayce near Mt. Rainer, Washington
TCM: Tell us about ordering and taking delivery of your new Alaskan.

Eric: When we were ready to get an Alaskan, I called Bryan Wheat, President of Alaskan Campers, and went to Alaskan Campers in Chehalis, Washington to meet him.
I was already sold on Alaskan, but my wife wasn't. When she saw the Alaskan Campers at the factory, she said, "Hell, yes! I want one". So I told Bryan to wrap one up and we'll take it. One week later we came back and got it.

TCM: That's extremely fast for a factory direct order. How were you able to pick up your new Alaskan in just a week?
Eric: At the time I bought my Alaskan camper, Alaskan had a facility in Winslow, Arizona. Bryan had a camper that was ready to be shipped to Arizona for their showroom. It was a fancier model than I originally wanted, but my wife liked the additional bells and whistles. Bryan said, "We'll sell you this one because we can build another one for the Winslow showroom". So we wrote a check and picked it up. For us, it was that easy.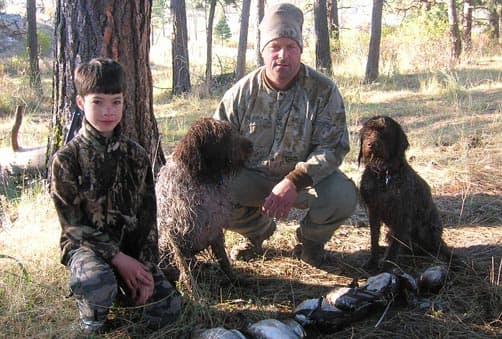 Above: Chayce, their Wire Haired Pointing Griffon, Hunter, Eric, and Abby at duck camp at Okanogan, Washington
TCM: I see from your pictures that a little boy is with you. Is that your son?
Eric: Yes, that's Chayce. His name means, "hunter". Before the Alaskan, we had a pop-up trailer which didn't work out well with our, at the time, newborn son. That's basically what made us think about getting something better. A few months later we bought the Alaskan. Once we had Chayce we needed something easier to use and I wasn't going to get anything else but an Alaskan. My son already says that he's going to have it when I'm done with it.
ABOVE: Sequence of events of the big Okanogon March snow with the Alaskan.
TCM: That sounds like a plan. Then you can get another Alaskan. What do you like to do when you go truck camping?
Eric: Our first trip of the season is at the end of March for my birthday. We always go to the Okanogon. In the pictures you'll see that it snowed fifteen inches on us that night. We basically camp year round, weather permitting. In April and May we go mushroom hunting over in Cle Elum which is up in the Manastash Ridge area.
TCM: Mushroom hunting?
Eric: The Morel mushroom looks like a pine cone on the ground. It's a brownish color and comes up when the snow starts to melt. A sixty degree rain causes them to pop up. At the grocery store they are twelve dollars for a dry ounce.

TCM: Now that's one expensive mushroom.

Eric: Yes, they're a delicacy. I don't eat a lot of them. You actually have to blanch them in boiling water because they can have natural toxins in them. You don't want to eat them raw from the ground because they will make you sick.
TCM: Good tip. Don't eat the toxic mushrooms. What else do you like to do when you're out truck camping?

Eric: We go grouse hunting in September and duck hunting in October. We'll also go to Frost Mountain to hunt for thunder egg rocks that have crystals inside. Weather permitting, we'll go gold panning or rock hunting in various places. A couple of years ago, we went to a family reunion in our camper. With a kid it is nice to have a potty, stove, and oven.
I also adopted a dog in southern Idaho and had to drive 900 miles to get our Wirehaired Pointing Griffon, Abby. I loaded the camper and went. It was convenient and comfortable to have the camper.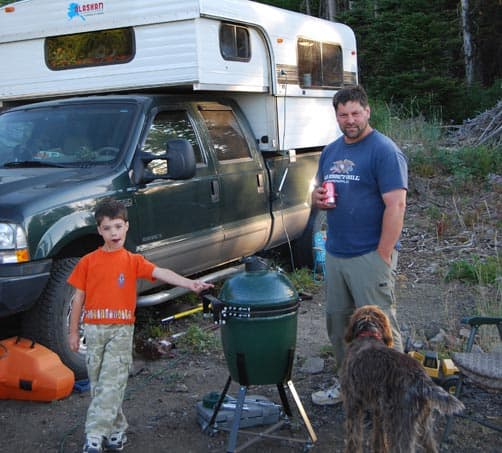 Above: Chayce, Eric, and Abby at Blewett Pass, above Cashmere, Washington
We BBQ year round with our Big Green Egg (see picture). We make whole chickens while out camping and my son roasts marshmallows. When it's too dry in the summertime, the green egg is the designated fire pit. We are carefree, but safe about going camping. I love my camper and it looks great on my truck.
TCM: It sounds like you have different places you go to at different times of the year and that you camp year round. Being that it's a hard-sided pop-up, how does your Alaskan fair with the colder weather?
Eric: I'm overly prepared when I go camping. I have extra blankets and extra food. I have seven to eight days of food even if we're out for four days. We also bring stuff for fires and we have my chainsaw to cut wood. If it's not snowing or raining, we're out by the fire.
We also have a Little Buddy Heater in the camper to heat it up. The coldest we've been camping was four degrees when we were in Winthrop for Christmas.
TCM: Wow, that's cold.
Eric: It wasn't a big deal. We kept warm and the heater that came with our Alaskan kicks butt. It heats up the camper in no time. And if you keep the air circulating, it keeps condensation from building up on the windows.
We don't run the heater at night when we're camping. We have a five pound down comforter and flannel sheets. We also have wool army blankets and a couple of afghans.
TCM: That's a nice list of warm bedding, but why wouldn't you use your camper heater on the cold nights you just described?

Eric: The heater wakes me up. The fans on RV heaters also tend to drain your batteries if you leave them running overnight. When we first got the Alaskan, we ran the heater overnight during a snowstorm. At that point, we only had one battery and the heater almost drained it completely. That's when we had Bryan add another battery. We also got a generator and purchased the Little Buddy Heater so that we would have back up heat.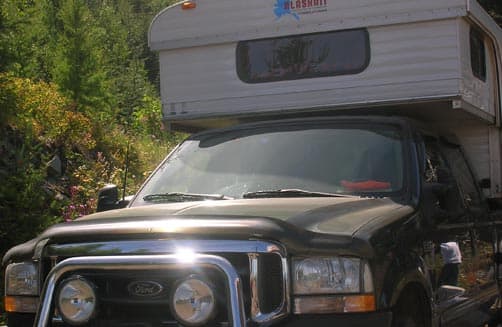 Above: Blewitt Pass area, above Cashmere, WA, where Eric goes every September for grouse hunting
TCM: During our initial phone conversation, you said that you get into some tight places with your Alaskan Camper. Can you give us an example?
Eric: There's a road called Blewett Pass Road which is the mountain range in between Cle Elum and Wenatchee. It's a ridge trail. If you don't have a four wheel drive and high clearance, you are not going to make it. If you're pulling a trailer and you're top heavy, you are going to be white knuckled. The road has been washed out and you don't want to stay on the hillside too long because you will hear the rocks falling. Coming downhill is tight as all get out.
TCM: That sounds fun, and terrifying. Where do you want to go that you haven't been to yet?
Eric: I would love to take a trip to Alaska with my truck camper. I've been there a couple of times by plane and by boat, but never with a truck camper.
I'd specifically love to go to Nome, Alaska. We've done the Rubicon and Natchez Trail. The Rubicon was a trading post type trail and has posts where people would sell and trade stuff all the time. The Natchez was where the Indians and settlers would do trading. They were main thoroughfares from the East to the West. It's more meaningful when you know about the history of the roads.
TCM: You store your Alaskan Camper in your garage. Is your garage tall enough for the truck and camper, or is the camper off the truck?
Eric: The camper is off the truck and stays on it's jacks in our garage. As a landscaper, I use the truck for work. We originally had a 7' foot garage and I heightened the door to 8' 3". Now the Alaskan clears the door by about three quarters of an inch.
TCM: That's tight. I wish we could keep our camper in a garage. That will help tremendously to protect the seals from the sun and weather.
Eric: That's why I keep the camper in the garage. When you are dealing with a camper that's all wood, you have to re-caulk the external seals every couple years. When you have things in the weather, they deteriorate. If it's not moisture or exhaust, it's the pollen on the trees or the sun's rays.
If the camper is in a garage, it doesn't get sun bleached or beat up by weather. It stays dry. If it were outside, it would also get mildewy here in the Pacific Northwest. My 2003 camper looks brand new and I'm camping at least once a month every year if possible.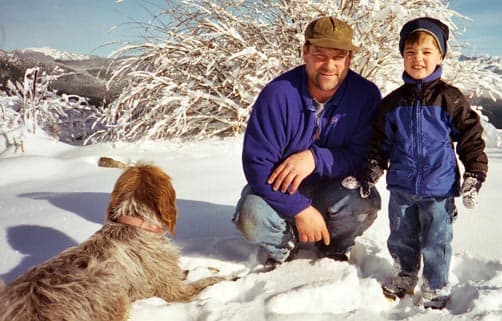 Above: Abby, Eric, and Chayce at Mt. Rainier, Washington

TCM: Even aluminum framed and fiberglass campers need to have their seals checked and maintained on a regular basis. Are there any other things you like to mention in this article about truck camping?
Eric: Alaskan Campers is like family to us. Bryan and Dorrie are so good to work with. It's like everyone that has an Alaskan is part of the Alaskan Club. We're one big happy family.
It's also interesting that a lot of people don't realize Alaskan Campers are still made. I keep brochures with me and give them to folks who ask about our camper. People come up to me and tell me not to get rid of my camper because they don't make them anymore. It's kind of wild that people don't realize it. People remember Alaskans.
I was thinking about having an Alaskan campout. Anyone game?
TCM: That's a fantastic idea! If our readers are interested, can we have them contact you? We would be excited to support an Alaskan Camper rally.
ERIC AND NANCY WILLIAMS
' TRUCK CAMPER RIG
Truck: 2002 Ford F-350, crew cab, single rear wheel, long bed, 4×4, diesel
Camper: 2003 Alaskan 8 foot extended cabover
Tie-downs and Turnbuckles: Anchors to the bumper and to the bed of truck,

Happijac
Suspension Enhancements:
N/A

Gear: Winch, bumper, and lights on front, set up on a dual battery system and generator