When Eric was a boy, his parents took him camping in their Alaskan Camper. Thirty years later, Eric takes his own son camping in his Alaskan Camper. From father to son, Alaskan to Alaskan.

Growing up in the Philadelphia suburbs, RVs were not a prominent part of my family culture. My grandparents had once owned a GMC motorhome, but that was the stuff of family legend and folklore by the time I was a young adult. Even among my friends and extended acquaintances, I rarely, if ever, heard of anyone RVing.
As for truck campers, I didn't even know what they were until I bought one in my early thirties. If it wasn't for the internet, I probably wouldn't know a truck camper from a Tonka truck. Even today, I often find myself explaining what truck campers are to East Coast folks who ask what I do for a living. Sometimes I joke with Angela that it would be easier to tell them we're plumbers.
The irony is that the East Coast has many excellent truck camper deelerships, a thriving truck camping community, increadible beach camping, and the world's largest truck camper event; The Mid-Atlantic Truck Camper Rally. As Bob Dylan sang, "The times they are a-changin'"
For those of you who grew up in areas where RVs and truck campers have been and continue to be an important part of the local culture, the above paragraphs probably sound quite odd. Then again, there are many things that we take for granted on the East Coast that are not common or known in other parts of the country. That's part of the magic of traveling, experiencing, absorbing, and reflecting on the differences that make up our national and world culture. I wish everyone could experience that. It would bring us closer together as people.
When Angela handed me Eric Williams interview to revise, I was immediately struck with the idea that his father had owned an Alaskan Camper when he was a kid and took him out truck camping. I can't help but feel a bit envious of what I imagine was an amazing childhood experience. While me and my friends were playing Atari 2600, he was out in nature with his family in their Alaskan Camper. I had no idea what I was missing.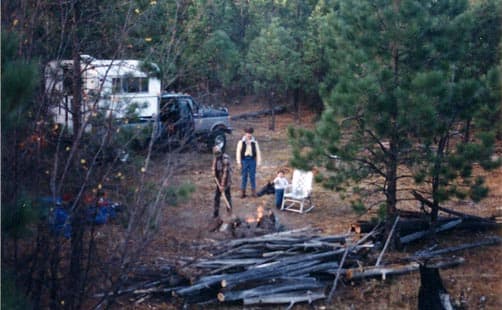 Above: Eric's family and their 1966 Alaskan
TCM: Tell us how you got into truck camping.
Eric: We've been camping forever. I was literally in diapers when I started camping. My dad would dunk me in nearby streams to clean me off when I got real dirty. We had a tent and camped out of the car.
In the early 1980s, we got a 1966 Alaskan. It just made it easier on my parents with kids to pull over and set up camp. Dad said he got the Alaskan because he could go on Jeep trails and he could get in and around the trees. He also didn't have to worry about crowds.
My family also got into skiing in the 1980s. Having the Alaskan was nice because we could get out of the cold weather. When we went to a ski area, we could hang out, play cards, and stay dry. That was fun.
TCM: Did you get the Alaskan because of your family history with Alaskan Campers, or for another reason?
Eric: Alaskan is the only camper for me! When you are in bear and cougar country, it's nice to have a hard sided pop-up camper. And when the wind and rain are sideways, you have no protection in a soft wall pop-up. With the Alaskan, you can hear the rain and wind, but you don't get wet. Alaskan's are compact, but there's still quite a bit of room. It's definitely better with bad weather and undesirables in the woods.
Having the equipment to get where we want to go is the ideal thing and with an Alaskan Camper we are able to do that. We even explore Jeep trails.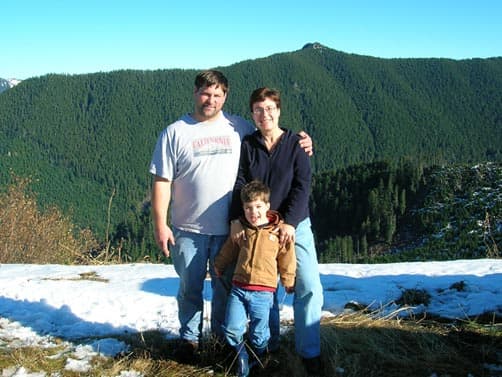 Above: Eric, Nancy, and Chayce near Mt. Rainer, Washington
TCM: Tell us about ordering and taking delivery of your new Alaskan.

Eric: When we were ready to get an Alaskan, I called Bryan Wheat, President of Alaskan Campers, and went to Alaskan Campers in Chehalis, Washington to meet him.
I was already sold on Alaskan, but my wife wasn't. When she saw the Alaskan Campers at the factory, she said, "Hell, yes! I want one". So I told Bryan to wrap one up and we'll take it. One week later we came back and got it.

TCM: That's extremely fast for a factory direct order. How were you able to pick up your new Alaskan in just a week?