From Point Reyes National Seashore to Humboldt Redwoods State Park, Duffy Hurwin and her Arabian horses love to ride the trails.  Duffy's base camp of choice?  A truck camper of course!

A repeating theme in the electron pages of Truck Camper Magazine is how truck campers are an extremely versatile solution for a great number of outdoor hobbies and interests.  This is why Truck Camper Magazine has many more lifestyle stories than other RV magazines.  As truck campers, we do more, and the things we do are more interesting.
Speaking of interesting, horse camping has a long history with truck campers.  Before horse trailers featured living quarters, truck campers were the go to solution to tow a horse trailer with RV amenities.  Since the introduction of horse trailers with living quarters, truck campers have been less popular in the equine community, but that's starting to change.  From a slow walk, to a swift trot, to a speeding canter, to a full on gallop, truck campers are riding in, bit by bit, back into horse camping community stable.  Whoa!
We've seen this change in the greater RV community as people have gravitated over the past three decades to larger motorhomes, travel trailers, and fifth wheels after being introduced to the hobby with a truck camper.  Now we're seeing many of these folks coming back to truck campers as they rediscover the "Go Anywhere.  Camp Anywhere.  Tow Anything." freedom of the truck camping lifestyle.
Welcome back partners.  Let's ride.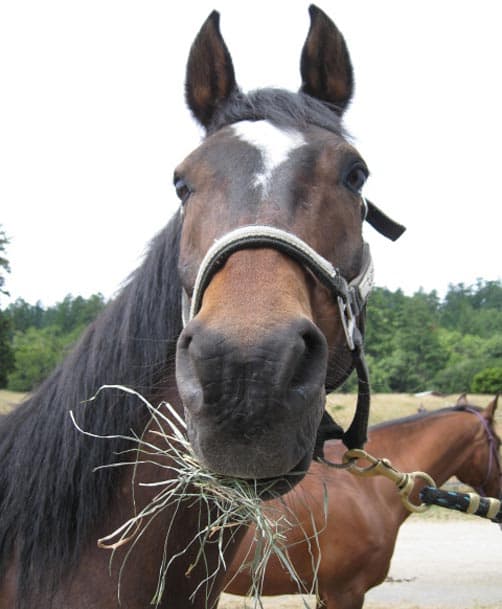 ABOVE: Cazinova nibbling away from a haybag tied to the trailer; Valentine in the background
TCM: Tell us how you got into truck camping.
Duffy: Fifteen years ago, we started horse camping with a futon mattress in the back of our horse trailer.  We also had a porta-potti.  Later we got a camper shell and put the futon mattress under the shell on the truck bed.  Then we experienced a cold and rainy night and decided, "We can't do this anymore".  I had just turned sixty.
Looking for a better solution, we went the the Pleasanton RV Show.  We looked at RoadTrek vans and Class B motorhomes, but the vans are too small inside and the Class B motorhomes didn't offer nearly enough towing capacity.  We need to be safe when we tow our beloved live animals.
Another option was a horse trailer with living quarters, but living quarters make the overall length of a horse trailer longer.  For what we needed, the horse trailer with living quarters would have been over forty-eight feet long.  A rig that long would be much harder to maneuver and park.  And it would be impossible to park in front our our house.  Ours is forty-two and a half feet long overall and the nearly six feet less makes a huge difference getting in and out of gas stations and parking to buy groceries on our way home from day rides.
TCM: So what did you end up getting?
Duffy: We bought a 2010 Lance 850.  It's much bigger inside than the Class B motorhomes and the Ford F350 Diesel offers significantly more towing capacity.  On the other hand, it's also taller than a horse trailer with living quarters, but I'd much rather be taller than longer.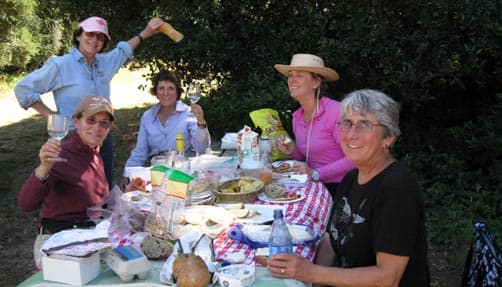 ABOVE: A picnic on a ladies only horse ride and campout
TCM: What do your fellow horse enthusiasts think of your new truck camper rig?
Duffy: They're amazed at how nice our Lance looks inside.  It's so luxurious; like a yacht on wheels.  The first night I slept in our camper, when I went to the bathroom inside instead of climbing out of the back of the truck to use the potty inside the trailer tack room, I was sold!  It was like being at home.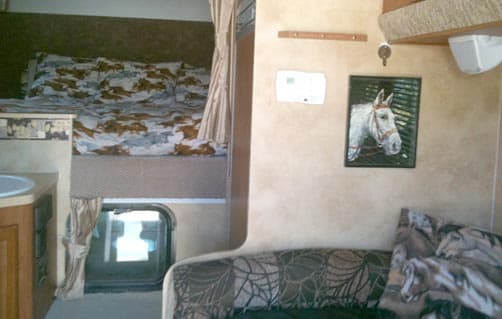 ABOVE: The interior of the Lance 850.  Duffy gave away the queen mattress that came with the camper.   For Duffy it was too tight a fit which made it difficult to lift the corners to make the bed.  Duffy made a horse print fleece bed cover and matching pillows for a custom look.   The horse picture is a drawing a friend found in a Paris street market and sent it as a housewarming gift for Duffy's camper.
Our camper has also freed up space to bring more hay and supplies in our trailer.  Before we had our Lance, every time we went on a camping trip I had to unpack and repack everything in and out of the truck bed.  We had to pile hay bags, portable corral equipment, cooking supplies, coolers, and everything into the truck bed on top of our futon bed which I had to cover with layers of tarps to keep it clean.  Now I have dishes in the camper and the bed is made and ready to go.  I can get things prepared days in advance where I couldn't do that before.