From Point Reyes National Seashore to Humboldt Redwoods State Park, Duffy Hurwin and her Arabian horses love to ride the trails.  Duffy's base camp of choice?  A truck camper of course!

A repeating theme in the electron pages of Truck Camper Magazine is how truck campers are an extremely versatile solution for a great number of outdoor hobbies and interests.  This is why Truck Camper Magazine has many more lifestyle stories than other RV magazines.  As truck campers, we do more, and the things we do are more interesting.
Speaking of interesting, horse camping has a long history with truck campers.  Before horse trailers featured living quarters, truck campers were the go to solution to tow a horse trailer with RV amenities.  Since the introduction of horse trailers with living quarters, truck campers have been less popular in the equine community, but that's starting to change.  From a slow walk, to a swift trot, to a speeding canter, to a full on gallop, truck campers are riding in, bit by bit, back into horse camping community stable.  Whoa!
We've seen this change in the greater RV community as people have gravitated over the past three decades to larger motorhomes, travel trailers, and fifth wheels after being introduced to the hobby with a truck camper.  Now we're seeing many of these folks coming back to truck campers as they rediscover the "Go Anywhere.  Camp Anywhere.  Tow Anything." freedom of the truck camping lifestyle.
Welcome back partners.  Let's ride.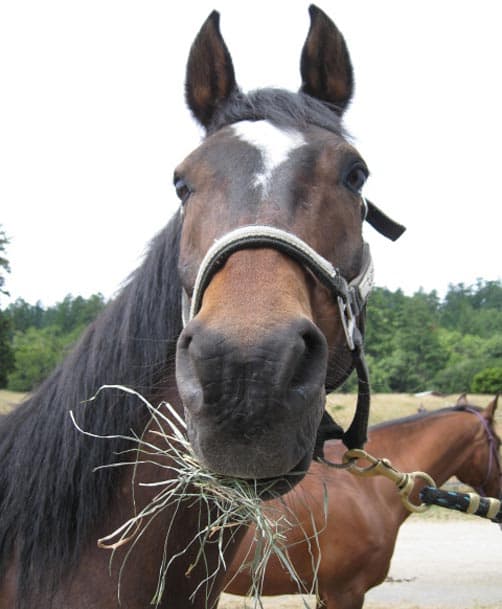 ABOVE: Cazinova nibbling away from a haybag tied to the trailer; Valentine in the background
TCM: Tell us how you got into truck camping.
Duffy: Fifteen years ago, we started horse camping with a futon mattress in the back of our horse trailer.  We also had a porta-potti.  Later we got a camper shell and put the futon mattress under the shell on the truck bed.  Then we experienced a cold and rainy night and decided, "We can't do this anymore".  I had just turned sixty.
Looking for a better solution, we went the the Pleasanton RV Show.  We looked at RoadTrek vans and Class B motorhomes, but the vans are too small inside and the Class B motorhomes didn't offer nearly enough towing capacity.  We need to be safe when we tow our beloved live animals.
Another option was a horse trailer with living quarters, but living quarters make the overall length of a horse trailer longer.  For what we needed, the horse trailer with living quarters would have been over forty-eight feet long.  A rig that long would be much harder to maneuver and park.  And it would be impossible to park in front our our house.  Ours is forty-two and a half feet long overall and the nearly six feet less makes a huge difference getting in and out of gas stations and parking to buy groceries on our way home from day rides.
TCM: So what did you end up getting?
Duffy: We bought a 2010 Lance 850.  It's much bigger inside than the Class B motorhomes and the Ford F350 Diesel offers significantly more towing capacity.  On the other hand, it's also taller than a horse trailer with living quarters, but I'd much rather be taller than longer.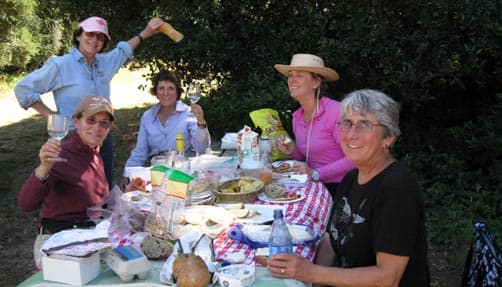 ABOVE: A picnic on a ladies only horse ride and campout
TCM: What do your fellow horse enthusiasts think of your new truck camper rig?
Duffy: They're amazed at how nice our Lance looks inside.  It's so luxurious; like a yacht on wheels.  The first night I slept in our camper, when I went to the bathroom inside instead of climbing out of the back of the truck to use the potty inside the trailer tack room, I was sold!  It was like being at home.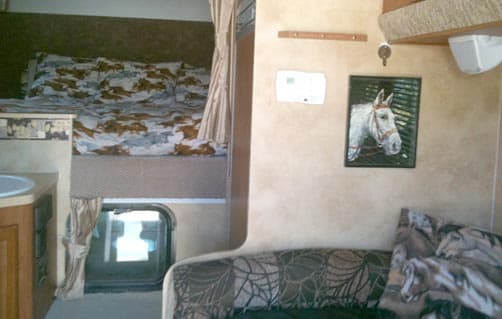 ABOVE: The interior of the Lance 850.  Duffy gave away the queen mattress that came with the camper.   For Duffy it was too tight a fit which made it difficult to lift the corners to make the bed.  Duffy made a horse print fleece bed cover and matching pillows for a custom look.   The horse picture is a drawing a friend found in a Paris street market and sent it as a housewarming gift for Duffy's camper.
Our camper has also freed up space to bring more hay and supplies in our trailer.  Before we had our Lance, every time we went on a camping trip I had to unpack and repack everything in and out of the truck bed.  We had to pile hay bags, portable corral equipment, cooking supplies, coolers, and everything into the truck bed on top of our futon bed which I had to cover with layers of tarps to keep it clean.  Now I have dishes in the camper and the bed is made and ready to go.  I can get things prepared days in advance where I couldn't do that before.
Before I always had to wait until the last minute.  Now everything is organized and we can leave town with less than a days notice.  One of the big bonuses is saving Ron's back from hauling heavy coolers filled with ice.  We have a huge refrigerator and freezer in the Lance.  We pre-cool it and load it and have no more ice chests.  That's really great!
 TCM: Tell us about your horses.
Duffy: We have two Arabian horses.  Cazinova is twenty-two years old and Valentine will be sixteen in June.  We board our horses at a private stable about thirty minutes from our house.  The stable is about half way to Point Reyes National Seashore which is where we do much of our riding.  We go on coast rides with the horses which offer magnificent vistas and scenery.
We frequently to go to meet friends and go on rides together.  We'll go trailer somewhere and set up for two to four nights and hang out.  Truck campers are very popular in our club.  We belong to a club called, "Los Viajeros" which means, "The Travelers" in Spanish.
This summer, we'll do a four day ride in Humboldt Redwoods State Park.  We've camped in people's yards and did a couple rides out of the area to their ranches.  There are a couple of horse camps in Point Reyes area.  All of our camping is dry camping except when we stay at someone's house.  Some of the campgrounds have potable water from hoses so that helps to replenish the tank.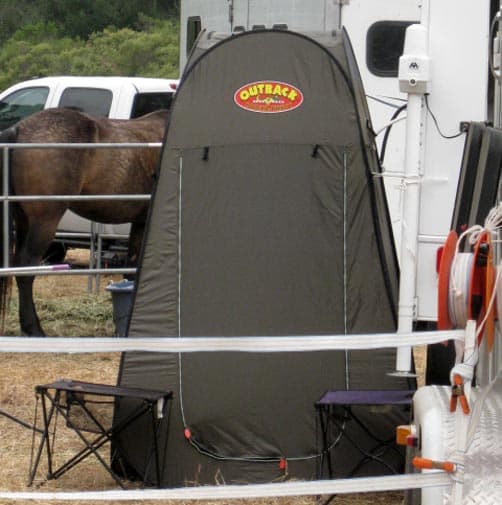 ABOVE: This Outback shower tent pops up instantly like windshield shades with the memory wire inside.  Duffy uses haybale twine and tent stakes to keep it from blowing away.  It has a slit on the side that she ran the outside hand shower hose and nozzle through.   With the endless supply of potable water to refill her tank, Duffy offers her outside shower to friends.

TCM: Do you do anything to extend your dry camping capabilities?
Duffy: We bought a shower tent so we can use the outdoor shower and not have to fill our grey water tank.  We can refill the fresh tank and use the outside shower.
TCM: Do you like showering outside?
Duffy: Yes, I love the shower tent!  It sets up in a jiffy.  As long as we have unlimited water, we even let other people take showers.  We also carry twenty-five gallons of potable fresh water in the horse trailer.  We have it set up so that if we run out in the camper, we can pump water from horse trailer into the camper.  One of our riding buddies built us a marine pump to do that with.  It's all potable water in both the trailer and camper.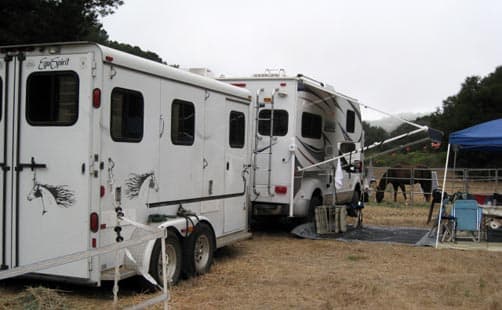 ABOVE: This is Duffy's camping set up on an October weekend horse camping trip last year.   The outdoor shower was on the left side of the camper to make use of the outdoor shower head and many friends used it.  They had a hose with potable water so they were able to keep refilling the fresh water tank as much as they wanted.
TCM: What are the advantages to having a truck camper when you are on trail rides?
Duffy: The advantages of a truck camper are the restroom facilities, the shelter it provides, and heat whenever you want it.  When we return from a ride if it's cold, we'll put the heat on and it will warm up in the camper.  Also, just having the camper wherever we go is nice. I've been able to bring a thermos of hot water and make tea.  Our truck has 110 volt, so I can run electric from the truck to the camper and use our microwave off the truck power when we're boondocking.
TCM: That's an interesting trick.  I guess you have to turn your truck on while you're doing that and be careful not to drain your truck batteries too much.  Do you also have a generator or solar panels?
Duffy: Yes, we have both and they work well.  One interesting insight about solar panels that I learned from a friend in the field is that solar panels do not charge as well as you would think on a hot sunny day.  They actually charge better on a sunny, cold, and windy day.  The solar panels are more efficient when they are cooler.  They were initially designed by NASA to use to power satellites in outer space and it's very cold up there!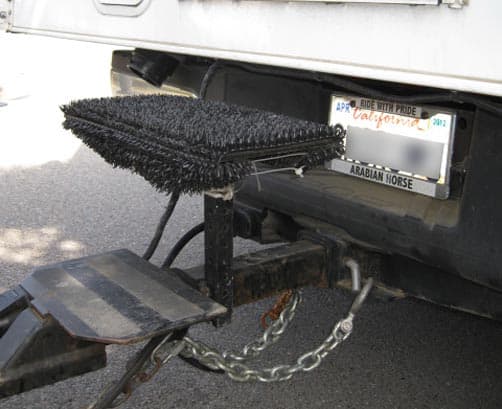 ABOVE: The biggest predicament Duffy ran into after she bought the truck and camper was how to connect it to the trailer at the right height, maintaining turning radius, and still being able to have steps to get into the camper.   There are many camper steps available on the market, but none that are built to install while a trailer is connected.  Usually, it's one or the other.   So Duffy worked with two welders to design a custom stinger, otherwise known as receiver bar.  They measured the extension of the camper past the bumper and had to add that much onto a normal length receiver.  The longer the receiver bar the less tongue weight it can handle, so the length had to be very carefully calculated.   The welder used a solid steel bar in the receiver hole – it is not hollow inside.   Then two steps were welded on and marine no-slip tread was put on the steps.

TCM: How did you set up your rig to tow a horse trailer?
Duffy: We had to get a custom receiver bar made because our camper sticks out about six inches past our bumper.  Before we had the extended receiver bar, it was possible for the ladder on the camper and the spare tire on the trailer to touch during a turn.  Even now we have to be careful not to jack knife the rig when we're angling to the right.
We had a horse trailer repair guy install two steps onto the receiver to help us to get in and out of the camper.  We also installed a back up camera on the camper and another on the trailer.  Additionally, we have a magnetic remote back up camera that we can stick to the cab step.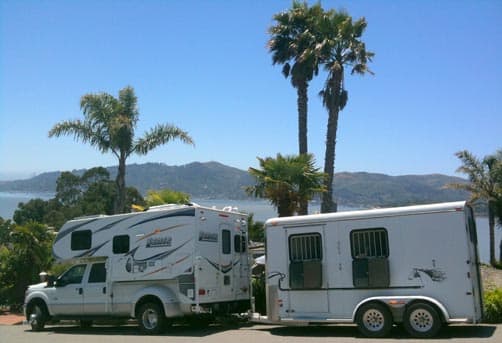 ABOVE: Duffy thinks she has the only camper with a San Francisco Bay view.

TCM: What's it like to tow a large horse trailer behind a truck camper?
Duffy: It's easy to drive.  You really don't know it's there.  I'm a 5'2" sixty-one year old woman and I don't have any trouble.  It just takes practice.  Just take it slow.  If I'm backing up, I use the cameras.  When we're hitching up, I use the magnetic camera and stick it onto the step facing the hitch ball.  It helps a lot and I can line up the rig so fast.
TCM: How did you choose your 2011 Ford F-350 dually diesel truck?
Duffy: The dealer we bought the camper from told us to get a diesel dually.  In fact, he made us get one and we're happy we have it.  With the diesel dually, we have so much torque.  It's just incredible.  He owned a truck camper and said the dually makes it so much more stable and safe than a single rear wheel.   He said too many people try to put truck campers on underpowered trucks and did not recommend putting a truck camper on anything less than a one ton truck with the exception of the very light weight collapsible ones that have a lower center of gravity.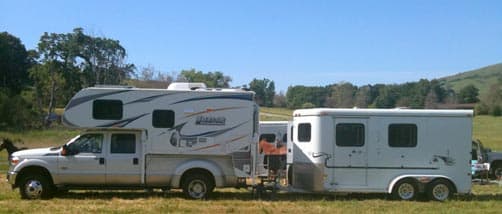 ABOVE: This is a picture of the first camping trip Duffy took with her Lance camper and 2011 Ford F-350.   The photo was taken on the top of Mt. Hamilton in San Jose.  Duffy explained that it is a hairy drive on a very narrow two lane road.  Duffy added that she soon discovered how wonderful the automatic braking on the new truck was and didn't have to keep riding the brakes on the downhill.

TCM: Do you do anything else with your camper other than trail riding?
Duffy: We thought at some point we might take a road trip.  I really don't like taking really long road trips because I don't like driving that much.  If we are driving more than two or three hours, we stop to go to the bathroom and walk around.  When we stop, we take the horses out of the trailer and they know that it's their chance to go potty too and nearly go on voice command.
The Redwoods are six hours away and that's a lot.  We thought maybe we'd go here or there, but it's a big rig to maneuver if you want to go in town and have dinner.  I like being in the countryside. Horse camps are ready for big rigs.  I don't envision us doing long road trips.  Riding is our main sport.
TCM: Are there any other things you like to mention in this article about truck camping, towing, or horses?
Duffy: Believe it or not, we're still using the tri-fold double size futon mattress we had in the back of our old truck with camper shell.  We removed the queen size mattress that came in the Lance and put in the slightly smaller and much lighter weight futon.  It's way easier to make the bed and it's simple to fold it up and move it out of the way for more space in the cabover area if needed.  I also remove it during the winter and put it in my house because it is so damp where we live.  Being a bit shorter the futon gives us a few more inches to step up to the bed instead of right from the step directly onto the mattress.
TCM: That's interesting.  I never thought about a futon mattress in a truck camper, but it sure makes sense.
Duffy: Also, make sure you get enough truck to tow your camper.  People are buying three-quarter ton trucks with bigger campers and it's just not safe when you're underpowered.  When you've got the wind and some sway, the dually is definitely the way to go.
One of the big warnings the Lance dealer gave us in general about any camper is moisture from condensation building up inside the camper.   We keep a DriZAir unit in the camper and I drain the liquid out of it frequently.  By using "good management practices", we've kept our camper very dry inside.  That was one of the things I didn't know about when we bought it.  Now I'm glad I keep it on the truck all year so I can open it up and ventilate it well while we're out on day rides.
Buying a camper is a long journey to figure it out.  Once I've figured something out I like to share it so that other people can do it, too.  Thank you for the interview.
TCM: Thank you Duffy.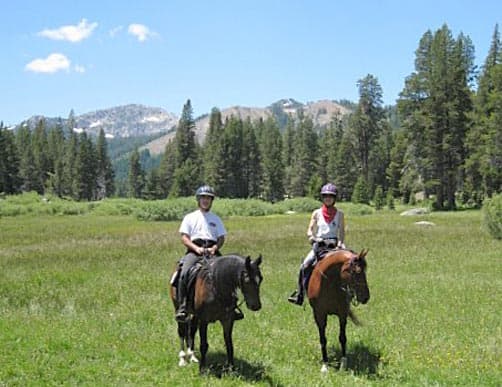 ABOVE: Ron and Duffy on Cazinova and Valentine with the mountains in the background – Euer Valley horse camping