What happens when you have an Eagle Cap 1160 double-slide camper, a Ram 5500 truck and custom storage bed, and a 1984 BMW 318i track car?  Fasten your seat belts.

As the President of Industrial design and Fabrication, Inc., Charles Phy is an entrepreneur who designs and builds custom automated machinery.  He used his engineering and fabrication background to design a tricked-out custom storage bed for what is possibly the biggest and baddest truck available for a truck camper, a Ram 5500.
In the bed of his Ram 5500 Cummins diesel beast is an Eagle Cap 1160 double-slide.  With 18,750 GVWR, the Ram 5500 literally has enough excess payload to carry a German automobile.
Speaking of German automobiles, Charles tows a 1984 BMW 318i track car that has been weight-stripped to the extreme, and then loaded for high-speed insanity with an M3 engine.  We're not sure what's more nuts, the Ram 5500 and awesome storage bed, or the completely out-of-his-mind BMW.  When it comes to living life to the fullest, and fastest, Charles Phy clearly has the pedal to the medal.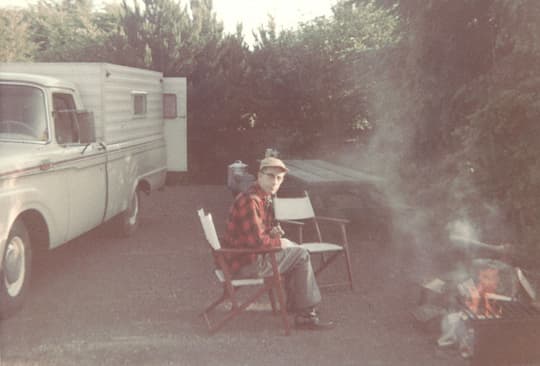 Above: The camper Charles and his dad built
TCM: How did you get into truck camping?
Charles: My father had a truck camper.  When I was in high school he had a half ton Ford and we built a camper for the bed.  Later he had a Six-Pac on a three-quarter ton Ford.  The Six-Pac had no bathroom and a hand pump on the sink.  That's how I got the traveling bug.  The main reason I have a truck camper now is because of the flexibility and that I can tow my trailer.
In 2002, I ordered a Lance 921 and had that camper for several years.  Actually, even after I bought the Eagle Cap I kept the Lance for a year because I was so attached to it.  I picked the Eagle Cap 1160 up from Truck Camper Warehouse in January of 2011.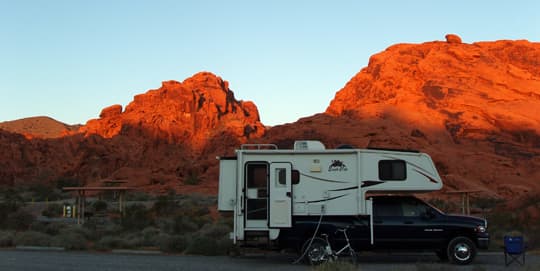 Above: The 2005 Ram 3500 and 2010 Eagle Cap 1160 in Valley of Fire State Park, Nevada
TCM: Why did you change your truck after purchasing the Eagle Cap?
Charles: Originally, I had a 2005 Ram 3500 dually.  It was actually several of Gordon's articles on truck and camper matching and payload capacity that got me thinking about that truck with the Eagle Cap 1160.  The 2005 Ram 3500 did a commendable job of handling it.  I had two extra leafs, shocks, and a sway bar, but I was still about 800 pounds over GVWR.
My main concern was the braking capability.  Once I was traveling east over Teton Pass into Jackson Hole, Wyoming and I was on a 15% grade.  That's when you really start thinking about braking capacity and needing a payload matched rig.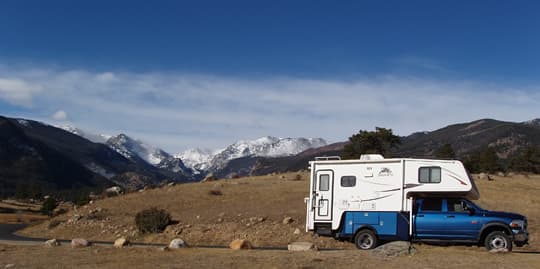 Above: 2011 Ram 5500 and 2010 Eagle Cap 1160 at Rocky Mountain National Park
TCM: Tell us about your new truck.
Charles: I have a 2011 Ram 5500 cab and chassis with a custom service bed.  It's a sixty-inch cab to axle with dual rear wheels, four wheel drive, and a Cummins diesel engine.  The GVWR is 18,750 pounds.
I took it over to the scales in March of 2013 with the Eagle Cap.  It was 5,200 pounds on the front axle, and 10,520 pounds on the rear axle, for a total of 15,720 pounds.  I've added a couple things since then, but, with the Eagle Cap 1160 and the custom service bed, I still have about 3,000 extra pounds of payload capacity.
TCM: Wow!  10,520 pounds on your rear axle.  What is the rear axle rating?
Charles: With the Ram 5500, the rear axle rating is 13,500 pounds.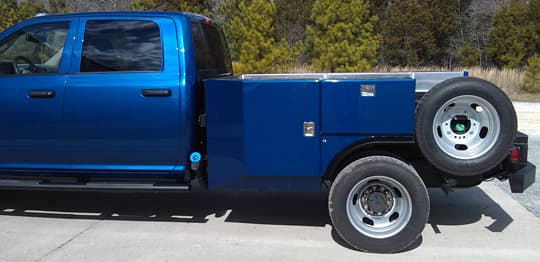 Above: Charles' custom service bed
TCM: Why did you to want a custom service bed?
Charles: After seeing a truck camper on a Reading utility bed on the road, I wanted one.  There's a Reading distributor in Nashville.  They couldn't sell me a utility bed for my 2005 Dodge 3500 because there was no federal testing on it.  It's only qualified with the standard bed.  That was disappointing.  With a regular dually truck, there is lots of wasted space.  That's why I wanted a cab and chassis model.
I design and build custom machinery for a living.  So, the idea of a storage bed was not that far fetched.  Since I bought the cab and chassis in 2012, and it was a 2011 truck, I got a good deal on the truck.
I designed the storage bed myself.  The frame of a truck is designed to flex.  I designed the bed to be torsionally stiff, but mounted in a way that allows the truck frame to flex independently.  The camper was then attached to the bed.
I made the frame for the bed out of steel because my company is better at welding steel.  The fabrication company next door made the aluminum boxes.  I mounted the boxes and doors, and then I had a local body shop do the painting.
Above: Charles' SolidWorks designs of his Ram 5500 service bed – click to enlarge the photos
TCM: How did you design it?
Charles: I designed the service bed using 3D modeling software called SolidWorks.  For years I worked on a drawing board, and then went kicking and screaming into the computer age.  The advantage of the 3D modeling is that I can spin it around, move it upside down, hide things, and see cross sections.
When I was designing the service bed, I saw that there was tight clearance between the back bumper and the side steps.  Some of the brackets got close to the doors.  In SolidWorks, I could check the measurements and make sure that it was right.
When you design in 2D, it's hard to visualize.  The steps come down at one angle and the bumper is at another.  With SolidWorks you can move it around and see the gap.  It's a good program.
Above: The service bed coming together – click to enlarge the photos
TCM: Tell us about your storage compartments and what you keep in them.
Charles: The basic idea was to have extra storage space.  To a large extent, the geometry of the truck and camper determined the size of the storage boxes.  I made the boxes as large as I could.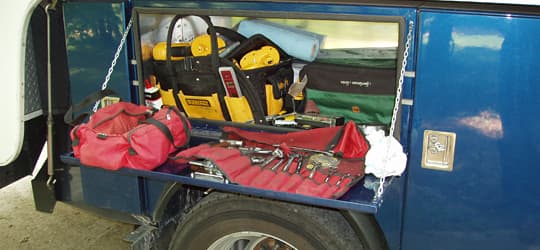 Above: One storage compartment is dedicated to tools
The storage boxes over the wheels have a door that opens down and chains support the door and hold it level.  At the track, I put all my tools on that side.  It happens to be the side where the awning is, which is handy at the track.  If it's raining, I pull the car under the awning and my tools are right there.  It's a nice place to set a few things down.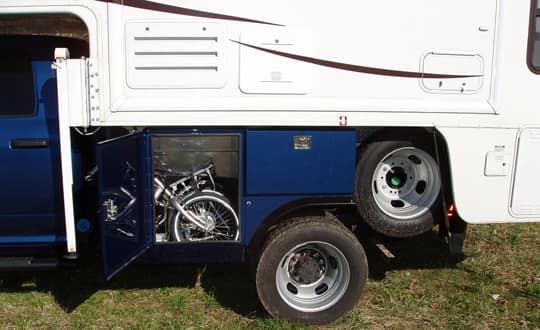 Above: A folding electric bike fits on the driver's side front compartment
I also store a folding electric bike in my front left box, which keeps it dry.  I have an inflatable kayak in the right front box.  On the Route 66 trip, I kept that compartment open for my daughter's stuff when she flew out.  There were five of us in my truck camper going up the coast, so we needed the extra storage.
TCM: How long did it take you from idea to completion?
Charles: It's still an ongoing project.  From design to being a workable bed, it probably took a month and a half to two months.  For the first few trips I didn't have any boxes on the sides.  It was just the bed.  I could see the side of the truck camper through the frame.
TCM: Were there any challenges in putting it together?
Charles: The two challenges with the Dodge cab and chassis are that they put the fuel tank behind the axle and the frame is about nine inches longer than a long bed pickup. The fuel tank does away with the usual spare tire location.  In some articles I saw how people put spare tires in the service bed boxes.  You can put the tires in the storage boxes, but I chose not to bother with a box.  I just have the tire on the side, out in the open.  It's partially covered by the camper.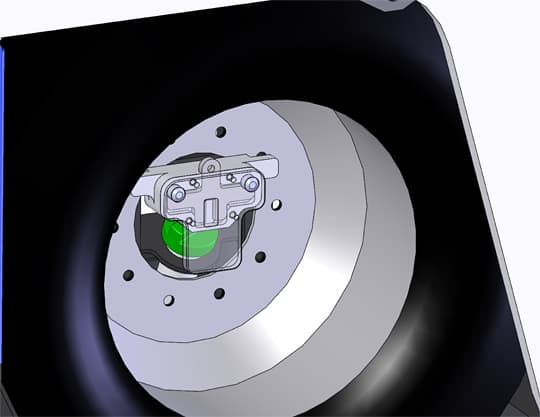 Above: The SolidWorks design of the spare tire and filler cap
Above: The actual spare tire and filler cap on the Ram 5500
With the fuel tank being behind the rear axle, I had to figure out where to put the filler cap.  I originally thought the filler cap would be in the back storage area.  Then I decided to put the spare tire on the same side as filler cap and position it in the middle of spare tire.  I fill my diesel fuel in the middle of the spare tire.
Another challenge was to get the camper as far forward as possible.  That was determined by the drain on the bottom of the camper.  I thought about modifying the camper, but I think they put the drain in and built the camper around it.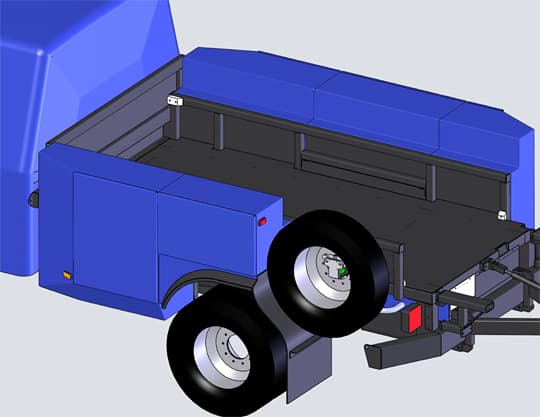 Above: The storage bed and hitch extension in SolidWorks
I also had to fabricate a substantial hitch extension.  The hitch extensions that I've had in the past are like a trampoline.  There's a lot of motion.  So, when I built the bed, I fabricated one.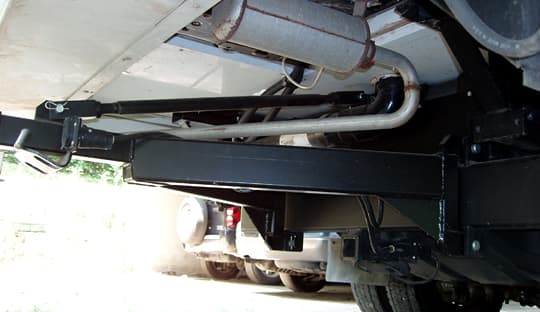 Above: The hitch extension that Charles fabricated
Last year we took the grandkids on a Route 66 trip from Missouri to the West Coast.  My daughter flew out and met us and went to Disneyland and then drove up the coast to Sacramento.  Along the way, we stopped at Laguna Seca Raceway.  There is a county campground next to it where I had made reservations.  When I told them I had driven the track, they put us next to the track.
A fellow across the way, asked about the 5500 and I told him I was overweight with the 3500.  It turned out he works for the California Highway Patrol and inspects RVs.  However, after he joined that division, he measured his own RV, and he was overweight!  Then he bought a different RV.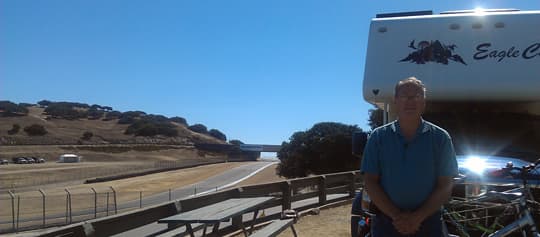 Above: Charles at LaGuna Seca Track in California
TCM: Tell us about camping at the race tracks.  What do you do there?
Charles: I'm a volunteer car instructor in high performance driving schools for the BMW and Porsche car clubs in the southeast.  There are a number of organizations and car clubs with high performance driving schools.
A local chapter will rent the track for the weekend.  Volunteers, mostly from that chapter, will organize the school.  In addition, volunteers, or track junkies, will come from surrounding states because they can get free or reduced rate track time for instructing.  You don't have to have a car of the same make as the chapter that's hosting the event, but you do drive your own car.

Above: Camping at the Road Atlanta track in Atlanta, Georgia
Most tracks will let you camp.  At Road Atlanta, on the edge of the paddock, they provide electric.  Some tracks like Memphis and Putnam Park have no power available for campers.  A track like Barber Motor Sports is a beautiful park, but you have to pay to camp and pay for power separately.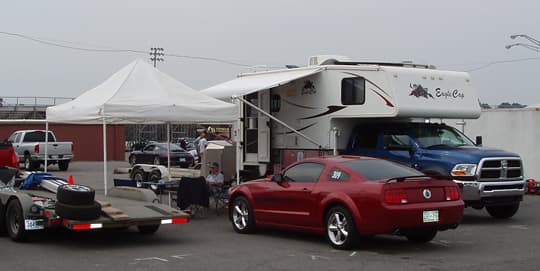 Above: Camping at the track in Memphis, Tennessee
In addition to reducing lodging costs, it's nice to have a place to get out of the weather.  When it's rainy, cold, or hot, it's nice to have the camper right there.  One good thing about the Eagle Cap 1160 is that I can have a lot of people in it.  This makes us really popular when the weather is bad.  I can have several people in the camper at one time.
It's also really nice to be able to roll out of bed just in time for the driver's meeting.  Similar to the truck camper rallies you have covered, we have friends who we only see at the track a few times a year.  The camper also facilitates enjoying some really good food, way better than the track concession stand.
There is also Street Survival for young adults.  Our local chapter has helped with two of these, set up in the parking lot at the Nashville Speedway.  Since that is two hours away, and I don't do mornings, I have camped at the track the night before.  The Street Survival sessions are rewarding.  The daughter of the mechanic I take my car to for tech inspections said, after we got off the skid pad, "Even though the car was sliding, I could control it".  Besides my usual "Ye-Ha!", I yield "illumination".
I know I'm preaching to the choir, but a truck camper, because of its versatility, really does make doing this sort of thing easier and more pleasant.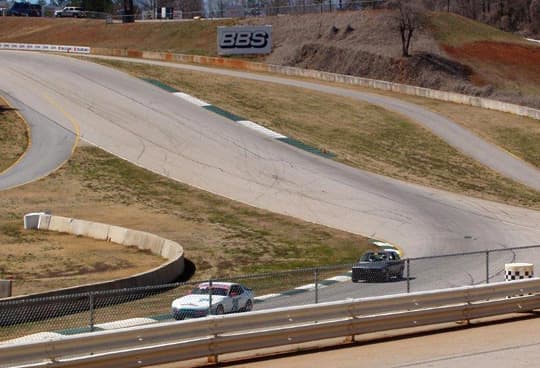 Above: Charles' 1984 BMW 318 dedicated track car on the track
TCM: Do you take a vehicle with you to race around the track?
Charles: Yes. When I volunteer, I usually don't have to pay to drive my car on the track.  It's a good time to get track time.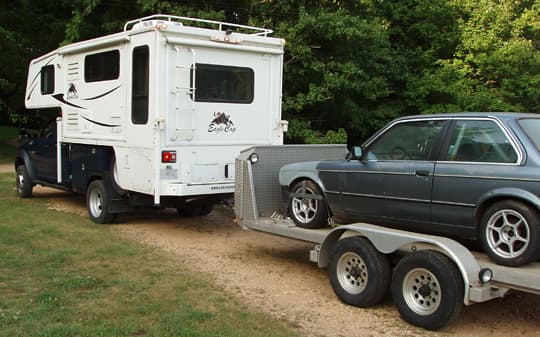 Above: Charles tows a 1984 BMW 318 dedicated track car
TCM: Tell us about your track car.
Charles: I tow a 1984 BMW 318 dedicated track car.  Everything that doesn't make it go faster has been removed (the poor man's approach to the power to weight ratio).  The inside is basically a shell with a full cage, light weight seats, and five point harness.  It has an M3 motor and running gear.  Its nickname is Dimples, because it was stuck on a trailer during a hail storm, but I say that makes it go faster like a golf ball!
Some of the advanced students and instructors have a dedicated car with cages, seats, and upgraded suspension.  We'll play around with swapping engines and so forth.  I've had the track car for ten years or so.
TCM: Putting a M3 engine into a BMW 318 sounds a little over the top.
Charles: Dimples would have been an "over the top" track car in the late 80s but, nowadays, not so much. The new BMW M3, Porsche 911, and Corvette play in their own time zone!  Dimples is more about performance for the money and having fun.
A friend and I bought the car with a locked up motor and a junk yard motor for $1,400.  Over the years we have spent another $5,000.  But, if I'm at the top of my game on the twisty bits of the right track, I can play with the big boys for a little while, at least until the next straight section.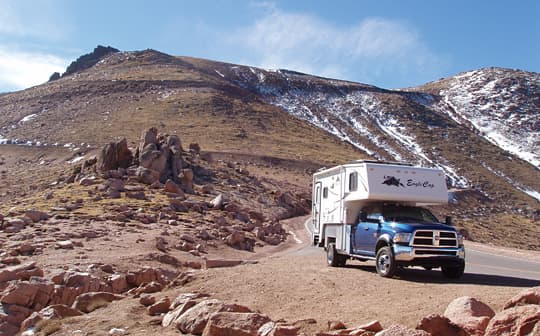 Above: Exploring Pikes Peak in Colorado
TCM: Other than the race track, where do you like to go with your camper?
Charles: My wife and l will take a big trip every now and then.  I also use it for business.  Yesterday, I had a presentation to make for my company that was three hours south of home.  I made the presentation in the afternoon and stayed at a local campground on the lake that night.  I do that quite often.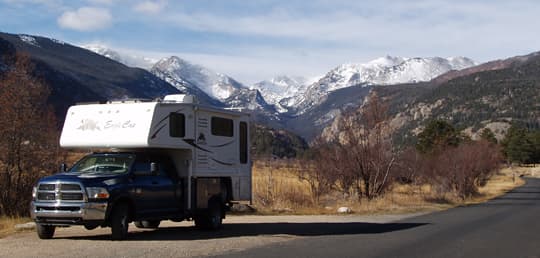 Above: 2011 Ram 5500 and 2010 Eagle Cap 1160 at Rocky Mountain National Park
After the Route 66 trip last year, I had to make a sales call in Oklahoma.  My wife's father made a bassinet that has been passed around the family for years.  The latest need was in Denver.  I put it in the backseat and delivered it to Denver after my sales call in Oklahoma.  While I was there, I spent a few nights at Rocky Mountain National Park.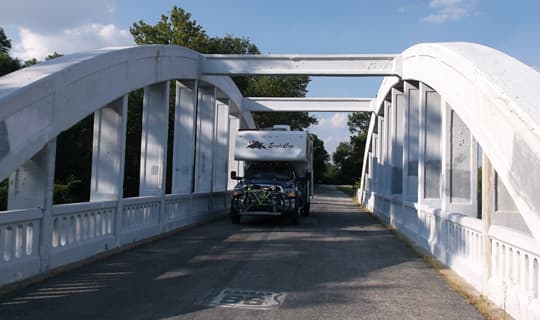 Above: Charles' rig on Route 66
TCM: What's next for your truck camping adventures?
Charles: In the near future, I would like to attend the Overland Expo East with my oldest grandson.  My next camper project is to add more solar.  I have a 135 watt solar panel now, and the new version of what I have on there is 140 watts.  I'm going to add two of those and a MPPT controller.  With my four AGM batteries, 2000 watt inverter, and generator, I'll be set for dry camping.
Above: Four AGM batteries are stored under the truck; two in the front and two in the back – click to enlarge the photos
Plus, I live in rural Tennessee, so it's not uncommon to have power outages.  We have had ice storms with the power out for a week.  It would have been nice to have the camper with all those power modifications then.
Above: The Grand Tetons in Wyoming – click to enlarge the photos
TCM: Tell us about your trip to the Tetons, Yellowstone National Park, and Bozeman, Montana.
Charles: We just got back from that trip two weeks ago.  My daughter and her husband bought a toy hauler, and he puts his Harley Davidson in the toy hauler.  We convoyed out together, and stayed at an RV park just outside the Tetons.
From there we went to Fishing Bridge RV Park in Yellowstone, and then to Bozeman, Montana.  My wife's brother lives in Bozeman and my son-in-law wanted to ride his motorcycle over Beartooth Pass.  It was late June and he was going through areas that had snow walls on the sides of the road that were ten feet high.  On the way back, they wanted to go through Badlands, so we stayed longer visiting in Bozeman.  Then we went to Colter Bay in the Tetons.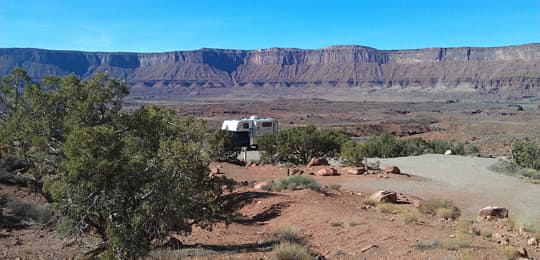 Above: Camping at Fisher Towers, Utah
TCM: Is there anything else that you'd like to add to your interview?
Charles: I do have lung problems, so I'm not enthused about long hikes.  When I'm by myself, I'll get to a campground early, enjoy a leisurely evening and morning, and get going.  I rarely stay at one place for any length of time.  The cool thing about the camper is that it's easy to set up, with not a lot to fiddle with.  It's a lot easier than tent camping.
Truck: 2011 Ram 5500, cab and chassis, dual rear wheels, 4×4, diesel, custom service bed
Camper: 2010 Eagle Cap 1160
Jacks: Happijac
Tie-downs/Turnbuckles: Happijac
Suspension: Firestone airbags rear, Kelderman front air suspension, Rancho adjustable shocks, Hellwig sway bar
Gear: Rack for the front to haul grandson's bikes, two batteries under the cab clamped to the truck frame and two under the bed
Do you have a unique storage bed like Charles Phy does?  If so, please share your story.