What happens when you have an Eagle Cap 1160 double-slide camper, a Ram 5500 truck and custom storage bed, and a 1984 BMW 318i track car?  Fasten your seat belts.

As the President of Industrial design and Fabrication, Inc., Charles Phy is an entrepreneur who designs and builds custom automated machinery.  He used his engineering and fabrication background to design a tricked-out custom storage bed for what is possibly the biggest and baddest truck available for a truck camper, a Ram 5500.
In the bed of his Ram 5500 Cummins diesel beast is an Eagle Cap 1160 double-slide.  With 18,750 GVWR, the Ram 5500 literally has enough excess payload to carry a German automobile.
Speaking of German automobiles, Charles tows a 1984 BMW 318i track car that has been weight-stripped to the extreme, and then loaded for high-speed insanity with an M3 engine.  We're not sure what's more nuts, the Ram 5500 and awesome storage bed, or the completely out-of-his-mind BMW.  When it comes to living life to the fullest, and fastest, Charles Phy clearly has the pedal to the medal.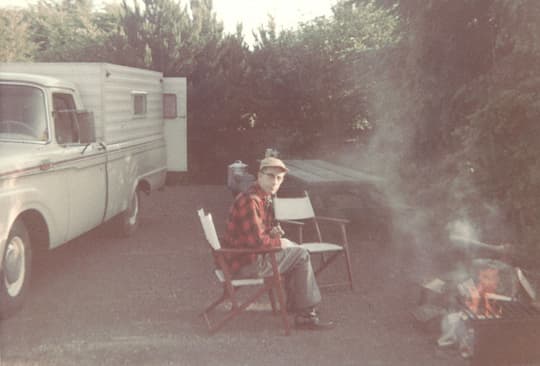 Above: The camper Charles and his dad built
TCM: How did you get into truck camping?
Charles: My father had a truck camper.  When I was in high school he had a half ton Ford and we built a camper for the bed.  Later he had a Six-Pac on a three-quarter ton Ford.  The Six-Pac had no bathroom and a hand pump on the sink.  That's how I got the traveling bug.  The main reason I have a truck camper now is because of the flexibility and that I can tow my trailer.
In 2002, I ordered a Lance 921 and had that camper for several years.  Actually, even after I bought the Eagle Cap I kept the Lance for a year because I was so attached to it.  I picked the Eagle Cap 1160 up from Truck Camper Warehouse in January of 2011.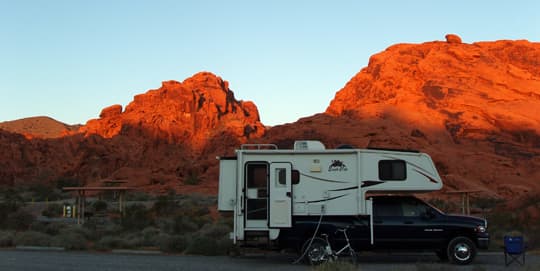 Above: The 2005 Ram 3500 and 2010 Eagle Cap 1160 in Valley of Fire State Park, Nevada
TCM: Why did you change your truck after purchasing the Eagle Cap?
Charles: Originally, I had a 2005 Ram 3500 dually.  It was actually several of Gordon's articles on truck and camper matching and payload capacity that got me thinking about that truck with the Eagle Cap 1160.  The 2005 Ram 3500 did a commendable job of handling it.  I had two extra leafs, shocks, and a sway bar, but I was still about 800 pounds over GVWR.
My main concern was the braking capability.  Once I was traveling east over Teton Pass into Jackson Hole, Wyoming and I was on a 15% grade.  That's when you really start thinking about braking capacity and needing a payload matched rig.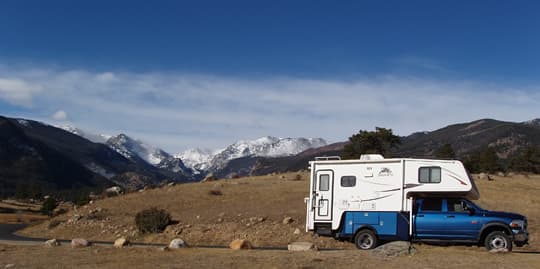 Above: 2011 Ram 5500 and 2010 Eagle Cap 1160 at Rocky Mountain National Park
TCM: Tell us about your new truck.
Charles: I have a 2011 Ram 5500 cab and chassis with a custom service bed.  It's a sixty-inch cab to axle with dual rear wheels, four wheel drive, and a Cummins diesel engine.  The GVWR is 18,750 pounds.
I took it over to the scales in March of 2013 with the Eagle Cap.  It was 5,200 pounds on the front axle, and 10,520 pounds on the rear axle, for a total of 15,720 pounds.  I've added a couple things since then, but, with the Eagle Cap 1160 and the custom service bed, I still have about 3,000 extra pounds of payload capacity.