Truck camper Don Walker doesn't need reservations to spend his winters in a Florida campground, he owns one!  How can one guy be this lucky?

In 2005, we pulled into a campground in Palacios, Texas intending to stay a day or two and then keep going.  We were getting towards the end of our trip and the weather was still cold at home in Pennsylvania.  We had already spent most of our trip budget and were dreading what we thought would be the end of our truck camping days for a long time.  At that time, the plan was to sell our truck and camper when we got home and return to normal life.  It was going to be a difficult transition.
Then we found out that the campground in Palacios only charged $250 a month including wireless internet and electric.  A month!  Suddenly our plans changed.  We put off cold reality for a month and stayed in Palacios, Texas.  We enjoyed ice cream socials and walked to the library where we got our very own Palacios, Texas library cards.  For four weeks, we officially became snowbirds.
Ever since that experience, we have talked about Palacios.  The campground wasn't in the most amazing location, but it was warm, affordable, and friendly.  After a few weeks of dark and frozen Pennsylvania winter, that memory has a very strong pull.  Perhaps the most alluring part is the fact that campgrounds in warm places like Florida and Texas are not always $100 a night like they are in the Florida Keys.  In fact, some campgrounds are very affordable.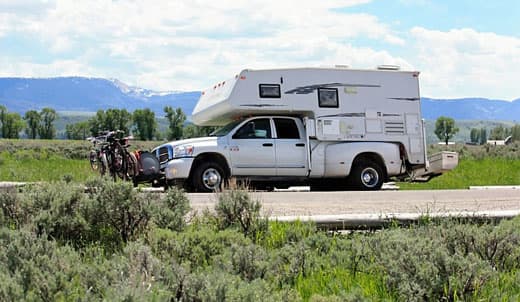 Above: Don and Holly's 2009 Dodge Ram 3500 and 2008 Northstar Igloo Model U
That brings us to the subject of our story, Don Walker.  Don is a passionate Northstar Igloo truck camper owner who just happens to also own a campground near Okeechobee, Florida; Summer Breeze RV Park.  Don has been a reader since 2008 when he decided to ditch his fifth and get a truck camper.  When Don contacted us a few weeks ago to invite us to stay at his Florida campground, we asked for his story, and rekindled the dream of staying warm this winter.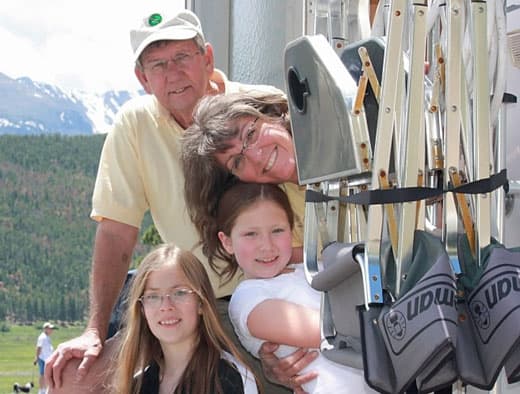 Above: Don, Holly, Courtney, and Reina hanging out the back of the camper
TCM: How did you get into truck camping?
Don: Holly and I have been married for twenty-five years.  About fifteen years ago she said, "Let's get a truck camper".  It took us until 2000 to get a truck.  Then we got a fifth wheel thinking we needed more room.
Our fifth wheel had three slides and central air.  When we got to a campground, we stayed in it.  Eventually we said, "Why are we staying in this fifth wheel and not taking advantage of the area we're in?"  Staying in the fifth wheel was not the camping we knew and enjoyed.  We took a real beating when we sold the fifth wheel after only having owned it for two and a half years.  I don't want to think about how much we lost.
We bought our first truck camper in 2008, a used Fleetwood.  It had double doors in the back, a cabover bunk, a little sink, and no toilet.  The camper was intended as a hybrid truck camper and toy hauler and could accommodate motorcycles or a four wheeler.  Holly hated it because it had no amenities, but it started us out truck camping.
Going truck camping was immediately more attractive for us because we could camp in the honor system parks in Georgia.  We couldn't get our fifth wheel in those parks.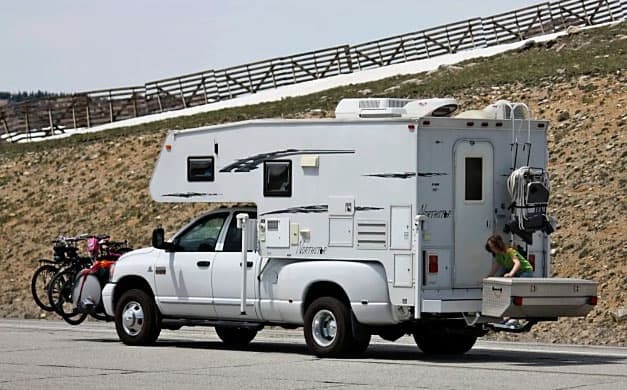 Above: Their Northstar truck camper in South Dakota; the picture above shows off the diamond plate box attached in the rear
We had that camper for a year and then found our brand new 2008 Northstar Igloo.  The Igloo came with mechanical jacks, so we ordered the remote electric motor upgrade.  It was too much work to run around and raise and lower the jacks manually.
When I bought the Northstar, I had a Dodge 2500 long bed with about 150,000 miles on it.  Before our trip out west, we bought a 3500 dually.  The 3500 dually has way more payload than the Igloo needs, but I like the stability of a one ton dual rear wheel truck.
TCM: It's always good to have more truck payload than you need.  Fully loaded and wet truck campers also have a habit of weighing more than you think.  What do you like to do while you're out truck camping?
Don: It was January when we picked up the Northstar in Ohio and we took the long way home through Kentucky, Tennessee, and North Carolina.  It was five days in the winter and snow and the camper was very warm and comfortable in those conditions.
At the time, we were living in northern Georgia and owned the campground in Okeechobee, Florida.  We would drive down to Florida every six weeks and bring the Northstar with us.  On the way we would visit places like Ocala National Forest.  I canoed there when I was a Boy Scout.  I hadn't been there since I was a kid, so we went with our truck camper.
We took the Igloo to the Keys in the early summer of 2009.  We stayed at Long Point Campground, just north of Marathon.  It's right on the ocean.  We would open up the Northstar's European-style windows and we felt like we were camping in a tent.  That made being in the Keys a lot of fun.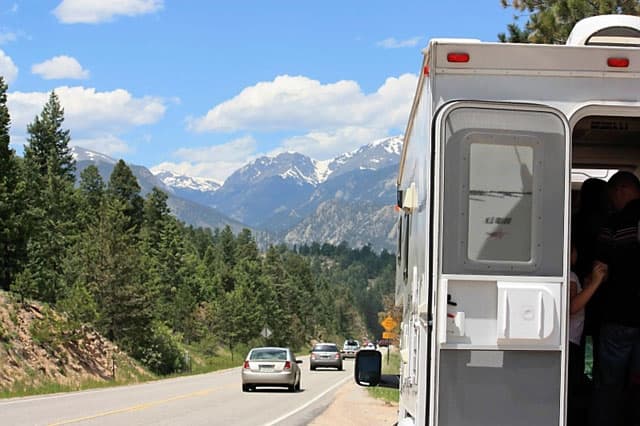 Above: Roadside stop for lunch coming out of Yellowstone headed to Tetons
In September of 2009, we took a month and went to Colorado, Wyoming, and Idaho. We visited Yellowstone National Park and Custer State Park, which is one of our favorite places.  Another one of our favorites is Hoback Junction, just south of Jackson Hole about ten miles on the Hoback River.  It's a Division of Forestry campground.  It was the picture of what a river running through the mountains should look like.  It was $6 a night and the only amenity there was a composting toilet.  That's the reward of having a cassette in your camper.  Pull it and get rid of it.
TCM: There's no beating the versatility of a cassette toilet system.  Rex Willett, Vice President of Northstar Campers, has always told us that you can dump your cassette toilet just about anywhere; composting toilets included.  Tell us about your trip with your son and family.
Don: In the summer of 2010, Holly and I went out with my son, our two granddaughters, and our seventy pound dog, for two weeks.  We all camped in our Northstar Igloo.
The goal for the trip was to visit the National Parks so my granddaughters could get their Junior Ranger badges.  In two weeks we explored eight National parks.
We had a great time and never had an ill word towards each other.  We spent most of our time outside of the camper.  The kids have grown up in Washington State and their dad takes them tent camping all the time.  The camper was very kid friendly.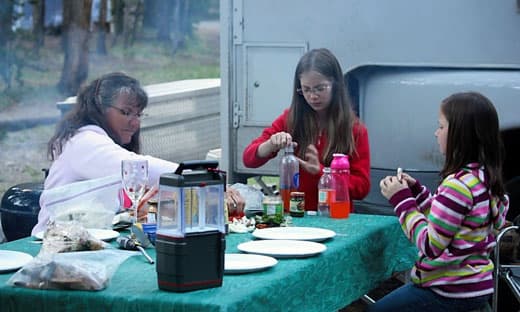 Above: Holly, Reina, and Courtney getting ready for dinner at the campground in Rocky Mountain National Park
TCM: Wow!  Five people and a dog in a non-slide truck camper.  That's amazing!  Where did everyone sleep?
Don: Holly modified a hamper in the overcab to make it into a sleeping area for one of the children.  The hampers are about twelve inches wide.  Holly removed the handle pulls and replaced them with soft rope pulls.  Then she put a two inch thick foam pad on top of the hamper door making it comfortable.  That worked out well.
We also made the dinette into a bed.  Our son stayed there.  One of the girls would be with their dad and one would be with us.
With the pass through window that Northstar has, our dog could go back and forth between the truck and the camper.  He would sleep in truck's cab or on the other side of us in the bed.  It was not uncomfortable for anybody.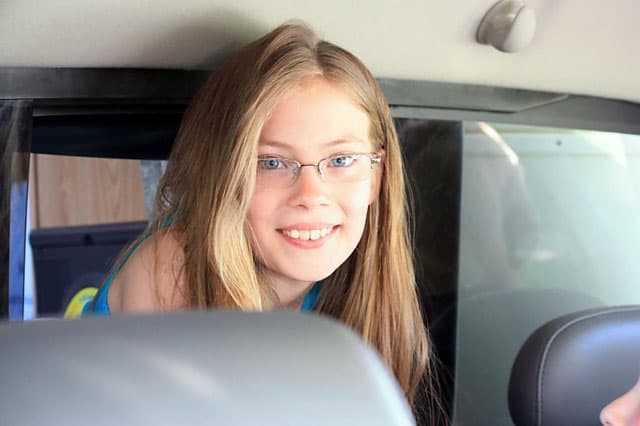 Above: Reina coming into the truck from the camper through the window
TCM: Was there enough room in the truck when you were driving?
Don: We have a five passenger truck, so everyone had a seat and our dog was on somebody's lap all the time.
Above: Courtney and Grace in the truck 
TCM: Our cat, Harley does the same thing.  How did you get started with your campground in Florida?
Don: I was an independent insurance agent and real estate agent.  I had an interest in sailing, so I sold my insurance business in 1991.  I had a thirty-four foot boat and then a thirty-eight foot boat.  We got the larger boat so we could sail in the Bahamas.
Eventually our money was going to run out so I had to do something.  When I had been a real estate broker I noticed a campground for sale.  When I checked on it a few years later, it was still available.  I thought, "I can buy the campground and still have an income".  I bought the campground in 1991.
I'll never forget the sales lady telling me, "You don't want to do that, it's seven days a week, 365 days a year".  She was right.  Owning a campground is like owning a farm.  It truly is seven days a week, 365 days a year.
I had a property manager for a while and moved to a house in the Smoky Mountains, but the property manager didn't take the campground in the right direction.  Now our property in the Smokey Mountains is a vacation rental and we live here at the campground.  I work everyday cutting grass, working on water lines, and maintaining the electrical lines.  I am sixty-eight years old and still able to do it.  I have a purpose.
Since we got back from our trip in 2010, we've only taken very short trips with the camper.  The first of August this year I got my first summer time work camper.  It's really hands-on in the campground getting it to where I wanted it to be.  I'd like to develop truck camper community here.
 TCM: I bet quite a few of our readers would love to winter in their campers in Florida.  Tell us about your campground.
Don: We have twenty-three available campsites.  Another sixty-three sites have permanent residents, most are retirees from the Ohio Valley area.  Most folks who stay with us long term go home by the end of March.  Only twelve people live here year round.
The campground was built in the 1970's in a horseshoe shape and the campsites are relatively close together.  I have planted palm trees that are about eight feet high to help with privacy, but it's not a wooded campground.  The clubhouse has free wireless internet and his and hers bathrooms and showers.  We also have four washing machines and dryers, a horseshoe pit, and a cornhole board with bean bags.
In the winter we hold one campground wide dinner a month and a organize field trip a month.  Last year we went on a sugar cane tour and enjoyed off shore chartered fishing trips. It's a nice community and we have fun.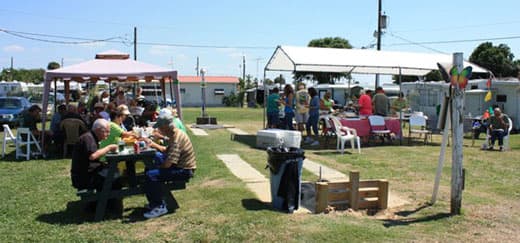 Above: One of the monthly dinners in Summer Breeze RV Park
TCM: Do you get ideas for your campground from other campgrounds you have visited?
Don: Yes we do.  For example, we have live music once a month.  A work camper did that at another campground I visited.  Last year I created a space in the common area.  On Friday afternoons we have a happy hour with a campfire.  People gather and bring food for a potluck.  Some bring drinks.  It's a social thing that lasts about an hour and a half.  We don't have fire rings at our campsites because a lot of people here are fisherman and have boats at their campsites.  We try not to encumber their campsite space.
TCM: Do you see many truck campers at your campground?
Don: Absolutely none.  I see them drive occasionally.  The last couple of years there have been large bass tournaments on the lake.  Lake Okeechobee is a huge for bass fishing.  A lot of the professional fisherman use truck campers and pull their boats.  I can satisfy their requirements and save them some money, but I haven't talked to them yet.
Our campground is a half mile from two very large boat ramps that are free, modern, and county maintained.  When you launch your boat there, it's a three minute boat ride to Lake Okeechobee.  If you like boating and fishing, you'll love it here.
TCM: When you contacted us, you were excited to offer Truck Camper Magazine readers a special discount.
Don: For Truck Camper Magazine readers, I'd like to offer $15 a night for electric and water, and possibly sewer depending if the spot is available.  I also have a primitive area that has about eight spots.  I'm not set-up for a lot of truck campers, but I am open to suggestions to bring more truck campers to my facility.  I am always willing to get feedback from fellow truck camper owners.  I am actually really excited that other truck campers might come stay with us.  Please contact us at 863-763-7245 and stop on by at 9251 State Road #78 West in Okeechobee, Florida 34974.
TCM: We hope to come down to Florida in January and look forward to visiting your campground.  Where do you suggest truck campers go while they're in the area?
Don: There's lots to do around here.  One of the most popular things to do are the airboat rides.  Airboats are a sled type boat with an airplane motor that can get you into shallow water where you can see alligators and water fowl indigenous to our area.  That's about thirty miles from here.
TCM: We did that in the Everglades a few years before starting the magazine.  The airboat driver threw marshmallows to the alligators.  It was a blast, literally.
Don: Sugar Land Tours gives a three quarters of a day tour for forty-five dollars through the sugar cane mills.  You see how they handle it and process the sugar cane.  They also give you a really nice lunch and a trip through the museum.  We've done that and I can highly recommend it.
Another tour that I recommend is the Indian River Lagoon at Fort Pierce about forty-five minutes away.  You get on a pontoon boat that carries about thirty passengers, and they take through the Indian River Lagoon and show you the wildlife like porpoises, sea cows, birds, and tortoise.  It's a real interesting eco-tour.
Fort Pierce also has Friday Fest with artists and food vendors.  Holly and I go there on Friday afternoons for fun.
TCM: Sounds like you all have some fun.  And it stays fairly warm where you are through the winter months.  That alone will sell a few of us in the frozen north.  Is there anything else that you would like to add to this interview?
Don: Lake Okeechobee is a 760 square mile shallow lake surrounded by a levy.  On top of the levy is a paved bicycle and walking trail that's less than a half a mile from my campground.  Then you're up on the levy with a view of Lake Okeechobee, it's as good as it gets.  Bring your bikes!  We openly welcome truck campers.  Please contact us at 863-763-7245 or stop on by at 9251 State Road #78 West in Okeechobee, Florida if you're in the neighborhood.
DON AND HOLLY WALKER'S TRUCK CAMPER RIG
Truck: 2009 Dodge Ram 3500, quad cab, dually, long bed, 4×4, diesel
Camper: 2008 Northstar Igloo Model U
Tie-downs and Turnbuckles: Happijacs
Suspension Enhancements: N/A
Gear: Basket on front of the truck with 3000 Honda Generator, BBQ grill, satellite dish, and a receiver on front of the truck for bike racks