Truck camper Don Walker doesn't need reservations to spend his winters in a Florida campground, he owns one!  How can one guy be this lucky?

In 2005, we pulled into a campground in Palacios, Texas intending to stay a day or two and then keep going.  We were getting towards the end of our trip and the weather was still cold at home in Pennsylvania.  We had already spent most of our trip budget and were dreading what we thought would be the end of our truck camping days for a long time.  At that time, the plan was to sell our truck and camper when we got home and return to normal life.  It was going to be a difficult transition.
Then we found out that the campground in Palacios only charged $250 a month including wireless internet and electric.  A month!  Suddenly our plans changed.  We put off cold reality for a month and stayed in Palacios, Texas.  We enjoyed ice cream socials and walked to the library where we got our very own Palacios, Texas library cards.  For four weeks, we officially became snowbirds.
Ever since that experience, we have talked about Palacios.  The campground wasn't in the most amazing location, but it was warm, affordable, and friendly.  After a few weeks of dark and frozen Pennsylvania winter, that memory has a very strong pull.  Perhaps the most alluring part is the fact that campgrounds in warm places like Florida and Texas are not always $100 a night like they are in the Florida Keys.  In fact, some campgrounds are very affordable.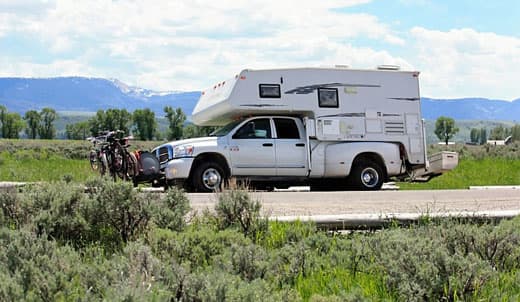 Above: Don and Holly's 2009 Dodge Ram 3500 and 2008 Northstar Igloo Model U
That brings us to the subject of our story, Don Walker.  Don is a passionate Northstar Igloo truck camper owner who just happens to also own a campground near Okeechobee, Florida; Summer Breeze RV Park.  Don has been a reader since 2008 when he decided to ditch his fifth and get a truck camper.  When Don contacted us a few weeks ago to invite us to stay at his Florida campground, we asked for his story, and rekindled the dream of staying warm this winter.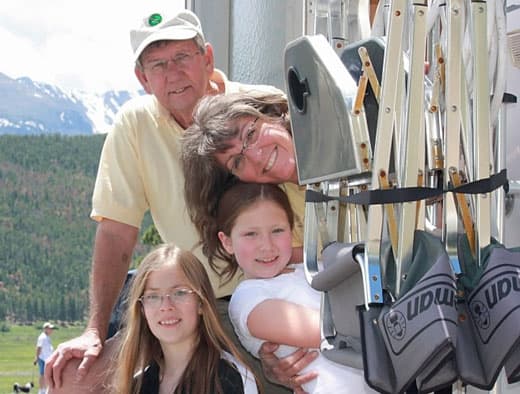 Above: Don, Holly, Courtney, and Reina hanging out the back of the camper
TCM: How did you get into truck camping?
Don: Holly and I have been married for twenty-five years.  About fifteen years ago she said, "Let's get a truck camper".  It took us until 2000 to get a truck.  Then we got a fifth wheel thinking we needed more room.
Our fifth wheel had three slides and central air.  When we got to a campground, we stayed in it.  Eventually we said, "Why are we staying in this fifth wheel and not taking advantage of the area we're in?"  Staying in the fifth wheel was not the camping we knew and enjoyed.  We took a real beating when we sold the fifth wheel after only having owned it for two and a half years.  I don't want to think about how much we lost.
We bought our first truck camper in 2008, a used Fleetwood.  It had double doors in the back, a cabover bunk, a little sink, and no toilet.  The camper was intended as a hybrid truck camper and toy hauler and could accommodate motorcycles or a four wheeler.  Holly hated it because it had no amenities, but it started us out truck camping.
Going truck camping was immediately more attractive for us because we could camp in the honor system parks in Georgia.  We couldn't get our fifth wheel in those parks.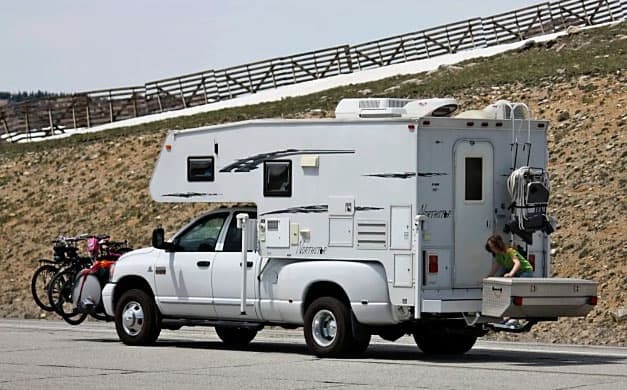 Above: Their Northstar truck camper in South Dakota; the picture above shows off the diamond plate box attached in the rear
We had that camper for a year and then found our brand new 2008 Northstar Igloo.  The Igloo came with mechanical jacks, so we ordered the remote electric motor upgrade.  It was too much work to run around and raise and lower the jacks manually.
When I bought the Northstar, I had a Dodge 2500 long bed with about 150,000 miles on it.  Before our trip out west, we bought a 3500 dually.  The 3500 dually has way more payload than the Igloo needs, but I like the stability of a one ton dual rear wheel truck.
TCM: It's always good to have more truck payload than you need.  Fully loaded and wet truck campers also have a habit of weighing more than you think.  What do you like to do while you're out truck camping?