Above: Staying in Lac Simon in their camper for a family gathering
TCM: How have you used your truck camper to stay with friends and family?
Denise: In the years before we had the truck camper, we would have family gatherings at our cottage.  No one got much sleep because we were all on different schedules.
This year we visited family with our truck camper.  It was nice to have my own bed.  There was a rainstorm and I went into the camper to read and take a nap.  It was great to have our own place with our own stuff.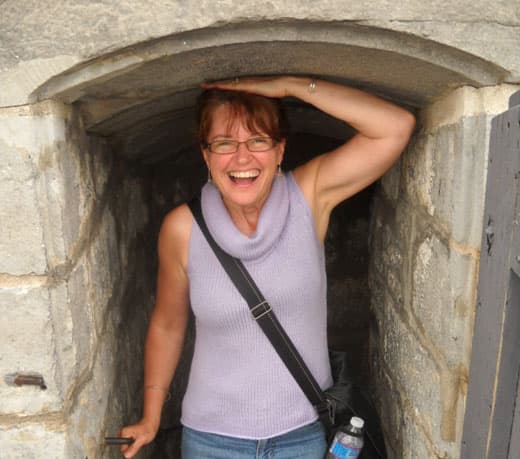 Above: Denise at Fort Henry in Kingston
TCM: What are your future truck camping plans?
Denise: Our plans for the next three years are to make small weekend trips in the Ontario and Quebec area where we live like the one we just did in Quebec City with twenty other truck camper owners we had never met.  A woman named France organized this gathering for truck campers.  We are so glad we bought a truck camper and were able to participate in this great meeting.
And then, when we retire, we will be able to go on longer adventures south to escape the long Canadian winter months.  One day we will travel west to see Vancouver and the Canadian Rockies.
TCM: Is there anything else that you would like to add to your interview?
Denise: Ladies, truck campers are not only for hunters and fisherman.  Go and see one in person.  We would have probably bought one earlier if I had seen the inside of one earlier.  My automatic answer was, "It's not for me".  The minute I saw one at an RV show, I knew we would get one.
DENISE HUPE'S TRUCK CAMPER RIG
Truck: 2010 Ford F250 Super Duty, extended cab, single rear wheel, short bed, 4×4, gas
Camper: 2004 Adventurer 810WS
Tie-downs and Turnbuckles: Happijac
Suspension Enhancements: Airbags

Gear: Ladder bike rack