Denise Hupé and her husband set out from Quebec seeking out new truck camping experiences, and rocks for Inuksuk sculptures.  Rack 'em, pack 'em and stack 'em!

In the first few days of Truck Camper Magazine, there were folks within the truck camper industry and community who questioned whether we would find enough stories to keep a magazine going.  This idea that there just wasn't that much to write about for truck campers worried us, at least for those first few days.
We quickly discovered that truck campers, both the product category and the community, are about as diverse and interesting as can be imagined.  A cursory glance through our recent archive reveals stories about truck camping through South America, reporters who use truck campers for their journalism, truck campers going to Alaska, truck campers reaching a quarter million miles, gourmet cooking while truck camping, and truck camping through Europe.  We have had our fair share of challenges over the past six years, but finding compelling stories has never been one of them.
Another facet of the diverse nature of our lifestyle stories is how often the stories themselves are diverse.  While we try to focus each story around a particular theme, the stories often contain multiple sub-themes that are only discovered after taking in each photo and paragraph.
For our third and final installment of Ladies Week 2012, Denise Hupé gives us a perfect example of a story with many facets on tap.  Our favorite sub-theme from Denise's story is her hobby of collecting rocks during her travels specifically so she can build Inuksuk sculptures.  We may even try our hand at a building a rock man one of these days.  Denise also shares how the truck camper has helped with family visits, and her food allergies.  Like we said, diverse!  We love it.  Rock on Denise!
TCM: How did you get into camping?
Denise: My dad introduced my family to camping when I was six years old.  We had a little seventeen foot travel trailer for the six of us.  There was no toilet or refrigerator, but we had an ice box.  Every other weekend we would go camping in that small trailer.  Then, in 1966, we went to Florida for the holidays.  At that time very few people from Quebec traveled to Florida.  I was a lucky one.
When I met my husband, we bought a travel trailer and used it from 1993 until 1999.  That trailer stayed at the same campground.  My kids were young, and we spent our summers camping.  Those were my husband's first camping experiences.
Here in Quebec, it's still nice in the Fall.  With the travel trailer, we missed out on being able to go to the country and the lake after the campgrounds had closed for the season.  So we sold the trailer, built a cottage and spent the winters in the country for ten years. It was wonderful, but I missed discovering new places.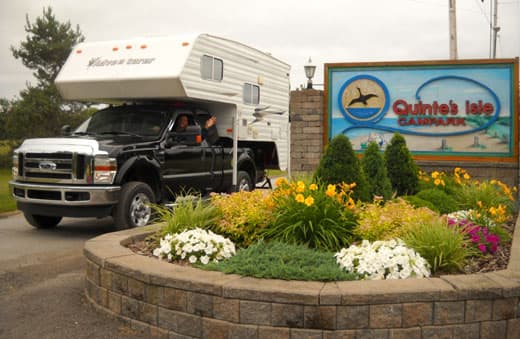 Above: Denise and Bob's Adventurer 810WS and Ford F250
TCM: How did you finally end up with a truck camper?
Denise: We actually started looking at Class B motorhomes.  It didn't take long to realize they were way over our budget.  And a used one would have a lot of mileage on it.  That's when my husband suggested a truck camper.  I had always thought truck campers were for hunters and fisherman with no toilet or refrigerator.  Then I saw a modern truck camper at a winter RV show in 2010.  It had a bed and a washroom.  I said, "This will meet our needs".
We bought our camper in the spring of 2011.  The previous owner had used it a few times only to go fishing.   It even smelled new.  We bought a new truck because we wanted to know we wouldn't break down and we wanted the warranty.  Plus, our truck is very useful here in the country.  I like the versatility of owning a truck and be able to use it all year long.
With our camper we can go everywhere we want to go.  I hate having to reserve campgrounds.  With our camper, we don't have to do that.  We can stop at tourist information areas and we ask what's nice to see.  We chat with people we meet and ask them where to go, what places they recommend that are not necessarily tourist attractions.
I also have to eat every two hours because of my blood sugar.  I'm also allergic to onions, so I have to be careful.  With the truck camper having a kitchen and refrigerator, I can eat what I eat at home.  Traveling in the truck camper is a lot less complicated because I don't need to rely on anybody else for food and I know exactly what I'm going to eat.  It's heaven.
TCM: How do you plan your truck camping trips?
Denise: I research where we are going to go on the internet and look for unique opportunities along the way.  When we went to Kingston, Ontario, TripAdvisor.com recommended the Kingston Penitentiary Museum.  I wouldn't regularly pick a prison as a trip attraction, but the ratings were good and we really enjoyed it.
We keep our camper at our cottage because we live in the city and have a sloped driveway.  Unfortunately, that means we lose a half day to get the camper and have to plan ahead.  When we get there, I put our stuff in the camper.  My husband puts the water in and puts the camper on the truck.  I get the GPS set, print the directions, and highlight our route.
I have a hard time being in the same place for too long.  I like to go somewhere different for every trip.  I also don't like to take the highway.  I like to go on the roads that go through the towns so that we see more than just concrete.
TCM: Do you boondock or stay at Walmarts as you travel?
Denise: Yes, we do.  We have a Walmart near home and often see RVs parked there overnight.  During a trip to Thousand Islands, we decided to give Walmart a try.  My husband wasn't too keen on the idea, especially when we arrived and there we no other RVs in the parking lot.  Then it got dark and other RVs arrived making us feel more comfortable.
A strange noise woke us up early the next morning.  I thought the refrigerator had blown up!  It was actually a Walmart employee gathering up the shopping carts.  I guess that's what you get instead of a rooster for an alarm clock!
We also stayed at city hall in a town that openly invited RVing tourists to do so.  Right next to city hall was the fire station.  The city hall was closed and the fire station was empty.  We had our lawn chairs out and we were having a beer when the brother of the Fire Chief came by and was wondering why we were there.  We explained that we were visiting the town and just stopping for the night, and he said, "Feel free to stay".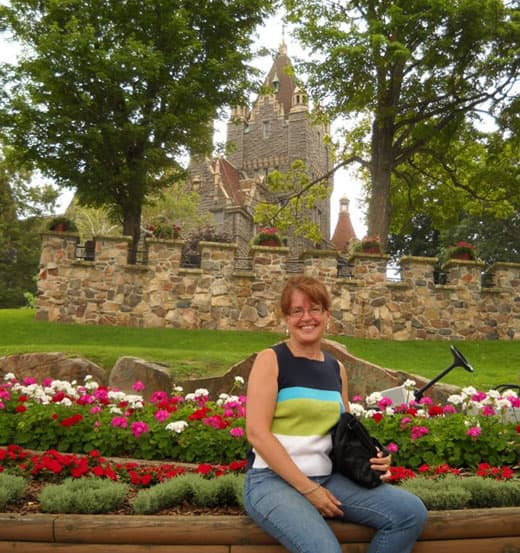 Above: Denise at Boldt Castle, New York/Canada border
TCM: What brought you to the Thousand Islands area of New York?
Denise: Coming back from a trip to Washington D.C. and while crossing the Thousand Island bridge, my husband mentioned that we should come here next time to visit.  We enjoy Boldt Castle.  The Thousand Island area also has incredible properties, and the parkway is nice.  You could spend a week there exploring the castle and enjoying the available water sports.  It's a very diversified area and a great destination for truck campers.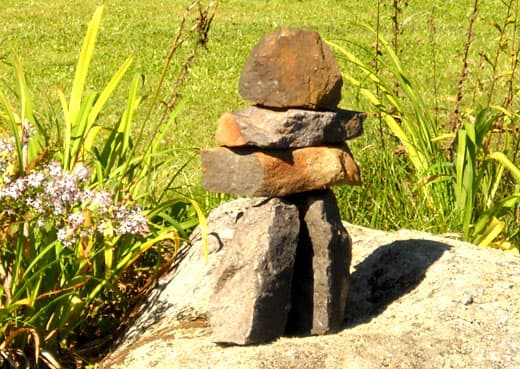 Above: Denise's rock sculptures
TCM: In your email you said, "I love to make rock sculptures called Inuksuk, which is an Inuit name for a human figure.  I have many on our property and, on all of our trips, I bring back rocks and make smaller Inuksuk versions".
Denise: I studied architecture and had seen a couple of these Inuksuk rock sculptureswhile on a trip to Yukon.  Then one day, my sister-in-law suggested we do some Inuksuk figurines for my in-laws anniversary because I had a lot of rocks on my property.  We made two, one that was rugged for a man, and one that was rounded for a woman.
For the Inuksuk rock sculptures, you need a minimum of five rocks; two for the legs, one for the body, one that represents the shoulders and arms and finally, one for the head.  You must have five that fit together well because they are not glued.  The rocks are just sitting on each other.  Usually I have to have at least twenty to thirty rocks before I find five that will hold together well.
As we travel, I look for rocks for my sculptures.  At the cottage, my husband moves the big rocks with a cart.  On the road, I can't bring too many of those back home.  On our trips, I mostly look for flat rocks as they're harder to find in our area.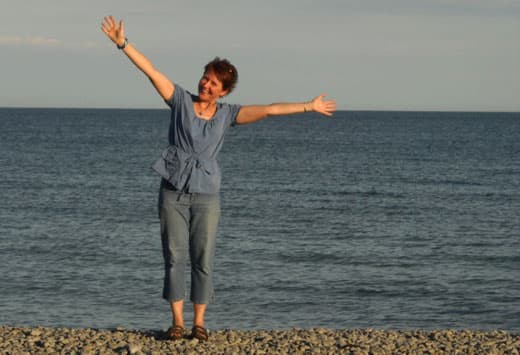 Above: Denise at the sand banks in Lake Ontario, Canada happy to find great rocks for her sculptures
The sand banks on Lake Ontario have polished grey rocks that are rounded but flat enough where you can place rocks on top of each other.  They are for smaller figurines because the rocks are smaller so those have to be glued together.
Notre-Dame-du-Laus in Quebec is approximately an hour north of Ottawa, Ontario and has white rocks.  I actually found the rocks there in a ditch on a side of a road.  The Transport Department put dynamite in the mountains to make the road larger and straighter, they left the rocks in the ditch.  When I saw those rocks, I had to make my husband stop to bring some back home.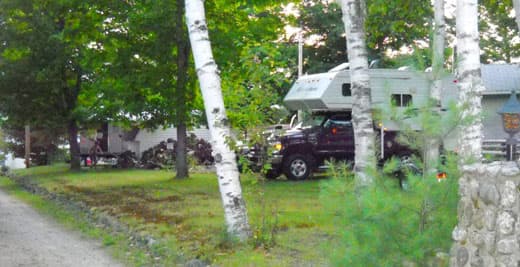 Above: Staying in Lac Simon in their camper for a family gathering
TCM: How have you used your truck camper to stay with friends and family?
Denise: In the years before we had the truck camper, we would have family gatherings at our cottage.  No one got much sleep because we were all on different schedules.
This year we visited family with our truck camper.  It was nice to have my own bed.  There was a rainstorm and I went into the camper to read and take a nap.  It was great to have our own place with our own stuff.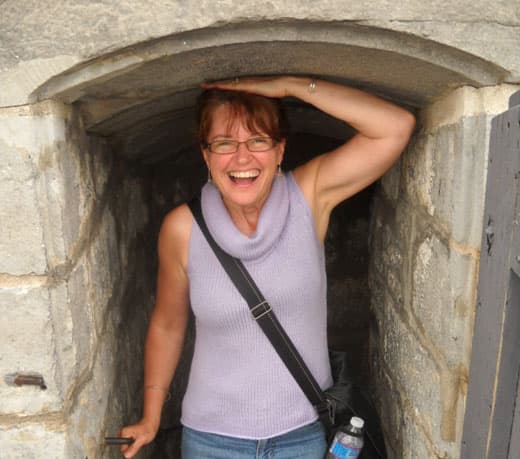 Above: Denise at Fort Henry in Kingston
TCM: What are your future truck camping plans?
Denise: Our plans for the next three years are to make small weekend trips in the Ontario and Quebec area where we live like the one we just did in Quebec City with twenty other truck camper owners we had never met.  A woman named France organized this gathering for truck campers.  We are so glad we bought a truck camper and were able to participate in this great meeting.
And then, when we retire, we will be able to go on longer adventures south to escape the long Canadian winter months.  One day we will travel west to see Vancouver and the Canadian Rockies.
TCM: Is there anything else that you would like to add to your interview?
Denise: Ladies, truck campers are not only for hunters and fisherman.  Go and see one in person.  We would have probably bought one earlier if I had seen the inside of one earlier.  My automatic answer was, "It's not for me".  The minute I saw one at an RV show, I knew we would get one.
DENISE HUPE'S TRUCK CAMPER RIG
Truck: 2010 Ford F250 Super Duty, extended cab, single rear wheel, short bed, 4×4, gas
Camper: 2004 Adventurer 810WS
Tie-downs and Turnbuckles: Happijac
Suspension Enhancements: Airbags

Gear: Ladder bike rack