Denise Hupé and her husband set out from Quebec seeking out new truck camping experiences, and rocks for Inuksuk sculptures.  Rack 'em, pack 'em and stack 'em!

In the first few days of Truck Camper Magazine, there were folks within the truck camper industry and community who questioned whether we would find enough stories to keep a magazine going.  This idea that there just wasn't that much to write about for truck campers worried us, at least for those first few days.
We quickly discovered that truck campers, both the product category and the community, are about as diverse and interesting as can be imagined.  A cursory glance through our recent archive reveals stories about truck camping through South America, reporters who use truck campers for their journalism, truck campers going to Alaska, truck campers reaching a quarter million miles, gourmet cooking while truck camping, and truck camping through Europe.  We have had our fair share of challenges over the past six years, but finding compelling stories has never been one of them.
Another facet of the diverse nature of our lifestyle stories is how often the stories themselves are diverse.  While we try to focus each story around a particular theme, the stories often contain multiple sub-themes that are only discovered after taking in each photo and paragraph.
For our third and final installment of Ladies Week 2012, Denise Hupé gives us a perfect example of a story with many facets on tap.  Our favorite sub-theme from Denise's story is her hobby of collecting rocks during her travels specifically so she can build Inuksuk sculptures.  We may even try our hand at a building a rock man one of these days.  Denise also shares how the truck camper has helped with family visits, and her food allergies.  Like we said, diverse!  We love it.  Rock on Denise!
TCM: How did you get into camping?
Denise: My dad introduced my family to camping when I was six years old.  We had a little seventeen foot travel trailer for the six of us.  There was no toilet or refrigerator, but we had an ice box.  Every other weekend we would go camping in that small trailer.  Then, in 1966, we went to Florida for the holidays.  At that time very few people from Quebec traveled to Florida.  I was a lucky one.
When I met my husband, we bought a travel trailer and used it from 1993 until 1999.  That trailer stayed at the same campground.  My kids were young, and we spent our summers camping.  Those were my husband's first camping experiences.
Here in Quebec, it's still nice in the Fall.  With the travel trailer, we missed out on being able to go to the country and the lake after the campgrounds had closed for the season.  So we sold the trailer, built a cottage and spent the winters in the country for ten years. It was wonderful, but I missed discovering new places.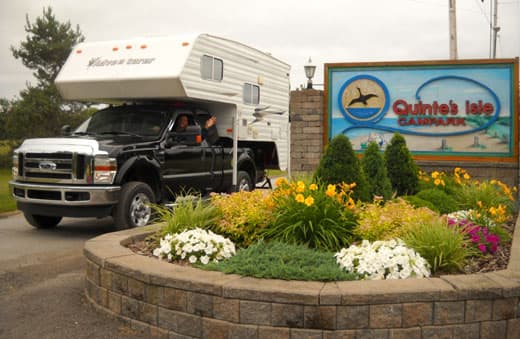 Above: Denise and Bob's Adventurer 810WS and Ford F250
TCM: How did you finally end up with a truck camper?
Denise: We actually started looking at Class B motorhomes.  It didn't take long to realize they were way over our budget.  And a used one would have a lot of mileage on it.  That's when my husband suggested a truck camper.  I had always thought truck campers were for hunters and fisherman with no toilet or refrigerator.  Then I saw a modern truck camper at a winter RV show in 2010.  It had a bed and a washroom.  I said, "This will meet our needs".
We bought our camper in the spring of 2011.  The previous owner had used it a few times only to go fishing.   It even smelled new.  We bought a new truck because we wanted to know we wouldn't break down and we wanted the warranty.  Plus, our truck is very useful here in the country.  I like the versatility of owning a truck and be able to use it all year long.
With our camper we can go everywhere we want to go.  I hate having to reserve campgrounds.  With our camper, we don't have to do that.  We can stop at tourist information areas and we ask what's nice to see.  We chat with people we meet and ask them where to go, what places they recommend that are not necessarily tourist attractions.
I also have to eat every two hours because of my blood sugar.  I'm also allergic to onions, so I have to be careful.  With the truck camper having a kitchen and refrigerator, I can eat what I eat at home.  Traveling in the truck camper is a lot less complicated because I don't need to rely on anybody else for food and I know exactly what I'm going to eat.  It's heaven.
TCM: How do you plan your truck camping trips?
Denise: I research where we are going to go on the internet and look for unique opportunities along the way.  When we went to Kingston, Ontario, TripAdvisor.com recommended the Kingston Penitentiary Museum.  I wouldn't regularly pick a prison as a trip attraction, but the ratings were good and we really enjoyed it.
We keep our camper at our cottage because we live in the city and have a sloped driveway.  Unfortunately, that means we lose a half day to get the camper and have to plan ahead.  When we get there, I put our stuff in the camper.  My husband puts the water in and puts the camper on the truck.  I get the GPS set, print the directions, and highlight our route.