When the final June school bell rings, high school teacher Dan Spedding hits the road in his Lance Camper, fly rods ready to go.  Read about how he went fly fishing across America.

In 2005, we pointed our truck camper west and embarked on our first truck camping adventure, a six-month cross country dream of a lifetime trip.  For the first week or two, we executed our trip itinerary, took lots of pictures, wrote postcards home, and soaked up everything we could, as fast as we could.  We were in American vacation mode, a routine most of us know well where we try to fit fun and life-affirming adventure into annually scheduled one or two week chunks.  Hurry up and have a good time, work is waiting back home.
But then something amazing happened.  After the first two weeks had passed, we began to realize our new found freedom.  We could go where we wanted to go, when we wanted to go there, for as long as we wanted.  Home was no longer in Pennsylvania, but with us.  You know that expression, "If you lived here, you'd be home by now?"  We lived wherever we were.  We were home, anywhere!
The experience of this freedom had an profound effect on our entire world view.  It literally changed the trajectory of our lives and eventually resulted in the very electrons you're reading now.  The best part of this experience is that it's readily available to anyone who has the opportunity, and the gumption, to take to the road.
I am sure that Dan Spedding is enjoying every word of this.  From his interview, there can be no doubt that he realized the freedom of the road, and is completely hooked.  When Dan talks about his truck camper and travels, he sounds like a person who just won the lottery.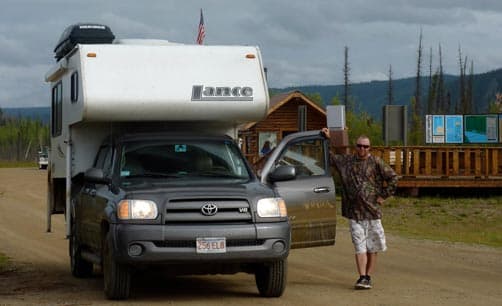 Above: Returning from Arctic Circle, James Dalton Highway, Alaska
TCM: In an email, you told us that you recently accomplished your goal of visiting all fifty states.  Which state was number fifty, and did you visit every state in your truck camper?
Dan: Strangely enough, Missouri was the fiftieth state and it's right in the middle of the country.  Kansas was second to last.
I am a school teacher.  For the last five summers, I have spent on the road.   When the last school bell rang in June last year, I pointed my truck camper towards Alaska and spent virtually the entire summer there.  I returned just in time for classes to start in September.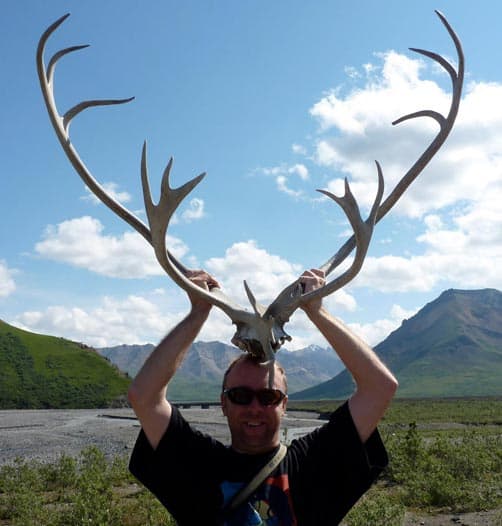 Above: Dan in Denali National Park, Alaska
TCM: Being a former school teacher, I know how hard you work during the year.  I also know how treasured summer vacation is.  With being a teacher and having such a busy schedule from September through June, how did you plan for your trips?
Dan: I plan for my trips a lot less than people might expect.  That's one of the joys of a truck camper.  You can go wherever wind blows you.  I have a destination in mind, but if I find something interesting along the way, I can stay for a few days if I like it.  I don't plan very much at all.  I've got my GPS and I go.
TCM: That sounds heavenly.  Do you use your camper during the school year?
Dan: Yes I do.  I live in Massachusetts and use the camper pretty much year round.  It's on my truck right now.  Throughout the year, I'll do weekend trips, even day trips.  I'll go up to the beach in New Hampshire and surf or fish, or spend time in the woods and the mountains fishing.  Another nice weekend trip is to drive up to Maine and shop at L.L. Bean.  I do weekend trips all the time.
I also travel up to Montreal a couple times in the winter because I love hockey.  I even go to Florida for winter vacation.  With the truck camper, it's more practical to go on these kinds of trips.
There's a comfort level to being in the camper and the bang for the buck is unbelievable.  You get to sleep in your own bed all the time, and you're not living out of a suitcase.  Plus my food is there, and I can cook whatever I want.  You can't beat it.
TCM: I completely agree.  Tell us the story of how you were first introduced to truck campers and truck camping.