I initially thought it was going to be a challenge to crank up the pop-up roof, but that became easy after a few days.  With the top down on my Palomino, I can't open the back door.  But I learned that I could raise the roof a few inches and get in enough to fix a sandwich or other things for lunch.  On the California coast, I would sit in my chair at a vista point, eat lunch, and read a book and at times, even a short nap.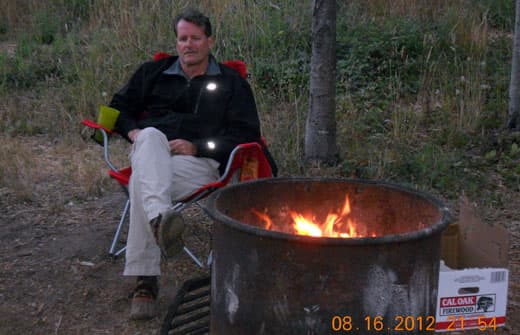 Above: Camping with his son, Lance, during his short stay in San Francisco
TCM: You said that your son flew out from Orlando, Florida to meet you in San Francisco.  What did he think of the truck camper?
Dan: He loved it.  He flew out on a Wednesday and flew back on a Sunday.  He has miles on his credit card from being in real estate.  I wish he could have stayed longer.  We had a great time and he got to see some of his old friends and his old soccer coach.
Above: Camping on the Oregon Coast

TCM: After your trip, are there any places you would recommend to other truck campers?
Dan: I would recommend the California and Oregon coasts.  I also loved the Banff in Alberta, Canada.  It started snowing while I was there.
I went to where the Columbia River meets the Pacific Ocean and then up in Canada on the west side of the continental divide where the Columbia River is born.  I went from one end of the river to the other.
I lived in San Francisco for ten years and love the coast of California, but I honestly think the Oregon coast was prettier.  The only negative part of the US 1 Coast Highway is that there are lots of bicycle riders in the summer and road is narrow.  Sometimes it's also hilly and windy, so one has to be careful.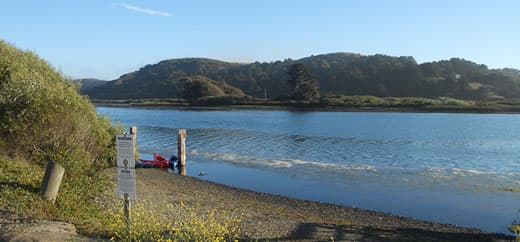 Above: Jenner Beach, California
TCM: California can be an expensive place to camp.  It sounds like you found some good boondocking sites, especially on the coast.
Dan: On the whole trip, I never called ahead for campground reservations like we needed to with the travel trailer.  I just pulled into a campground and asked for a camping spot, and since the camper doesn't take up much space, I sometimes got a special price.  I only hit one state park in northern California that was full.
There was a great boondocking spot north of San Francisco at Jenner Beach.  The rest area had a boat ramp and visitor center with ten parking places.  I parked there for the night, and never had an issue.
 Above: Vista Point boondocking spot, San Francisco, California
When you're going south to north on the Golden Gate Bridge, as soon as you go over the bridge, there's an exit that says, "Vista Point".  The vista point has a lot of parking and you can stay for eight hours.  At night, it's gorgeous.  You can look across the bay to San Francisco with the lights and the Golden Gate Bridge.  That's where my son and I camped.
There's a website I use, freecampsites.net, where you can put in the name of a city and it will tell you the free campsites in the area.  They listed the vista point.  It costs a little bit to join the website, but it's well worth it.  If you submit an update or new campsite they add a month onto your membership.  I used that site and also stayed in Walmart and Target parking lots.  I also found some Federal campgrounds and roadside areas where I could spend the night.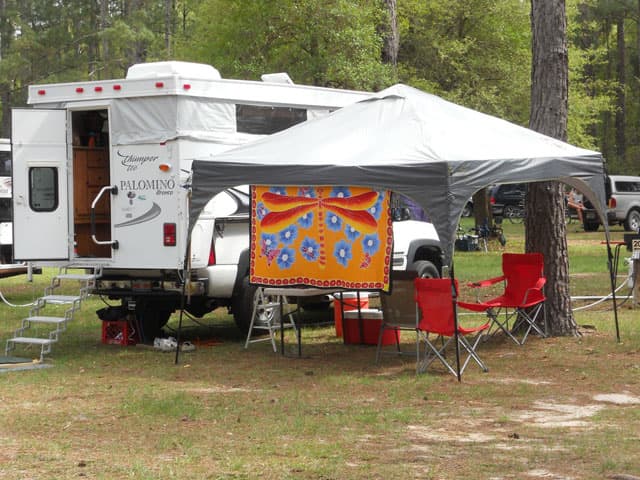 Above: Springfest Music Festival