Dan: The trip was great!  I went 11,250 miles in ten weeks.  I originally planned to spend more time in Texas, New Mexico, and Arizona, but it was too hot in the desert states so I did a rocket run to get to California.
Then I went to the Pacific Northwest and into Canada.  When I returned to the states, I traveled through northern Montana, North Dakota, and Wisconsin before returning to Canada north of Lake Superior.  Then I went into New York and over to New Hampshire.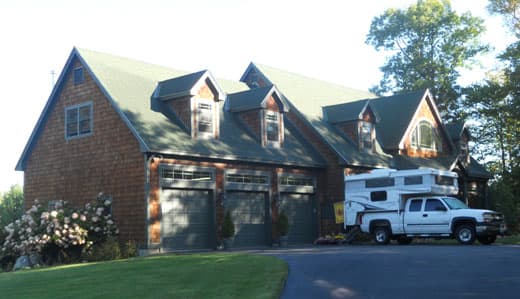 Above: Staying in his son's driveway is a huge advantage of having a truck camper
My other son lives in New Hampshire, so I stopped to see him and his family and the leaves were starting to change.  Driving south, I went to Washington DC to see some old friends.
Above: The Blue Ridge Parkway
Then I came down the Blue Ridge Parkway where I met a couple from Quebec in a small RV.  We kept running into each other for like three to four campgrounds, so we got to know each other.  You meet some neat people while you're traveling.
Above: Family and friends Dan met along the way

TCM: You sure do.  What was the main focus of your trip?
Dan: I had a two focuses; traveling, and visiting with family and friends.  My wife's uncle lives in Los Angeles and just turned ninety years old.  I spent time with him, his two sons, and their families.  He is in fairly decent health, but he lives on the West Coast, so I wanted to see him.
I used to live in the San Francisco area.  My younger son was twelve or thirteen when we left.  He actually decided to fly out from Orlando during my trip and meet me.  We went around San Francisco, down to Santa Cruz, and then back to Pleasanton where we used to live.  We saw old friends there.  Then it was a slow creep up the coast to Spokane, Washington.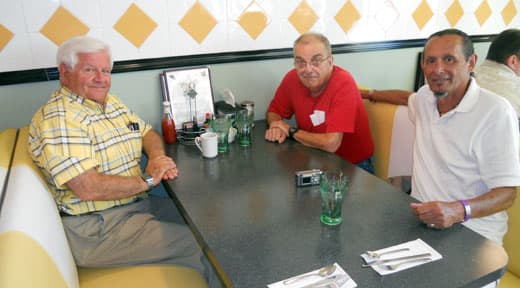 Above: Dan's high school buddies in Washington
TCM: What brought you go to Spokane?
Dan: It's where I grew up.  Many years ago I tried to contact  a high school buddy.  We were super, super close.  I moved to Los Angeles to go to college, and I didn't know where he went.
On classmates.com I corresponded with a gal I graduated with and she said Walt never went to the reunions.  She said there was a name like his in the phone book so I blindly called the number and left a message, "Are you the Walt Jones who went to North Central High School?"  He called back and it was him, so we started emailing back and forth.
We hadn't seen each other in fifty-eight years.  We found out Kathy, his old girlfriend from high school, was back in town.  After about two days of begging, I got him to call her.  The three of us met at Starbucks one morning.  After that they started dating and now they are going to get married.  It was all because we got together.  Hilarious!  His wife died of ovarian cancer like mine did.  He seemed kind of lost and now he is going to get married.
TCM: That's possibly the best road magic story we've ever heard!  Clearly your trip was meant to be.  Were there any challenges along the way?
Dan: Sometimes it got lonely out there.  I missed my co-pilot, my wife but I knew she was with me in spirit.  I would talk to my GPS when I saw something beautiful.  It would have been nice to have someone traveling with me.