It's time to make a fun list.  First, travel beyond cell range.  Second, find the rally party.  And third, bring as many boats as possible.  Meet Catherine and Lori.  Let the fun begin.

If there's anything that Catherine Porrier and Lori Miller can do ahead of time to ensure that they will have more fun and less stress while truck camping, they will make a list, check it twice, and make it happen.  Both of them work full time and don't have a minute to waste when it comes to their truck camping fun.  Every precious moment of adventure is to be savored.
Speaking of adventure, Catherine and Lori also prefer to be with mother nature, well out of cell phone range, and beyond the grip of hectic modern life.  If someone asks, "Can you hear me now?" they had better actually be with Catherine and Lori, in person.  These two take their peace and quiet seriously.
That's not to say that Catherine and Lori are serious people, far from it.  They are some of the most friendly, easy going, fun, and funny people you'll ever meet.  And while they enjoy getting away from people now and then, they also love a good party, especially one at a North-East Truck Camper Jamboree.
Boating would be the other major theme in Catherine and Lori's truck camping life.  As you're about to read, Catherine and Lori essentially got to their truck camper by boat.  No, not literally, but it would not have been a stretch to name their article, "Just Row With It".  Sounds like good advice.  Let's row.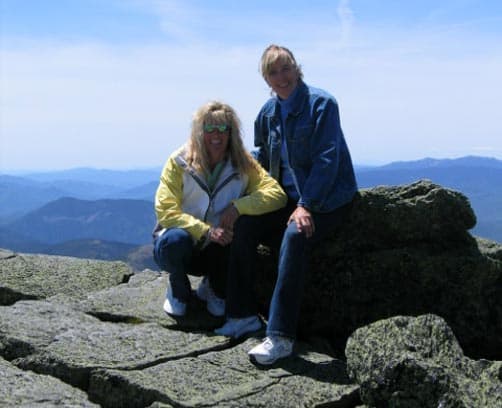 ABOVE: Lori and Catherine high atop Mt. Washington, New Hampshire

TCM: How did you get into truck camping?
Catherine: I can remember when I was young my Dad having a truck camper which he used for his hunting excursions in the early 1970s.  Lori and I have very similar interests which include fishing, camping, and boating.  We decided that getting a truck camper would best suit our needs.
Lori: I grew up in a family that camped every chance they got.  I entered the truck camping world when I was about thirteen.  My parents found that having a truck camper allowed us to be able to tow the fishing boat which was a high priority for my family.  My parents still have the same truck camper and use it one to two times per year.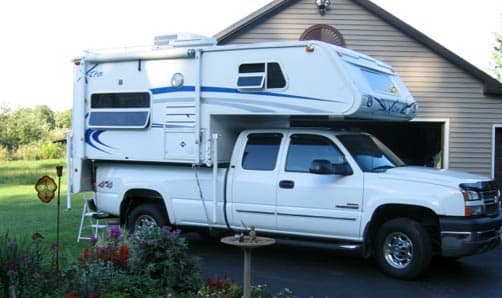 TCM: How did you decide on your Eagle Cap 950?
Catherine: We had previously owned a 2002 Sun Valley truck camper for a few years and were looking to upgrade.
Lori: We wanted to increase our storage capacities as well as our ability to easily load and unload the camper in order to utilize the truck for traveling and for launching the boat.  After attending several RV shows and after making numerous steps in and out of several different manufacturers we fell for the Eagle Cap 950.
Catherine: We appreciated the willingness of Eagle Cap to work with us regarding our desire to make some custom changes to the basic 950 model.  We started a wish list and found Bill Penney at East End Campers to be extremely knowledgeable and helpful during the process.
TCM: What custom changes did you request from Eagle Cap?
Lori: We asked Eagle Cap to install a heavier duty ladder and a larger grab bar at the rear of the camper.  We fell in love with the hickory cabinets in a ducks unlimited model and they became a must have.  The other change we made was the ability to have a full hanging wardrobe closet on one side of the bed that also allowed for access and ventilation from a full size sliding window instead of a small non functional window.  Eagle Cap and Bill Penney made it all possible.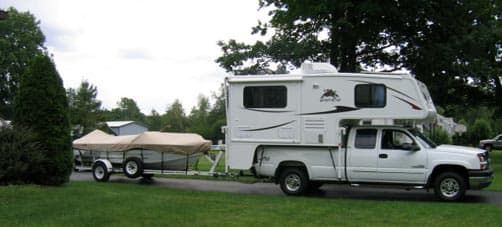 TCM: You made an important change to your truck and camper match after you bought your Eagle Cap. Tell us about that.