It's time to make a fun list.  First, travel beyond cell range.  Second, find the rally party.  And third, bring as many boats as possible.  Meet Catherine and Lori.  Let the fun begin.

If there's anything that Catherine Porrier and Lori Miller can do ahead of time to ensure that they will have more fun and less stress while truck camping, they will make a list, check it twice, and make it happen.  Both of them work full time and don't have a minute to waste when it comes to their truck camping fun.  Every precious moment of adventure is to be savored.
Speaking of adventure, Catherine and Lori also prefer to be with mother nature, well out of cell phone range, and beyond the grip of hectic modern life.  If someone asks, "Can you hear me now?" they had better actually be with Catherine and Lori, in person.  These two take their peace and quiet seriously.
That's not to say that Catherine and Lori are serious people, far from it.  They are some of the most friendly, easy going, fun, and funny people you'll ever meet.  And while they enjoy getting away from people now and then, they also love a good party, especially one at a North-East Truck Camper Jamboree.
Boating would be the other major theme in Catherine and Lori's truck camping life.  As you're about to read, Catherine and Lori essentially got to their truck camper by boat.  No, not literally, but it would not have been a stretch to name their article, "Just Row With It".  Sounds like good advice.  Let's row.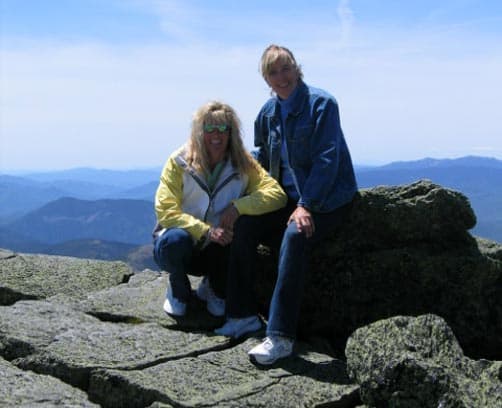 ABOVE: Lori and Catherine high atop Mt. Washington, New Hampshire

TCM: How did you get into truck camping?
Catherine: I can remember when I was young my Dad having a truck camper which he used for his hunting excursions in the early 1970s.  Lori and I have very similar interests which include fishing, camping, and boating.  We decided that getting a truck camper would best suit our needs.
Lori: I grew up in a family that camped every chance they got.  I entered the truck camping world when I was about thirteen.  My parents found that having a truck camper allowed us to be able to tow the fishing boat which was a high priority for my family.  My parents still have the same truck camper and use it one to two times per year.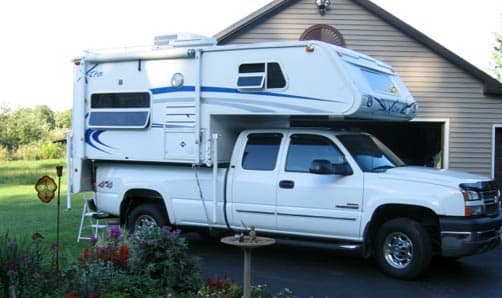 TCM: How did you decide on your Eagle Cap 950?
Catherine: We had previously owned a 2002 Sun Valley truck camper for a few years and were looking to upgrade.
Lori: We wanted to increase our storage capacities as well as our ability to easily load and unload the camper in order to utilize the truck for traveling and for launching the boat.  After attending several RV shows and after making numerous steps in and out of several different manufacturers we fell for the Eagle Cap 950.
Catherine: We appreciated the willingness of Eagle Cap to work with us regarding our desire to make some custom changes to the basic 950 model.  We started a wish list and found Bill Penney at East End Campers to be extremely knowledgeable and helpful during the process.
TCM: What custom changes did you request from Eagle Cap?
Lori: We asked Eagle Cap to install a heavier duty ladder and a larger grab bar at the rear of the camper.  We fell in love with the hickory cabinets in a ducks unlimited model and they became a must have.  The other change we made was the ability to have a full hanging wardrobe closet on one side of the bed that also allowed for access and ventilation from a full size sliding window instead of a small non functional window.  Eagle Cap and Bill Penney made it all possible.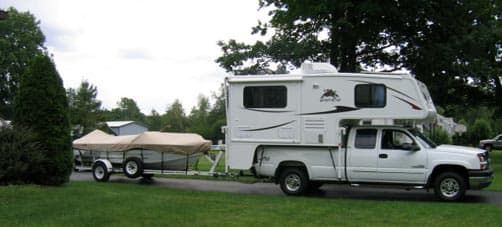 TCM: You made an important change to your truck and camper match after you bought your Eagle Cap. Tell us about that.
Catherine: The three-quarter ton Chevy we had worked just fine for our first camper, but after the purchase of the Eagle Cap 950 we needed to make the move to have the correct truck and camper fit.  After some longer trips we just decided to be safe and make the change.  We found our dream truck after a six month search and now travel with much less stress.  Less stress equals more fun!
Lori: It's now the perfect package for us and you just cannot put a price on peace of mind.  It can be very costly to upgrade to a dually with all the work that it entails but it has paid off.  We are very happy with our truck and camper match.
LEFT TO RIGHT: Lori in Gettysburg prepping for the bang, Catherine at Gettysburg National Military Park, Cool rocks at the Ruggles mine in Grafton, New Hampshire  
TCM: We hear that story all the time.  That's why we wrote, "Matching a Truck and Camper".  I'm super pleased you guys got a safer truck for your camper.  What do you like to do while you're out truck camping?
Catherine: We love to explore small towns with all they have to offer from the quaint little shops to talking with the locals at the bait shops to find the favorite fishing spots.  I love to sightsee from the waters perspective; especially from the kayak checking out all the neat little camps.  Some of those camps are just downright spectacular!
Lori: We enjoy camping with or without hook-ups.  We go boating, fishing, sightseeing, rock hounding, seeing the local attractions, and visiting museums.
LEFT TO RIGHT: Beached in the canoe at Moreau Lake in New York, Kayaks at Lake Eaton, Taking the camper off the truck at a campground

TCM: It sounds like you have an amazing boating and fishing lifestyle.  Do you have just one boat and what kind of fishing do you do?
Lori: Actually we have two boats, a canoe, and two kayaks.  The bigger the lake, the larger the vessel we take.  Some lakes only allow non-motorized boats and that is when the canoe or kayaks are used.
Catherine: Fishing?  We could open a Cabela's II!  Bass, pan fish, trolling for walleye, salmon and trout along with fly fishing are favorites.  This past winter we started seriously ice fishing and I cannot believe how much fun we had out on the hard water!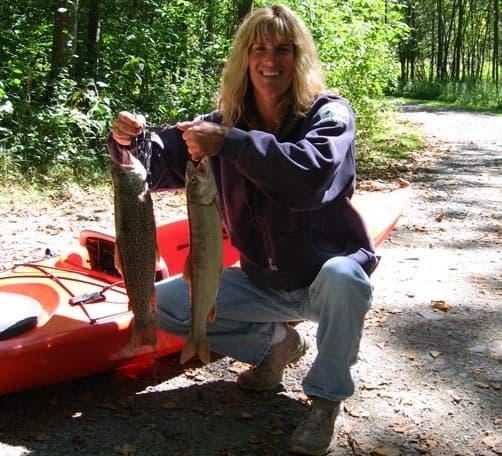 ABOVE: Lori's Catch of the Day

TCM: How do you balance working full time with truck camping?
Lori: We plan our time off on the weekends.  We go on shorter trips that are one to two hours of travel time away.  Our longer trips are generally planned out at least nine months in advance with us taking a week or more off from the dirty word work.
Catherine: It is not easy.  We have found that being organized and working as a team is the key.  Having everything ready means we can get the camper loaded and go in just a few hours.  Lori is very good at making lists and getting things together.  I have a check off list which is printed so that we do not forget anything.  We also keep a list inside the camper during our trips for items that need to be added or re-stocked for the next trip.  Less time packing and getting ready equates to less stress and having more fun!
TCM: We need to do that too.  We have lots of ideas on how to better organize, but we haven't put them into action yet.  How do you find out about places you want to visit?
Catherine: Our trip ideas come from a variety of resources.  We have found places to visit by word of mouth from fellow campers, friends, relatives, and work associates.  We have a wish list of places to visit that many of the North-East truck camping group members have visited and/or mentioned in conversation.
Lori: Other resources that we have found very helpful are the Chambers of Commerce, visitor's centers, local newspapers, and travel guides.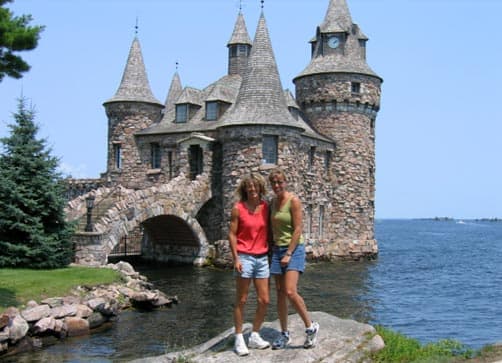 ABOVE: Boldt Castle is on Heart Island in the 1000 Islands region of the St. Lawrence River
TCM: I saw the picture with you at Boldt castle and didn't know what it was.  It looks like a neat place that I didn't even know existed.
Catherine: It is quite an amazing love story from the turn of the century.  George Boldt from the famous Waldorf Astoria set out to build a castle for his wife in Alexandria Bay but sadly she would not see it finished.  The castle sat in disrepair for many years before the state took it over to finish his dream.
Lori: We would love to go back because the castle was not completely renovated when we were there.  I would encourage you and your readers to visit the island estate.

TCM: Where else would you recommend people go around New York?
Lori: The Adirondacks have a wonderful museum in Blue Mountain Lake.  We would definitely recommend going to the Corning museum with a stay in Watkins Glen to walk the two miles of gorges.  The Finger Lakes region of New York State has some beautiful scenery with Seneca Lake being our favorite with visits to the wineries.  We were fortunate to have our visit coincide with Cherry picking season, which lasts for only two weeks, so we went home with some tasty fruit!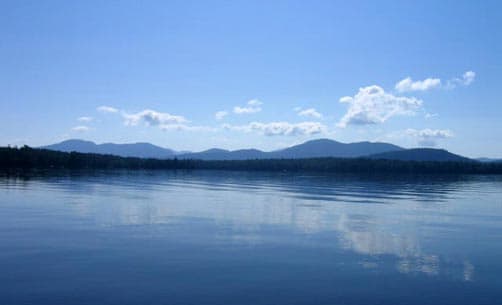 ABOVE: Saranac Lake, New York
Catherine: We like to go into the Adirondack Park which includes over 6.1 million acres and is considered the largest national park in the United States.  Favorite places in the park include: Lake Placid, Schroon Lake, Saranac Lake, Lincoln pond, which has great fishing, and the Keene valley area.
TCM: How did you guys get involved with the North-East Jamborees?
Catherine: I had been surfing around the net and stumbled upon the North-East group.  I saw they were having a rally in North Hudson so we decided to give it a whirl.  At the time we were just breaking in the new camper so we pulled in and took the camper off the truck just like we new what we were doing.  Everyone was so welcoming and we had such a great time just seeing all those truck campers in one campground!
TCM: The North-East Truck Camping Jamboree is very friendly and welcoming group.  What was it like to be in a caravan of truck campers when you went on the taste of Nova Scotia tour last year?  It's got to be different than being off on your own.
Lori: We totally attribute the success and pleasure of that tour to the fact that it was so well planned by our hosts, Paula and Jerry Gale.  We didn't have to worry about a thing.  They had been through the entire trip ahead of time and had an itinerary for each day ahead with great points of interests and directions.  All we had to do was enjoy the experience.  We would be the doors down to do a trip like that again.
Catherine: There was so much laughter within the group and grand amounts of fun were enjoyed traveling together with CB radios/convoy music!
Lori: There is a safety factor when traveling in numbers plus the people with us were so knowledgeable about the trucks and campers that we felt very comfortable.
TCM: What did you like about Nova Scotia?
Lori: Everything!  My answer could be a whole separate interview!  The people were so personable and the old fishing villages were each unique with heritage and rich history. Peggy's Cove, the moose sighting on the Cabot Trail, and the Schooner ride were all favorite places and sights.
Catherine: I especially enjoyed the townships of Lunenberg and Cheticamp.  It felt as if we went back in time to when things were not moving at such a hectic pace.  I liked the bakeries and the fresh goodies that we all enjoyed all along the trip like apple turnovers, scones, and cheese rolls.  Oh my!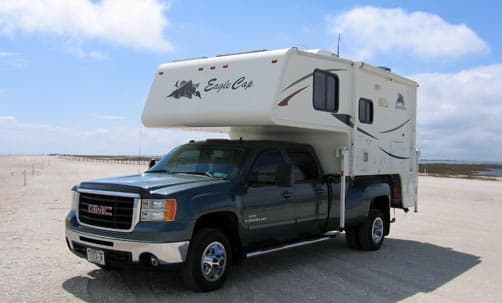 ABOVE: 2009 Eagle Cap 950 visits Assateague Island 
TCM: What's your next planned adventure?
Catherine: We're going to Acadia National Park and to Bar Harbor for six days.
TCM: Is there anything I didn't ask you that you would like to add to your story?
Lori: The biggest thing is to try new things.  Make yourself knowledgeable about the camper and the vehicle that you are using.  Know the limitations of your truck and camper.  Know your own limitations and your strengths and do not be afraid to ask for help or advice.  Most of all enjoy what you do.
Catherine: Vacations no matter how long they are, are a getaway from the daily work schedule where we can go to new places, see interesting things, make new friends and laugh along the way!
TCM: Thank you Catherine and Lori.  I love your tips on places to visit, and pre-trip organization.  Please keep in touch.
Catherine and Lori: We will.