Kate: We gave a lot of the stuff to the Salvation Army.  We gave away some of our furniture for free on Craigslist.  We kept some basics, but most of it is gone.
Roland: Kate's father was an artist and had 4,000 paintings.  We kept about 700, and took the rest to the dump.  We had to do that.  Even now, we have five crates of his paintings in storage.
TCM: We have talked about a similar leap; selling the house and going full-time in a truck camper.  It brings up a lot of challenging emotions.
Kate: The process was terrifying.  There were times I was scared and saying, "What are we doing?"  We had government dental, health, life insurance, and perks.  We had to think about that.  The decision came at a cost.
Roland: Kate's parents went from lucid, to losing their minds and dying within three years.  That had us thinking where we'd be ten, fifteen, and twenty years down the road in our own lives.
My uncle retired at 65, and wound up working another year.  At 66, he bought a VW Westfalia camping van.  Then he came down with pancreatic cancer and died before he could take it on the road.
We are in our late 50s.  We plan on living the next part of our lives for ourselves, our spiritual development, and to re-create who we are.
TCM: We have heard these lessons time and time again from fellow truck campers.  What brought you to truck camping?
Kate: I tent camped all across North America with my parents while growing up.  Roland camped with his family and later with his friends.  After we got married, we spent almost two years traveling, camping, and then working at a cabin resort in northern California.  We did all this while living in a converted postal van.
In the years that followed, we tented.  After a soaking wet tenting experience on the west coast of British Columbia, we decided to say goodbye to the tent and switch to a drier way of camping.  We bought a Mitsubishi Delica van, converted it into a camper, and camped in it for a couple of years.
While camping in the Delica van in California, we saw someone with a truck camper next to us.  It appealed to us right away because it seemed small, practical, and humble.  Neither of us really care for big RVs.  Maybe it's because we have fond memories of our time in our converted postal van.  The truck camper seemed similar.
When we decided to sell our home and take to the road, the image of the truck camper in California kept coming back to us.  That's when we started researching them more.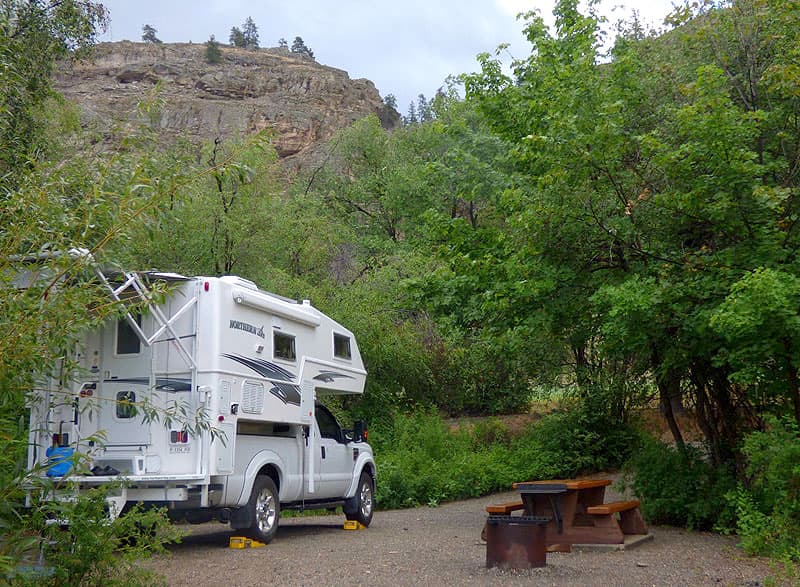 Above: Vaseux Lake Provincial Park, British Columbia
TCM: Is that when you discovered Northern Lite?
Kate: During our planning process, I was working and doing my best to stay connected to our new dream.  I kept reading and rereading lifestyle stories on Truck Camper Magazine, especially the full-timing articles.  We also read Gordon's camper reviews.  If it weren't for Truck Camper Magazine, we would not be in a truck camper.
As we researched truck campers, Northern Lite kept coming up.  I emailed to Keith Donkin, General Manager for Northern Lite, to figure out how big the 8-11 Special Edition was inside.  We couldn't see an 8-11 in person because no dealer had one in stock near us.  A dealer later explained to me that the Northern Lite models often sell as fast as they come in.
Coming from the wet coast of Canada, we knew we wanted a clamshell camper with as few seams as possible.  Also, we didn't like the idea of particle board because of moisture issues.  Additionally, we like the fact that Northern Lite campers are made in British Columbia and are four season campers.
We also like that Northern Lite only makes truck campers and no other models of RV.  We feel this allows Northern Lite to really focus on putting out the best product.
We did a lot of research and watched tons of YouTube videos on truck campers.  The Northern Lite models stood out as the best.  We also read the TCM Northern Lite reviews and the lifestyle stories featuring other people with Northern Lite campers.  That really helped to cement our decision.