Roland and Kate Goetz make the terrifying decision to sell their house and embark on a journey to rediscover who they are after the working world.  Can you afford to keep working?

Sometimes it seems like truck camping is less of a hobby and more of an escape plan.  After all, you don't see folks wearing T-shirts that say, "Sell the House and Play Tennis" or, "Sell the House and Knit Sweaters", but we have sold a ton of truck camping T-shirts that say, "Plan B: 1. Sell the House. 2. Hit the Road".  Somehow, a lot of people connected to that statement, and wanted to wear it.
Roland and Kate Goetz had long since decided to follow this path when our T-shirt hit Truck Camper Magazine.  They had come to realize that their lives were stuck in a repeating cycle of thankless work by day, and Netflix and wine by night.
Their careers offered financial reward and good benefits, but were otherwise sucking the life out of them.  If they didn't make a change, they risked waking up to realize that entire weeks, months, and even years had passed with little more to show than money in the bank, movies and shows watched, and empty bottles of vino.
This is the story of how Kate and Roland decided to sell their house, give away almost all of their belongings, buy a Northern Lite 8-11 Special Edition, and hit the road full-time.  As you will read, the experience was initially terrifying, and not everything has gone to plan, but they're extremely happy to be living in the moment and rediscovering exactly who they are.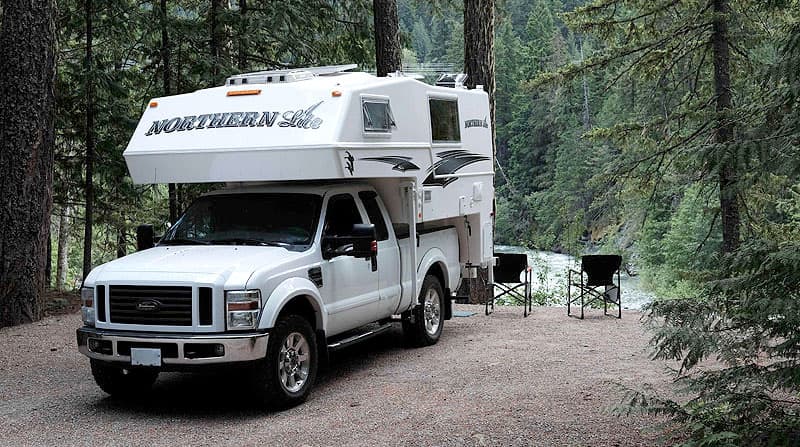 Above: Camping at Nairn Falls Provincial Park, British Columbia
TCM: As our Plan B t-shirts say, you guys sold the house and hit the road.  How did you come to this life changing decision?
Kate: We shared a house with my parents for twelve years.  They eventually got dementia, and needed care.  Mom eventually didn't know who I was anymore.
Roland worked for a company for 20 years and felt he had nothing left to contribute.  I was working a government job where the bureaucracy was killing me.
We kept thinking, "What would happen if we sold our house and went on a trip?"  Real estate in Vancouver was hot, and still is.  It was a great time to sell and make the money we needed for the trip, and our next house.
Roland: Our daughter had just moved out and our lives became stagnant.  Our after work relaxation consisted of watching Netflix and drinking wine.  We were repeating the same stories over and over, using the same metaphors.  Life was just routine; an endless repeating circle day after day.
That's when this grey heron started showing up.  It was sitting on our roof, and then on a tree.  Herons are uncommon in our area.  I did some research and herons are supposed to be good luck before a journey.
We took that as a sign.  We gave notice at work and prepared our house for sale.  Then we researched RV types to find something we could live in for at least a year.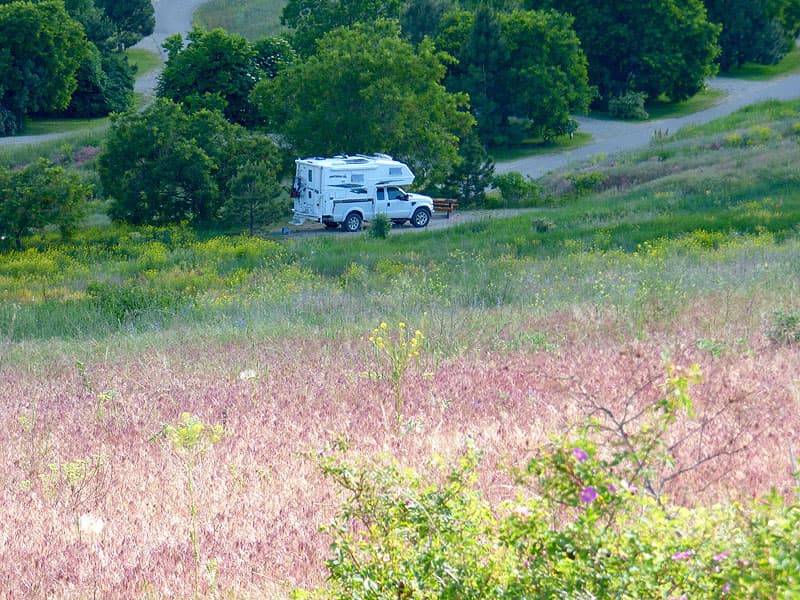 Above: Camping at Kukuli Bay Provincial Park, British Columbia
TCM: Tell us about the process of moving from a traditional home, to living full-time on the road.  What did you do with all of your stuff?
Roland: When I was 22 years old and living at home, our house burnt to the ground.  There was nothing left.  We lost everything.  Our family had accumulated a lot of stuff, but the only thing we truly missed were the photos.
Based on that experience, Kate and I got rid of almost everything.  Most of the things we owned were unnecessary.