Roland and Kate Goetz make the terrifying decision to sell their house and embark on a journey to rediscover who they are after the working world.  Can you afford to keep working?

Sometimes it seems like truck camping is less of a hobby and more of an escape plan.  After all, you don't see folks wearing T-shirts that say, "Sell the House and Play Tennis" or, "Sell the House and Knit Sweaters", but we have sold a ton of truck camping T-shirts that say, "Plan B: 1. Sell the House. 2. Hit the Road".  Somehow, a lot of people connected to that statement, and wanted to wear it.
Roland and Kate Goetz had long since decided to follow this path when our T-shirt hit Truck Camper Magazine.  They had come to realize that their lives were stuck in a repeating cycle of thankless work by day, and Netflix and wine by night.
Their careers offered financial reward and good benefits, but were otherwise sucking the life out of them.  If they didn't make a change, they risked waking up to realize that entire weeks, months, and even years had passed with little more to show than money in the bank, movies and shows watched, and empty bottles of vino.
This is the story of how Kate and Roland decided to sell their house, give away almost all of their belongings, buy a Northern Lite 8-11 Special Edition, and hit the road full-time.  As you will read, the experience was initially terrifying, and not everything has gone to plan, but they're extremely happy to be living in the moment and rediscovering exactly who they are.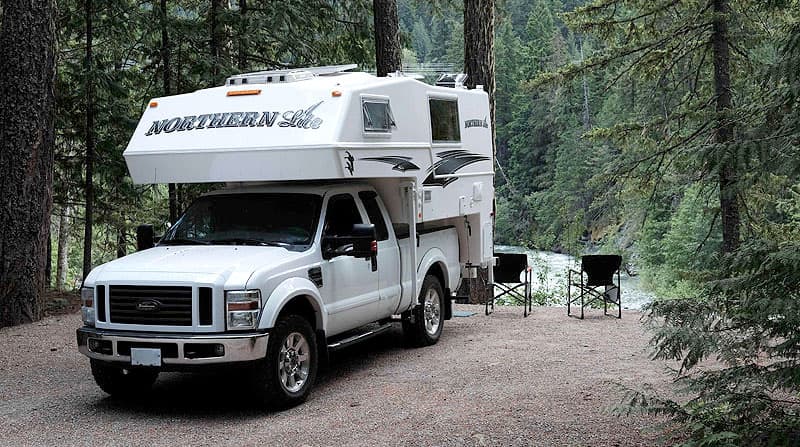 Above: Camping at Nairn Falls Provincial Park, British Columbia
TCM: As our Plan B t-shirts say, you guys sold the house and hit the road.  How did you come to this life changing decision?
Kate: We shared a house with my parents for twelve years.  They eventually got dementia, and needed care.  Mom eventually didn't know who I was anymore.
Roland worked for a company for 20 years and felt he had nothing left to contribute.  I was working a government job where the bureaucracy was killing me.
We kept thinking, "What would happen if we sold our house and went on a trip?"  Real estate in Vancouver was hot, and still is.  It was a great time to sell and make the money we needed for the trip, and our next house.
Roland: Our daughter had just moved out and our lives became stagnant.  Our after work relaxation consisted of watching Netflix and drinking wine.  We were repeating the same stories over and over, using the same metaphors.  Life was just routine; an endless repeating circle day after day.
That's when this grey heron started showing up.  It was sitting on our roof, and then on a tree.  Herons are uncommon in our area.  I did some research and herons are supposed to be good luck before a journey.
We took that as a sign.  We gave notice at work and prepared our house for sale.  Then we researched RV types to find something we could live in for at least a year.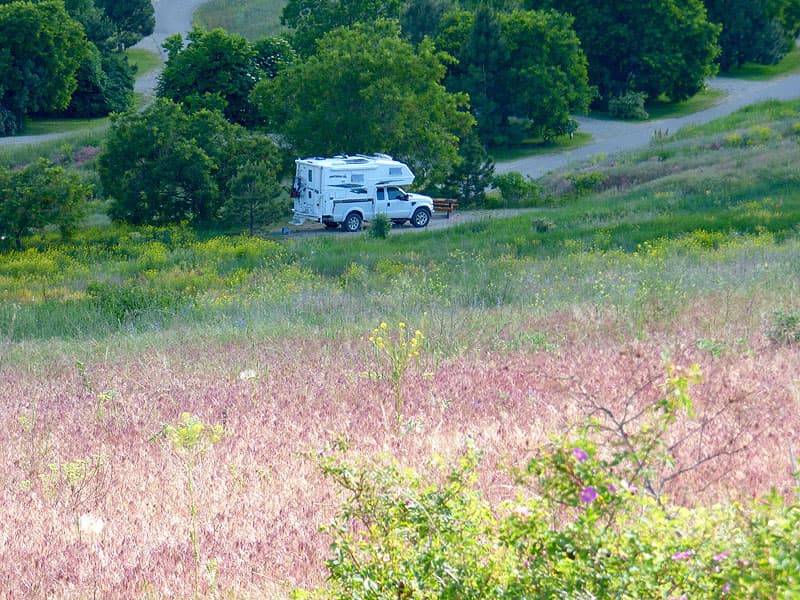 Above: Camping at Kukuli Bay Provincial Park, British Columbia
TCM: Tell us about the process of moving from a traditional home, to living full-time on the road.  What did you do with all of your stuff?
Roland: When I was 22 years old and living at home, our house burnt to the ground.  There was nothing left.  We lost everything.  Our family had accumulated a lot of stuff, but the only thing we truly missed were the photos.
Based on that experience, Kate and I got rid of almost everything.  Most of the things we owned were unnecessary.
Kate: We gave a lot of the stuff to the Salvation Army.  We gave away some of our furniture for free on Craigslist.  We kept some basics, but most of it is gone.
Roland: Kate's father was an artist and had 4,000 paintings.  We kept about 700, and took the rest to the dump.  We had to do that.  Even now, we have five crates of his paintings in storage.
TCM: We have talked about a similar leap; selling the house and going full-time in a truck camper.  It brings up a lot of challenging emotions.
Kate: The process was terrifying.  There were times I was scared and saying, "What are we doing?"  We had government dental, health, life insurance, and perks.  We had to think about that.  The decision came at a cost.
Roland: Kate's parents went from lucid, to losing their minds and dying within three years.  That had us thinking where we'd be ten, fifteen, and twenty years down the road in our own lives.
My uncle retired at 65, and wound up working another year.  At 66, he bought a VW Westfalia camping van.  Then he came down with pancreatic cancer and died before he could take it on the road.
We are in our late 50s.  We plan on living the next part of our lives for ourselves, our spiritual development, and to re-create who we are.
TCM: We have heard these lessons time and time again from fellow truck campers.  What brought you to truck camping?
Kate: I tent camped all across North America with my parents while growing up.  Roland camped with his family and later with his friends.  After we got married, we spent almost two years traveling, camping, and then working at a cabin resort in northern California.  We did all this while living in a converted postal van.
In the years that followed, we tented.  After a soaking wet tenting experience on the west coast of British Columbia, we decided to say goodbye to the tent and switch to a drier way of camping.  We bought a Mitsubishi Delica van, converted it into a camper, and camped in it for a couple of years.
While camping in the Delica van in California, we saw someone with a truck camper next to us.  It appealed to us right away because it seemed small, practical, and humble.  Neither of us really care for big RVs.  Maybe it's because we have fond memories of our time in our converted postal van.  The truck camper seemed similar.
When we decided to sell our home and take to the road, the image of the truck camper in California kept coming back to us.  That's when we started researching them more.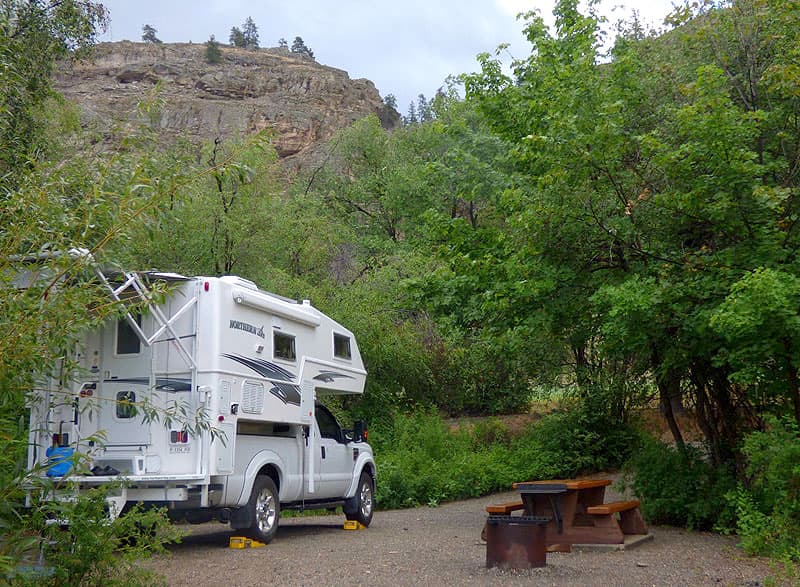 Above: Vaseux Lake Provincial Park, British Columbia
TCM: Is that when you discovered Northern Lite?
Kate: During our planning process, I was working and doing my best to stay connected to our new dream.  I kept reading and rereading lifestyle stories on Truck Camper Magazine, especially the full-timing articles.  We also read Gordon's camper reviews.  If it weren't for Truck Camper Magazine, we would not be in a truck camper.
As we researched truck campers, Northern Lite kept coming up.  I emailed to Keith Donkin, General Manager for Northern Lite, to figure out how big the 8-11 Special Edition was inside.  We couldn't see an 8-11 in person because no dealer had one in stock near us.  A dealer later explained to me that the Northern Lite models often sell as fast as they come in.
Coming from the wet coast of Canada, we knew we wanted a clamshell camper with as few seams as possible.  Also, we didn't like the idea of particle board because of moisture issues.  Additionally, we like the fact that Northern Lite campers are made in British Columbia and are four season campers.
We also like that Northern Lite only makes truck campers and no other models of RV.  We feel this allows Northern Lite to really focus on putting out the best product.
We did a lot of research and watched tons of YouTube videos on truck campers.  The Northern Lite models stood out as the best.  We also read the TCM Northern Lite reviews and the lifestyle stories featuring other people with Northern Lite campers.  That really helped to cement our decision.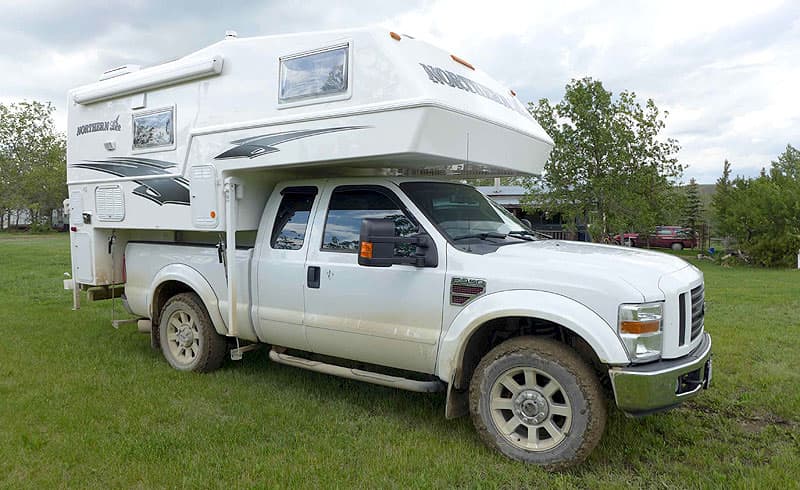 Above: Lemsford Ferry, Saskatchewan mud bath
We chose the Northern Lite 8-11 based on the size of the truck we wanted to get.  We ordered a Special Edition because of the long list of standard features that come with it.  We wanted a camper that would fit a short box truck so that we wouldn't be stuck driving a big truck at times when we're not camping.
The day we picked up camper there was a couple from Germany who also bought a truck camper.  They were taking a trip through California to South America.  We thought what they were doing was neat.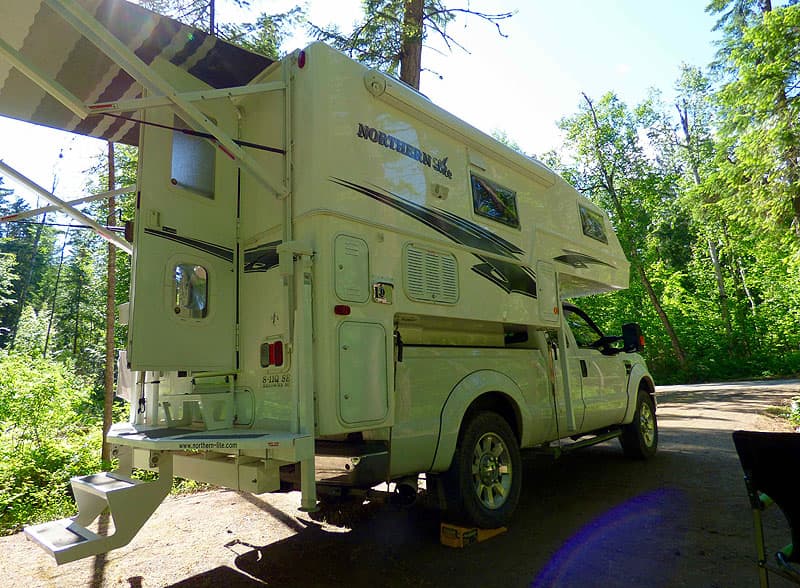 Above: Camping at Shuswap Provincial Park, British Columbia
Roland: We wanted to keep our footprint small; physically and environmentally.  That's why we didn't want a generator and opted for two solar panels instead.  We haven't needed a generator once.  We have toast by using the oven or stove top, and have been very happy camping completely off-grid.
TCM: When did you set out on your dream trip?
Roland: We left on Friday the 13th.  We didn't plan the date, it just happened.  All of our initial fears have evaporated.  We're having a great time on the road.
Kate: We don't miss the house.  Now we have a new experience everyday.  We are living in the moment.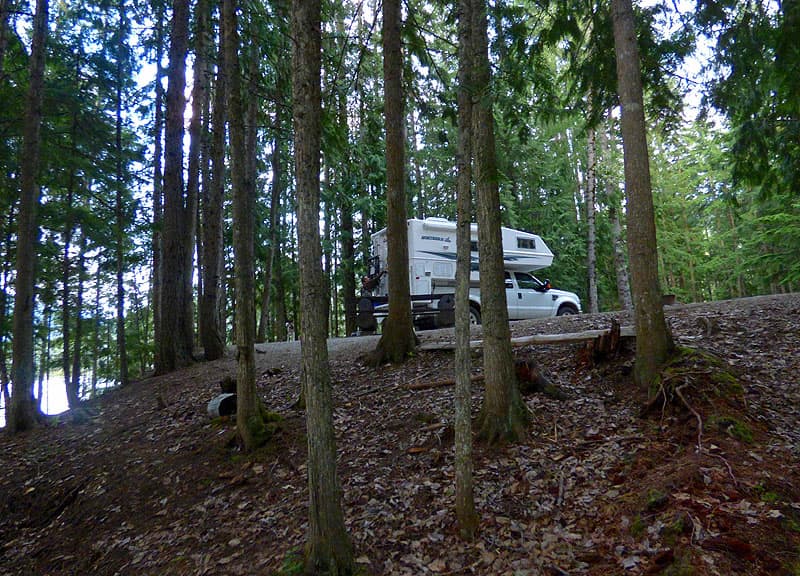 Above: Camping at Sugar Lake
TCM: Have you had many challenges on the road?
Kate: In Canada, there are not a lot of boondocking spots.  There are, however, forestry roads.  You just have to be careful as you can drive 30 km (18.6 miles) and then wind up a place you can't camp.
Roland: Many campers are conscientious and respectful of the land, but there's also a lot of litter and disrespect.  Many British Columbia forestry sites are being shut down simply because of litter.
Even in the national parks there is a movement to contain visitors because there's been so much disrespect for the land.  We have seen trashed campsites, including one with discarded lasagna trays in the bushes, with bear signs everywhere.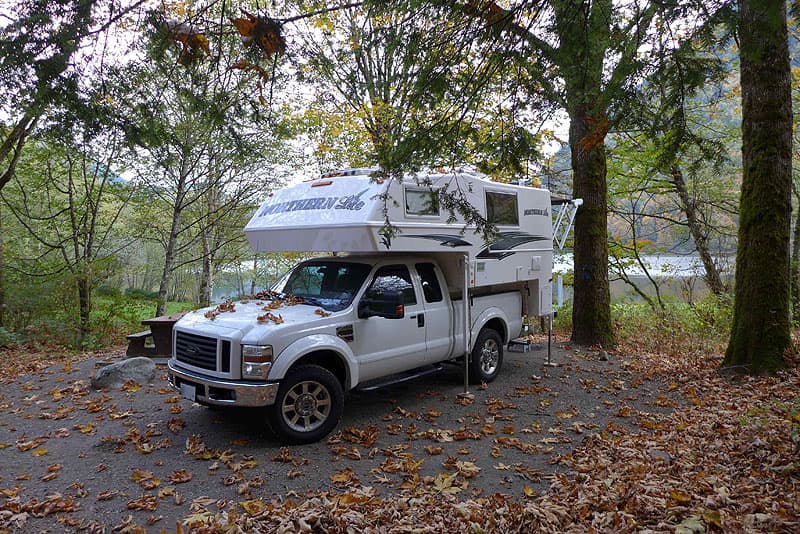 Above: Sasquatch Lake Provincial Park, British Columbia
TCM: That's disturbing.  So finding campsites has been difficult?
Kate: We have had challenges finding remote places to camp.  We had envisioned camping in the provincial and national parks for a month to get our camping feet wet.  But we found that the provincial parks are crowded most of the time.  Finding a quiet area where we're not surrounded by monster RVs and generators is hard.  We want solitude.
Roland: People show up on the weekends with these massive apartment-sized RVs.  When 150 campsites all start campfires, the air becomes grey with smoke.  After a month or so of that, we decided to find more remote spaces.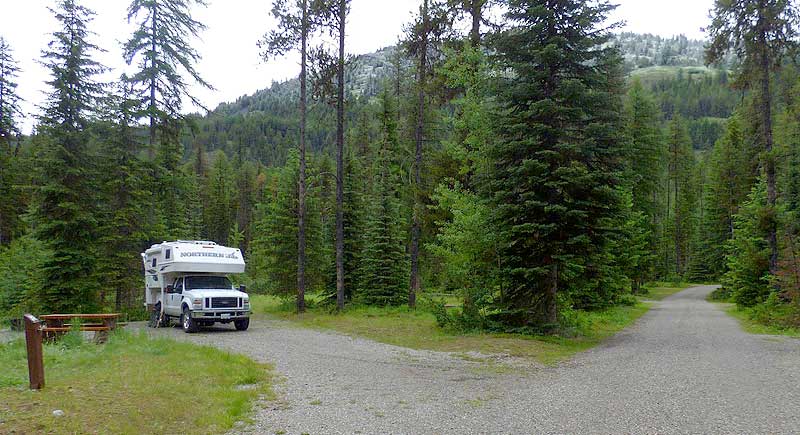 Above: A remote campsite at Jewel Lake Provincial Park, British Columbia
Kate: We have learned to ask campgrounds for their most remote campsites.  That's been working.  We get the far end of the campground, with very few other campers around us.  We don't mind walking to the lakes.  Some campgrounds also have radio free zones, and no generator zones.  We ask for those as well.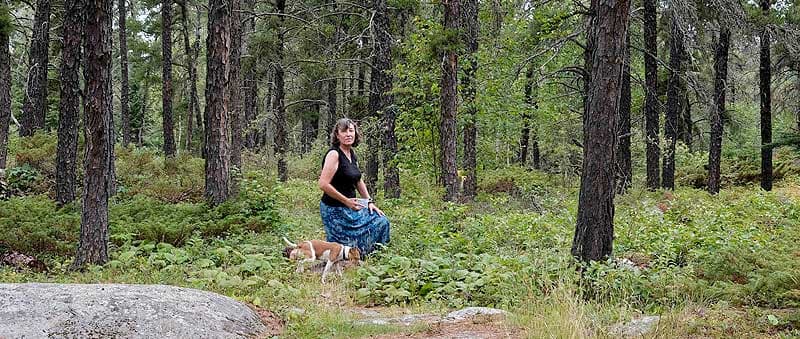 Roland: At Rushing River Provincial Park in Ontario we got a beautiful and remote spot that backed onto a forest of wild blueberries and a hidden trail leading down to a fantastic private swimming spot.  That's our ideal, and we've found a couple places like that.
In Manitoba we were in a data black out zone; no cell phone, no internet, no television.  We were able to experience life directly instead of vicariously through screens and the virtual world, which was really nice.
In British Columbia there are forestry sites where the only amenities might be a pit toilet and maybe a table.  We have stayed at three of them, but only for a few days at time.  Off-grid, our solar panels give us ample power and we have figured out a way to make our water last as long as possible.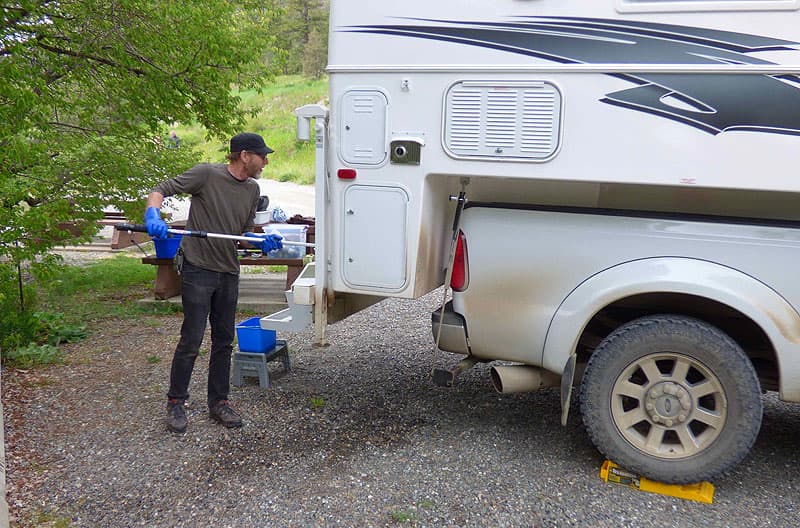 Above: Roland washing their Northern Lite
TCM: That's a tease.  So how do you make water last as long as possible?
Kate: We have a big four-gallon jug water container that we fill and keep in our bathroom while traveling.  When we arrive at a campsite, we put the water jug on the rear patio bumper.  That's our drinking and cooking water.  We then use the fresh tank for dishes.
Roland: Kate does the cooking and I do the dishes.  To make the fresh tank last as long as possible, I soap up everything and then rinse everything off.  For coffee, we use a French press which takes more water to rinse out, so we have to be conservative.
We have been horrified by the quality of the water in some areas.  British Columbia's water is good.  Water in the prairies is heavily chlorinated.  That's why we have a separate container for drinking water.  Whenever we find good water, we dump our tanks and fill them with drinking water.

Above: Snowflake, on the road from Minnedosa, Manitoba
TCM: I saw on one of your picture labels that you call your camper Snowflake.  Where did that name come from?
Kate: It started off as a joke because Roland and I aren't truck people.  We had a small Mazda.  When we first bought the truck and it was in the driveway I said it was a tank.  He said, "No, it's not a tank.  It's a snowflake".  I said, "We aren't calling it snowflake".  And he said, "Yes, we are".  Everyone has said that it's a great name.
TCM: What modifications or changes have you made with your truck and camper to make it fit your needs?
Kate: We installed 12-volt and USB sockets and a 150-watt pure sine wave inverter for charging camera batteries, etc.  We had Northern Lite add an additional solar panel because we dislike the noise of generators.  We also changed out the cold white LED light bulbs to warm white LED bulbs for better ambience.
Above: They added false bottoms to several of their drawers for extra space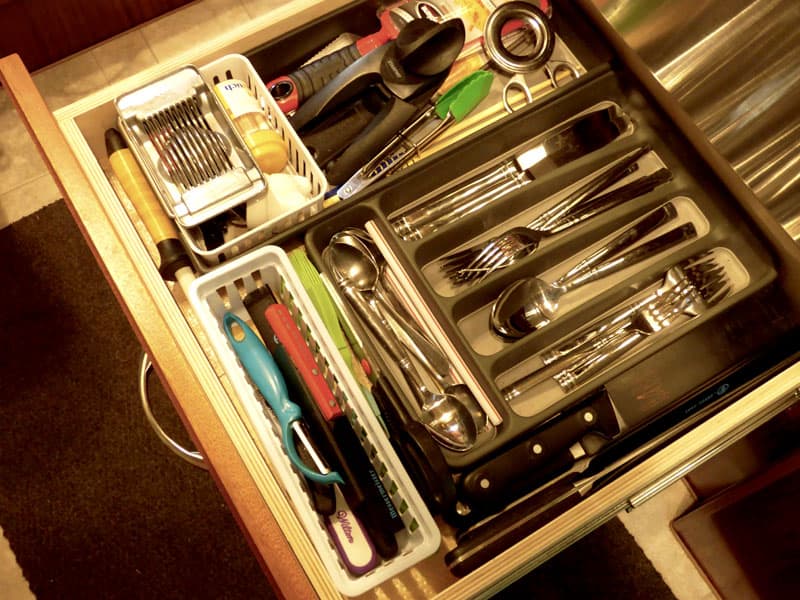 Above: A silverware drawer was made into the false bottom cabinet
We added false bottoms to several of our drawers for extra space.  As to mini-mods, we added a wall-mounted magnetic spice rack.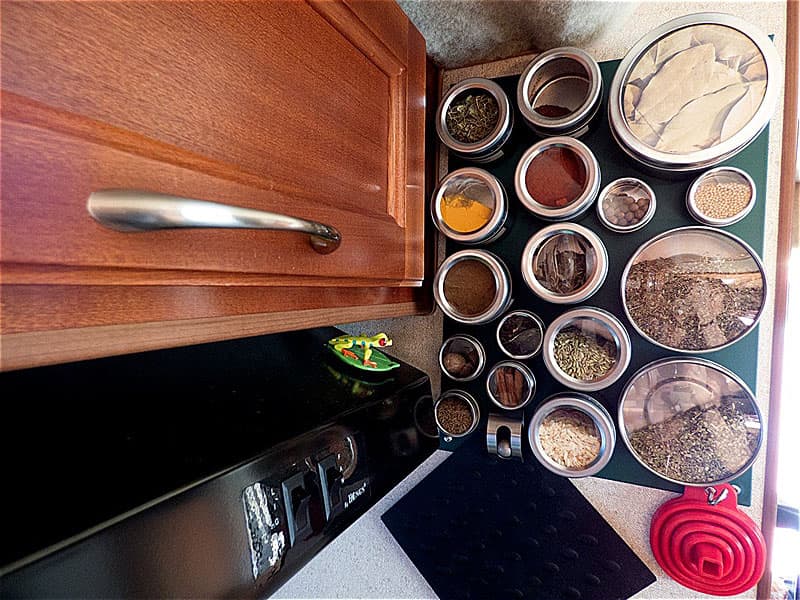 We're vegetarians and cooking with spices is big.  We added several other space saving bits here and there.  I also use the oven for storage.  I have a wok, frying pan, and baking sheet inside the oven.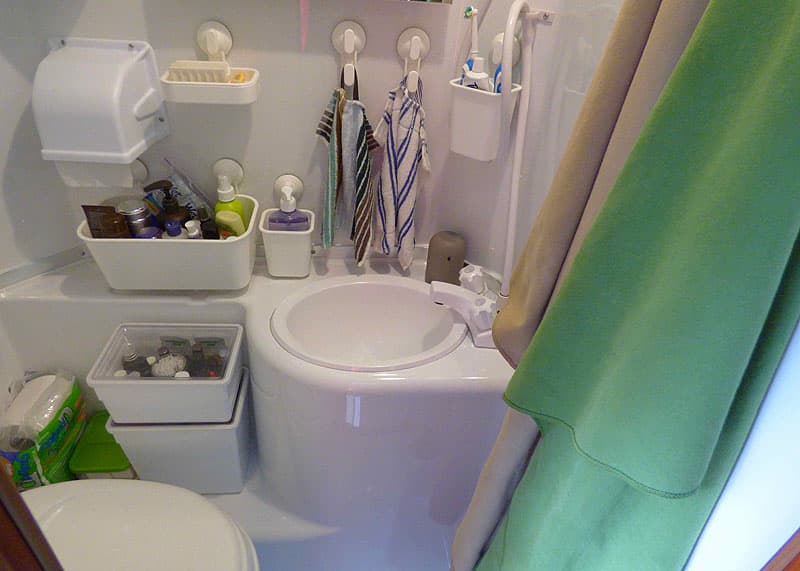 Above: IKEA suction cup storage containers in the wet bath
When we were packing up the house, I had all the bathroom stuff laid out on my desk at home.  I thought, "How am I going to fit all this in the camper?"  Well, I have these amazing IKEA suction cup storage containers, and buckets.  It all fits in.
Above: Magma stainless pots and pans that can be stored inside each other
We stop and get groceries every three days or so to replenish what we run out of.  That way space is not an issue.  I have good quality Magma stainless pots and pans stored inside each other.  They're made for galley kitchens on boats.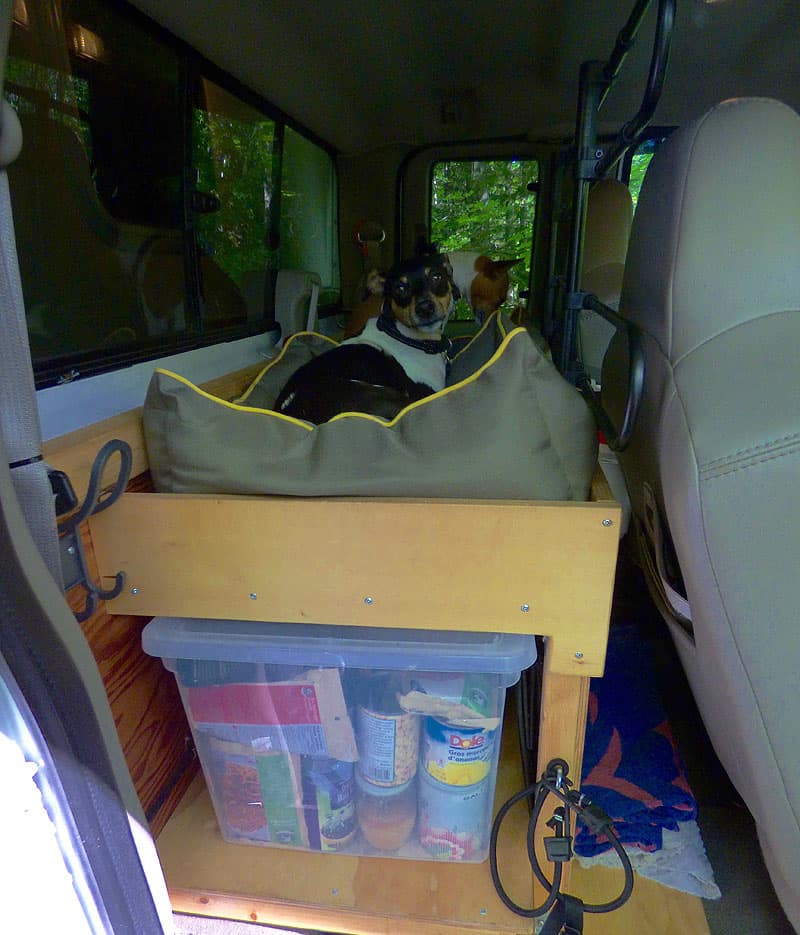 Above: Roland's raised platform back seat modification
Roland removed the back seat in our truck and installed a raised platform for our Rat Terriers, Melo and Pixel.  The platform has a pantry underneath with four bins that contain cleaning supplies, soda and beer, dog food and treats, and extra cans and coffee.
Roland: Throughout the camper we have hooks and magazine racks.  For books we have Kindles and iPads.  We no longer need printed books.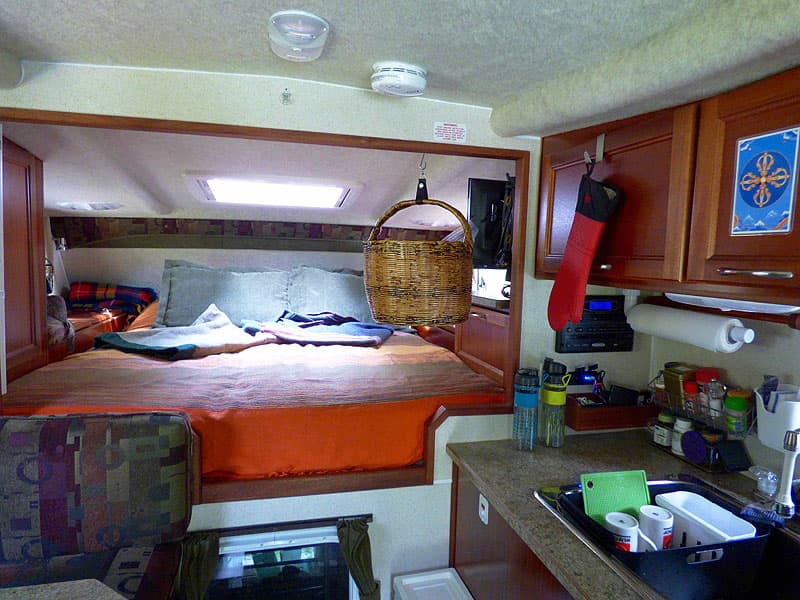 TCM: Since you are living in the camper full-time, has the space been an issue?
Roland: Space has not been an issue.  In the evenings when we're writing, we sit at the dinette table and we're sometimes cramped, but it's not really that bad because we have the whole outside available.
A friend said, "You're going to live in there a year, and it's smaller than my bathroom".  But it hasn't been a problem at all.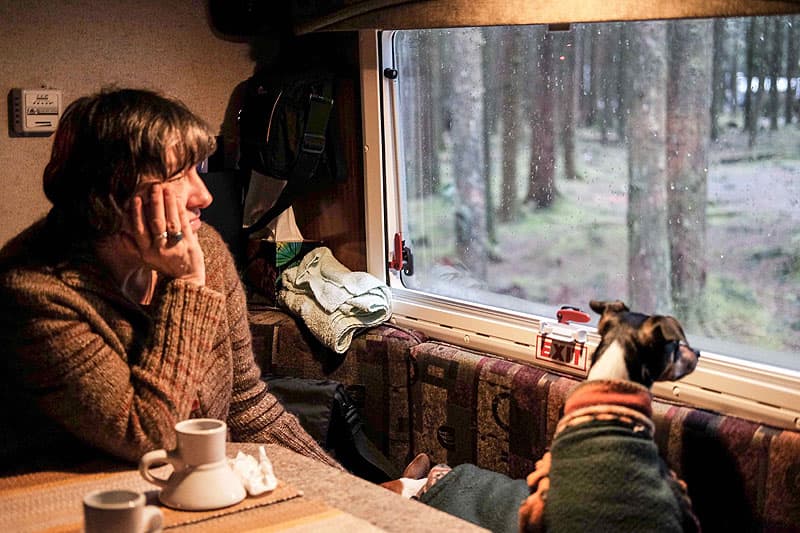 Above: Rainy day in their Northern Lite 8-11
I think the hardest part of truck camping for us has been the transition period; moving from the house to the camper.  Once you're living in it, it's no big deal.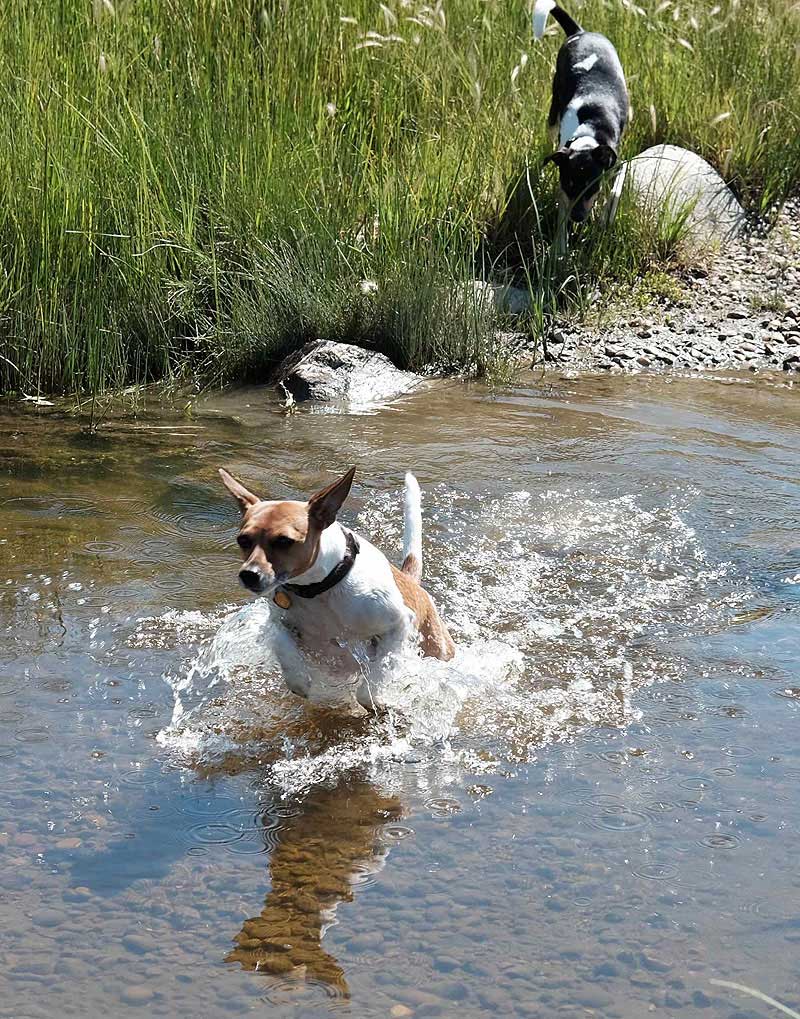 Above: Melo and Pixel cooling off in Rock Creek, Grasslands National Park, after a hard and hot hike
TCM: We know exactly what you mean, and I'm sure many of our readers can relate to that as well.  What do you enjoy doing while truck camping?
Kate: We enjoy hiking.  With two energetic terriers, hiking is a must.  We also enjoy photography and writing.  We both have blogs to keep records of our travels.  We also enjoy searching out hidden gems in nature along the way.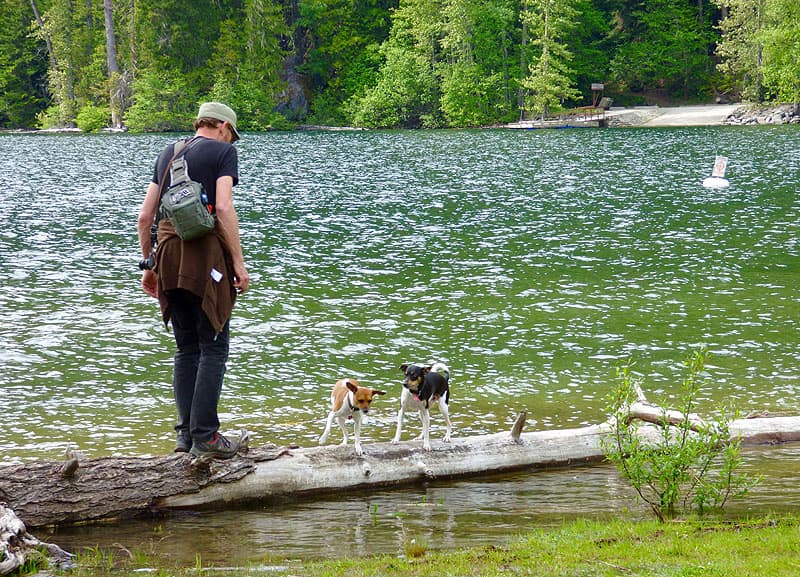 Above: Melo and Pixel hiking in Birkenhead Provincial Park, British Columbia
A lot of big national parks are not dog friendly, so we often look for places where our dogs can run free.  This takes us to spots we might not otherwise see.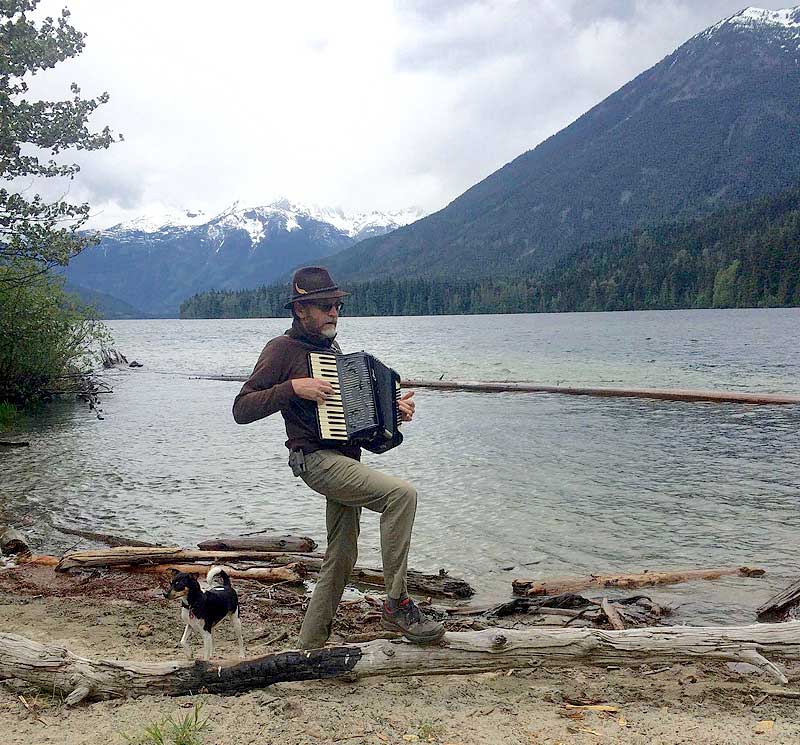 Above: Roland playing his accordion at Birkenhead Lake Provincial Park, British Columbia
Roland likes to play his accordion in all the remote places he finds.  I am a fine art printmaker and my photos will one day be fodder for new artwork.
TCM: You told us in your email that you are traveling with the ashes of your parents.
Kate: My parents traveled a lot through the United States and Europe, and were nomadic.  They are really the ones who started this love of being on the road.  They grew up in a communist country where they couldn't do this.  They took me along on their travels, and it left a mark.  They are the catalysts and have encouraged our travels.
My parents lived with us for twelve years, and we were very close.  They lived in our basement suite.  We socialized regularly and shared common interests and ideas.
When they passed, we got their ashes.  That's what they wanted.  Then there was the question of what we do with them?
I didn't feel like there was a place at home where they bonded.  They had paid for funeral place in Lake Havasu, Arizona.  If it's a place with a metal box in a wall in an ugly facility, we're taking them to the desert.  They loved Arizona.  They had two houses there.  And that's where my dad thrived with his painting.
Right now, they're in our camper's basement.  I know they're just ashes and have moved on, but the ashes connect me to them.  I feel like they are with me on this journey.  It adds another element for sure.  I think it's going to be weird to no longer have them with us, but I will deal with that when we get there.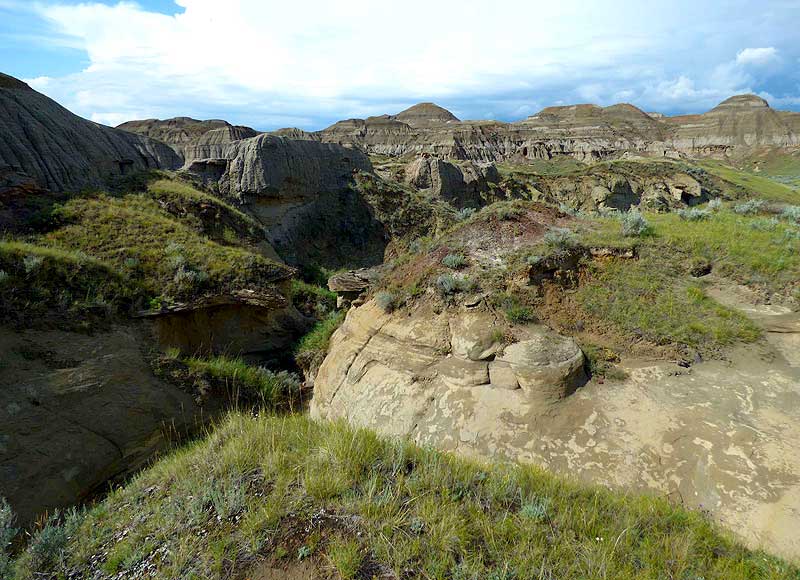 Above: Dinosaur Provincial Park, Alberta, Canada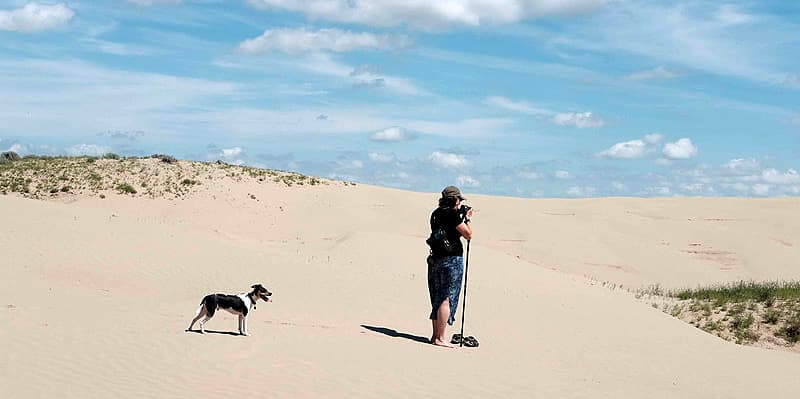 Above: Great Sandhills Ecological Reserve, Sasketchewan
TCM: Where have you been with your truck camper that you would recommend to other truck campers?
Kate: In our three months on the road, our high points were Tunkwa Lake in British Columbia's Cariboo region, Nairn Falls in British Columbia, Dinosaur Provincial Park in Alberta, Cypress Hills Interprovincial Park in Alberta, Grasslands National Park in Saskatchewan (both sides), and Rushing River Provincial Park in Ontario.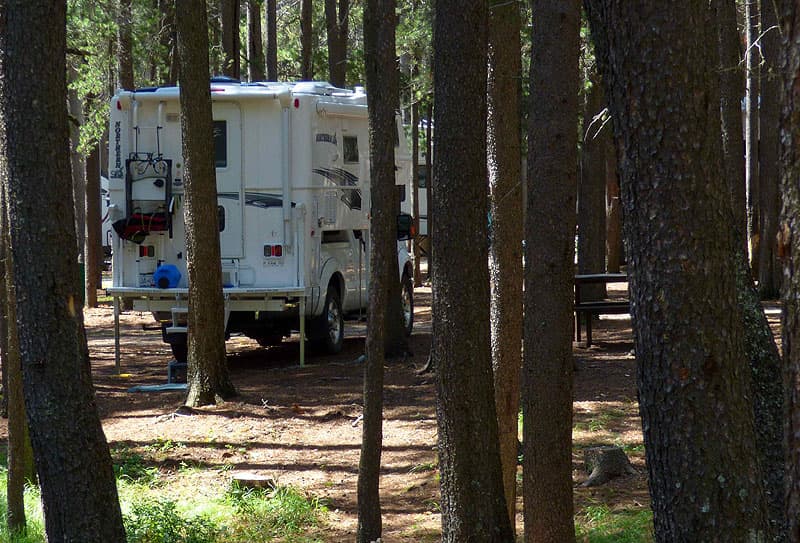 Above: Cypress Hills Interprovincial Park in Saskatchewan, Canada
Roland: There are a number of places along the backroads of British Columbia that can best be accessed with four-wheel drive.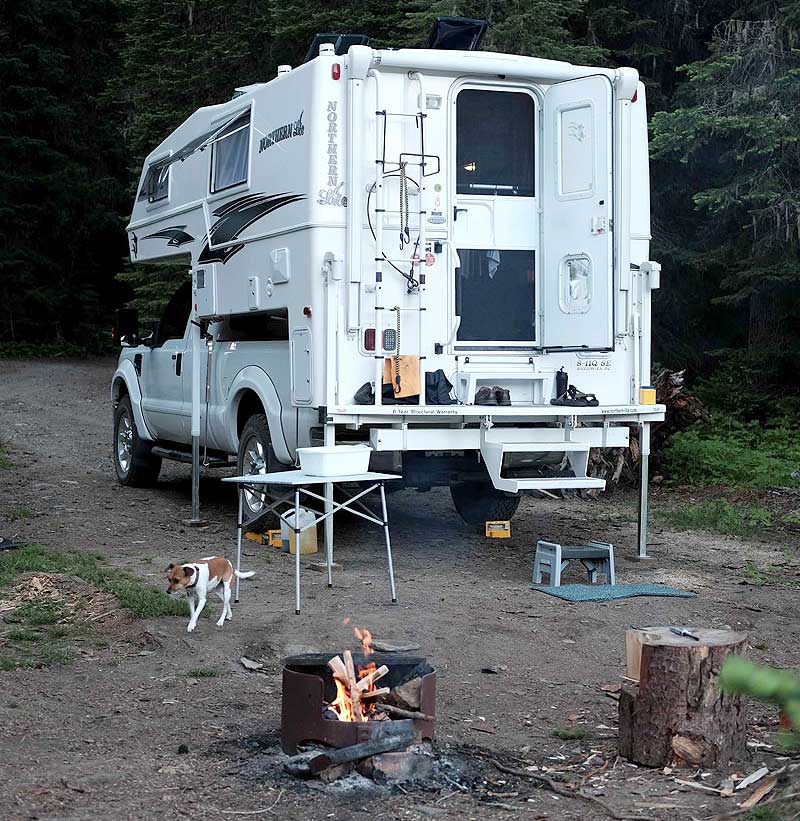 Above: Boundary Lake, off a backroad in British Columbia
Some of the ones we've stayed at are Boundary Lake, Horseshoe Lake, and a place we're calling John Doe Lake.  A truck camper is fantastic in any type of campground and will fit into spaces other RVs don't.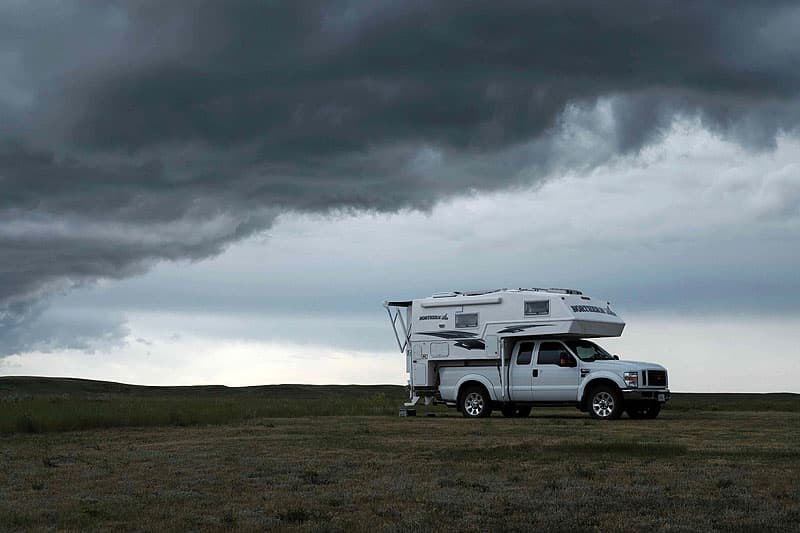 Above: Grasslands National Park, West Block, Saskatchewan
TCM: We loved the picture of Grasslands National Park with the clouds.
Roland: That was a pretty cool time.  At Grasslands we got the chance to drive right onto a grassy rise.  I don't think this would have been easy for a different type of RV.  All day there were thunder storms all around us.  When we got back from a hike, a storm exploded above our heads.
Kate: That's the most downloaded photo on Roland's blog.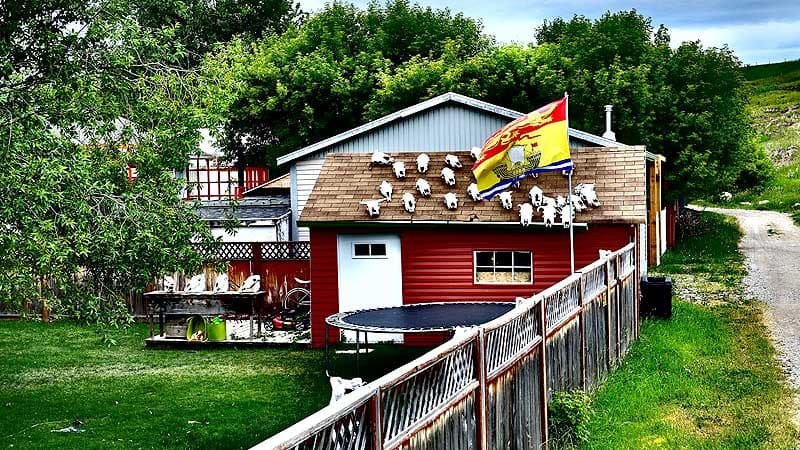 Above: Cow Skull Roof, Pincher, Alberta
TCM: How about the picture of the cow skull roof?
Roland: We were coming out of the mountains in Alberta.  Suddenly the prairie and sky opened and we came upon a town. The cow skull roof was in a back alley at Pincher, Alberta and hard to get to even with the truck camper rig.
In general, we definitely find that having a truck camper is a huge advantage because it's so maneuverable and has a footprint much smaller than other RVs.  Getting to the cow skull roof with a bigger RV would have been impossible.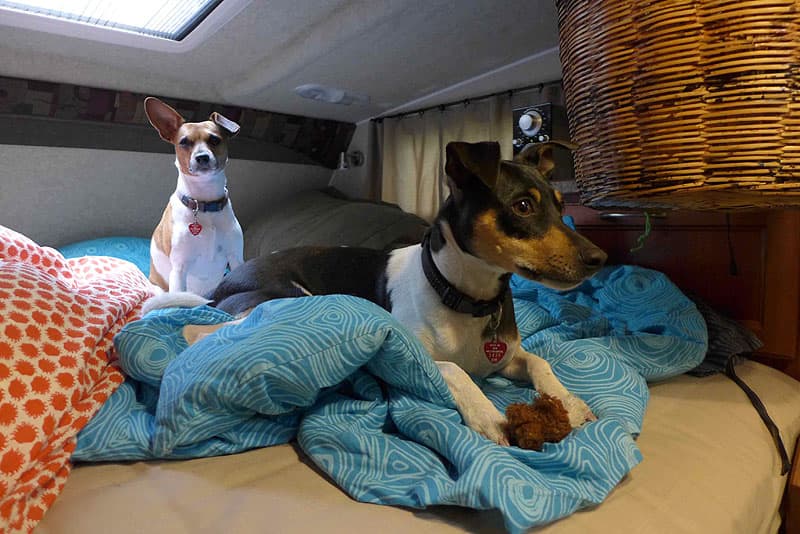 Above: Melo and Pixel at home in their Northern Lite 8-11
TCM: Tell us about truck camping with your dogs.
Kate: It's been fantastic.  At 20-pounds each, they're quite small and they've taken to the road like fish to water.  They both love being in the camper and exploring each new place we visit.
Of course, the dogs also call for us to be much more vigilant.  We need to keep them safe from predators (coyotes, cougar, bear, snakes, etc.) as well as ticks.  We also need to keep them well behaved at campgrounds with other campers, and to keep them out of the duck, cow, horse, and coyote poop they always have a way of finding.
The dogs are a challenge because there are campgrounds that don't want dogs.  We have to find places that allow you to have dogs.  We understand why some campgrounds don't want dogs.  People have dogs and they let them run or don't clean up after them.  We understand the park's perspective, but our little dogs need to run.
Roland: When we tell the dogs we are going back to Snowflake, they know that it means we're going back to the camper.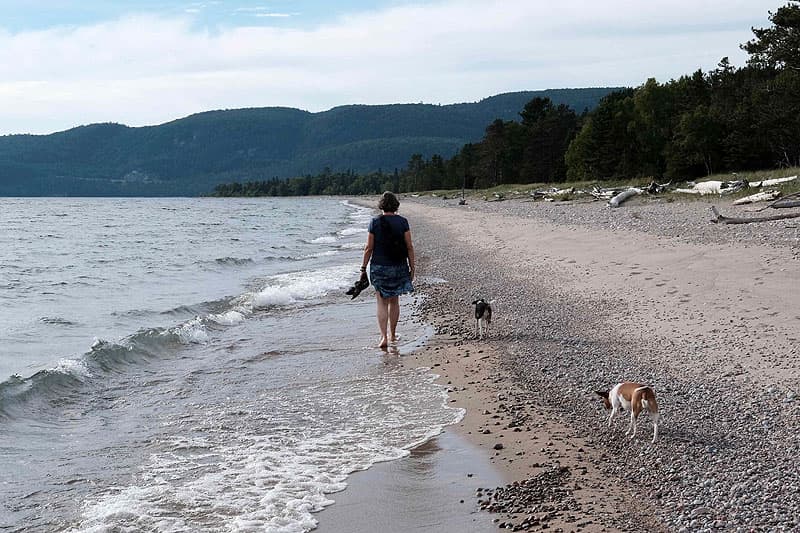 Above: Lake Superior Provincial Park, Ontario
TCM: Now that you've sold the house and hit the road, do you have a plan?
Kate: Our ultimate goal is to find a new place to live.  Our secondary goal is to see Canada, and then the United States.  And third, we're on a soul-making journey to rediscover who we are, after the working world.
Roland has never been east of Alberta.  I have seen a lot of Canada, but he has not.  Through that process we want to discover who we are again.
We are nearly three months into what will be a year to a year-and-a-half trip.  We started on the west coast of Canada and are heading to the Maritimes.  We want to get there in late August or early September and then we'll be heading into the United States and over to New Mexico, Arizona, and California.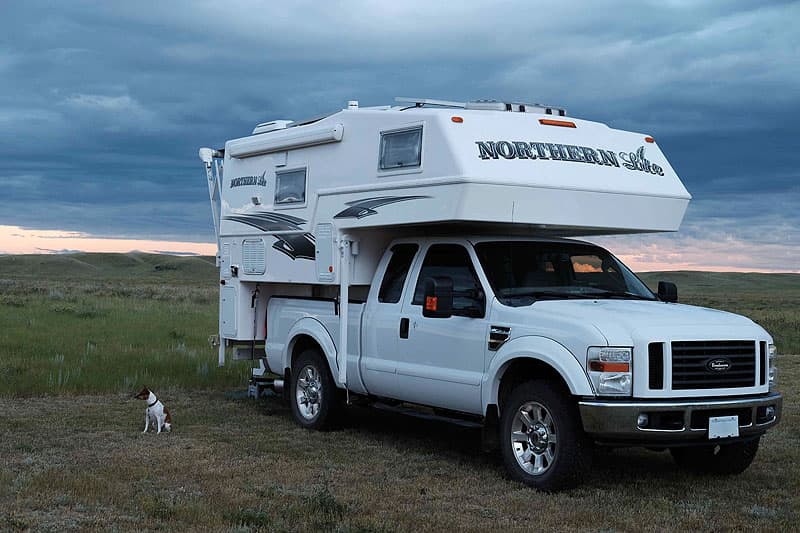 Above: Grasslands National Park, West Block, Saskatchewan
We typically drive two to three hours a day, find a place to camp, then do a hike of at least five to ten kilometers, and then kick back.
In spring of 2017, we plan to be back in British Columbia to explore Vancouver Island and the Sunshine Coast.  Then we will head north to Alaska.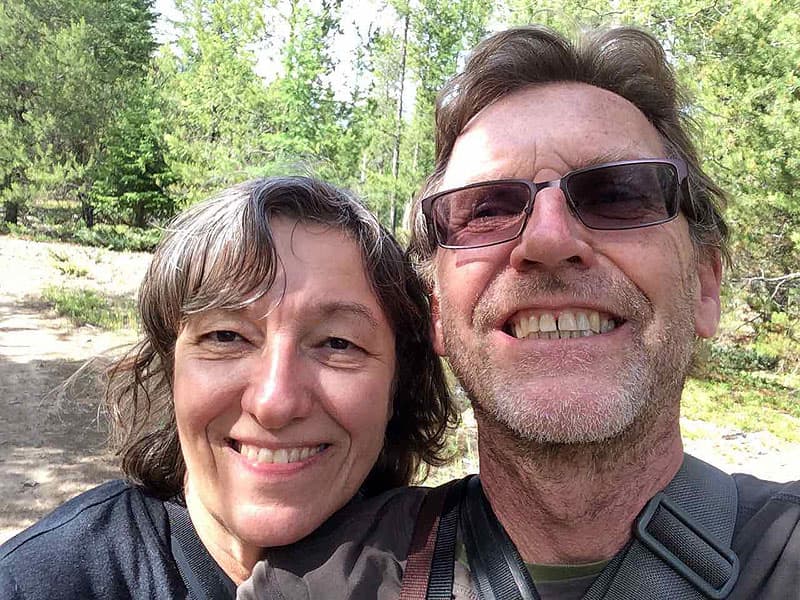 Above: Kate and Roland Goetz on their journey of rediscovery
TCM: That's an awesome plan.  Is there anything else you would like to add about your new adventure and lifestyle?
Kate: We'll be celebrating our thirtieth wedding anniversary on the road and we both feel it's the perfect way to celebrate.
Roland: We have seen some surreal scenes with crowded families sitting around a fire watching a big screen HDTV on their monster RV.  It's troubling how artificial camping has become.  I believe the bigger the home you bring into the wilderness, the less wilderness you are going to experience.  Truck campers are back to basics, and let you experience the wilderness as it truly is.
Kate: I wasn't sure about the truck camper thing initially.  We almost had arguments about it.  I remember saying, "no" to a truck camper because we couldn't get from the truck to the camper from the inside.
But once I saw pictures of truck campers in amazing places and considered the possibilities of where we could go, the truck camper began to make sense to me.  We were originally looking at Class B motorhomes, but are so happy that we have a truck camper.
The further east we go, the less truck campers we see.  We get lots of compliments on the camper.  That's a neat rush.  We always get a good feeling coming back to our rig in a parking lot.  We love it.
Kate and Roland's Rig
Truck: 2008 Ford F350, Extended Cab, 4×4, Diesel, Single Rear Wheel, Short Bed
Camper: 2016 Northern Lite 8'11" Queen SE
Turnbuckles and Tie-Downs: Torklift Fastguns
Jacks: Happijacs
Suspension: Canada Spring 9-leaf overload
Gear: Bernhausen-tuned diesel motor, dual 95-watt solar panels, 12v and USB sockets