Jim Kauffman takes his 2015 Ram 5500 and 2014 Eagle Cap 1160 to antique tractor and engine shows to display his remarkable collections.  200 antique chainsaws?

Last February we attended the Florida Flywheelers Antique Engine Club event in Fort Meade, Florida and dry camped for four days with a dozen other truck camper owners.
Throughout the camping field there were at least another two dozen truck camper rigs, maybe more.  Outside of a truck camper rally, we had never seen so many truck campers on the East Coast.
While exploring the antique hit-and-miss combustion engines, steam engines, farm tractors, Model T trucks, and a seemingly endless flea market, we met another half-dozen truck camper owners who were displaying their collections on the show grounds.
One of the campers we found was a 2014 Eagle Cap 1160.  Unfortunately, no one was at the booth or in the camper, so we kept going.  That day we got turned around among the countless rows of engines endlessly going, "Pop! Woosh… Woosh… Woosh… Pop!", and we never made it back to the 'Cap.
Fast forward almost three months.  On May 5th we published a Question of the Week asking, "What kind of enclosed utility trailer do you have, and what do you do with your utility trailer?"  A few hours later, we got this response: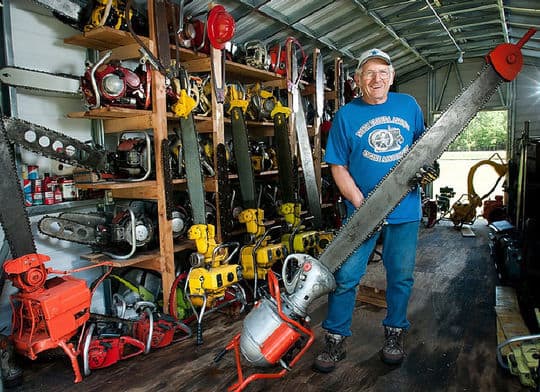 Above: Jim Kauffman and some of his antique chainsaws – click to enlarge
"I have five box trailers.  One is for antique military equipment.  It carries a 1952 M-38 military Jeep and equipment.  One is for an antique chain saws.  The other trailer is for an antique farm tractor.  I restore and show antique equipment all over eastern United States." – Jim Kauffman, 2012 Dodge 3500, 2014 Eagle Cap 1160, 2010 Hallmark 28-foot Car Box Trailer
Looking at Jim's photographs, Angela emailed back and asked if Jim had been at Florida Flywheelers.  As you have already guessed, he was the Eagle Cap owner we had missed.  How's that for a funny connection story?
After enjoying Florida Flywheelers and talking to Jim, we are very excited to explore and camp at more antique-themed outdoor events.  The camping is relatively inexpensive, the entertainment is built-in, and it's a great opportunity to meet fellow truck campers and travelers.  Plus, we want to actually meet Jim next year at Florida Flywheelers.  Hope to see you there.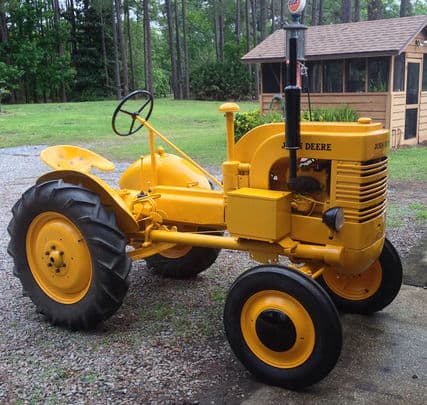 Above: A 1942 John Deere model L I; an industrial tractor built to work on golf courses and other industrial jobs – click to enlarge
TCM: Tell us about your camping experiences and lifestyle over the years.
Jim: I started out tent camping, then a pop-up camper, truck camper, followed by a Super C motorhome.  The Super C featured a Freightliner truck and a Haulmark body with living quarters and a garage in the back.  Then, I went back to a truck camper.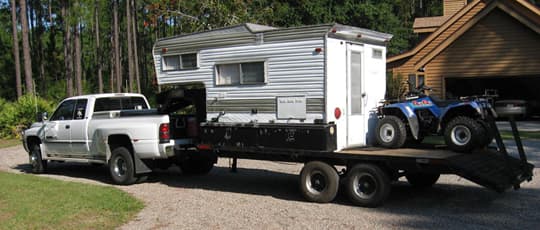 Above: Jim"s first truck camper, a 1960 Parkway
I've had four truck campers.  I got my first truck camper in 1995; a 1960 Parkway that was mounted on a 27-foot fifth wheel trailer.  In 1999, I purchased a Lance 1130 and a 16-foot box trailer.  In 2010, I got an Arctic Fox 990.
Now I have an Eagle Cap 1160.  I saw the recliner seating in the Eagle Cap 1160 and had to have it.  I'm 6'0" tall and truck camper dinettes are not that comfortable for long periods of time.  After a long show, I want to be able to stretch out and relax.
TCM: What keeps you coming back to a truck camper again and again?
Jim: I like the simplicity of a truck camper rig.  I like that I have one starter, one license tag, and one vehicle to maintain.  I like the economics of a truck camper.  A truck camper is also easier to maintain than the alternatives.
I use my truck as a daily driver.  I'll come home Sunday night after a show, unload the camper, and use the truck during the week.  I use my truck for hauling cows to market or to haul something in my trailer.  I like that versatility.
I can load and unload a truck camper in five to ten minutes.  Sometimes I load and unload the camper two to three times a week.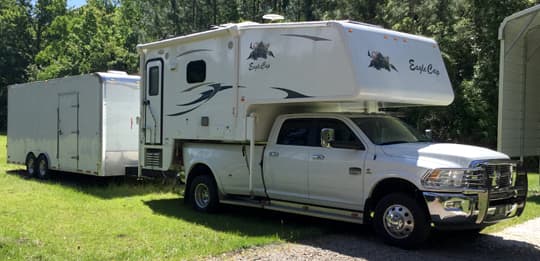 Above: The 2014 Eagle Cap 1160 with the 2012 Ram 3500
TCM: That's impressive.  On a good day, we can load and unload in about five to ten minutes as well.  Of course we have our not so good days, mostly on uneven ground, when it takes considerably longer.  Tell us about your new Ram 5500.
Jim: Before I bought the 2015 Ram 5500, I had a 2012 Ram 3500 dually diesel.  Even with air bags, the weight of the double-slide Eagle Cap exceeded the capacity of the truck.  This was especially evident when I traveled in the mountains.
With the 2015 Ram 5500, I have a GVWR of 18,000 pounds.  I ordered the truck with the 4.10 rear axle.  Normally a 5500 has a GVWR of 19,600 pounds, but that's with the standard 4.88 rear axle ratio.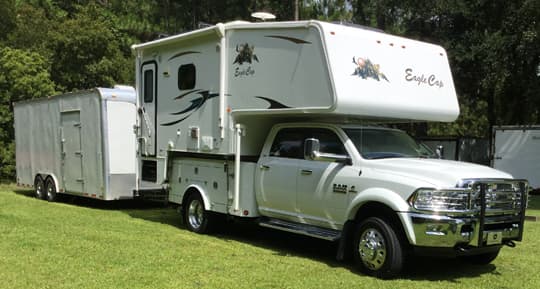 Above: Jim"s new 2015 Ram 5500 and 2014 Eagle Cap 1160
The 2015 Ram 5500 features 19.5-inch wheels and a much beefier six-speed transmission compared to the 3500.  The 5500 also has a rigid C-frame that doesn't give at all.  With the 1160 Eagle Cap loaded, I can jam on the brakes and come to a quick stop.  It's solid.
There's a lot of wasted space in the fender area of a truck camper rig.  I've always wanted more exterior storage, so I ordered an aluminum storage bed from Classy Chassis.  When I bought the truck, I went right to them and got their truck camper body.  The quality of their work is excellent.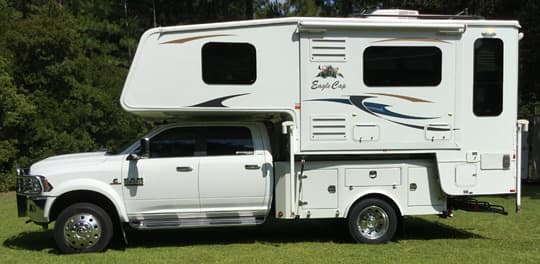 Above: There is a lot of extra storage in Jim"s Classis Chassis utility bed
TCM: An aluminum storage bed is a great idea, especially if you have the payload capacity to spare.  Your 2015 Ram 5500 certainly has the payload to accommodate the weight of the storage bed and its contents.  Why do you need all that storage?
Jim: I am an Engineer by design, and a Forester by education.  When you are in forestry, you have to be prepared for everything.  If you break something in the middle of the woods, you better have supplies with you.
Years ago we didn't have cell phones.  Being prepared for everything was ingrained in me.  My truck has anything I need in any kind of emergency.  Every pocket is filled with stuff I could need.
People accuse me of carrying a machine shop in the truck.  I have jumper cables, chains, canvases, three different size hitches, two tool boxes, chairs, rain coats, boots, shovels, a machete, a hand saw for cutting trees or limbs, a box of two or three of each fuse I would need in the truck, and extra fan belts.
One of most important things I carry is J-B Weld epoxy.  I can fix about anything I want to fix with it.  Let me give you an example.  I was in Alaska 100 miles north of Anchorage, and I saw a Ram truck with a camper on the side of the road.  I went by and could tell what was wrong right away.  The fellow didn't have his oil cooler protected for rocky roads.  I could see oil on the road.
He asked if I could give him a lift, but it was 50 miles to anything.  I said, "How about we fix your vehicle?"  I took out the knife and cleaned the aluminum, stuck JB Weld on it, put in auto transmission fluid, and off he went.  I got a letter of appreciation from him months later.  He told me that he got back to Anchorage and it was not a problem to get the oil cooler fixed.
The number one item to fix anything is duct tape.  I fixed the frame of my trailer when I was traveling in south Florida one night.  I saw a spark flying off my trailer.  The frame was busted.  Looking around I saw an old six-foot fence post.  I used that and two rolls of duct tape to fix the trailer frame.  Two years later, the fence post and duct tape are still there.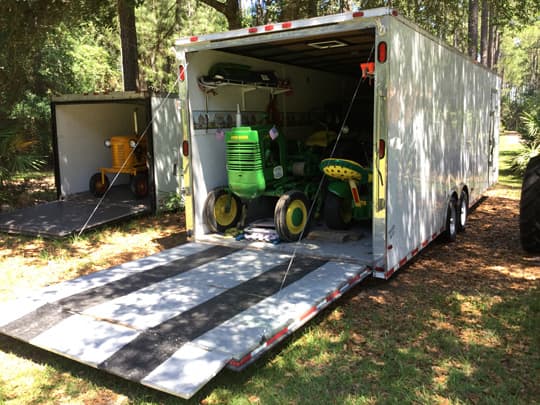 Above: Jim has five cargo trailers and tows antique equipment to shows around the United States
TCM: That's hysterical!  You're the MacGyver of roadside vehicle repair.  The truck camper guy in Alaska must be the luckiest person on Earth to break down in your path.  How did you get into showing restored antique tractors and chainsaws?
Jim: I was born and raised on a farm.  An instinct of mine has been restoring old mechanical stuff, like old tractors and engines.  I restored my first tractor in 1980; a 1939 Ford 9 N.  The hobby grew from there.  I started showing restored antique farm tractors around 1990.
Now I show antique tractors, chainsaws, and military equipment all over the eastern United States.  I have five box trailers, but I only use one at a time.  The box trailers are also used for storage when not being towed.  My wife says I'm a fanatic, but it sure beats hanging out in bars.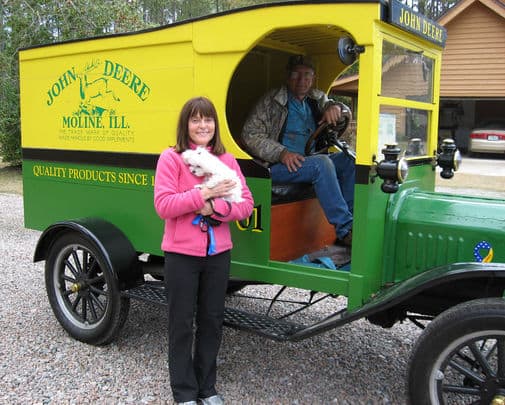 Above: A 1915 Ford model T that Jim built from parts.  He displays this model T at John Deere events.  Click to enlarge.
I like taking something that was in a junk yard and making it look good and run well.  I get a lot of enjoyment from the restorations.  I'm bringing something back to life.  I also get enjoyment out of showing the end results.
I have also restored about 200 antique chainsaws.  A friend of mine is into military equipment, so I restored a 1952 Willys M-38 military Jeep from the Korean war.  In the 1980s and 1990s, I restored a lot of tractors and chainsaws.  Presently, it's about a tractor a year.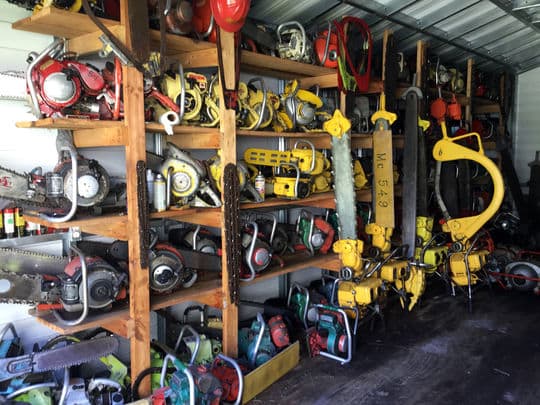 Above: A sampling of Jim"s 200 restored chainsaws
TCM: 200 antique chain saws?
Jim: Chainsaws were part of my forestry profession and my father was in the logging business.  I remember the first chain saw he had.  It was 1949 McCullough.  Most of the one man chainsaws were manufactured after the war.
In the 1970s, people had old saws laying around.  I was looking for unique chainsaws and told people if they were going to throw away their chainsaws to let me know.
I had 400 chainsaws when I retired in 2000.  That's when I decided that I was going to restore them.  Sometimes it would take two to three saws to make a good one.  I was robbing parts off saws to make one perfect saw.  So I have a lot of spare parts.
I have friends in New Mexico, Washington, and New York who also restore antique chainsaws, so we swap parts.  All we pay each other is freight.  It's our hobby to preserve old antique equipment.  Now, I have 200 restored chainsaws.
Above: Jim"s birthday tractors.  Above Left: 1939 Allis Chalmers B.  Above Right: 1939 John Deere  L. and a half-size tractor Jim built in 1999.  Click to enlarge.
TCM: How many antique tractors do you have?
Jim: I've have twenty-six antique tractors.  Some are what I call birthday tractors.  I collect tractors that were made on the exact year, month, and day I was born.
TCM: How do you do that?
Jim: In the beginning, I researched all the tractor brands that were made on November 7, 1939.  With the serial number information, I searched out tractors made on my birthday on the internet.  I currently have six tractors that were made on my birthday.
One of the birthday tractors came up on yesterdaytractors.com for $400.  It was in Detroit, Michigan in January.  It was cold up there, and warm here in Florida.  I looked at it and it was the right serial number.  I called the telephone number, and found out that there were no tires, and has not run in years, but the owner told me we could roll it.  I told him that as soon as the snow storm went through I would be there.
Two days later, I got there and it was frozen to the ground.  I had to chop the frozen ground to get it.  On the way back to Florida, I went to the largest AC junk yard, which is in Fort Wayne, Indiana.  The guy there had a hood and a set of cultivators that fit.  Four months later that tractor was restored.  That tractor was built the day I was born.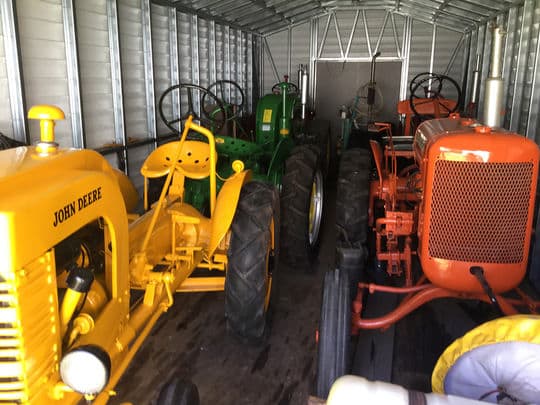 Above: Tractors about to go to an antique tractor show – click to enlarge
TCM: How do you decide which tractors to take to shows?
Jim: Ten of my twenty-six tractors are perfect; restored better than they came out of the factory.  I generally take those tractors to the shows.
Some shows are brand-specific.  I have eleven John Deere tractors for John Deere tractor shows.  If I don't have the brand they're featuring at a show, I'll take the John Deere tractors.  I show the John Deere tractors more than the others because they're older than the others.
I belong to ten tractor clubs around the United States and I was an early member of the Florida Flywheelers organization.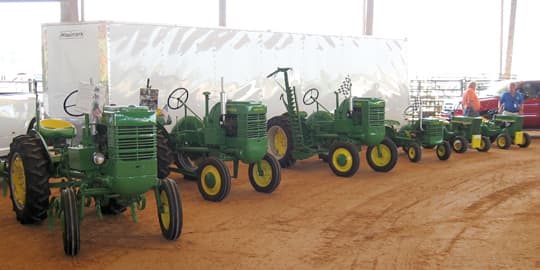 Above: Jim"s display at the Clay County Fair in Green Cove, Florida
TCM: We really enjoyed the Florida Flywheelers event last winter.  The camping field is wide open and fairly well organized.  About a dozen truck campers joined us and we had a great time.  What shows do you attend?
Jim: I go to Florida Flywheelers and the Florida Coast Military Preservation Association.  I also go to the North Florida Antique Engine Show, the Deep South Gas and Steam Engine Show, and many others.  Right now I'm going to twenty-five shows a year.  At the peak I was going to forty-eight shows.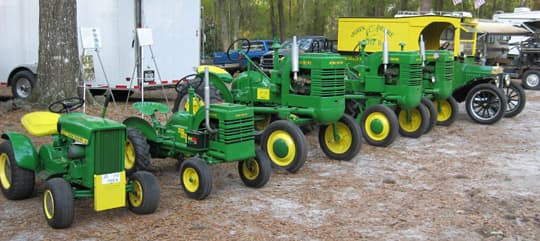 Above: Jim"s display at Stephen Foster State Park, White Spring, Florida
If you subscribe to magazines like the Green Machine and Antique Tractor, they'll have lists of shows in their advertisement area.  There's also a Farm Collectors show directory.
The great thing about the shows is that I can camp in my truck camper at all of them.  Some I don't go to because I can't camp with my display.  For security reasons and convenience, I want to camp where my display is located.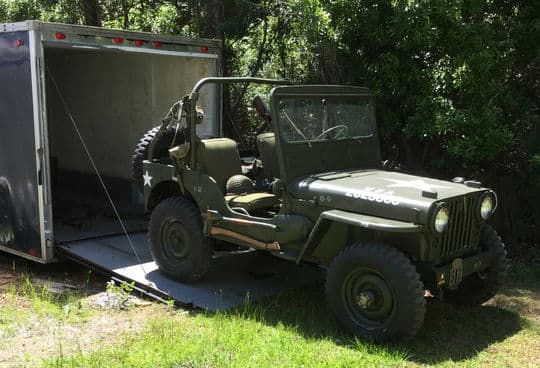 Above: Jim"s 1952 Willys M-38 military Jeep from the Korean war – click to enlarge
TCM: The Florida Coast Military Preservation Association sounds neat.  What do you bring to that event?
Jim: I bring my 1952 Jeep, the only military vehicle I have restored, and three military generators, a stove, cooking gear, and anything that a soldier in the 1940s and 1950s had.
I'll take my truck camper, unload my Jeep and my military stuff, set up the tent with a field desk and it's a display from the second World War.  The field desk is neat.  It looks like a big trunk, and it unfolds.
The Florida Coast Military Preservation Association show is in Mt Dora, Florida.
TCM: We might have to check that show out.  Do you sell anything at the shows?
Jim: I do not sell my antiques.  I only display.
I love the shows.  I have become acquainted with the people and it has become a family network.  It's like Facebook, you'll meet a friend of a friend.  Through the engines, chainsaws, tractors, and Jeeps, I have built lasting friendships.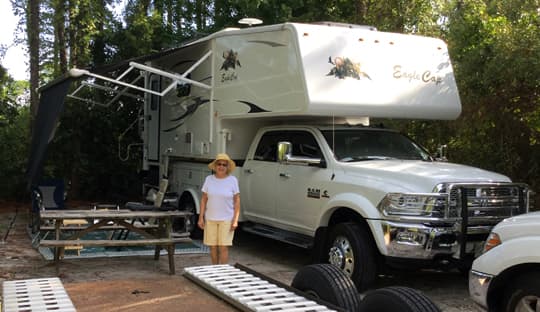 Above: Camping at St. George Island State Park in Florida
TCM: Sounds like the communities we enjoy at the truck camper rallies.  They do become an extended family.  What else do you enjoy doing while truck camping?
Jim: We use our truck camper to go hunting, fishing, and sightseeing.  I have driven the backroads of the western United States and Alaska.  The United States of America is the most beautiful country in the world.  I spent five months in Alaska in our Lance 1130 and went gold prospecting.
I use our truck camper for just about everywhere I want to go.  I do not like motels.  I despise them.  I'd rather sleep in my own bed at night.  If I can, I'm going to be in my camper.  I am spending my kids inheritance.  They say that a person does it right when the check that is written to pay undertaker bounces.
I have plans to visit all of the national parks.  I  have been to forty-eight.  I also plan to travel to Nova Scotia this year.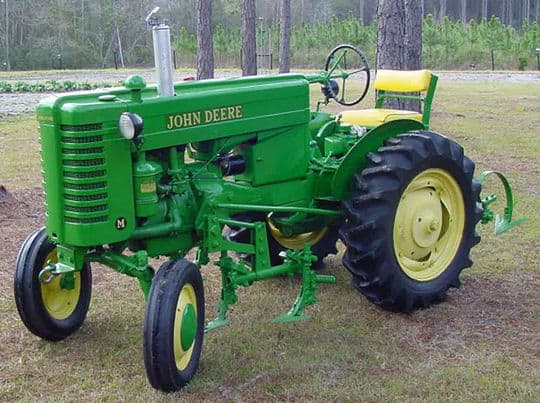 Above: Aa agricultural 1946 John Deere model M – click to enlarge
TCM: Is there anything else you would like to add?
Jim: When I retired in 2000, I had a list of everything I wanted to do, which ended up being two pages long.  I looked at my list and determined how long it would take me to do everything.  I realized I would have to live to be 102 to complete them all.  So, I cut down the list to the stuff I could live with.
Today I've gone back and only done two things off my list because other things have jumped in.  For example, I restored a 1915 Model T delivery truck.  My brother was into them.  He called me and told me that he had a bunch of Model T parts.  He'd bug me about them.   A year later, he called up and said that if I was not going to come get them, I'm going to sell them to junk man.  I couldn't let him do that, so I went to Pennsylvania and got them.
He had three engines, four transmissions, ten wheels, and eight fenders.  I saw a toy John Deere delivery truck, so I said, "I want to build that!"  My truck is the only one you'll see like that.  It's totally my creation.  Three months after I got the parts, it was ready to run.  I work on it until it's done.  Well, that was not on list.
Rig Information
Truck: 2015 Dodge 5500 Laramie, Crew Cab, Long Bed, Dual Rear Wheel, 4×4, Diesel
Camper: 2014 Eagle Cap 1160
Tie-Downs and Turnbuckles: Torklift
Suspension: Links air ride suspension
Gear: Body built by Classy Chassis and Reese class 5 Extend hitch, B&W mid bed ball over for trailer towing