Jim Kauffman takes his 2015 Ram 5500 and 2014 Eagle Cap 1160 to antique tractor and engine shows to display his remarkable collections.  200 antique chainsaws?

Last February we attended the Florida Flywheelers Antique Engine Club event in Fort Meade, Florida and dry camped for four days with a dozen other truck camper owners.
Throughout the camping field there were at least another two dozen truck camper rigs, maybe more.  Outside of a truck camper rally, we had never seen so many truck campers on the East Coast.
While exploring the antique hit-and-miss combustion engines, steam engines, farm tractors, Model T trucks, and a seemingly endless flea market, we met another half-dozen truck camper owners who were displaying their collections on the show grounds.
One of the campers we found was a 2014 Eagle Cap 1160.  Unfortunately, no one was at the booth or in the camper, so we kept going.  That day we got turned around among the countless rows of engines endlessly going, "Pop! Woosh… Woosh… Woosh… Pop!", and we never made it back to the 'Cap.
Fast forward almost three months.  On May 5th we published a Question of the Week asking, "What kind of enclosed utility trailer do you have, and what do you do with your utility trailer?"  A few hours later, we got this response: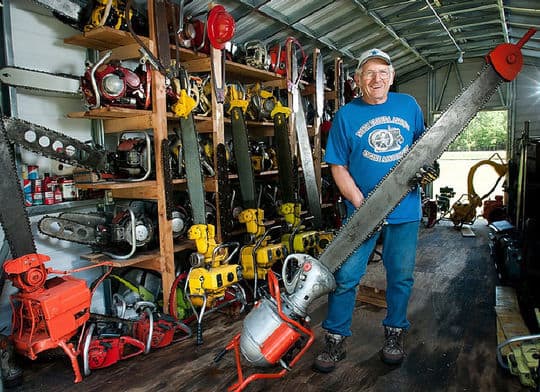 Above: Jim Kauffman and some of his antique chainsaws – click to enlarge
"I have five box trailers.  One is for antique military equipment.  It carries a 1952 M-38 military Jeep and equipment.  One is for an antique chain saws.  The other trailer is for an antique farm tractor.  I restore and show antique equipment all over eastern United States." – Jim Kauffman, 2012 Dodge 3500, 2014 Eagle Cap 1160, 2010 Hallmark 28-foot Car Box Trailer
Looking at Jim's photographs, Angela emailed back and asked if Jim had been at Florida Flywheelers.  As you have already guessed, he was the Eagle Cap owner we had missed.  How's that for a funny connection story?
After enjoying Florida Flywheelers and talking to Jim, we are very excited to explore and camp at more antique-themed outdoor events.  The camping is relatively inexpensive, the entertainment is built-in, and it's a great opportunity to meet fellow truck campers and travelers.  Plus, we want to actually meet Jim next year at Florida Flywheelers.  Hope to see you there.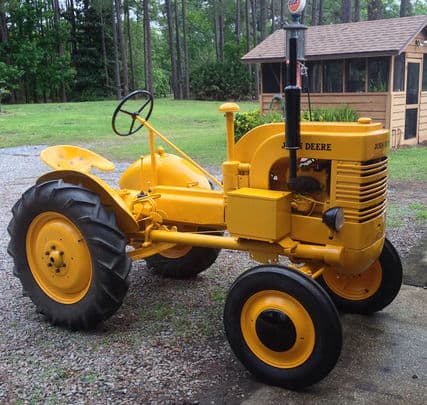 Above: A 1942 John Deere model L I; an industrial tractor built to work on golf courses and other industrial jobs – click to enlarge
TCM: Tell us about your camping experiences and lifestyle over the years.
Jim: I started out tent camping, then a pop-up camper, truck camper, followed by a Super C motorhome.  The Super C featured a Freightliner truck and a Haulmark body with living quarters and a garage in the back.  Then, I went back to a truck camper.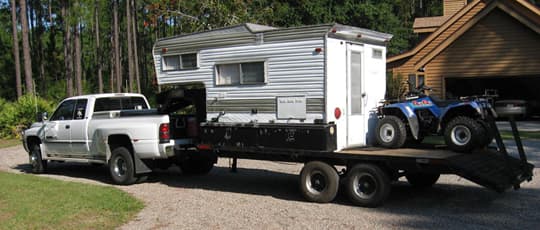 Above: Jim"s first truck camper, a 1960 Parkway
I've had four truck campers.  I got my first truck camper in 1995; a 1960 Parkway that was mounted on a 27-foot fifth wheel trailer.  In 1999, I purchased a Lance 1130 and a 16-foot box trailer.  In 2010, I got an Arctic Fox 990.
Now I have an Eagle Cap 1160.  I saw the recliner seating in the Eagle Cap 1160 and had to have it.  I'm 6'0" tall and truck camper dinettes are not that comfortable for long periods of time.  After a long show, I want to be able to stretch out and relax.