For most truck camper owners, there's never enough exterior storage.  Here's how Tom Blanchette took this problem head on and built an incredible custom aluminum truck bed.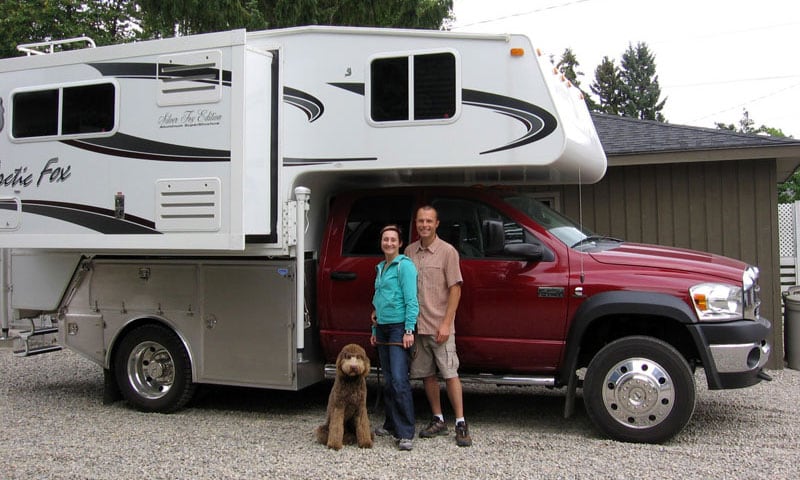 Above: Nancy, Tom, and their dog with their Arctic Fox 990 rig
There's never enough storage.  Maybe it's a lawn chair that doesn't fit.  Perhaps it's a barbecue that gets left behind.  Or worse, it's an oversize spare tire that's at home when you've got a flat in Albuquerque.  What can be done?
Meet Tom Blanchette.  Tom decided he was going to take his lawn chairs, barbecue and spare tire – and that's that!  How did he do it?  How did he solve the age old exterior storage dilemma?  He built a custom aluminum storage bed.
Building a Custom Truck Bed
by Tom Blanchette
My first RV experience was in New Zealand in 1999 and 2000.  We rented a converted camper van to tour both the North and South islands.  After that trip, we knew we wanted a RV.
When I started shopping for a RV, I liked the small foot print of camper vans, but felt they were pretty tight in terms of space.  I also wanted four-wheel drive.  I eventually decided on a Northern Lite truck camper, which was nice and light weight.
Unfortunately, the swing-out jack brackets didn't extend far enough for my flatbed work truck making it a challenge to load and unload.  I tried having custom brackets made, but was concerned about stability.  Eventually, I decided to look for a camper that offered a wider swing-out bracket configuration for my flatbed work truck.
Arctic Fox 990 Truck Camper
After much research and a few visits to the to the RV dealers with a tape measure, I decided to factory order an Arctic Fox 990.  The Arctic Fox had the wider swing-out bracket configuration I needed and, with a slide-out, was very roomy inside.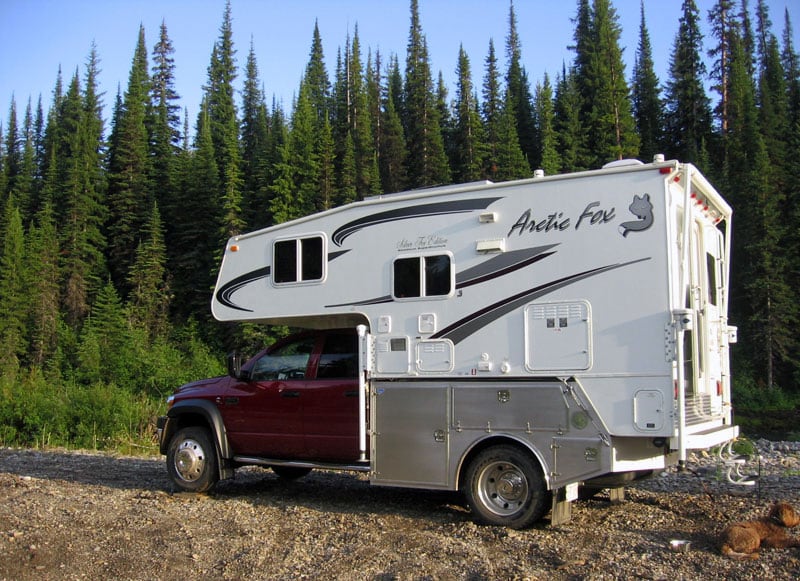 As a masonry contractor, my truck camper enables me to do out of town projects while living in comfort.  Staying in a truck camper is much better than staying in a hotel.  I also enjoy exploring North America with my wife, Nancy, and my pooch, Finn.  We enjoy lazy rest weekends when we need a break from the city.
"As with any custom one-of-a-kind project, there are challenges to overcome along the way."
Ram Sterling Bullet
I eventually decided it would be nice to buy a truck dedicated to the camper.  That's when I saw two or three chassis cabs with service truck bodies on the internet.  This seemed like a good idea because it would offer ample exterior storage space.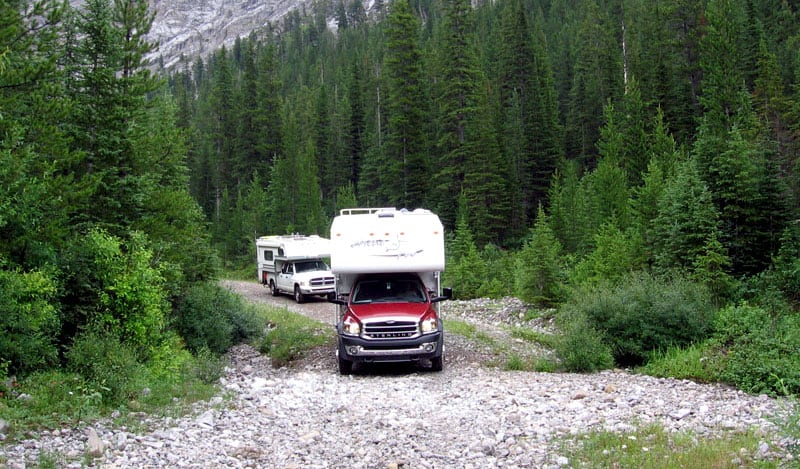 I started searching for a Ram 4500 chassis cab, but I wanted something a little nicer than the average white work truck.  In fact, many of these trucks seem to be ordered without carpet and other luxuries that I've become accustomed to over the years.
When I couldn't find what I was looking for, I started looking at Sterling Bullets.  These trucks are essentially a Ram with Sterling badges.  As with Ram chassis cabs, the Sterling Bullets come with a 6.7 liter Cummins, factory exhaust brake, and a fifty-two gallon fuel tank which means you can easily drive all day and then some.
I found what I was looking for in another city and had it shipped to Calgary, where I live.  The truck was nicely optioned including a navigation system.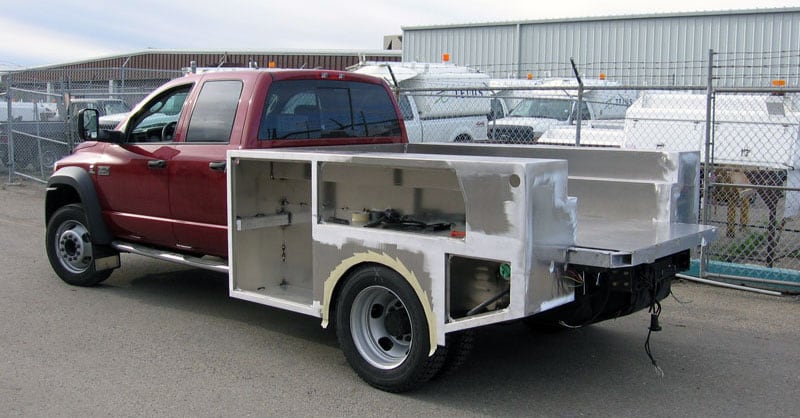 Before I had located the right truck, I had done some research on truck bodies to find the one that would best suit my needs and accommodate the Arctic Fox 990.  It became clear that if I wanted something that would meet all my needs I would have to have it custom built.
"It was important to me that the truck bed was corrosion resistant and light weight.  For that reason, I chose to build it all aluminum with stainless steel hardware."
Custom Truck Bed
Having a truck body custom built meant that I could make sure that everything that I intended on storing would fit, that the camper would fit into it properly, and that I could choose materials and hardware to suit my requirements.  It was important to me that the truck bed was corrosion resistant and light weight.  For that reason, I chose to build it all aluminum with stainless steel hardware.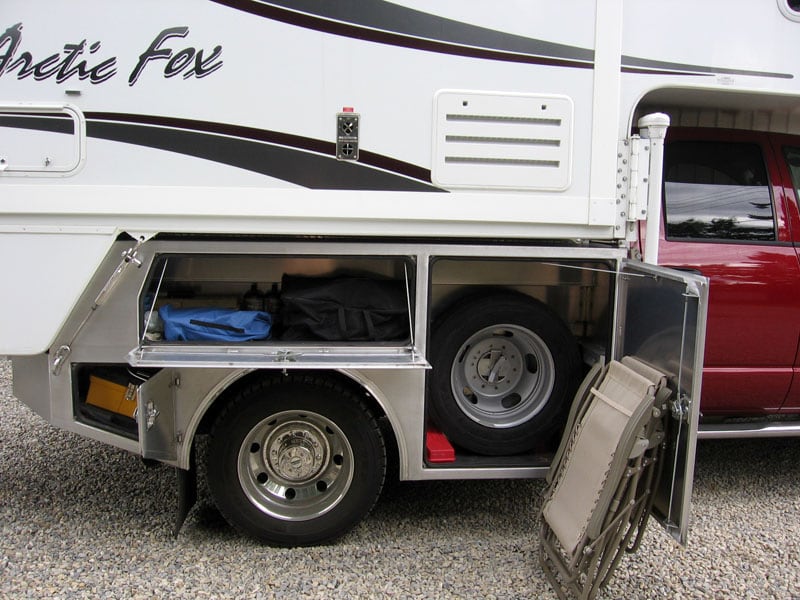 The custom bed needed a storage place for a spare tire because there is no place to mount a spare tire on the truck chassis.  I also wanted storage for our large reclining lawn chairs which we otherwise had to store on our bed, even when the chairs were dirty.
In addition, the custom storage bed needed to look good while providing enough storage for extended trips where we might not have easy access to supplies.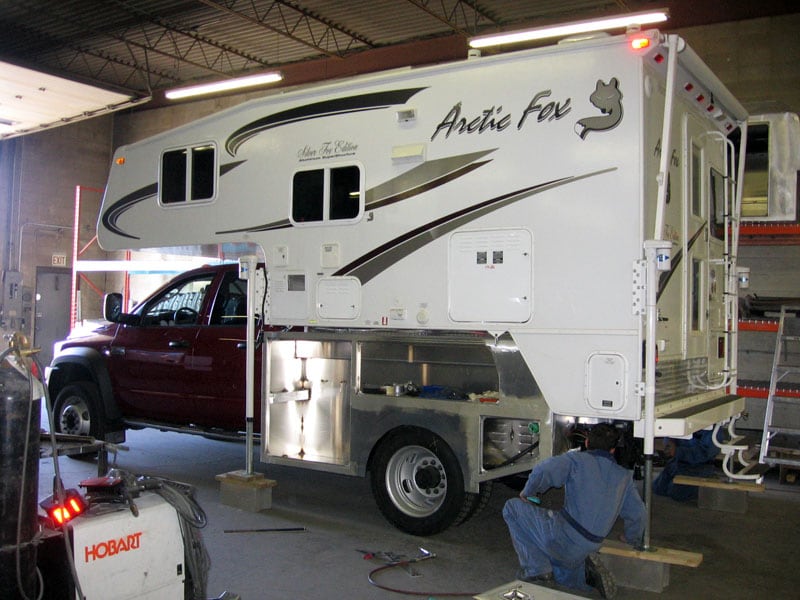 In the past, I've enjoyed designing flatbeds for my work trucks and custom equipment trailers.  When I began designing the custom body for the camper, I was familiar with the process.
I am a stonemason and bricklayer by trade, but have also acquired certification in architectural drafting through night courses at Southern Alberta Institute of Technology.  This training gave me good AutoCAD (computer aided drafting) skills.
After some time deciding what needed to fit into the cabinets and what I wanted it to look like, I completed some very basic drawings.  I then met with Nortruck Manufacturing in Calgary.
We discussed the bed in more detail and how the custom truck body would be built.  With a better understanding, I then completed detailed AutoCAD drawings from which the project was constructed.   Construction of the bed took approximately one month to complete.
Custom Build Challenges and Results
As with any custom one-of-a-kind project, there are challenges to overcome along the way.  This project was no exception.
Challenges varied, but the most important was anchoring the camper to the body.  Because truck campers are intended for pick-up trucks and I wanted an unobstructed access to the cabinets in front of the rear wheels, I had to modify how the camper was anchored, particularly at the front.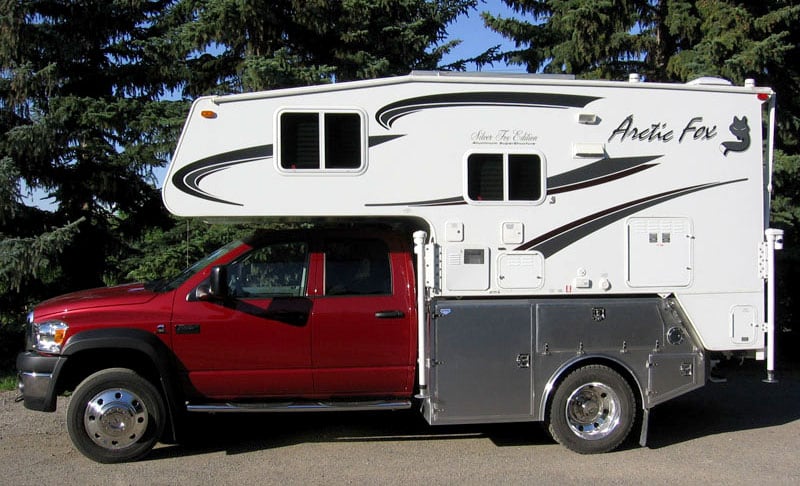 With the custom bed and truck camper, the truck rides nicely under highway conditions and in town.  It also corners very well and is very stable in windy driving conditions.
Logging road driving is stable, if not smooth, with very little swaying back and forth that you sometimes get while driving through a series of bumps.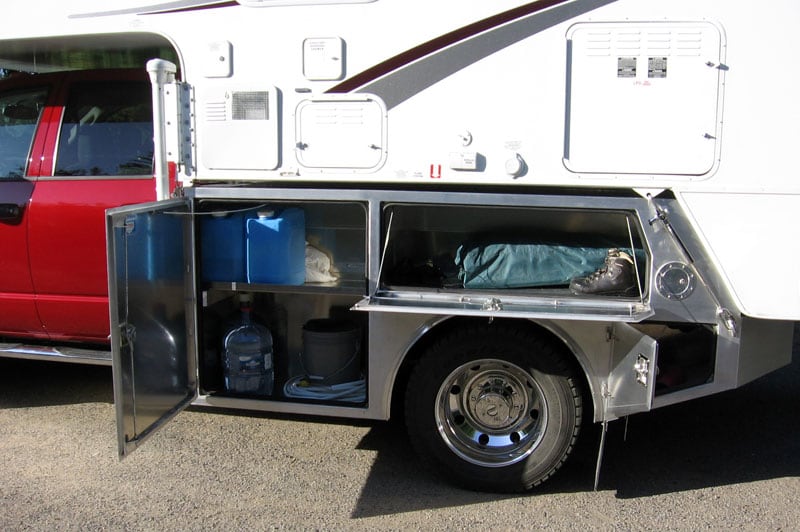 The benefits I enjoy from having the custom truck body, besides the obviously increased storage space, is that things like lawn chairs and barbecue are easily access able from the outside – where you need them.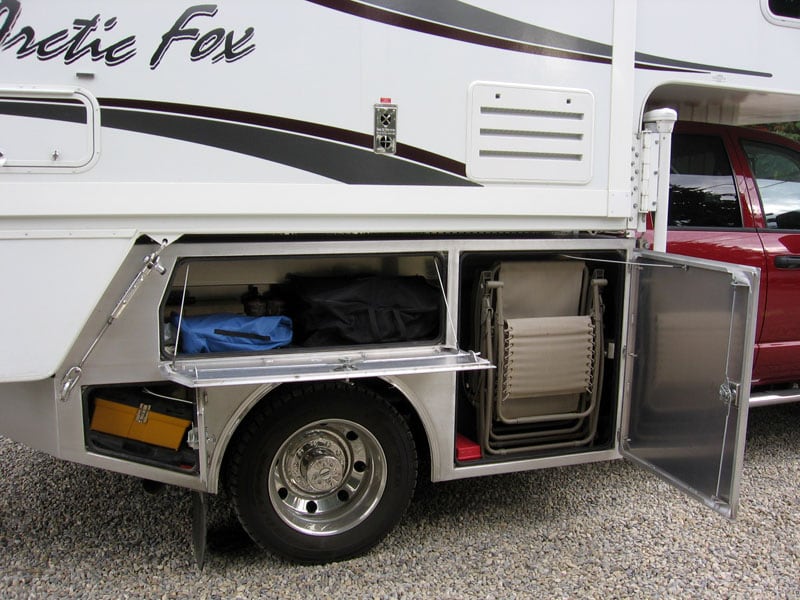 Items are also well organized and secured by locking hardware.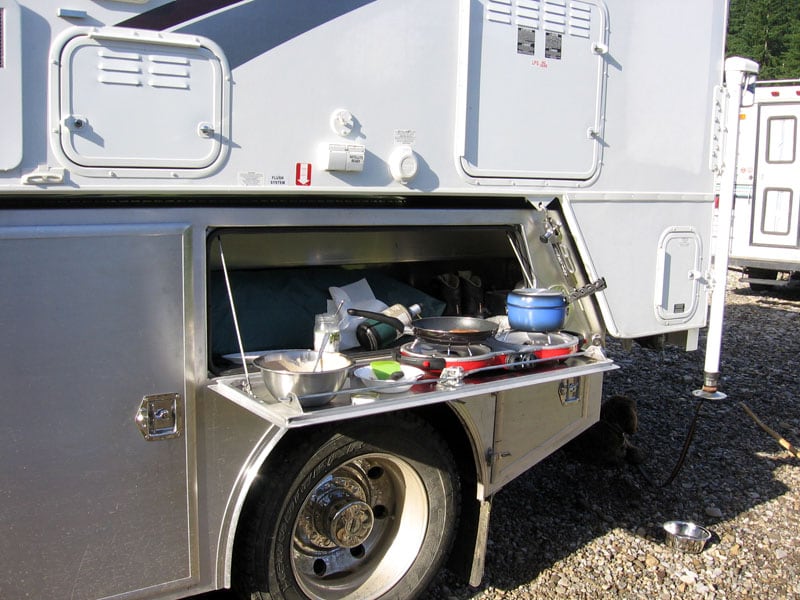 Above: It's easy to cook outside because the door turns into a shelf
The list of items I now store in my custom truck body is extensive; spare tire, lawn chairs, jack, emergency reflective triangles, barbecue, leveling blocks, tools and spare parts, shoes, sporting goods, bug shelter, tarps, water containers, water hose and a power cable.
Travel Destinations
When my wife and I first started camping with our truck camper, we sat down and made a list of places we wanted to see and visit.  One page was weekend destinations, while another was one week plus destinations.  We've visited most of the weekend destinations on our list already.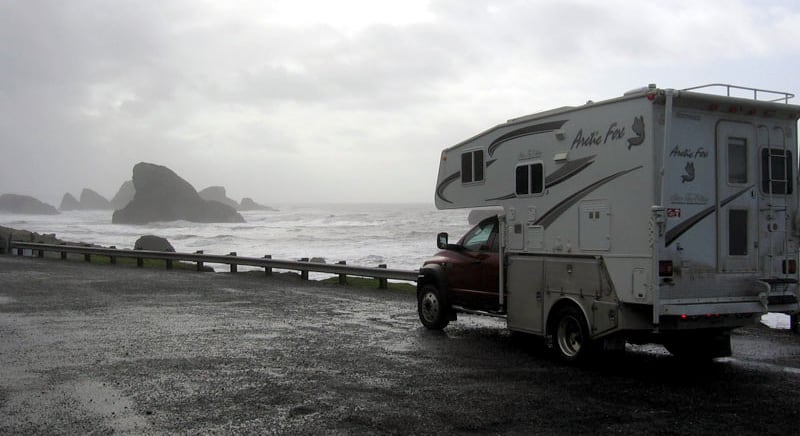 Above: Otter Point, Oregon Coastline
We haven't put much of a dent into our list of one week plus destinations.  There are many places we want to use our truck camper to explore like the Queen Charlotte Islands, Alaska, Northwest Territories, Arches National Park, the Eastern provinces of Canada, and the list goes on and on.  If we took a year off just to tour around and explore with our truck camper rig – and we plan to eventually – we still would not have seen and done all that we would like to.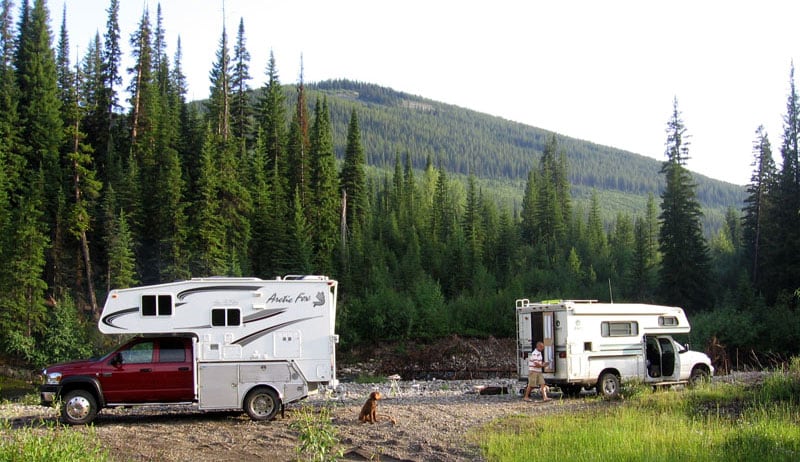 Above: Enjoying the rig and camping with friends
I am enjoying my truck camper rig very much and, along with my wife, Nancy, I look forward to many future adventures with it.
Tom Blanchette's Rig
Truck: 2008 Sterling Bullet 45 chassis cab based on a Ram 4500 chassis cab, quad cab, dually, custom bed, 4×4, diesel
Camper: 2009 Arctic Fox 990
Tie-downs and Turnbuckles: Torklift Fastguns
Suspension Enhancements: Stock Ram 4500 suspension
Gear: Custom built aluminum bed