Inspired by a nearby bear while tent camping, Brian Aberle stepped up to a custom Phoenix truck camper.  It's Plan B, Brian's working vacation escape vehicle.

Imagine if the truck camper industry hired bears to make regular late evening appearances near tent sites in national and state parks.  The bears would have the words, "Try A Truck Camper" shaved on their sides.  Sure, the animal rights folks might get upset, but the bears would work for fish, and love it.  All the bears would have to do is show up, and a truck camper sale would be in the making.  Laugh if you will, but bears sell campers.
Brian Aberle's bear inspired custom Phoenix pop-up truck camper has been just the ticket to explore the abundance of outdoor opportunities in his home state of Colorado.  He named his camper Plan B, but it turns out the B doesn't stand for Bear.

TCM: How did you get into truck camping?
Brian: As a couple, we were mostly Holiday Inn travelers.  When we got married, we received camping gear as a wedding gift and started tent camping together.  My wife had grown up tent camping.
We are originally from Illinois, but moved to Colorado in 2003.  During one tent camping experience we were in Aspen, Colorado and a German couple pulled up in a self-contained four wheel drive car looking rig.  It was a pop-up, but it was not a truck camper.  They had an outdoor shower and kitchen area, and we were camping nearby in our tent.
That night a gigantic bear was across the creek.  I remember looking at their rig thinking that it would be nice to be in a camper and not this flimsy tent.  The camper idea evolved from this for sure.
Shortly after that experience, I rigged up my truck with a shell and a bed.  We used that set-up for awhile, and then I decided to get a full blown truck camper.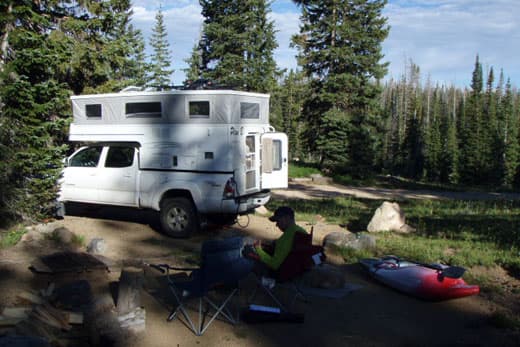 Above: Buffalo Pass near Steamboat Springs, Colorado
TCM: Why did you choose a truck camper and not another type of RV?
Brian: After using the truck shell, I wanted something that I could stand up in and make lunch.
I checked around and looked at different pop-up truck camper companies and designs.  I went to the truck camper show in Ogallala, Nebraska for a day, talked to people, and got an understanding of the different makes and models.
At the time, Phoenix Campers was experimenting with new designs and materials.  Even better, they were located in our backyard here in Colorado.  I worked with them to design something to my specifications.  It was a nice benefit to have them here in Denver to talk to, review their floor plans, and see their work.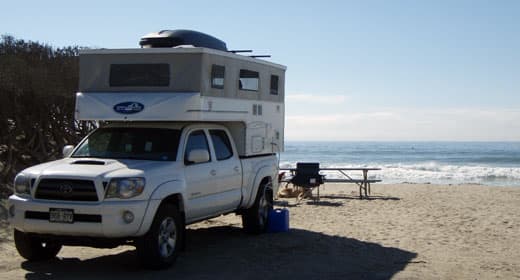 Above: Jalama Beach, California
TCM: Phoenix Campers makes custom truck campers.  Tell us about your custom Phoenix Camper.
Brian: Robby Rowe, Co-Owner of Phoenix Campers, was really flexible about what I wanted in my camper.  That was key for me.