As Geep and Sharon Moore trekked up the Trans-Labrador Highway, their truck blew a head gasket. With no cell signal or satellite phone, they were stranded in the middle of nowhere. Buckle up for one heck of a truck camping story.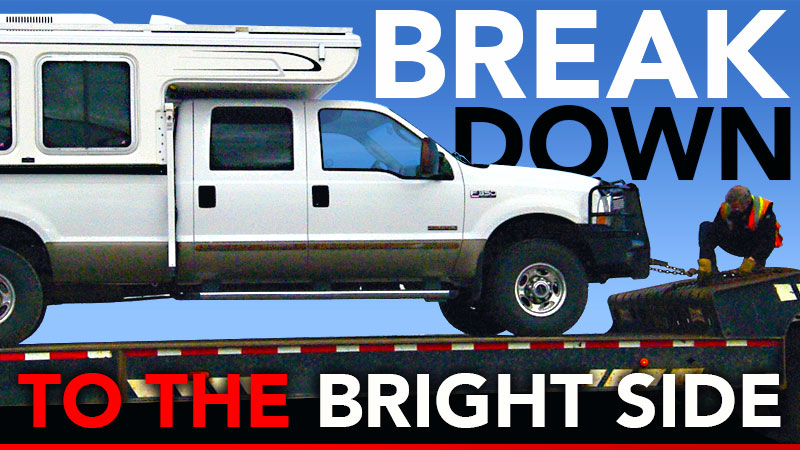 It's not the kind of thing most of us want to think about, but breakdowns and car accidents can and do happen while truck camping. In the now seventeen years we have been truck camping, we have had at least a half-dozen stop-the-trip truck breakdowns and one disastrous car accident. On balance, most of our more recent truck breakdowns have been tire and faulty sensor issues.
I would love to say that these experiences offer the opportunity to reflect on how fortunate we are to travel, but the truth is that they bring considerable stress and expense. If that was the only takeaway we would be ignoring the amazing people who almost always come out to help us. When we were faced with a broken cord inside a front passenger's tire last summer, the tire shop team was friendly, talked us through our options, and helped us get back on the road. Oh, and they were a funny bunch of knuckleheads, but that's another story.
In what has to be one of the most insane truck camping breakdown stories we have ever heard, Geep and Sharon Moore's adventure begins close to the top of every truck camper's worst fear. Imagine starting up the Trans-Labrador Highway and having your 2004 Ford F-350 diesel blow a head gasket. Even if you're not in the middle of nowhere, this is the kind of breakdown that can end the viability of older diesel trucks.
What follows is a sequence of events that none of us would sign up for, but adds up to something the Moores now describe as the proverbial "adventure of a lifetime". How can a serious breakdown on the remote Trans-Labrador Highway be anything other than a terrible experience? You're about to find out.
Breakdown To The Bright Side
by Geep and Sharon Moore
In 2004, after downsizing our remodeling business, we started traveling more. During our travels, we stayed in different hotels every day.
Looking for a better solution, we came across a slide-out truck camper in Montana. My son and I drove to Montana with our one-ton single rear wheel truck and bought it. After only ten miles, I knew that we were overloaded, turned around, and returned it for a refund.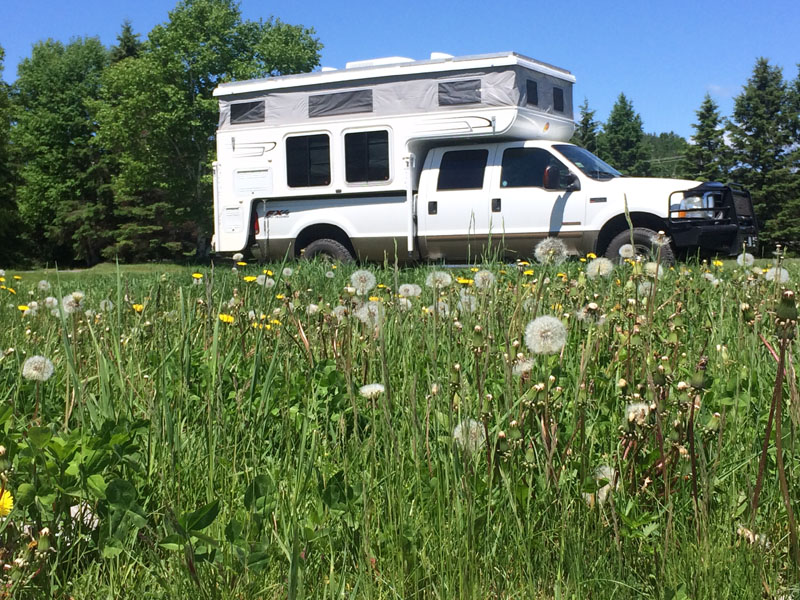 Over the next two-and-a-half years, we researched a more weight-appropriate camper for our truck. In May of 2007, we found our Hallmark Cuchara. We actually left Louisiana after our son's wedding, drove to Colorado, and picked it up.
That started our first truck camping adventure with our Hallmark. We hauled it around the country for thirteen years and went over 175,000-miles on two different single rear wheel, one-ton trucks. We have had memorable adventures with our Hallmark rig.
The "adventure of a lifetime" began in June of 2014. After a week's stay in Washington DC for the National Association of Home Builders summer meetings, we left on our journey to the great unknown of Labrador and Newfoundland. No one we knew had ever been there before, so we felt like modern-day pioneers.
Navigating through mostly French Quebec was a challenge but, with two years of high school French that Sharon took a hundred years ago, and the French influence of Louisiana, we were at least able to fuel up and order food. We found the language much easier to read than it was to understand when spoken.
At Baie-Comeau in Quebec, we headed north on Highway 389 to Labrador City. Learning that this highway was not well-traveled, we felt secure and prepared with our Hallmark camper. We camped one night at Manic 5, the large multiple-arch dam on the Manicouagan River. Arriving in Labrador City, we discovered there was a small Walmart and stopped to restock a few things.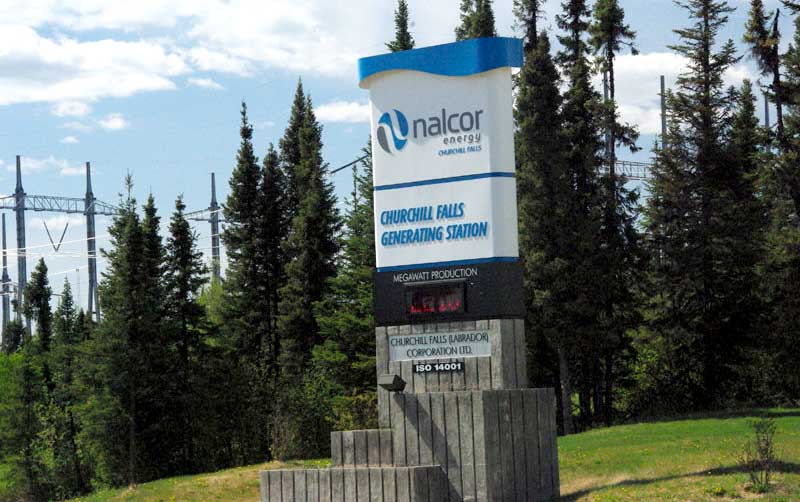 We continued east across Labrador on the Trans-Labrador Highway, stopping for a free tour of the hydroelectric facility at Churchill Falls. Churchill Falls, as we learned, is a company town of fewer than 700 people. The town is owned entirely by the company and everyone except the RCMP (Royal Canadian Mounted Police) works for the generating station. Churchill Falls has nice housing, grocery stores, a mini-mall, churches, a daycare, a hotel, and more; all owned and provided by the hydroelectric company. In fact, when someone retires, they are required to leave Churchill Falls to make room for a new employee.
We had read that you should pick up a free satellite phone for travel across the Trans-Labrador Highway in case you need assistance along the way. We made the unfortunate mistake of forgetting to heed that advice, and there was no cell service.
About twelve miles east of Churchill Falls, our 175,000-mile, 2004 Ford F-350 blew a head gasket and breathed her last in the true 'Middle of Nowhere', Labrador. There was nowhere to go for help with virtually no shoulder on a built-up road.
"About twelve miles east of Churchill Falls, our 175,000-mile, 2004 Ford F-350 blew a head gasket and breathed her last in the true 'Middle of Nowhere', Labrador."
We prepared to wait for the next vehicle that passed our way. Expecting that this could take quite a while, we were very excited when a truck passed us going back the way we had come. The driver offered to send help after he reached Churchill Falls.
We were so grateful since this was only one of two vehicles that passed while we waited. It was actually only about an hour and a half when an RCMP officer came to our rescue. He was able to secure a wrecker that transported our rig back to Churchill Falls while we got our first ever ride in a police car.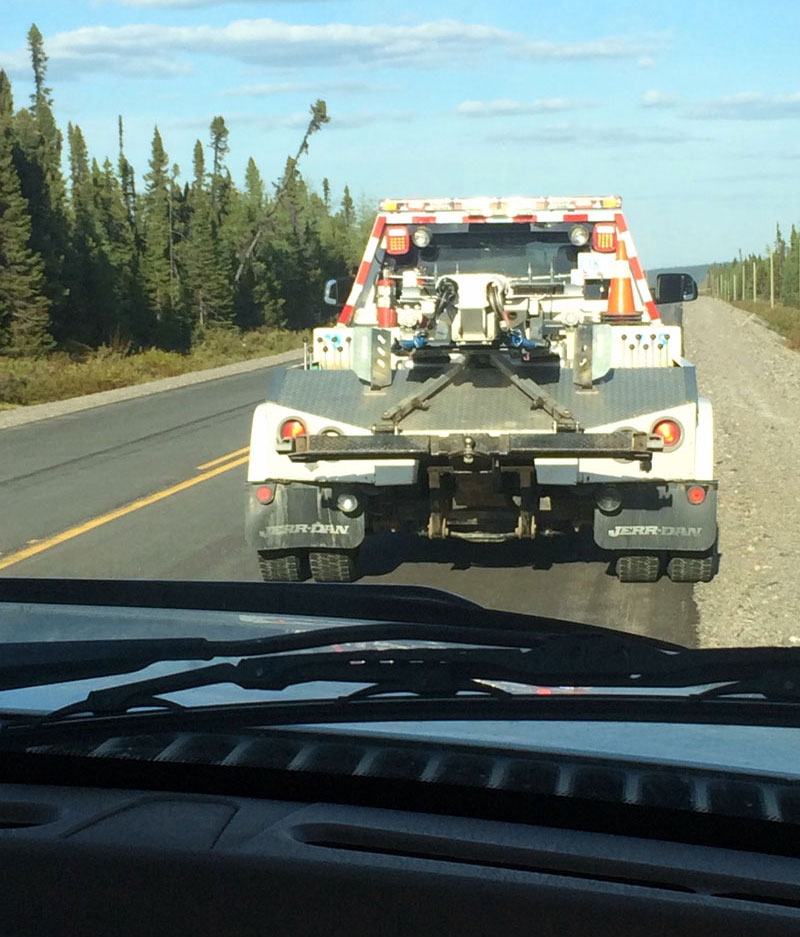 The wrecker dropped our truck off at the local arena and we started trying to find a repair shop. As amazing as Churchill Falls was, they had no way to help us repair our truck since all of their vehicles were GM brand and not Ford.
Our only option was to find a way to be towed back to Labrador City three hours west where there was a Ford dealership and service center. Because of the size of our truck and camper, the laws would not allow a regular tow truck to transport us that far. Therefore, we had to hire a flatbed transport.
This was Friday the 13th, and we could not get transport until the following Monday. The next day with our holding tanks getting full, groceries in short supply, and boredom setting in, we set out on foot in a cold, miserable rain to the small hotel where we got a room.
During this entire time, all of the people we encountered tried to accommodate us and make us feel better. By the time we arrived at the hotel, everyone knew that we were the American couple who had broken down.
After Sunday morning breakfast in the hotel's restaurant, we went to pay the check. The waitress said the man at the next table had paid for us. We went over to thank him but found that he had not meant to pay our bill but another couple's bill who was with them. They and other family and friends were celebrating the retirement of his sister from teaching school, thus necessitating their moving back to Nova Scotia. We all had a good laugh about the mix-up and went to pay our bill only the discover that he had paid for our meal while we were talking with them. Little did we know the complete impact of this delightful experience with Kevin and Kathy, and Kevin's sister, Bryde.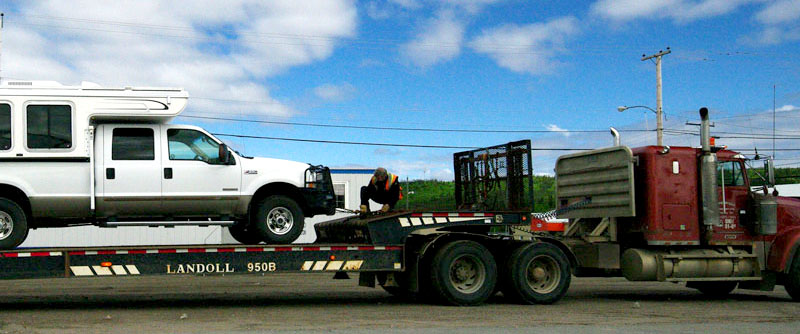 On Monday, the transport came to pick us up with an eighteen-wheel flatbed truck. And we experienced another first – riding in the cab of an 18-wheeler! This started an adventure with Vince, the truck driver, and his wife, Cathy. Vince was very entertaining and informative, so it made the three-hour trip pass rather quickly.
After arriving in Lab City, Vince first took our rig to the Ford dealership, and we went to the hotel across the street to figure out what we were going to do. After talking with the people at the Ford dealership, we found that they really did not have a diesel mechanic available who could work on our truck. To make matters worse, this was going to take over two to three weeks if we could get the necessary parts and mechanics.
Not having a lot of confidence that any repairs could be done timely, or wouldn't fail us again, Vince transported our dead truck to his equipment yard and shop and let us park it there. He let us plug into the electricity, hook up to water, and told us that we could use his shop and tools. All of this hospitality was after discounting our tow bill.
"He let us plug into the electricity, hook up to water, and told us that we could use his shop and tools. All of this hospitality was after discounting our tow bill."
In the meantime, on Tuesday morning, we walked across the street from the hotel to McDonald's for breakfast. Just as we entered the parking lot, a man in a truck stopped to say hello and remarked that we made it to town. We were a little confused because Vince, the truck driver, was the only person we knew in town–or so we thought.
He then told us that he was Kevin, the man who bought our breakfast in Churchill Falls. He actually worked for the mining company in Lab City and was back home on the job. We spoke for a while and told him our plans, and he told us to call him when we returned with a new truck. They would fix dinner for us one night. He was concerned about our dilemma, offered to help if he could, and asked us to let him know whatever happened.
We have friends all over the United States because I am on the National Association of Home Builders' Board of Directors. After looking at the map, we concluded that New Hampshire was a good place to return to. We called our good friend, Paul, who lives in New Hampshire. Paul recommended a Ford dealership in Londonderry. We made a call to the dealership and placed an order for a 2014 Ford F-350 single rear wheel, diesel with the salesman, Raul. Raul became friends with us and has stayed in touch ever since.
Back in Lab City, Cathy, Vince's wife, let us borrow her car to drive to the Wabush airport and book flights to New Hampshire. On the day of our flight, she even took us to the airport.
It was a challenging flight to New Hampshire by way of Montreal and Chicago. The flight to Chicago was going to arrive really late, so we called our other close friends, Mike and his wife, Vern. They agreed to come get us at 8:30 p.m. that night and put us up at their house for the night until our flight left out at 1:00 p.m. the next day.
As luck would have it, our experience and journey continued to get more intense. A bad storm turned the plane around to go back to Montreal. We finally made it to Chicago arriving at O'Hare airport at 2:30 am. At this point, it was just too late to contact our friends. After a miserable night trying to sleep in the freezing cold O'Hare, we booked a 7:30 am flight out. We arrived in Londonderry where we were met by Raul, who took us to a hotel where we took a few hours to shower, eat, and rest.
Our friend, Paul, came by to make sure we were doing okay. Our new truck needed to be equipped with additional air suspension and electrical connections for our truck camper, and a new bumper and winch.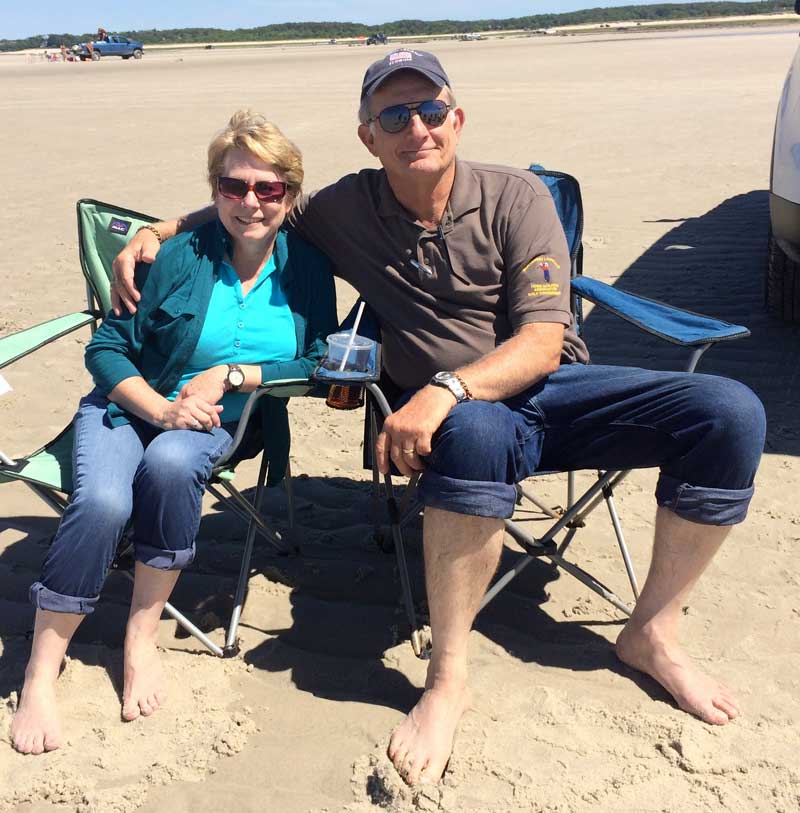 Above: Hanging out on the beach on Cape Cod
After finding out it was going to be several days for all of that to be ready, Paul invited us to stay with him and his family, who were spending the summer at their house on Cape Cod. We ended up staying with them for about four days and returned to take possession of our brand new, sight unseen 2014 Ford F-350 truck on Wednesday, June 25th.
We made arrangements to ship our new tailgate back to Louisiana and, once again, took off to Labrador City to retrieve our home-away-from-home and continue on our journey. We spent one night in a motel in Quebec and arrived back in Lab City and Vince's shop at 10:00 p.m. on Friday, June 27th – two weeks after the initial breakdown. Our old truck and camper never looked so good!
Saturday morning came quickly, and it was time to transfer our Hallmark to the new truck. Sharon started the chore of deciding where all our stuff from the old truck was going to fit in the new truck while I transferred the tie-downs and camper to the new truck. By the end of the day that had been completed. Fortunately, I carry enough tools to do that task.
Earlier that day, we called Kevin and Kathy to let them know we had made it back and would head out early Monday morning toward Newfoundland. At that point, they invited us over for some delicious BBQ and we met some of their friends. We had a very enjoyable and memorable time talking with them, comparing healthcare systems, and educating them on what a chigger is! They offered to let us use their washer and dryer to do some much needed laundry.
Knowing it would be cost-prohibitive to bring the old truck back to the United States, we left it at Vince's shop with the title and told him to sell it and keep whatever he could get for it. He kept in touch for a few years, but we never found out what happened to the truck.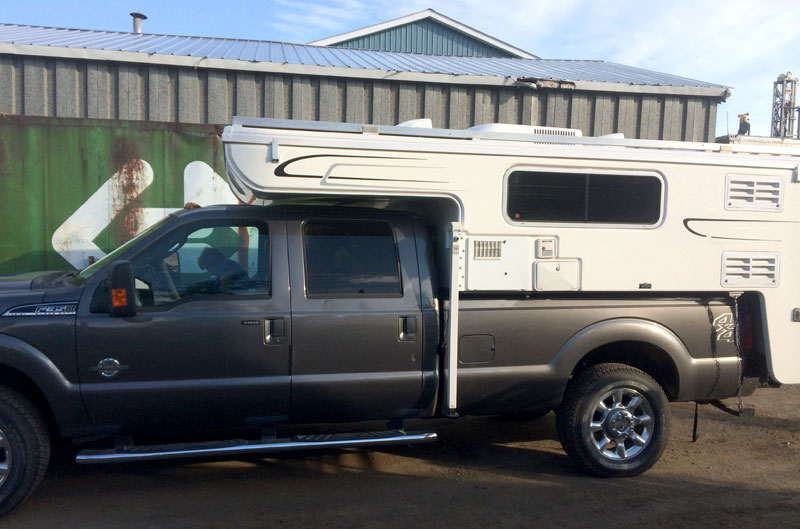 Above: The new truck and their Hallmark at Vince's shop after swapping from their old truck that broke down
Fully transferred over, (with only one lost shoe in the process) we continued on our way, this time with a satellite phone. We went to Happy Valley-Goose Bay and south to Blanc-Sablon, Quebec, where we took a short ferry ride to Newfoundland where we saw the beautiful icebergs we had traveled so far to see. We would not change anything except that awful night spent in O'Hare.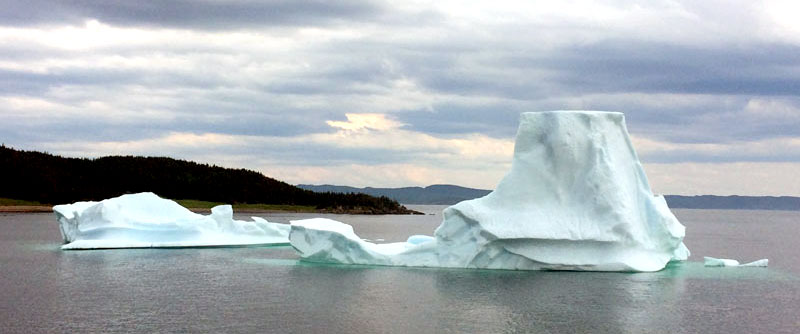 We lost 17 days on our trip but gained several new friends and the assurance that God was watching over us the entire time. We may never see our Canadian friends again, but they will always live in our memories.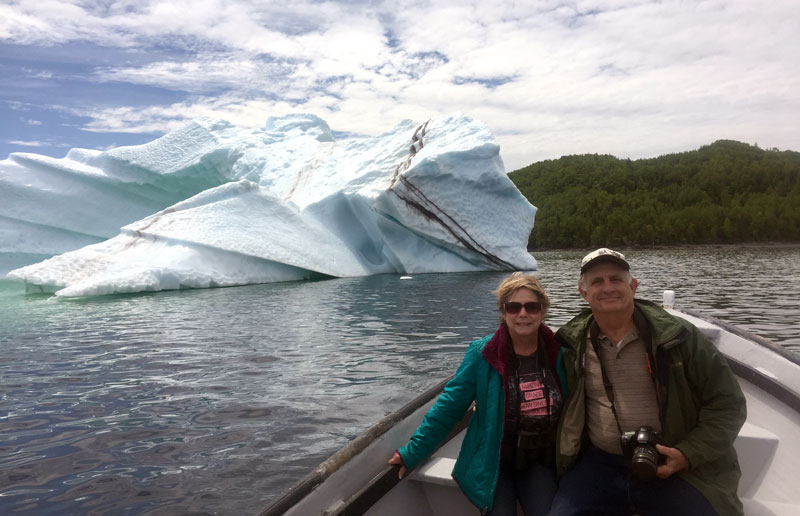 We made another trip back to Newfoundland in the summer of 2019 that was just as memorable without resulting in having to buy a new truck.