Bill and Lorinda Tex take their son West to experience the National Parks.  Upon their return, Hurricane Irene strikes.  Lights out.  Adventure Vehicle off and Family Emergency Vehicle on!

A few weeks ago we got an email from Bill Tex telling us the wonderful story of how he and his wife, Lorinda, took their son out West to explore America's National Parks.  It's a heart warming account of their family enjoying life to the fullest and creating memories that will last forever.  Then Hurricane Irene creates an ending that could only happen to a family with a truck camper.
Bill Tex: From Family Adventure to FEV
by Bill Tex
Our usual truck camping adventures involve exploring the Northeast, from the beaches of Rhode Island and Massachusetts, to the mountains of Maine, Vermont, and New Hampshire.  Any given weekend could find us hiking, skiing, kayaking, or surfing at the beach.
In 2011, we decided we would expand our horizons and head west for a National Park tour.  My wife, Lorinda, had been diagnosed with breast cancer two years prior and we wanted to celebrate her victory over this terrible disease.  We also really wanted to show our son some of the beautiful National Parks of the West and decided there is no time like the present.  While we spend a lot of time traveling and camping with our truck camper, this would be our longest road trip to date.
With the help of some of our wonderful and generous truck camper friends; the Whazoos, the Farctics, the two Maineiacs, and Bryan bka0721, we planned a route and rough itinerary from Rhode Island out to Yellowstone National Park.  With the support of my employer, I was able to get some additional vacation time for this trip.  We wanted to see as many of the parks as possible, but we like to travel at our own pace, so did not want to be tied to reservations.
Above: Cedar Point Amusement Park in Sandusky, Ohio
We left Rhode Island on Thursday, August 4, 2011 and headed west.  Our first unplanned stop was Cedar Point Amusement Park in Sandusky, Ohio.  We had stopped randomly at an exit there.  Once our son got wind of what was nearby, we knew we had to make a layover.  We spent an evening riding some wild coasters and then were back on the road west.
For those of you who are coaster fans, we highly recommend Cedar Point Amusement Park.  It's one of the world's greatest.  As we all know, the flexibility to travel like this is one of the best reasons to own a truck camper.  Stop when you want, where you want.
The beauty of the plains' states was breathtaking.  Being from the East Coast, we don't get to see so much farmland.  It's just incredible!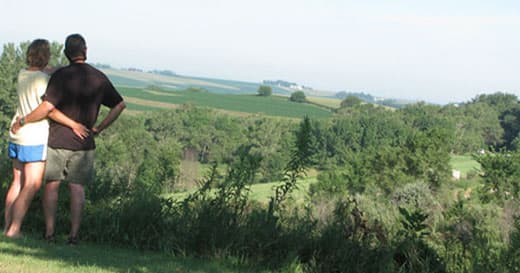 After several thousand miles behind the wheel, we were getting closer to our destination and needed a break.  We spent a relaxing and wild night at Prairie Rose State Park in Iowa.  Just as we were finishing grilling our steaks, a storm started to roll across the plains.  We retreated to our truck camper for dinner and watched the show.  It was great to have a relaxing evening and a good meal after two days of non stop driving.  We woke up well rested to a beautiful sunny day, ready to roll on toward our first planned stop; Rocky Mountain National Park.
We arrived in Estes Park, Colorado on Sunday evening, three days after leaving Rhode Island.  We were a little bit ahead of schedule, but also realized how great the distances of the West can be.  We camped at a municipal campground just outside Rocky Mountain National Park and got an early start the next day.
Driving into the park was incredible.  We headed straight for Moraine Campground.  We did not have reservations, but we were early and the ranger said that we would have no problem.  We had our pick of several open sites.  We set up quickly and headed out for our first of many hikes.
It felt great to get some exercise!  There is an excellent shuttle system at the park so we stopped at the visitor center and then hit the trails.  The elevation had an obvious effect on our stamina, but we managed a nice ten mile walk.  Back at camp, we had dinner and then headed for our first of many excellent ranger programs held most nights in the National Parks.  Highly recommended.  Our son really enjoyed these, and insisted we attend every one we could.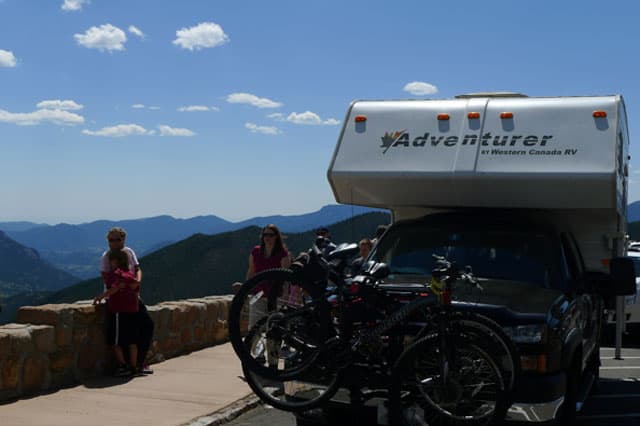 The next day we headed over Trail Ridge Road.  Wow, what an experience!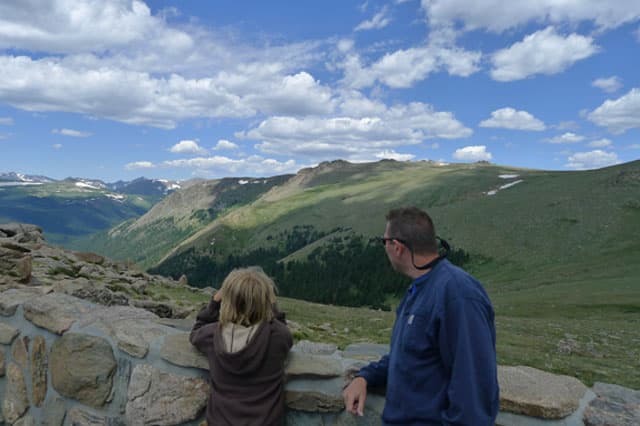 It's the highest paved road in the United States at 12,183 feet in elevation.  It's just incredible.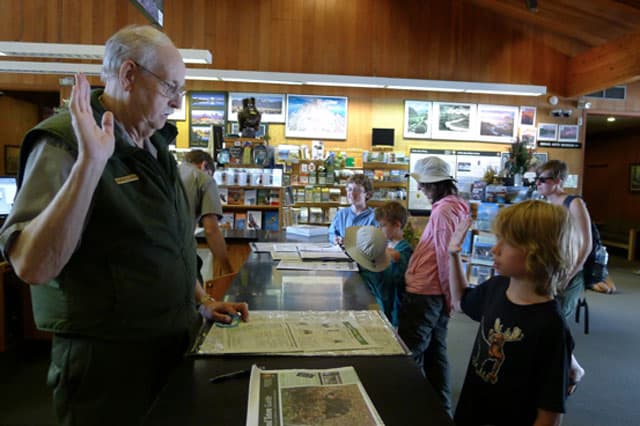 We stopped to attend two more ranger programs along the way and Liam earned his first Junior Ranger badge.  He would eventually earn his Junior Ranger for every National Park we visited.  The Ranger Programs are highlights of the National Park System.  Don't miss them, no matter your age!
The next stop was Jackson Hole.  We headed straight for Gros Ventre Campground.  Again we did not have reservations.  We had no problems as there were many open sites and staked out a nice spot looking out at the Grand Tetons.  Then we headed into town to whoop it up!  On the way out of the campground we had our first of many bison sightings.  How cool!
It was getting late, and we were hungry so we headed for Billy's Burgers, a real treat with a local micro brew.  After walking around and viewing all the art on display in downtown Jackson, we grabbed a cone and called it a night.  Liam has never met an ice cream he didn't like.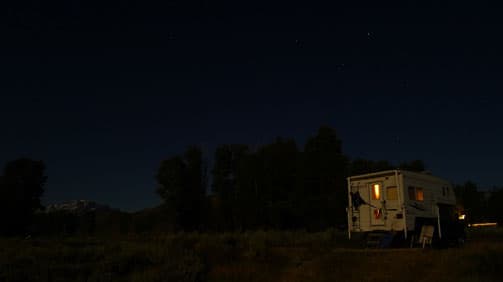 Above: Gros Ventre Campground, Wyoming
The next day we were up early to raft the Snake River; what a blast!  After getting off the river, it was time to stock up after seven days on the road.  We hit the market, did some laundry, and prepared to head in to Grand Teton National Park the next day.  This would be one of our favorite parks.
An early start in to Grand Teton National Park allowed us to put some more miles on the trail.  We hiked String Lake and Leigh Lakes, and the took the boat ride across Jenny Lake for some more hiking.  Pleasantly exhausted, we rolled in to Signal Mountain Campground.  We chatted with a nice French woman and then she told us she was on her way out and we could have her site.
This was an incredible stroke of luck as again we did not have reservations.  This had to be the best site in the campground.  What a view!  We set up and headed to the lake for a well deserved swim.  Then it was steaks on the grill, and another Ranger program before drifting off.  I would rank this as the best day of the trip so far!  Sunrise over the Tetons the next morning was awesome.  It was very difficult to leave this site.  We could have stayed there for a week.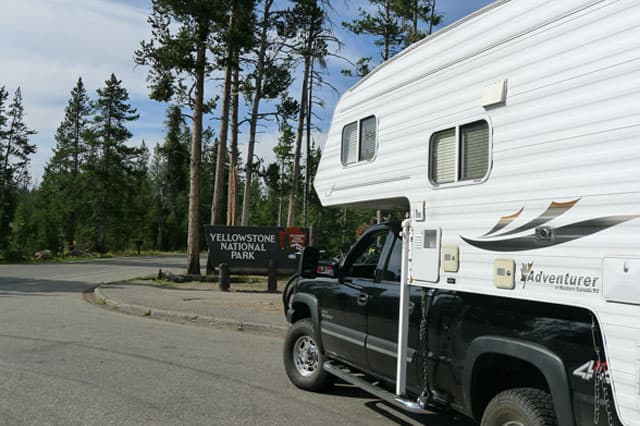 It was time now to head in to Yellowstone!  This was the only part of the trip we made reservations.  We would spend our first night in Yellowstone at the Old Faithful Inn, and then hopscotch our way around the park at various campgrounds.  This would prove to be a good strategy as we were able to see a lot of the park with minimal driving.
Old Faithful Inn was beautiful and, of course, we got to see Old Faithful spout off several times.  Yes Ted, there is nothing like an ice cream on the deck watching Old Faithful go off!
Our night in Old Faithful Inn was the only night on our twenty-eight day trip that we did not stay in the camper.  Ironically, we all agreed we were more comfortable in our truck camper.  We spent the next day around the Old Faithful area and then headed for our next stop at Madison Campground.
We would spend two days at each of several campgrounds around the park.  Having reservations made it easy to spend the entire day enjoying the park and then we could roll in to camp whenever we were ready to relax.  Of course having our home with us meant we never had to rush and could spend all day out hiking, sightseeing, and visiting the wonderful Visitor Centers, with everything we needed with us at all times.  I can't imagine exploring the National Parks without a truck camper.
There are so many incredible sights to see in Yellowstone.  There was wildlife everywhere.  We saw black bear, grizzly, marmot, elk, mule deer, eagles, and just missed wolves in Hayden Valley.
The Grand Canyon of the Yellowstone was also a highlight.  The walk along the falls is really something and, if you go, be sure to catch the view at Artist Point.  We even took a trail ride at Canyon Ranch.  Liam really enjoyed this.  After a full week in Yellowstone, it was time to move on, next stop, Cody, Wyoming.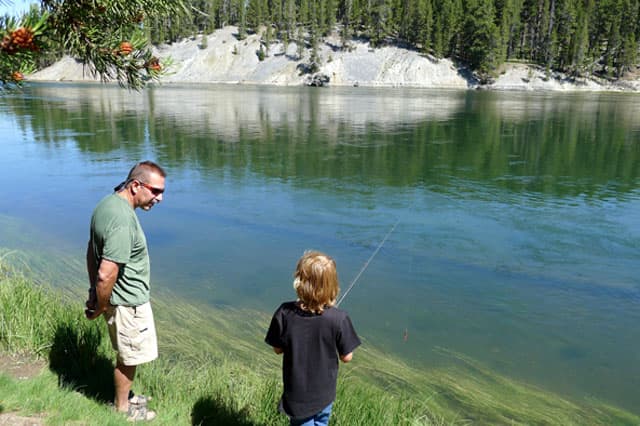 Above: There's always time for a little fishing.
Cody was very cool as we had a very convenient campsite right downtown, thanks to a tip from the Maineiacs.  We took a bike ride to dinner, played mini golf, and called it a night as we wanted to get to Buffalo Bill Museum bright and early.
If you are anywhere near Cody and you enjoy Americana and Western history, you must stop there.  It is one of the finest museums we have ever visited.
We spent most of the day at the museum and then headed to the Irma Hotel in downtown Cody for dinner and a gun fight.  There is a nightly show by street performers and you can have dinner right there.  The Irma was built by Buffalo Bill and named for his daughter.
After dinner, we headed for the nightly Cody Night Rodeo via shuttle bus.  This was one of the best nights of our trip.  We don't get real rodeos on the East Coast, so this was a treat.  Liam even got to go on the field and compete in a kids' competition where he won a prize for grabbing a bandana off a calf's tail!  Not bad for a flatlander.  Cody was also a great spot to restock with supplies and get ready for the next leg of our trip, Devils Tower and Mt Rushmore.
The drive through the Big Horns was very dramatic with lots of great overlooks and rest stops.  Don't miss the malteds at Dirty Annie's!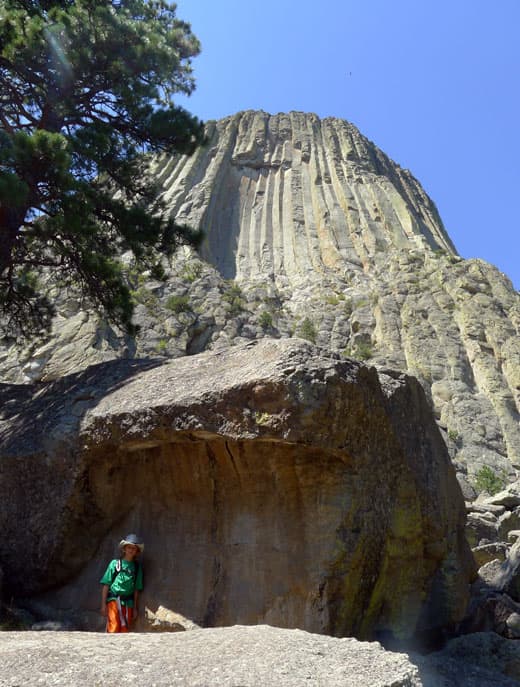 Above: Devils Tower, Wyoming
We rolled into Devils Tower and a very surreal camping experience.  It was really cool camping here.  Of course we watched Close Encounters in the shadow of the tower.  What a night.  The stars were amazing.
The next day we hiked around the tower, and Liam earned another Junior Ranger badge.  Next stop, Mt Rushmore!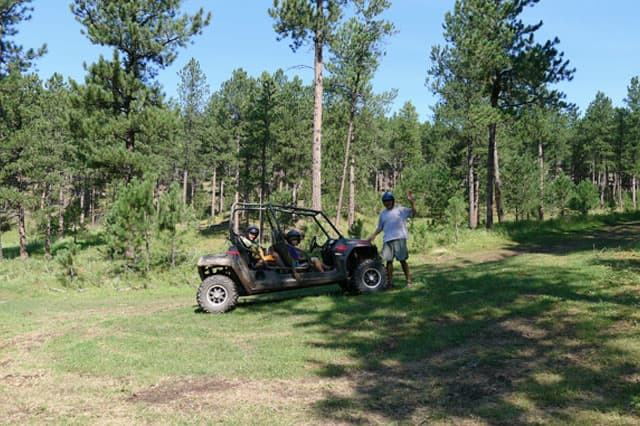 We don't usually do the KOA thing, but after many nights in National Parks, State Parks, and/or boondocking, Liam was ready for some kid fun.  We checked into the KOA near Mt Rushmore with swimming pools, water slides, and mini golf.  We even rented a four wheeler for the day.  You can drive right from the campground to miles of trails.  We were covered in mud.  What a blast!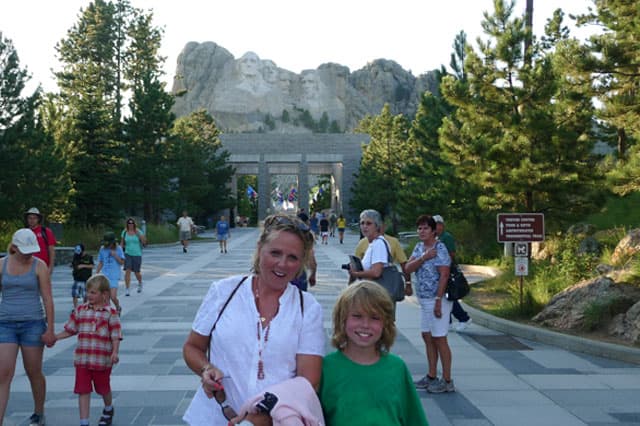 Above: Mt. Rushmore, South Dakota
After cleaning up, we chilled the rest of the afternoon to get some rest before we would make the big push back to the East Coast.  It was hot, and felt great to hang out at the pool.  That evening we took a shuttle right from the campground to Mt Rushmore, which was very convenient.  When you go to Mt Rushmore, catch the evening ceremony held at the monument.  It's a moving experience.
The visitor center here was very educational and really helped us to understand what an undertaking sculpting the monument was.  Liam earned another Junior Ranger badge.  It was a beautiful evening.  I think we all felt a bit melancholy as our trip was now winding down.  For hours at the picnic table we played cards, talked, relaxed, and soaked in all we had seen in the past few weeks under a beautiful star filled sky.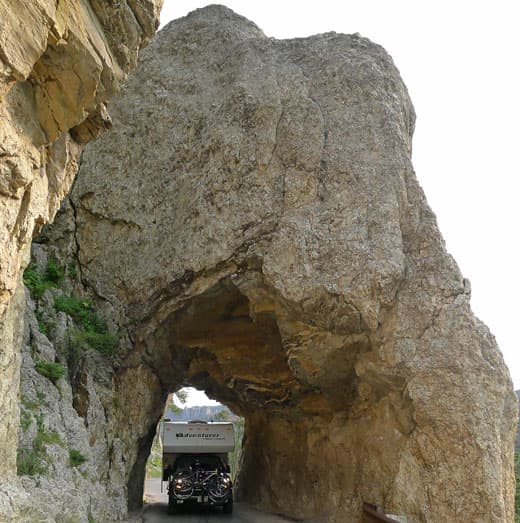 Above: Needles Highway, South Dakota
The next day we headed out through Custer State Park and saw pronghorn, wild burros, and bison.  It was a tight squeeze on needles highway!  We spent most of the day driving through the park.  Custer State Park is a beauty, and we will come back to stay here in the future.
We then pointed towards Chicago and a planned stop to visit some friends for a couple of days.  As we headed east, we started to hear news of Irene bearing down on the East Coast; Hurricane Irene that is.  By the time we hit Chicago, the forecast was grim.
We spent one night in Chicago and then thought it best to make a big push for Rhode Island to be sure our family and home was prepared for the storm.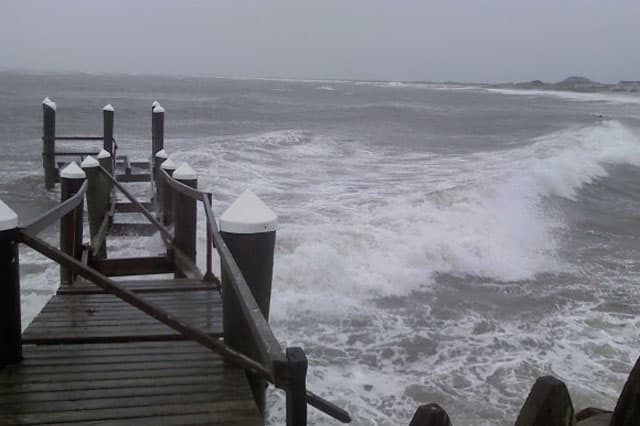 We rolled in on Friday night and the storm was predicted to hit us on Saturday.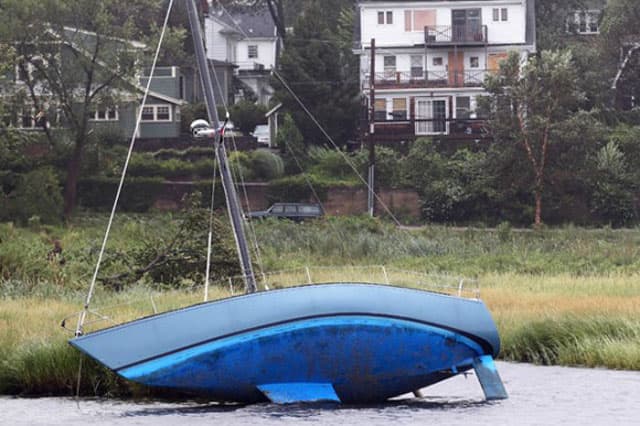 After being home less than twenty-four hours, we had already lost power.  We just stayed in the camper!  We were well stocked after our trip and had everything we needed; food, hot showers, etc.  We had no power at our house for six days.  Fortunately, we were spared any damage and did not have to evacuate.
It sure was great having all the conveniences of home being parked right in our driveway!  In an instant, our truck camper was transformed from Adventure Vehicle to Family Emergency Vehicle as we dealt with the effects of hurricane Irene.
Having the truck camper made a trip like this so convenient.  We had everything with us all the time since we don't unload our truck camper when traveling.  We could stop when and where we wanted.  Staying at campgrounds inside the National Parks gave us so much more time to enjoy them.  Having no restrictions on parking let us take the truck camper everywhere, even where there were signs barring larger RVs and towables.  We frequently saw the big rigs struggling to park while we would pull right in, make a pot of coffee, have lunch, and spend as much time as we wanted.
Another benefit of the truck camper on a long trip is that Lorinda and I can both drive.  She wouldn't drive when we were towing our Airstream.  With our truck camper, we drove over 5,500 miles, did not have any mechanical issues, no camper issues, and the only reservations we made were when we were in Yellowstone for the week.
Everything was so easy with the truck camper, and our trip's preparations were no different than one of our weekend adventures; food, fuel, load the bikes, check the truck and go!  I still look back and think we must have missed something.