Bill and Lorinda Tex take their son West to experience the National Parks.  Upon their return, Hurricane Irene strikes.  Lights out.  Adventure Vehicle off and Family Emergency Vehicle on!

A few weeks ago we got an email from Bill Tex telling us the wonderful story of how he and his wife, Lorinda, took their son out West to explore America's National Parks.  It's a heart warming account of their family enjoying life to the fullest and creating memories that will last forever.  Then Hurricane Irene creates an ending that could only happen to a family with a truck camper.
Bill Tex: From Family Adventure to FEV
by Bill Tex
Our usual truck camping adventures involve exploring the Northeast, from the beaches of Rhode Island and Massachusetts, to the mountains of Maine, Vermont, and New Hampshire.  Any given weekend could find us hiking, skiing, kayaking, or surfing at the beach.
In 2011, we decided we would expand our horizons and head west for a National Park tour.  My wife, Lorinda, had been diagnosed with breast cancer two years prior and we wanted to celebrate her victory over this terrible disease.  We also really wanted to show our son some of the beautiful National Parks of the West and decided there is no time like the present.  While we spend a lot of time traveling and camping with our truck camper, this would be our longest road trip to date.
With the help of some of our wonderful and generous truck camper friends; the Whazoos, the Farctics, the two Maineiacs, and Bryan bka0721, we planned a route and rough itinerary from Rhode Island out to Yellowstone National Park.  With the support of my employer, I was able to get some additional vacation time for this trip.  We wanted to see as many of the parks as possible, but we like to travel at our own pace, so did not want to be tied to reservations.
Above: Cedar Point Amusement Park in Sandusky, Ohio
We left Rhode Island on Thursday, August 4, 2011 and headed west.  Our first unplanned stop was Cedar Point Amusement Park in Sandusky, Ohio.  We had stopped randomly at an exit there.  Once our son got wind of what was nearby, we knew we had to make a layover.  We spent an evening riding some wild coasters and then were back on the road west.
For those of you who are coaster fans, we highly recommend Cedar Point Amusement Park.  It's one of the world's greatest.  As we all know, the flexibility to travel like this is one of the best reasons to own a truck camper.  Stop when you want, where you want.
The beauty of the plains' states was breathtaking.  Being from the East Coast, we don't get to see so much farmland.  It's just incredible!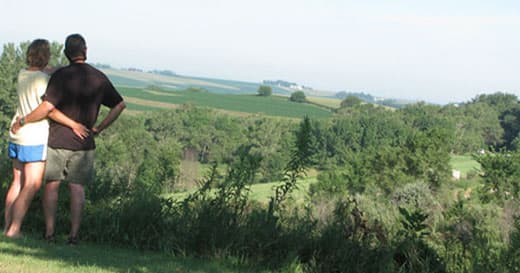 After several thousand miles behind the wheel, we were getting closer to our destination and needed a break.  We spent a relaxing and wild night at Prairie Rose State Park in Iowa.  Just as we were finishing grilling our steaks, a storm started to roll across the plains.  We retreated to our truck camper for dinner and watched the show.  It was great to have a relaxing evening and a good meal after two days of non stop driving.  We woke up well rested to a beautiful sunny day, ready to roll on toward our first planned stop; Rocky Mountain National Park.
We arrived in Estes Park, Colorado on Sunday evening, three days after leaving Rhode Island.  We were a little bit ahead of schedule, but also realized how great the distances of the West can be.  We camped at a municipal campground just outside Rocky Mountain National Park and got an early start the next day.
Driving into the park was incredible.  We headed straight for Moraine Campground.  We did not have reservations, but we were early and the ranger said that we would have no problem.  We had our pick of several open sites.  We set up quickly and headed out for our first of many hikes.
It felt great to get some exercise!  There is an excellent shuttle system at the park so we stopped at the visitor center and then hit the trails.  The elevation had an obvious effect on our stamina, but we managed a nice ten mile walk.  Back at camp, we had dinner and then headed for our first of many excellent ranger programs held most nights in the National Parks.  Highly recommended.  Our son really enjoyed these, and insisted we attend every one we could.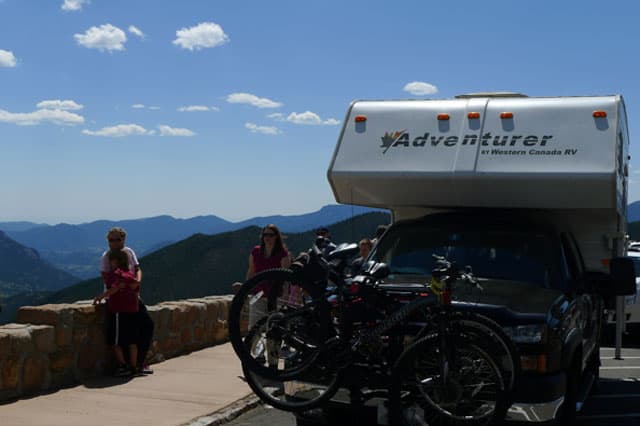 The next day we headed over Trail Ridge Road.  Wow, what an experience!