In their Capri Camper rig, Nancy and Jim Stevenson seek out hidden wildlife across Western Canada, Alaska, and the lower 48.  On their last adventure they captured 71 bears in 53 days.  This camper brakes for bears!

We make a big deal out of truck camper features and design in Truck Camper Magazine, but the truth is truck campers (the product) are extremely boring.  Yes, boring!
Look at a truck camper from the impartial perspective of a non-camper owner and all you see is a big white box strapped to the back of a pickup truck.  There are different floor plans and features, but nobody outside of our circles would give a hoot.
So why are you reading this article?  Because you know that your truck camper can take you off-road, off-grid, and across the continent.  You see your truck camper parked at your friend's house 2,500 miles away, driving aired-down across the sands of Assateague Island, and cresting the mountain passes of Colorado.  Oh man, truck campers are far from boring.  They're some of the coolest products on the planet!
This thought raced through my mind as I interviewed Nancy Stevenson about her and her husband's truck camping lifestyle.  Reading about their repeated adventures across Alaska and western Canada fired up my wanderlust like few other stories have.  More pointedly, their passion for how a truck camper has transformed their ability to travel and pursue their passion for photography comes across loud and clear.
Ladies and gentlemen, these are no white boxes.  They're dream machines.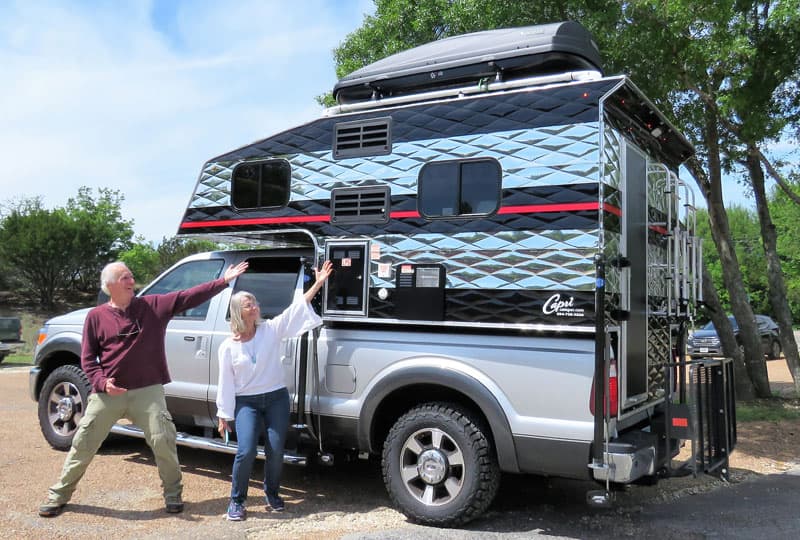 Above: Jim and Nancy with their new Capri Retreat Camper
TCM: How did you guys get into truck camping?
Nancy: When we retired we wanted to travel a lot, but we didn't have a lot of money.  My husband had tent camped in the Marines.  He hated tent camping and thought it was horrible.  I had tent camped in my youth a few times and had good experiences.
We eventually decided that a tent would be a cheap way to go to places and stay.  We bought a tent and sleeping bags and started out.  As we went tent camping more, we got better tents and better sleeping bags.  Thirty-above sleeping bags don't keep you warm in Alaska, so we got fifty-below sleeping bags, and then cots.
At ages 76 and 73, we decided we were tired of putting up a tent almost every night.  After eleven years of wicking off wet tents, we had endured enough.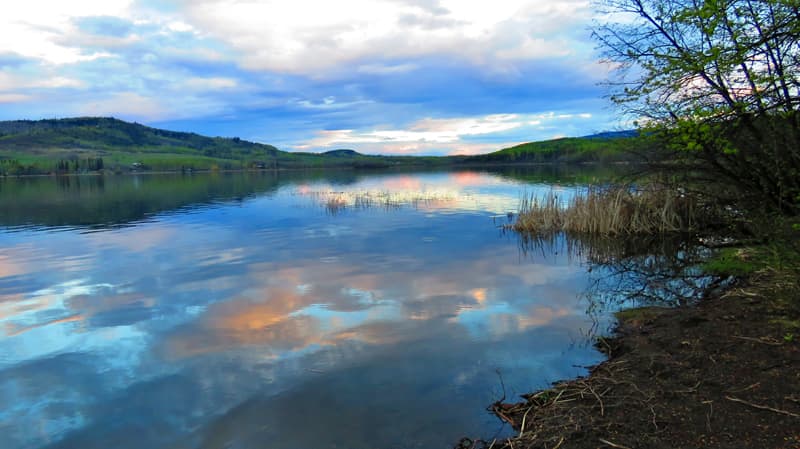 Above: Tyhee Lake Provincial Park near Smithers, British Columbia
TCM: Is that when you decided to get a truck camper?
Nancy: Yes.  While we drove all over Alaska and western Canada tent camping, we would see lots of truck campers and say, "We wish we had a truck camper tonight because it looks like it's going to rain."  We always envied those who could just pull off the road almost anywhere in Alaska and open a door, cook their dinner, and crawl into an already made bed.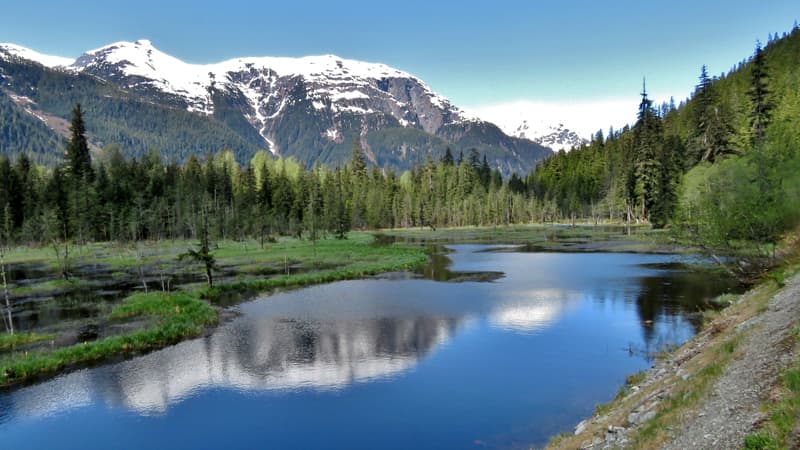 Above: Fish Creek, Hyder, Alaska
We wanted a truck camper because we take a lot of pictures of wildlife.  If we see an animal, my husband immediately stops and turns around.  You can't do that with a bigger RV.  We needed a vehicle that could stop quickly and go back.  That was the main reason for the truck camper.