In their Capri Camper rig, Nancy and Jim Stevenson seek out hidden wildlife across Western Canada, Alaska, and the lower 48.  On their last adventure they captured 71 bears in 53 days.  This camper brakes for bears!

We make a big deal out of truck camper features and design in Truck Camper Magazine, but the truth is truck campers (the product) are extremely boring.  Yes, boring!
Look at a truck camper from the impartial perspective of a non-camper owner and all you see is a big white box strapped to the back of a pickup truck.  There are different floor plans and features, but nobody outside of our circles would give a hoot.
So why are you reading this article?  Because you know that your truck camper can take you off-road, off-grid, and across the continent.  You see your truck camper parked at your friend's house 2,500 miles away, driving aired-down across the sands of Assateague Island, and cresting the mountain passes of Colorado.  Oh man, truck campers are far from boring.  They're some of the coolest products on the planet!
This thought raced through my mind as I interviewed Nancy Stevenson about her and her husband's truck camping lifestyle.  Reading about their repeated adventures across Alaska and western Canada fired up my wanderlust like few other stories have.  More pointedly, their passion for how a truck camper has transformed their ability to travel and pursue their passion for photography comes across loud and clear.
Ladies and gentlemen, these are no white boxes.  They're dream machines.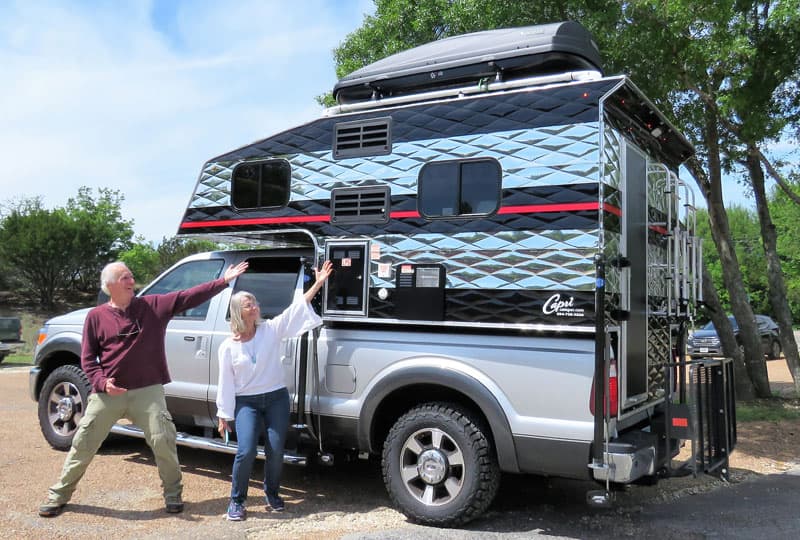 Above: Jim and Nancy with their new Capri Retreat Camper
TCM: How did you guys get into truck camping?
Nancy: When we retired we wanted to travel a lot, but we didn't have a lot of money.  My husband had tent camped in the Marines.  He hated tent camping and thought it was horrible.  I had tent camped in my youth a few times and had good experiences.
We eventually decided that a tent would be a cheap way to go to places and stay.  We bought a tent and sleeping bags and started out.  As we went tent camping more, we got better tents and better sleeping bags.  Thirty-above sleeping bags don't keep you warm in Alaska, so we got fifty-below sleeping bags, and then cots.
At ages 76 and 73, we decided we were tired of putting up a tent almost every night.  After eleven years of wicking off wet tents, we had endured enough.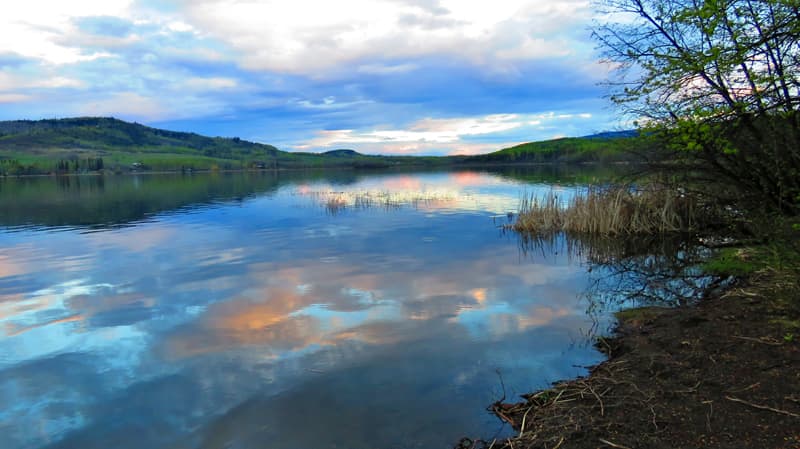 Above: Tyhee Lake Provincial Park near Smithers, British Columbia
TCM: Is that when you decided to get a truck camper?
Nancy: Yes.  While we drove all over Alaska and western Canada tent camping, we would see lots of truck campers and say, "We wish we had a truck camper tonight because it looks like it's going to rain."  We always envied those who could just pull off the road almost anywhere in Alaska and open a door, cook their dinner, and crawl into an already made bed.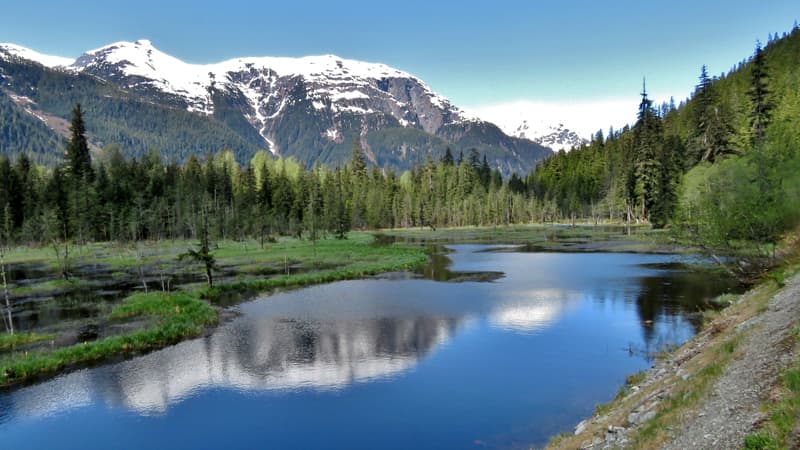 Above: Fish Creek, Hyder, Alaska
We wanted a truck camper because we take a lot of pictures of wildlife.  If we see an animal, my husband immediately stops and turns around.  You can't do that with a bigger RV.  We needed a vehicle that could stop quickly and go back.  That was the main reason for the truck camper.
We also like to go on logging roads.  We had a Nissan Xterra when we tent camped and we took that truck through stream beds in Alaska.  I still wanted to do that.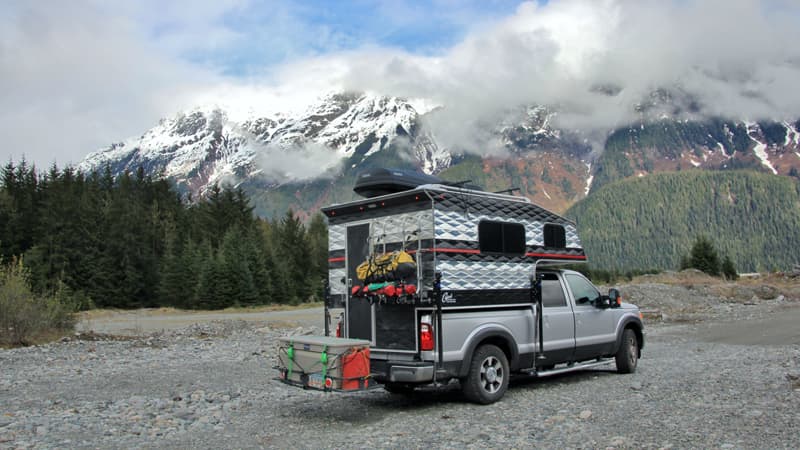 TCM: How did you come across Capri?
Nancy: Driving home last September, we saw a Capri truck camper driving down the interstate in Texas.  I quickly wrote down the name of the camper and that was it.  We looked up Capri on the internet and loved what we saw.
My husband drew blueprints of how he wanted our camper and sent them to Tyson D'Acosta of Capri Campers.  He was always so accommodating.
I love that we got to pick out the colors of the cushions, the shades, and the type of wood on the interior.  The Capri Retreat model had every convenience that we needed.  We could custom make it just like we wanted and the price was amazingly affordable.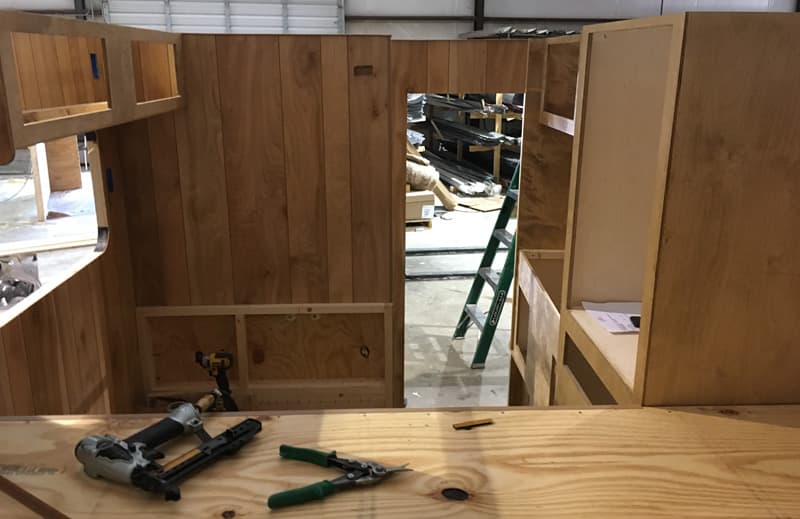 Above: During the build of their Capri Retreat
As they were building our camper, Tyson took pictures and emailed us quite often.  We saw what was going on from the base of the camper being built until they were done.  I can't tell you how many pictures they sent us.  I don't know how he has time to sleep.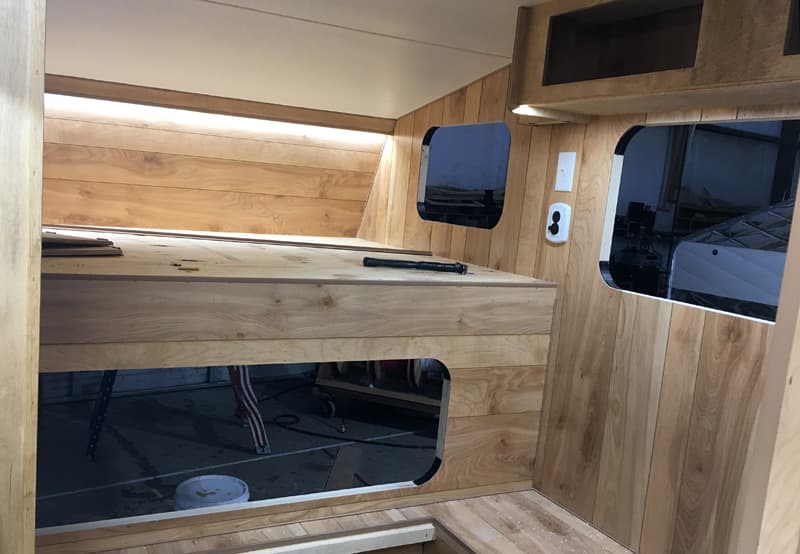 Above: During the build of their Capri Retreat
We didn't see the camper or meet Tyson until we drove to Texas to pick it up.  I kissed my camper as soon as I saw it.  I was so excited.  It is more than we imagined.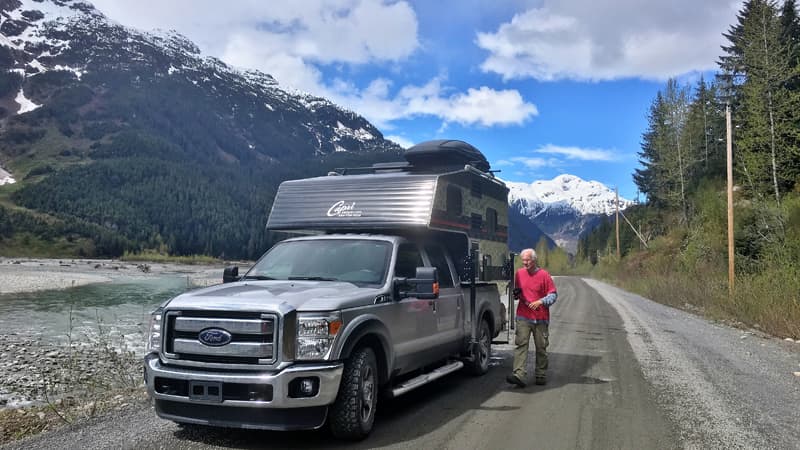 TCM: That's the first we have heard of somebody kissing their camper.  That sounds like love at first sight.  Did you make any special requests for your camper?
Nancy: Most of the Capri campers come with a smaller bed, but I requested a queen size bed.  We also wanted the roof, floor and sides reinforced with more insulation.  That turned out to be a plus on our last camping trip.
When we were tent camping, we could always hear the people camping next to us.  With the Capri and its extra insulation, we can't hear them.  The insulation is great for noise control, and for keeping us warm.  It was 28 degrees one night and we were warm.
We also had the roof and floor reinforced.  The roof was reinforced for a Maggie rack and Thule box.  The floor was reinforced for more insulation.  The bike racks hold extra supplies and our lounge chairs.  The cargo rack was installed into our truck's hitch so that we can carry extra gas cans and our Honda generator.
When we ordered our camper, we asked for a microwave and refrigerator, but not a stove top.  It's great to be able to get exactly what you want.
We have the most fabulous LED lights in our camper.  We didn't know that they run off of the truck's battery.  I thought that the LEDs were running off the electric power but, when we were about to leave for our 53 day trip, the truck's battery was dead because I had left the lights on for three days.
When we got home from our trip I went to Costco and got self-contained battery powered LED puck lights for under the cabinets.  They have a tiny remote and when I press it all the lights go on, and the lights can be changed from white to blue, red, or green.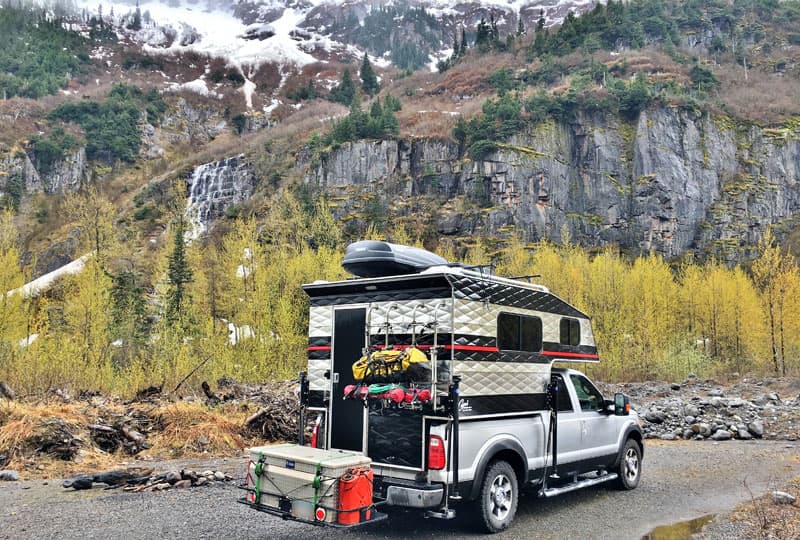 TCM: We made mistakes like that – and many others – when we got our first truck camper.  Talk to us about the double ladders on the back of your camper.
Nancy: Those are called chair racks.  We use them for storing our folding chairs.  On the last trip we used the chair racks to bring a tent and excess supplies in a waterproof bag.
We also have a luggage rack on the back that slips into the cargo hitch.  We had the cargo hitch reinforced because my husband wants it to be very secure.  When the generator or silver cargo box isn't there, the luggage rack can be folded up.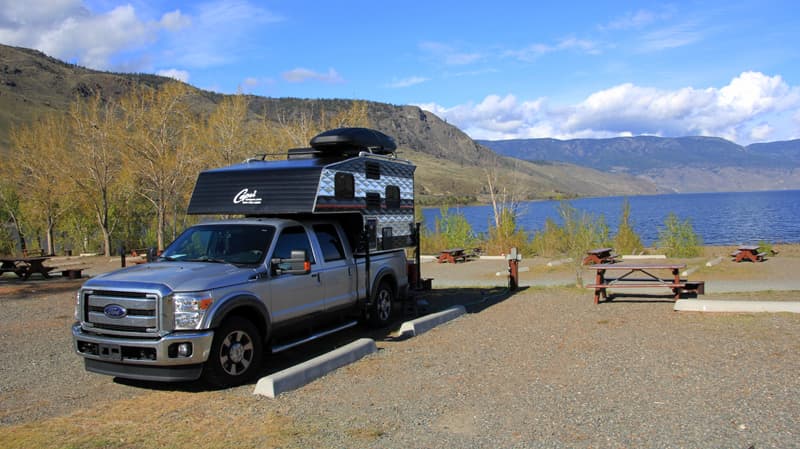 The silver cargo box has extra supplies and a Honda generator.  In the back of silver box we have a telescoping ladder to get to the Maggie Racks on the roof.  The ladder is 12-pounds and 6-feet tall.
On the roof you'll see our Thule box.  We went to Canada in April and stored our summer gear in the Thule box for when we visited our daughter in Arizona.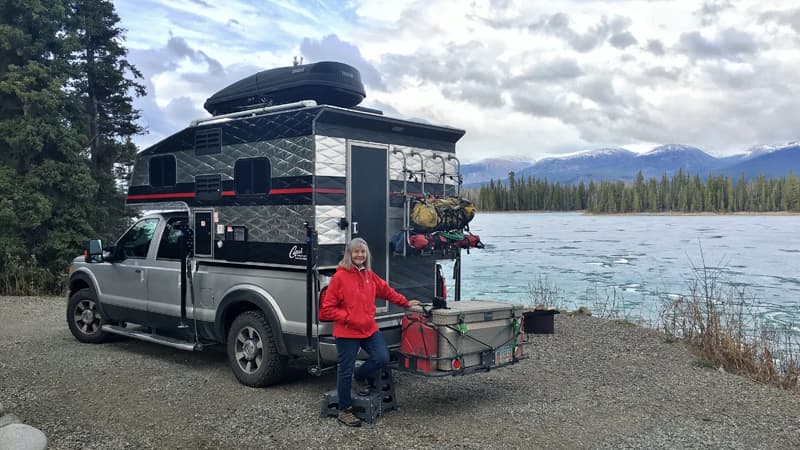 TCM: I really like that you have a lot more truck than you need for your camper.  We always recommend that folks "over truck" when they put a rig together, but you guys took that idea a step further.  How did you decide on your truck?
Nancy: We ordered the camper before we bought the truck.  We talked to people who owned truck campers and they told us we needed a sturdy truck.  We wanted a three-quarter ton truck, but because of price we ended up with a one ton.
We walked into the Ford dealer and they had a nice Lariot that was $10,000 off and had never been driven.  It was a 2015 with only 10 to 15 miles on it.  We added all-terrain tires because we knew we needed better tires, but that was it.  We feel really safe with the Capri and our Ford F350.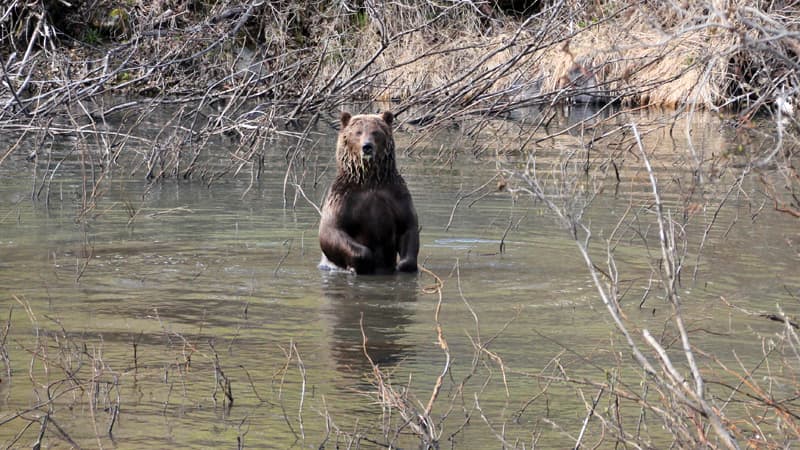 Above: Bear in river off Highway 37A near Meziaden Junction, British Columbia
TCM: It's a very safe truck and camper combination.  Your photography is amazing.  Do you both take pictures?
Nancy: We were not big photographers until we started going to Alaska and Canada every year.  Every year we would see moose, bear, caribou, and porcupines.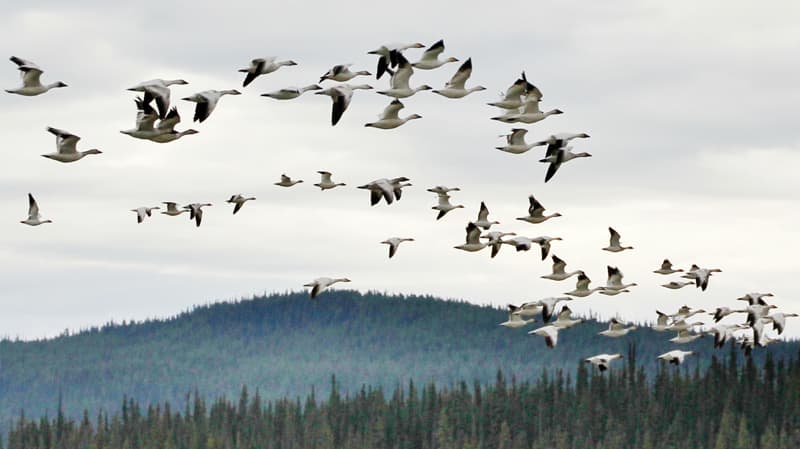 Above: Swan Haven Marsh Lake, Yukon, flying Trumpeter Swans
The first time we went to Alaska our little camera didn't capture good pictures.  We wanted a better camera with a fast shutter speed.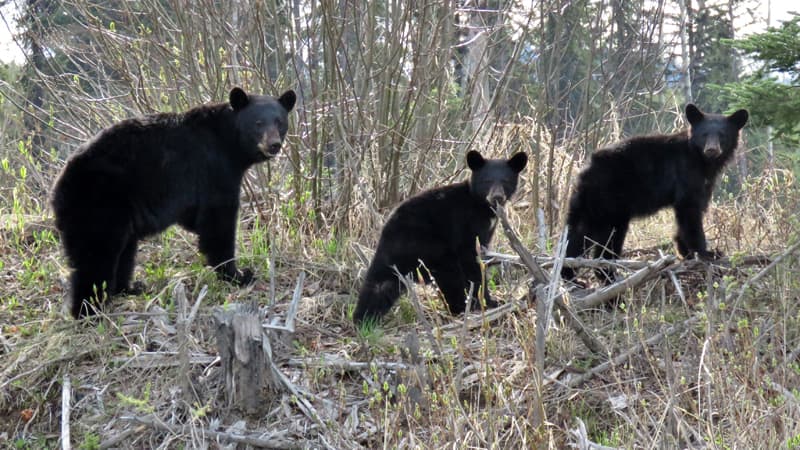 Above: Logging road to Smithers Landing in British Columbia
Now we have two cameras; a Canon 60D DSLR and a Canon Powershot SX60HS.  We mainly use the Canon 60D with a Tamron 18mm-270mm f/3.4-6.3 zoom lens.  The DSLR is heavy, so we don't like hiking with it.
The Canon Powershot SX60HS is smaller and lighter.  It's a 16.5 megapixel camera, so it takes good pictures.  It also has a 65X optical zoom.  It gets clear pictures of animals far away.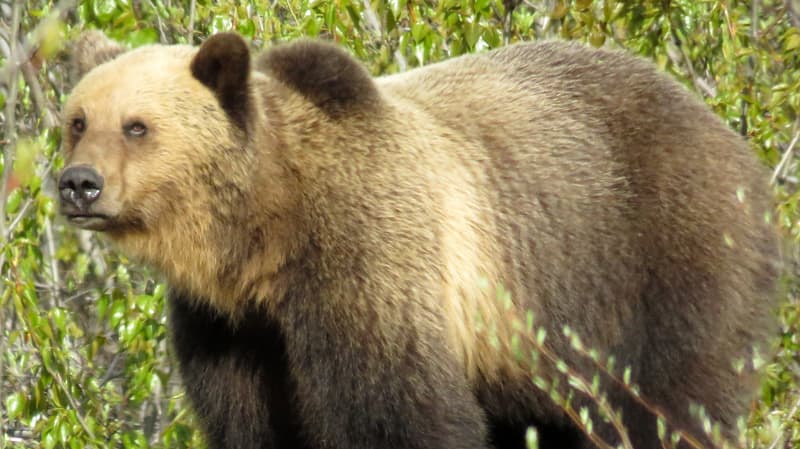 Above: Taken with the Canon Powershot SX60HS
The pictures we took of bears were up to 150 feet away.  Most of our bear pictures were taken with the Powershot.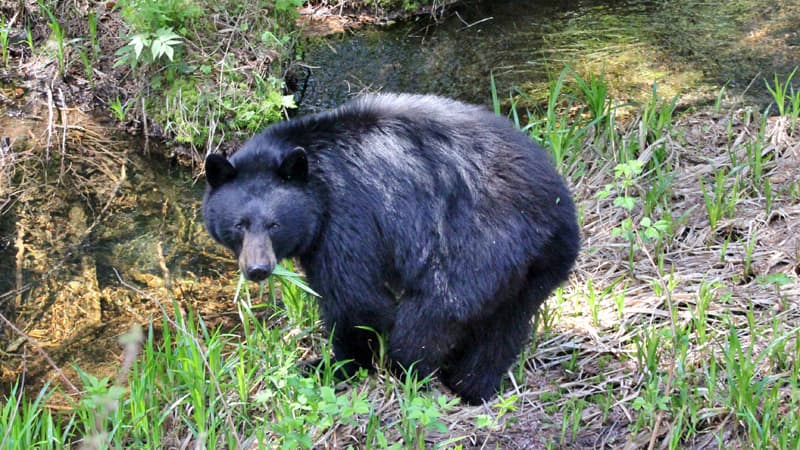 Above: Fish Creek, Hyder, Alaska
Photography is the main reason we needed a truck camper instead of a fifth wheel or motorhome.  When we see a bear or any wildlife, my husband immediately stops and turns around before the animal disappears into the brush.  Only with a truck camper can you do that!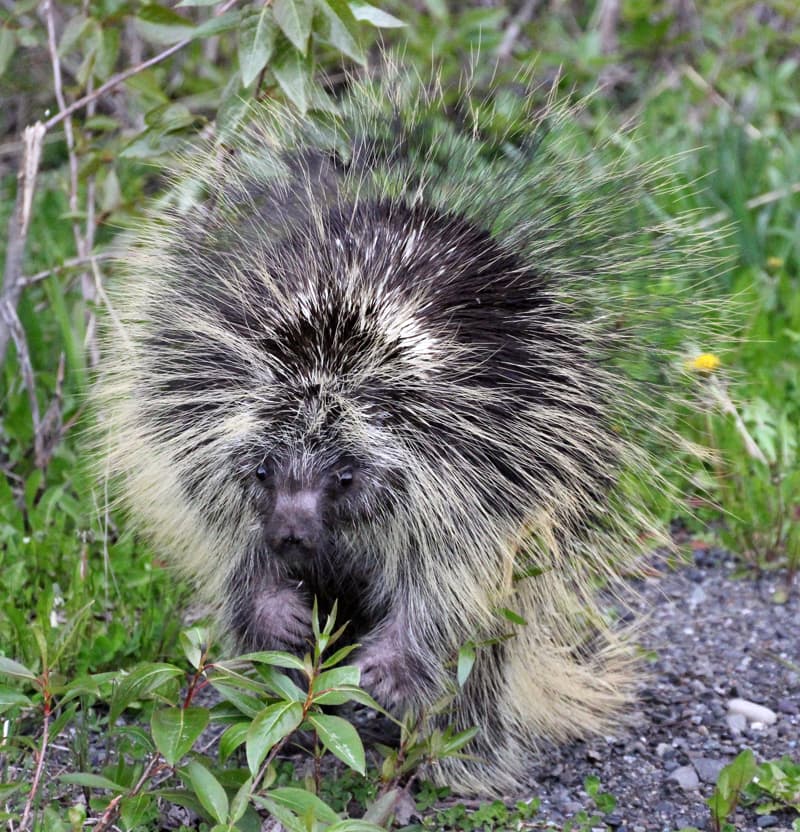 Above: Porcupine on Highway 33A near Meziaden Junction, British Columbia
TCM: That sounds like so much fun.  Where did you get the porcupine pictures?
Nancy: We saw so many porcupines on our last trip.  Maybe it was because it was spring and we had never been to Canada in April and May.  It must have been time for them to be out.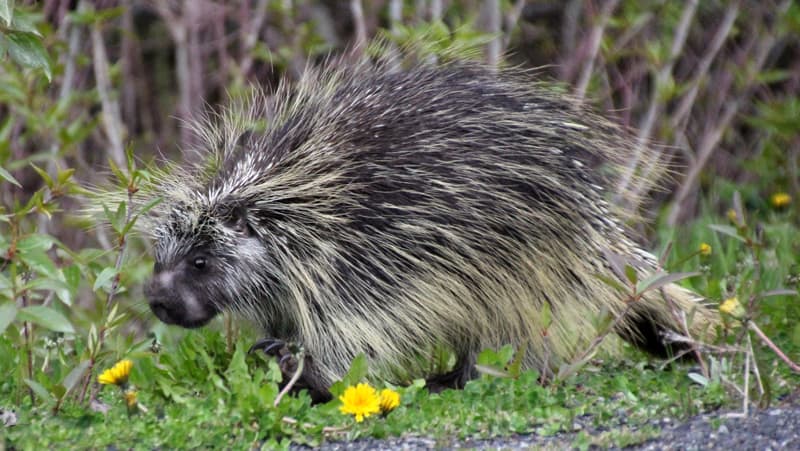 Well, my husband jumped out of the truck when he saw porcupines and chased them into the woods or up a tree.  He told me that he was saving them from getting run over by a truck or car.
Unfortunately, we saw more dead ones than live ones, so he was chasing them into the woods.  They are more scared of us than we are of them, but their quills will go straight up.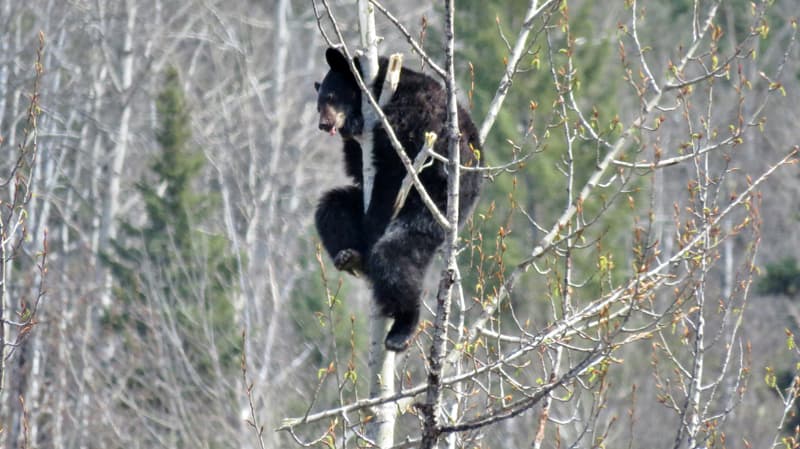 Above: Highway 97 in British Columbia near Prince George
TCM: Your bears in trees pictures are equally amazing.  How did you capture those?
Nancy: You wouldn't believe it, but all those bear pictures were from one trip.  We saw 71 bears in 53 days.  The pictures are all Canadian bears because we only traveled to the Yukon and British Columbia.
When we drive down the road in bear country, we look, and look, and look.  Sometimes other travelers would alert us to bears. We would see them stopped taking pictures. They were our scouts!  On 37A in Canada, the bears were just eating clover and grass on the side of the road.
Above: Highway 97 in British Columbia near Prince George
The bears in trees photographs were taken with the Canon Powershot.  The 60D and lens didn't get clear pictures.  I had to get out the little camera.  A brown bear chased the black bear up a tree.  We were there for an hour or two.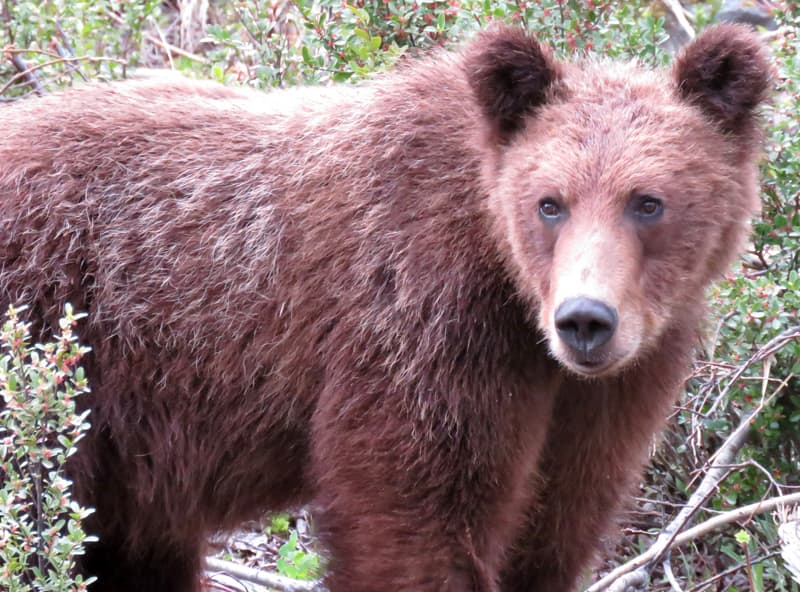 Above: Highway 37A near Meziaden Junction, British Columbia
TCM: Do you have any bear stories?
Nancy: We were in Dyea, near Skagway.  My husband was walking near a salmon stream and saw a large grizzly looking at him from the other side of the stream.  I was by the bridge.
My husband had on a brown coat with a hood that was up.  The grizzly on the other side of the stream stood up and looked right at my husband.  My husband yelled, "Bear!  Bear!", and he started walking towards the car.
We think the bear might have thought my husband was another bear.  The bear went to the bridge near where I was and sat down.  That was the closest that a bear has gotten to us.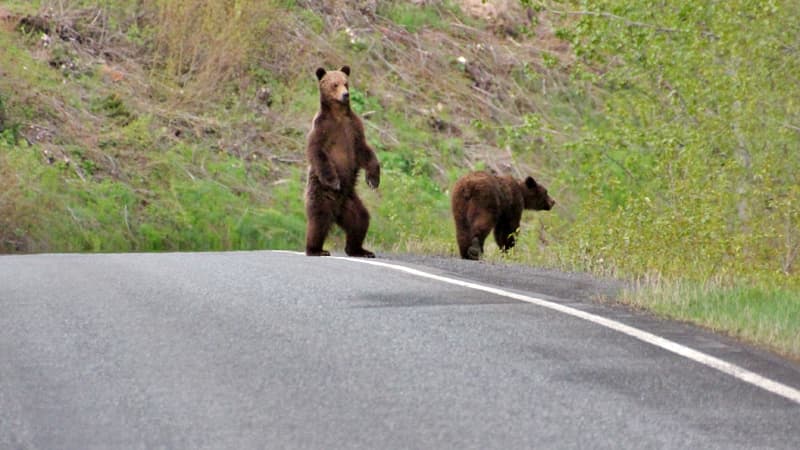 Above: Highway 37A near Meziaden Junction, British Columbia
TCM: That must have been frightening.
Nancy: When we're camping, we make sure to never leave out any food and we carry bear spray.  There are bear boxes at some campgrounds where you can store your food.  Never be reckless around bears.
We have seen people get up close with bears – within a few feet. Some tourists don't realize the danger they are putting themselves in.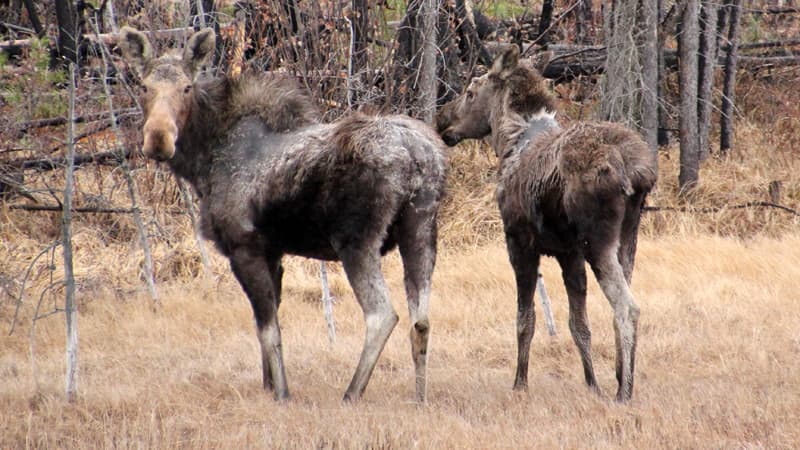 Above: Moose on Cassiar Highway 37, British Columbia
One time in Denali a guy had a tripod in the face of a mama Moose.  They can be even more dangerous than bears.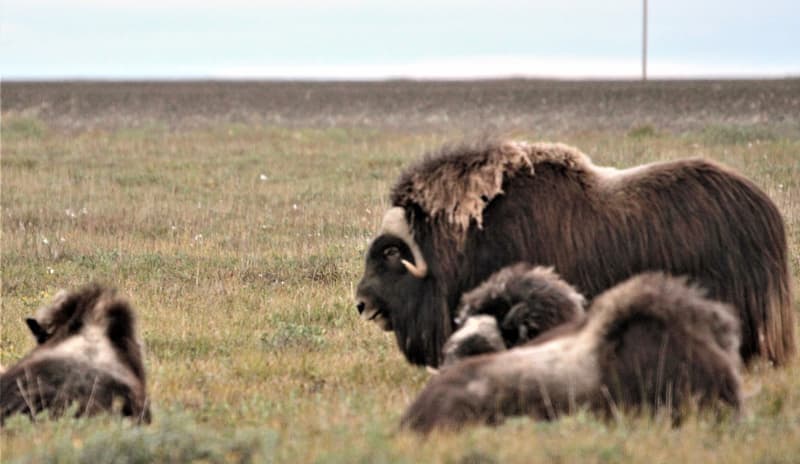 Above: Musk Ox in the Yukon
TCM: We have seen some pretty stupid tourist behavior with animals ourselves.   What's been the most unique wild animal you've spotted?
Nancy: The most unusual animal we've ever seen is a Musk Ox.  It was at Prudhoe Bay, Alaska where the pipeline starts.  They are a prehistoric animal and very interesting.
Musk Ox live in the arctic so they have to have tons of hair.  They have a down coat underneath.  I have a hat made from Musk Ox down.
The native Alaskans collect their hair and knit scarves, hats, and other clothing items.  There are a few Musk Ox farms where they raise them.  They shed their coat in the summer.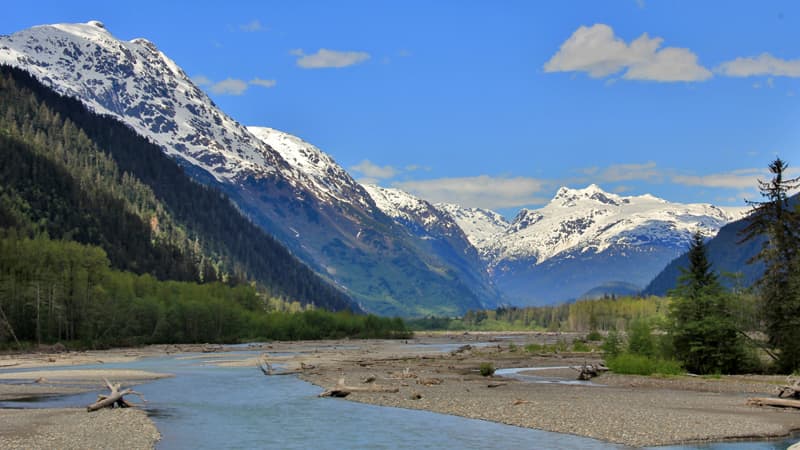 Above: The beauty of Hyder, Alaska
TCM: We have never seen a Musk Ox.  Where have you been with your truck camper that you would recommend to other truck campers?
Nancy: We drove our camper on a 53 day, 14,000 mile trip to British Columbia, the Yukon, and the southwestern United States.  We stayed in RV parks, provincial parks, state parks, BLM, and National Parks.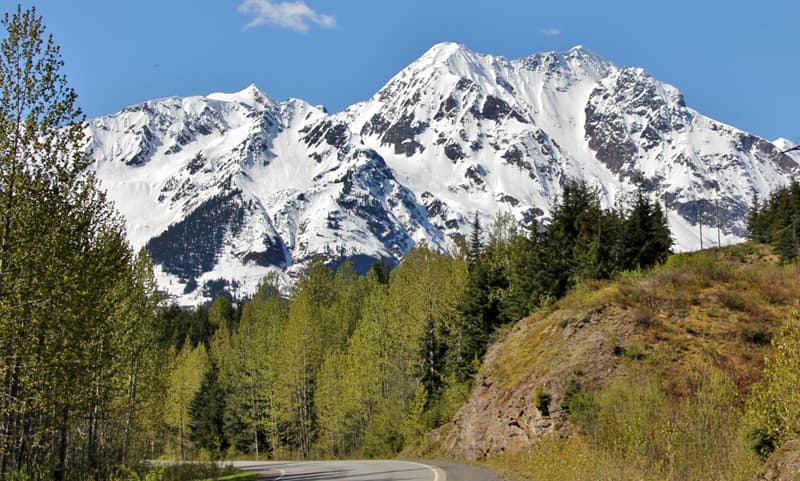 Above: Highway 37A near Meziadin Lake Provincial Park, British Columbia
We have many favorite spots, but one that really stands out is Meziadin Lake Provincial Park.  We have been there about 25 times.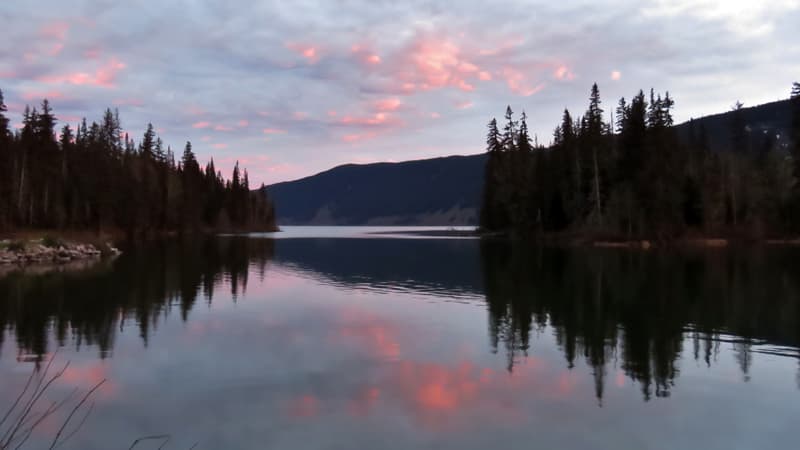 Above: Meziaden Lake, British Columbia
We'll stay two to three days at a time because it is so close to Stewart and Hyder.  When we camp there we'll drive to Stewart, British Columbia and Hyder, Alaska on 37A.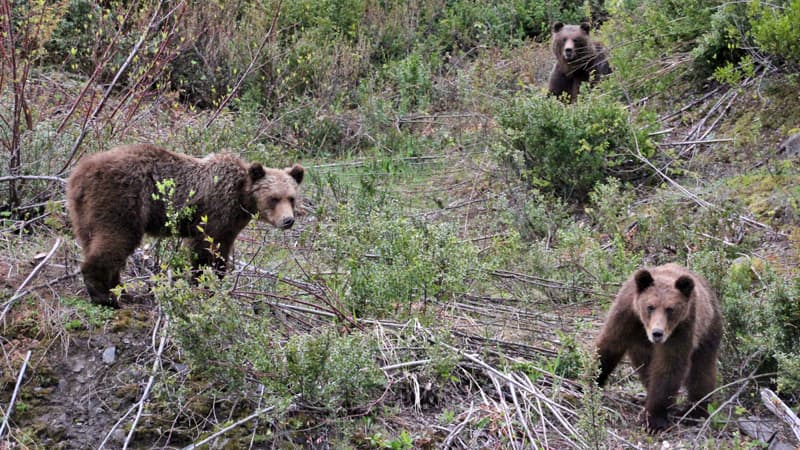 Above: More bears right off Highway 37A
We go to Bear Glacier, along 37A, and Salmon Glacier, which is north of Hyder, Alaska.  Then we eat at the Glacier Inn or The Bus.  Both places have great halibut.  There is beautiful scenery and lots of bears, glaciers, and waterfalls along that route.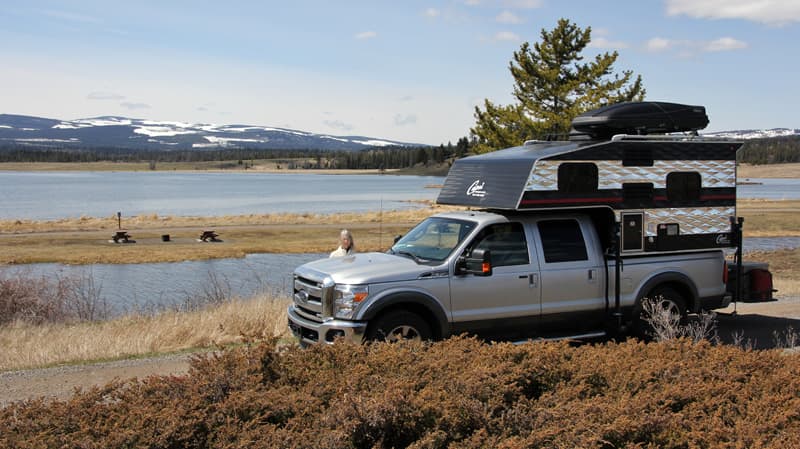 TCM: What are your future truck camping plans?  Are you going back to Alaska again?
Nancy: Yes, we are going back to Alaska.  Two future trips will be dry camping for seven days on the Dalton Highway north of Fairbanks, Alaska to see and photograph Musk Ox and Caribou herds.  We also want to go to Kodiak Island on the Alaskan Marine Highway to photograph the Kodiak bears.  We will take an airplane flight and guide to the bear area.
Nancy and Jim Stevenson's Rig
Truck: 2015 Ford F350, Crew Cab, 4×2, Gasoline, Single Rear Wheel, Short Bed
Camper: 2017 Capri Retreat
Tie-Downs and Turnbuckles: Torklift Tie Downs with Fastgun Turnbuckles
Suspension: N/A
Gear: Maggie rack, two bike racks, Thule box, hitch mounted cargo rack with, aluminum tool box, Honda generator
For more information about Capri Campers, visit their website at capricamper.com.  Click here for a free Capri Camper brochure.