Above: The batteries are located under the seat of the coach.  There is a three battery set up of group 31 AGMs. They are charged by a 200 watt solar panel, the truck's alternator while driving, or shore power.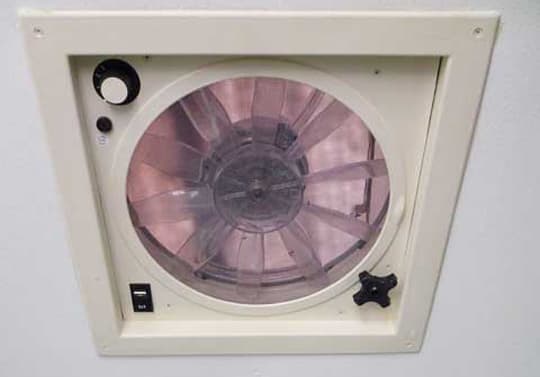 Above: D eliminated the air conditioner since they don't camp in real hot weather, and they're set up primarily for dry camping.  Fantastic vent fans were added.
TCM: Yes, it is.
D: We've got issues now with the bed.  The slide-out bed doesn't work well.  I also took the air conditioner off, and put in vents in the ceiling.  Two of the vents are wired with Fantastic Vent fans.  On the roof I added a 200 watt solar panel that charges the batteries, and we have three group 31 AGMS, which is overkill.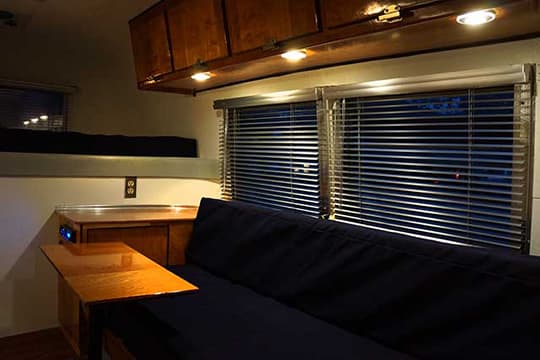 Above: At night, the cabin is lit with LEDs including marine puck lights.  On the window are stainless steel shades.
I also went through and changed every light to LED.  The fans use micro motors which draw little power.  I think I could stay on the road boondocking for at least a week.  With the 200 watt solar panel, three AGM batteries, and LED lights, we are not going to run out of power.  If anything, I would run out of holding tank capacity.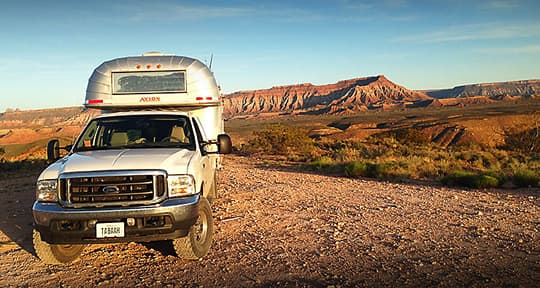 Above: Boondocking overlooking the Virgin River in Utah.
One of the discoveries is with the rounded corners is that the camper slips through the air while we drive.  It's different than the flat top campers.  The Avion is aerodynamic, so I don't have problems with big trucks.
I also want to point out the power of the internet.  I have been able to find everything I need at my local Kamper Supply store, eBay, or other websites.  Without the internet I couldn't find all the parts that I've needed.  It's empowered all of us who have these older machines to restore them, and to do a pretty good job at it.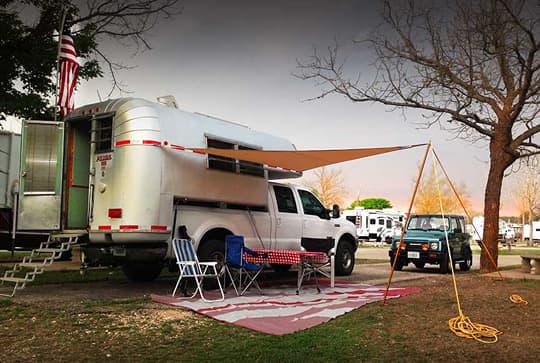 Above: Camping at the Texas Truck Camper Rally, Kerrville, Texas
TCM: Is there anything else you're hoping to do to the camper at this point?
D: My Avion is basically done.  As you know, we use it.  We've traveled a lot this Spring.  We went from Illinois to the Texas Truck Camper Rally where we met you both.  Then we traveled to Virginia for the Mid-Atlantic Truck Camper Rally.  From there we went to Flagstaff for the Overland Expo.  This Fall we are going to the Bitterroots in Montana and Idaho.  There are lots of things we want to do and we are able to do it with this camper.
We own rental properties here in Carbondale and I've always got issues with tenants, but I can take care of most things through texting, email, and phone calls.  I can tell the workmen where to go, and what needs attention.  The truck camper has allowed us to enjoy being on the road.  We don't have to be worried about leaving stuff undone.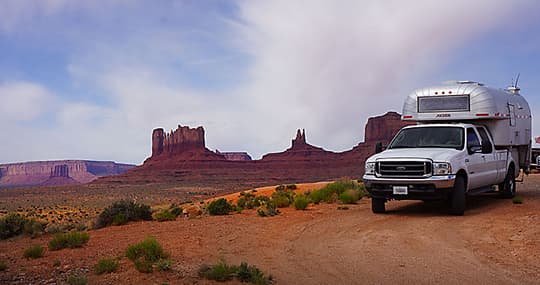 Above: The Avion near Moument Valley, Utah.  You can see the antenna for the WIFI and cell phone booster. They installed multiple devices to enhance their digital devices while on the road so that D and Jane can keep in touch with their businesses and Jane's responsibilities on City Council where she is an elected official and
Mayor Pro Tem.
When the Avion was built in 1967, people used to make phone calls collect.  But now, in 2014, we have everything onboard for communication like our iPhone, iPad, cell boosters, and WIFI, so we can always in stay in touch, unless we don't want to.  It's all there.  It's incredible, a wonderful thing we've got.