D. Gorton shares his story of restoring a 1967 Avion C-10 truck camper and returning it to the American road.  In 2014, the Avion has already traveled 7,000 miles.

We first met D. Gorton at the Texas Truck Camper Rally this past April.  His truck camper, a 1967 Avion C-10, was the talk of the event.  Folks were coming up to us saying, "Have you seen the Avion?"  We had, but were waiting for an opportunity to introduce ourselves, and spend a few minutes inside this vintage aluminum beauty.
When we finally met D. Gorton and his wife, Jane, we hit it off immediately.  It never ceases to amaze us on how truck campers attract such amazing people to our community.  Their camper was equally impressive, and we knew we had to get the story behind their Avion restoration for Truck Camper Magazine.
What we didn't know is that this very camper had been submerged in the Mississippi River two years after D and Jane found it.  What had started as a restoration project became a rescue and a complete ground-up rebuild.  This is D's story of how the Avion was pulled from the flood waters, gutted, and bought back with its Avion spirit in tact.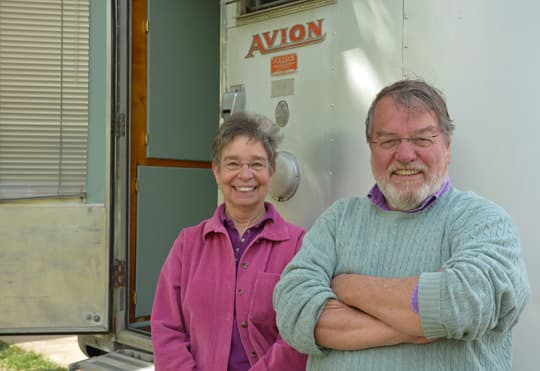 Above: Jane Adams and D Gorton with their 1967 Avion C-10
TCM: How did you come to restore a 1967 Avion C-10?
D: For as long as I can remember, I had a fantasy of having some sort of truck or van, kind of like a delivery truck with bunks.  I thought about it as a kid.  I finally got the chance later in life.
I wound up with an eight foot cabover-less Alaskan.  That camper defeated me.  I could not get anything right.  From years of neglect, the camper had rot.  The hydraulics were a challenge.  I would call up the Alaskan factory and they would help me, but then I felt guilty for taking up so much of their time.  It wasn't working, so I put the Alaskan up for sale for a dollar.  A guy came by and picked it up for a hunting camp.
Soon after, I found what I thought was the ultimate American camper, an Avion.  I found one in Missouri, and brought it home.  I thought it was in good shape.  Unfortunately, I'm not the brightest bulb.  It had problems, but I wasn't experienced enough to know what they were.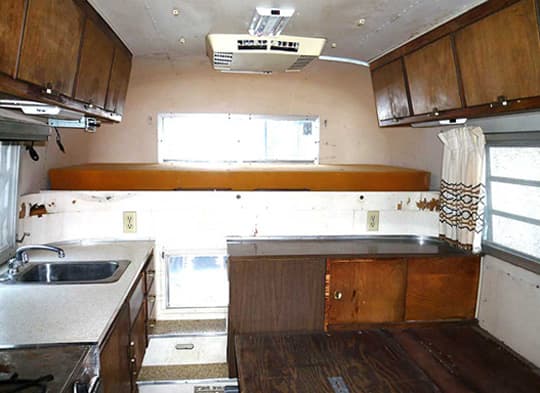 Above: Here is the interior of the coach when D and Jane first got it in 2008.  Above is a fluorescent light and the roof mounted air-conditioning.  On the right the bed is folded down and the cabinet containing the table is closed.  An old car radio is suspended from the cabinets on the left.  The camper had been in one family for many years and traveled twice to Alaska.  Then it had been used in the last few years as a hunter's shelter.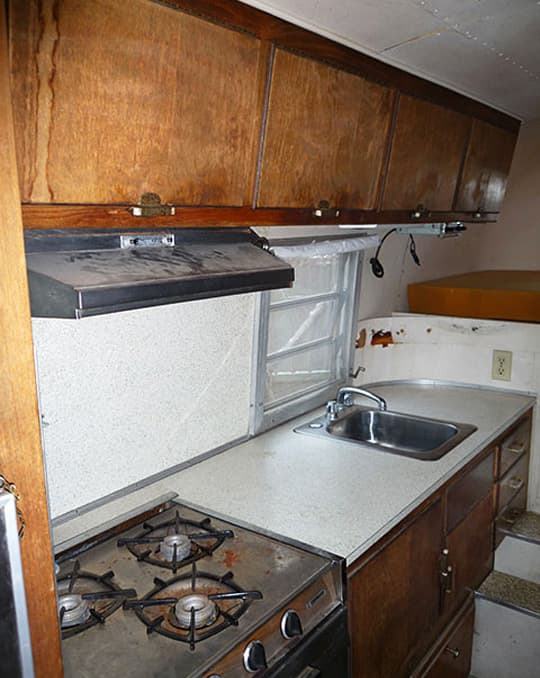 Above: Another photo from the beginning of the restoration.  Note the stains in the woodwork, and the broken surround at the cabover.
TCM: How did you know what to do with a 1967 Avion?
D: I restore houses in Carbondale, Illinois, which is a college town.  A lot of the neighborhood was built in the 1920s and 1930s.  The houses have been run down through rentals, so I began buying properties and restoring them.
Through the restorations, I have learned a lot about electricity and plumbing.  I took that knowledge and put it towards the Avion.  The Avion was a project like one of our houses, just in the back of the truck.  I knew I was dealing with an American original, something that was built during a great time in American history.  These Avions were unique.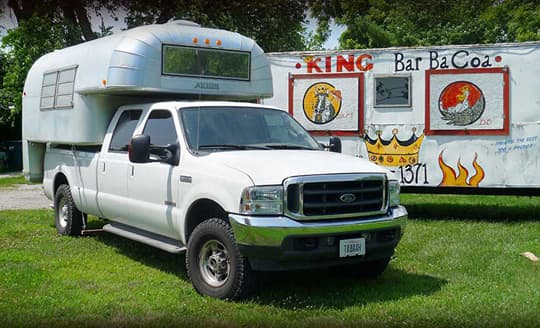 Above: The Avion before the restoration began.  Note that the Avion logo is faded, but the exterior was in relatively good condition.  This photo was taken in Olney, Illinois.