TCM: With the twelve-foot flatbed, is it hard to load and unload your rig?
Rich: It's a challenge to load, but I'm used to it now.  Unloading is easy.  I just put the jacks down and drive straight out.  Most of the time I keep the camper on the truck.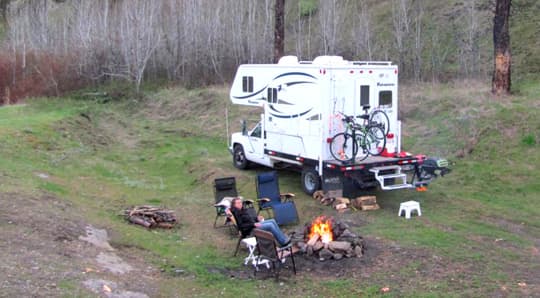 Above: Hog Canyon boondocking, Washington
TCM: What do you guys like to do when you go truck camping?
Rich: We go on several trips a year.  We like to go where there are no hook-ups; in the middle of nowhere on BLM land.  We also go where there are full hook-ups.  We don't stick to one type of camping.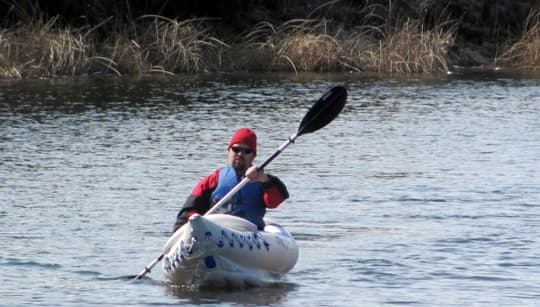 Above: Rich kayaking with his inflatable kayak in Twin Lakes, Washington
We enjoy geocaching, hiking, bike riding, and using our inflatable kayak.  We also love historical places.  Our trips start when the key goes into ignition.  It's all about getting there.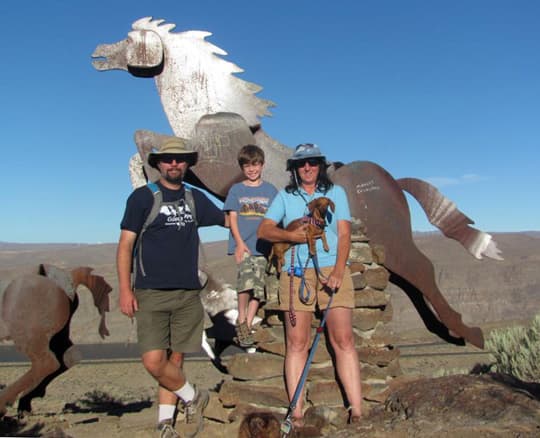 Above: Wild Horses National Monument
Life is short, so we get out there and enjoy it while we can.  We like to see new things.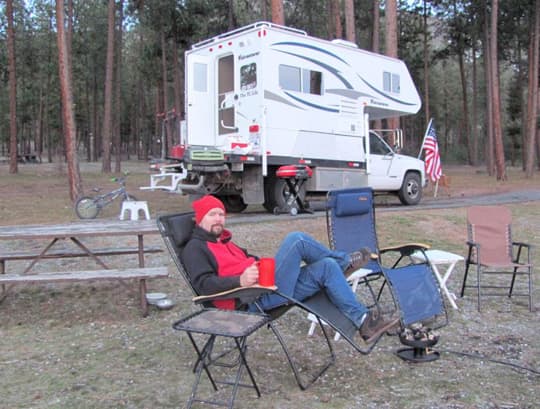 Above: Along the Columbia River at Gifford campground, Washington
Joanne: We don't limit ourselves to a season.  Truck camping is a year-round activity for us.  We also don't limit ourselves to weather.  If we find out that it's going to rain, well, that's what rain coats and canopies are for.
Rich: We have a goal to go out sixty nights a year.  This can be a challenge as we both work full-time and our son is in school.  This year was a banner year for us.  We got out for seventy-nine nights in our camper.
We like to stay off the interstates.  I don't like to go over sixty miles per hour when I'm driving, so we like taking the back highways, even if it's another forty miles further.  There's better scenery and neater towns.
Above: Rich and Cody on a geocaching find in 9 mile state park in Washington; part of the Washington state parks challenge
We got into geocaching last February and fell in love with it.  We are out all the time searching for caches.  Geocaching works so perfectly with our truck camper.  We can pull over easily and find the cache.  We love how geocaching takes us to places we never knew existed.  It takes us to places we have been right by before, but did not notice.