Rich: We had a heavy duty 1974 GMC three-quarter ton truck for our last two campers.  I still have that truck.  The 1974 GMC still has a fantastic motor that I rebuilt.
When we got the new camper, we knew we needed a newer truck with more payload.  I have always thought about a flatbed and admired other truck camper rigs with flatbeds.  For starters, you get all the extra storage room.
While I was looking around at trucks, I came across a flatbed truck at dealer here in town with very low miles on it.  I got a deal on it when the economy had gone down a few years ago.  At that time, no one was looking at trucks that were getting ten to fifteen miles per gallon.  Before that, I never considered a twelve-foot flatbed.  Now I'm so glad we made that choice.
TCM: A twelve-foot flatbed is a very unusual choice and could present some issues for a truck camper set-up.  How did you put the rig together?
Rich: I spent good part of a day just doing calculations and figuring out how the flatbed and camper would come together.  I had a vision and it worked.
Above: Their back porch, click photos to enlarge
TCM: How did you go about measuring?
Rich: Well, I spent a lot of time with chalk and measuring tape.  I measured where center of gravity was; needing it far forward since it is an eight foot camper on a twelve foot bed.  I figured out how I wanted my storage compartments and back porch.  I figured it all out.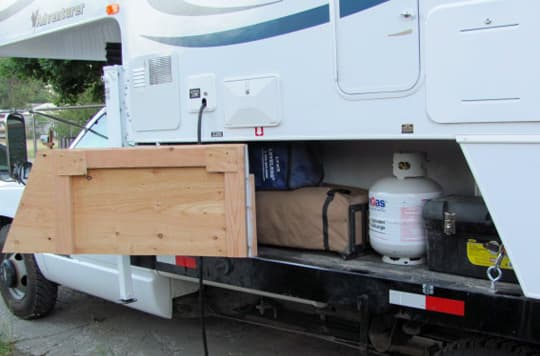 Above: The driver's side storage compartment
I had to make some modifications to make it all work, but I am very happy with the way it turned out.  I am pretty handy.  I am somewhat a jack of all trades, and I enjoy the challenges of figuring things out.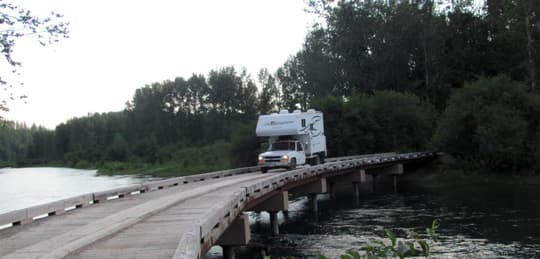 Above: Glacier National Park, Quarter Circle Bridge in the the southwest corner of the park; a one lane road for a few miles to the trailhead for their hike for the day
TCM: From the pictures, the set-up looks a little tall, maybe even top heavy.  What is the rig height?  And how does it drive?
Rich: We get that comment all the time.  The loaded rig is exactly twelve feet tall from the top of the vent cover to the ground.  I tell people the height of the rig is an optical illusion because of the regular cab truck, the twelve foot flatbed, and the gap in between the cab and the camper.  It looks a little odd, but it works really well.
I have actually taken out my tape measure and shown people because they didn't believe me.  Then we chuckle about it.  The flatbed does make the camper sit about eight and half to nine inches higher.
TCM: You mention the space between your truck cab and camper.  From your photography, it shows that there's enough space to store your spare tire.
Rich: I have an auxiliary fuel tank where the spare tire is supposed to go.  The tank was there when we bought the truck.  I have forty-four gallons of fuel with both tanks.
The spare works out well above the cab.  People have asked about wind noise.  I have big West Coast mirrors on truck, like on a semi.  You can hear the wind whistle from the mirrors occasionally.  That's the only noise I hear.
Stability is not a problem because my truck is a dually.  I also have a heavy duty sway bar that came stock with the truck.  We were coming back from central Washington with forty-five mile per hour winds and gusts of fifty miles per hour.  The rig handled beautifully.