Rich and Joanne Bain keep their truck camper at their house, plugged-in, stocked-up, and ready to go truck camping anytime, anywhere, and in any season.

For many us, we can't imagine using anything else but a truck camper.  Travel trailers, fifth wheels, and even million-dollar Prevost motorhomes are intriguing, until we think about all the amazing places they can't go.  Like the Barenaked Ladies sing, "If I had a million dollars, I'd still go truck camping".  Maybe that's not exactly how the song goes.
Rich and Joanne Bain have a wonderful story about how they dug an old 1970 truck camper out of the snow, and got totally hooked on the truck camping lifestyle.  Now on their third truck camper, they have taken their truck camping hobby to the next level by organizing truck camper rallies and gatherings in the Northwest.  We are particularly excited about Rich's ideas about gatherings.
One can't help but be infected with the enthusiasm for truck camping Rich and Joanne have.  Heck, just reading about how they squeeze two adults, one kid, and three Dachshunds into their regular cab truck proves how determined this family is to get out and go truck camping.  Think they leave their camper winterized and wait for Spring?  Think again.  The Bains may be the most ready, set, go truck camping family on Earth.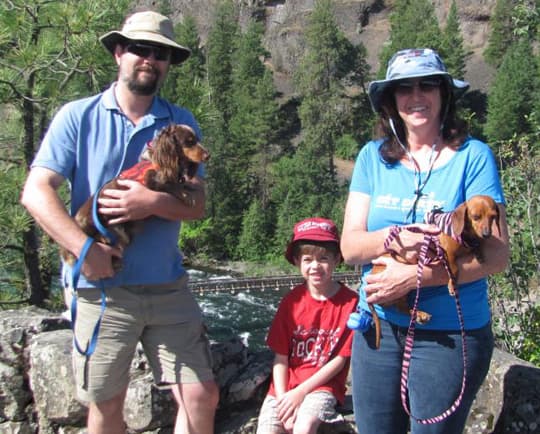 Above: Rich, Cody, and Joanne Bain and their two dogs, Buddy and Trixie
TCM: How did you get into truck camping?
Rich: Joanne and I started, like most folks do, tent camping.  My mother and her husband had an old 1970, eight-foot, no frills, truck camper.  One winter we went out, dug the old camper out of the snow, and loaded it on our truck.  It was a big step up from our tent.
Above: Rich and Joanne's truck campers through the years, click photos to enlarge
Joanne and I loved that camper, but we decided we needed a bathroom after a couple of years.  That's when we found and bought a 1980 Conestoga nine-foot truck camper.  It was heavily used by its previous owners, but it had a bathroom.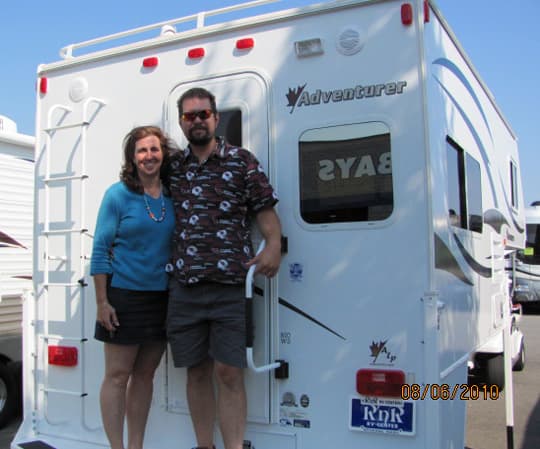 Above: Picking up their new Adventurer 810WS
Three years ago we bought our third and current truck camper, a brand new 2010 Adventurer 810WS.  It has all the bells and whistles.  We're living high on the hog now.
Joanne: After our second truck camper, we considered changing to a travel trailer.  When we evaluated our camping lifestyle, we quickly realized we needed another truck camper.  A travel trailer wasn't going to allow us to camp the way we want to.
Rich: We are outdoors oriented people.  We only stay inside our camper during bad weather, and to sleep.  That means we don't need a lot of interior room.
The ease that a truck camper allows us to go almost anywhere is huge to us.  We stop all the time, and enjoy not needing to worry about parking spaces.  I can make a U-turn on a rural highway, in a safe spot.  As we like to say, "We couldn't do that with anything but a truck camper".
Above: Their 1999 Chevy C3500 twelve foot flatbed truck
TCM: What led you to go with a flatbed?