Rich and Joanne Bain keep their truck camper at their house, plugged-in, stocked-up, and ready to go truck camping anytime, anywhere, and in any season.

For many us, we can't imagine using anything else but a truck camper.  Travel trailers, fifth wheels, and even million-dollar Prevost motorhomes are intriguing, until we think about all the amazing places they can't go.  Like the Barenaked Ladies sing, "If I had a million dollars, I'd still go truck camping".  Maybe that's not exactly how the song goes.
Rich and Joanne Bain have a wonderful story about how they dug an old 1970 truck camper out of the snow, and got totally hooked on the truck camping lifestyle.  Now on their third truck camper, they have taken their truck camping hobby to the next level by organizing truck camper rallies and gatherings in the Northwest.  We are particularly excited about Rich's ideas about gatherings.
One can't help but be infected with the enthusiasm for truck camping Rich and Joanne have.  Heck, just reading about how they squeeze two adults, one kid, and three Dachshunds into their regular cab truck proves how determined this family is to get out and go truck camping.  Think they leave their camper winterized and wait for Spring?  Think again.  The Bains may be the most ready, set, go truck camping family on Earth.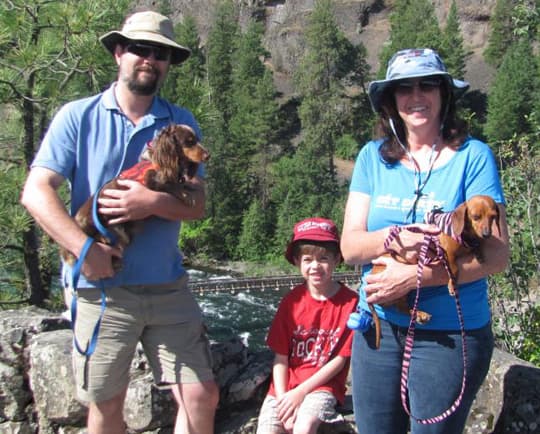 Above: Rich, Cody, and Joanne Bain and their two dogs, Buddy and Trixie
TCM: How did you get into truck camping?
Rich: Joanne and I started, like most folks do, tent camping.  My mother and her husband had an old 1970, eight-foot, no frills, truck camper.  One winter we went out, dug the old camper out of the snow, and loaded it on our truck.  It was a big step up from our tent.
Above: Rich and Joanne's truck campers through the years, click photos to enlarge
Joanne and I loved that camper, but we decided we needed a bathroom after a couple of years.  That's when we found and bought a 1980 Conestoga nine-foot truck camper.  It was heavily used by its previous owners, but it had a bathroom.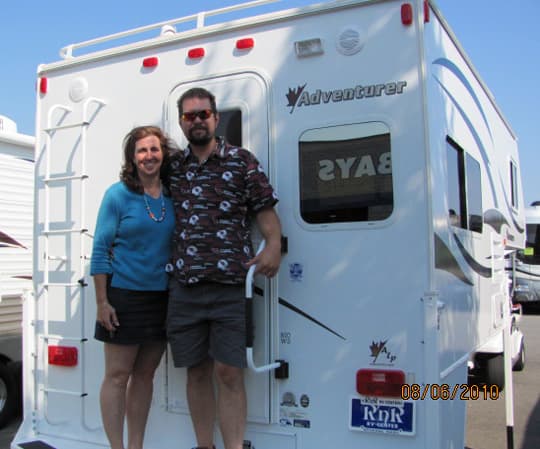 Above: Picking up their new Adventurer 810WS
Three years ago we bought our third and current truck camper, a brand new 2010 Adventurer 810WS.  It has all the bells and whistles.  We're living high on the hog now.
Joanne: After our second truck camper, we considered changing to a travel trailer.  When we evaluated our camping lifestyle, we quickly realized we needed another truck camper.  A travel trailer wasn't going to allow us to camp the way we want to.
Rich: We are outdoors oriented people.  We only stay inside our camper during bad weather, and to sleep.  That means we don't need a lot of interior room.
The ease that a truck camper allows us to go almost anywhere is huge to us.  We stop all the time, and enjoy not needing to worry about parking spaces.  I can make a U-turn on a rural highway, in a safe spot.  As we like to say, "We couldn't do that with anything but a truck camper".
Above: Their 1999 Chevy C3500 twelve foot flatbed truck
TCM: What led you to go with a flatbed?
Rich: We had a heavy duty 1974 GMC three-quarter ton truck for our last two campers.  I still have that truck.  The 1974 GMC still has a fantastic motor that I rebuilt.
When we got the new camper, we knew we needed a newer truck with more payload.  I have always thought about a flatbed and admired other truck camper rigs with flatbeds.  For starters, you get all the extra storage room.
While I was looking around at trucks, I came across a flatbed truck at dealer here in town with very low miles on it.  I got a deal on it when the economy had gone down a few years ago.  At that time, no one was looking at trucks that were getting ten to fifteen miles per gallon.  Before that, I never considered a twelve-foot flatbed.  Now I'm so glad we made that choice.
TCM: A twelve-foot flatbed is a very unusual choice and could present some issues for a truck camper set-up.  How did you put the rig together?
Rich: I spent good part of a day just doing calculations and figuring out how the flatbed and camper would come together.  I had a vision and it worked.
Above: Their back porch, click photos to enlarge
TCM: How did you go about measuring?
Rich: Well, I spent a lot of time with chalk and measuring tape.  I measured where center of gravity was; needing it far forward since it is an eight foot camper on a twelve foot bed.  I figured out how I wanted my storage compartments and back porch.  I figured it all out.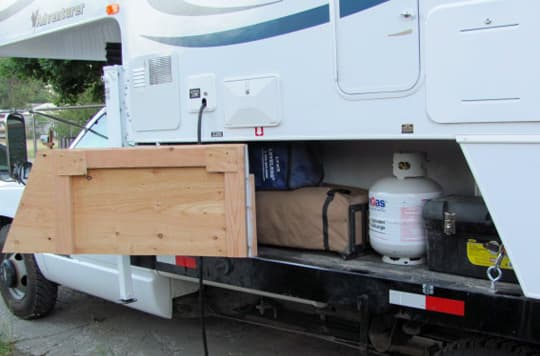 Above: The driver's side storage compartment
I had to make some modifications to make it all work, but I am very happy with the way it turned out.  I am pretty handy.  I am somewhat a jack of all trades, and I enjoy the challenges of figuring things out.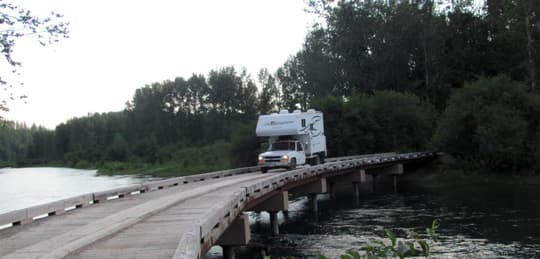 Above: Glacier National Park, Quarter Circle Bridge in the the southwest corner of the park; a one lane road for a few miles to the trailhead for their hike for the day
TCM: From the pictures, the set-up looks a little tall, maybe even top heavy.  What is the rig height?  And how does it drive?
Rich: We get that comment all the time.  The loaded rig is exactly twelve feet tall from the top of the vent cover to the ground.  I tell people the height of the rig is an optical illusion because of the regular cab truck, the twelve foot flatbed, and the gap in between the cab and the camper.  It looks a little odd, but it works really well.
I have actually taken out my tape measure and shown people because they didn't believe me.  Then we chuckle about it.  The flatbed does make the camper sit about eight and half to nine inches higher.
TCM: You mention the space between your truck cab and camper.  From your photography, it shows that there's enough space to store your spare tire.
Rich: I have an auxiliary fuel tank where the spare tire is supposed to go.  The tank was there when we bought the truck.  I have forty-four gallons of fuel with both tanks.
The spare works out well above the cab.  People have asked about wind noise.  I have big West Coast mirrors on truck, like on a semi.  You can hear the wind whistle from the mirrors occasionally.  That's the only noise I hear.
Stability is not a problem because my truck is a dually.  I also have a heavy duty sway bar that came stock with the truck.  We were coming back from central Washington with forty-five mile per hour winds and gusts of fifty miles per hour.  The rig handled beautifully.
TCM: With the twelve-foot flatbed, is it hard to load and unload your rig?
Rich: It's a challenge to load, but I'm used to it now.  Unloading is easy.  I just put the jacks down and drive straight out.  Most of the time I keep the camper on the truck.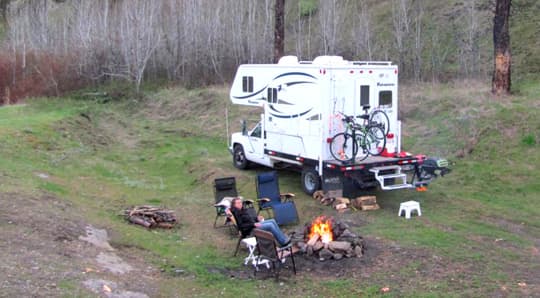 Above: Hog Canyon boondocking, Washington
TCM: What do you guys like to do when you go truck camping?
Rich: We go on several trips a year.  We like to go where there are no hook-ups; in the middle of nowhere on BLM land.  We also go where there are full hook-ups.  We don't stick to one type of camping.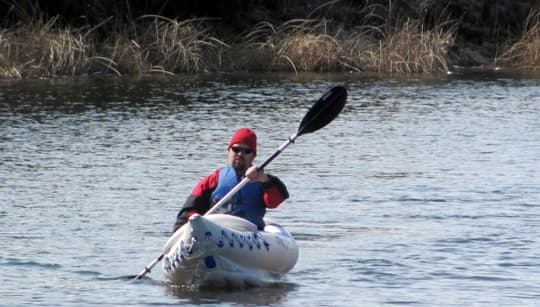 Above: Rich kayaking with his inflatable kayak in Twin Lakes, Washington
We enjoy geocaching, hiking, bike riding, and using our inflatable kayak.  We also love historical places.  Our trips start when the key goes into ignition.  It's all about getting there.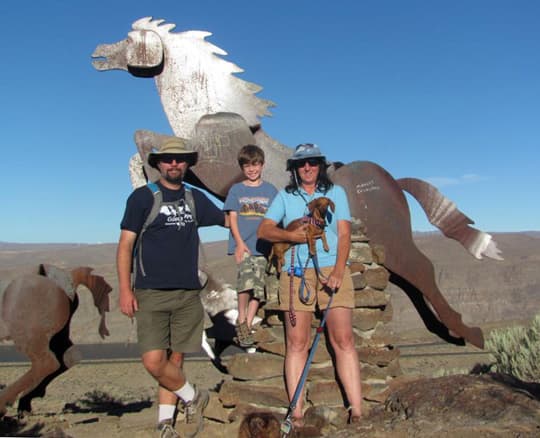 Above: Wild Horses National Monument
Life is short, so we get out there and enjoy it while we can.  We like to see new things.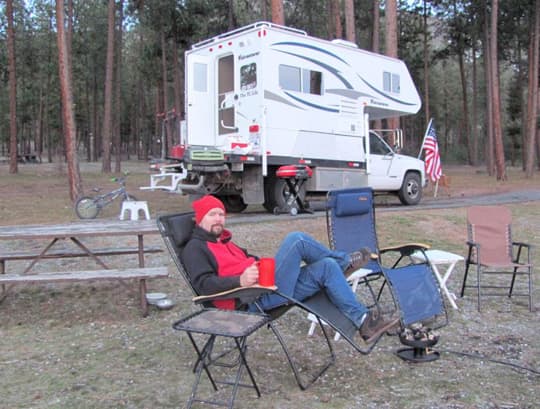 Above: Along the Columbia River at Gifford campground, Washington
Joanne: We don't limit ourselves to a season.  Truck camping is a year-round activity for us.  We also don't limit ourselves to weather.  If we find out that it's going to rain, well, that's what rain coats and canopies are for.
Rich: We have a goal to go out sixty nights a year.  This can be a challenge as we both work full-time and our son is in school.  This year was a banner year for us.  We got out for seventy-nine nights in our camper.
We like to stay off the interstates.  I don't like to go over sixty miles per hour when I'm driving, so we like taking the back highways, even if it's another forty miles further.  There's better scenery and neater towns.
Above: Rich and Cody on a geocaching find in 9 mile state park in Washington; part of the Washington state parks challenge
We got into geocaching last February and fell in love with it.  We are out all the time searching for caches.  Geocaching works so perfectly with our truck camper.  We can pull over easily and find the cache.  We love how geocaching takes us to places we never knew existed.  It takes us to places we have been right by before, but did not notice.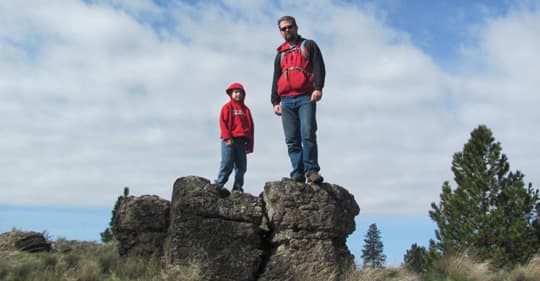 Above: Cody and Rich at Hog Canyon, BLM land with dispersed camping
TCM: Tell us about traveling with your son, Cody.
Rich: We go on many truck camping vacations when Cody is out of school.  My wife and I are lucky because we get a lot of vacation time.  Often times our trips during the school year are weekends getaways.  I'll take a half day off work on a Friday and we will come back Sunday evening.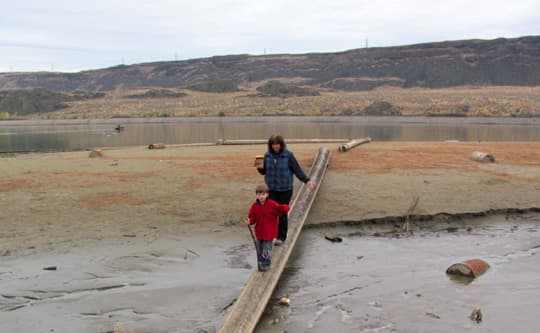 Above: Cody and Joanne at Banks Lake, Washington
Joanne: Our truck camper is always fully stocked.  All we have to add is food and clothing.  We were at a rally awhile ago, and we were talking about how Cody knows a lot of things from traveling.  He's met a lot of people and has a different perspective. He is world-wise beyond his years.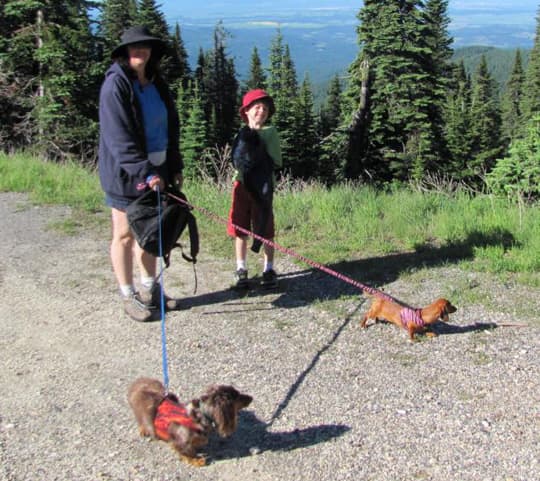 Above: Joanne and Cody hiking at Mt. Spokane with Buddy and Trixie
TCM: What do your dogs think of truck camping?
Rich: With the regular cab truck, it does get to be interesting.  We actually have three small Dachshunds.  I'm the driver and my area is clear.  My son sits in the middle and we have a dog bed on the floor on the passenger's side.
One of our dogs is seven pounds and is fully grown.  One will sit on my wife's lap.  It's just not a big deal for us.  We don't take the dogs on every trip.  We have an older son who lives at home and watches the dogs.
Joanne: Historically we have had bigger dogs but, with the camper, we didn't want to share the space.  We decided what type of dogs we wanted to get based on our lifestyle.  They go on hikes with us too.
Above: Rich, Joanne, and Cody at Glacier National Park, click photos to enlarge
TCM: Truck camper sized-dogs?  We call them cats!  You've had several truck camper rallies.  When did you start organizing rallies?
Rich: I am a member of the North American Truck Camper Owners Association (NATCOA).  George Chambers, a good friend who lived here in town, had a truck camper.  He has since passed away.  I respected him and enjoyed his company.
I said to George that it would be nice to have more camper gatherings, and he encouraged me to do it.  He said, "Schedule it and see what happens".  I was a bit nervous, so I started with lunch and breakfast gatherings.  Those gatherings quickly turned into actual truck camper rallies.
I start work on the rallies about a year in advance.  The hardest part is getting a place to hold the event.  There are some fantastic places, but they want you to pay for all the sites up front.  The trick is finding a campground that will work with you and not charge you up front.
I look for interesting places to have our rallies.  My first rally was just outside of Glacier National Park.  After I get the location set-up, I contact truck camper and gear companies to donate raffle prizes for the rally.
Taking it upon myself is a lot of work, but I really do enjoy seeing everyone having a great time.  That is a huge payment back for me.  My only regret from my first rally is that I didn't have enough time to talk to everyone.  My second rally this past year was in Glacier.  I was able to spend more time with people.  It was more relaxed.
Above: The Montana Rally in 2013, click photos to enlarge
TCM: When you announce rallies in Truck Camper Magazine you sometimes call them gatherings.  What's the difference?
Rich: The difference between a rally and a gathering is simple.  A rally has prize give aways and scheduled events.  A gathering is just a bunch of truck camper folks getting together for an event, or someplace interesting.  There's a lot more to planning a rally, so sometimes I just hold gatherings.
For a gathering, I will set up a few sites, but it's a first come, first serve situation.  I announce what we're going to do and people join us.  Usually, Joanne and I were going to that location or event anyway.
TCM: That's a great idea.  Rallies are fantastic, but the idea of gatherings makes life much easier for the organizer and might encourage others to host truck camper gatherings around the country.  What advice do you have for people who want to organize a rally or a gathering?
Rich: You can always start small with a breakfast, lunch, or even a barbecue at a park.  You don't have to bring the campers.  Just gather and talk about truck camping.  You also can announce where you are going camping, and then it grows.  Start simple and easy.
When I schedule a rally or gathering, I try not to schedule it during a big event or holiday weekend.  I try to pick a weekend when the campground can set aside a few spots.
There are lots of truck campers out there.  Now there are rally organizers on the East Coast, West Coast, and Midwest who you can reach out to with questions.  I talked to Mike Tassinari of the North-East Truck Camping Jamboree via email, and he supplied me with an incredible amount of information.  We're all willing to help out.  We love the lifestyle and community and here to help.
I also talk to Doug Baughman quite a bit.  He came to the Montana Truck Camping Rally and I got to meet him in person.  Before he did his rally in Iowa this year, I talked to him quite a bit, and told him how I do things.  We just threw out ideas, but he made it his own.
Rallies are great because you get to meet people from all over the country, people we may have never met before that we have talked to in the virtual world.  It's so nice to meet them in person.
My advice is to go to a truck camper rally at least once.  Some people just want to go out into the woods and camp in solitude, but it's also really nice to get together with like-minded people for three or four days.
From what I've read on truck camper forums, there's interest in organizing a rally in Tennessee next year, so that's great.  I have read someone is doing just what I've mentioned and put the information out there to see what happens.  Once you get started putting together a rally, there's a snowball effect.  I always let Truck Camper Magazine know about the rally as well as posting it on NATCOA, RV.net, and lanceownersofamerica.com.
Another thing you can do is contact local RV dealer and parts places.  They were more than willing to let me put up a flier about the rally in their stores.  If you are having a local rally, you can also contact your Chamber of Commerce or tourist office to post your event.
I am willing to talk to anyone who is interested in running a rally via email, or on the phone.  I will help promote the truck camper way of life any way I can.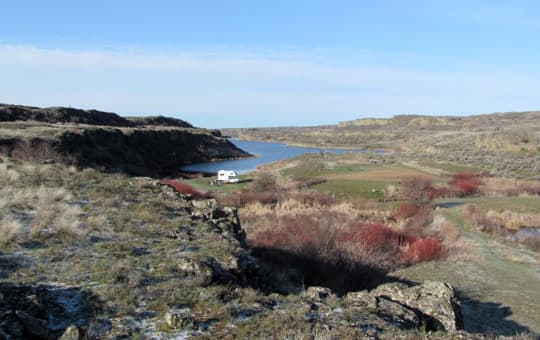 Above: Twin Lakes, Washington
TCM: What's in store for 2014?
Rich: We're organizing a rally in central Washington State from June 26th to 29th, 2014.  All of the information is on your Shows and Rallies page already.  The rally is at a resort-style campground about ten-minutes from Grand Coulee Dam.  There's an evening laser show at the dam we'll have to go check out.  The area is also geologically unique and has a great interpretive center.  The rally is on a lake with boating and swimming opportunities.  Come join us.
We are also hosting a Washington Wine Tour from May 15 – 18, 2014 at the Wine Country RV Park in Prosser, Washington.
We also want to go to other rallies that other people are hosting next year.

TCM: Anything else that you'd like to add?
Rich: I am very grateful that we chose the path of truck camping.  We love the lifestyle and the ease of going anywhere and stopping anywhere we want.  We have really appreciated the people we have met at the rallies and gatherings we have attended.  We hope to see each and everyone of them again.
Truck: 1999 Chevy C3500, regular cab, twelve foot flat bed, 4×2, gas
Camper: 2010 Adventurer 810WS
Tie-downs/Turnbuckles: Eye bolts that go through steel frame, Torklift Derringers
Suspension: N/A
Gear: Back porch with the camper's comfort steps, wood sides for storage compartments, rear view camera, BBQ goes into hitch receiver that swings out so out of the way, bike rack mount to take three bikes, lights under the flatbed when getting into spots at night, bottle openers on both sides of the truck