Find out how Aaron Barber found himself deep in the Kootenays seriously considering shooting the tires out of an Alaskan Camper rig driving in the distance.  Stop, thief! … … … … … … … … …

The first time we ever saw an Alaskan truck camper was the Truck Camper Show in Ogallala, Nebraska in 2007.  Bryan Wheat, President of Alaskan Campers, had driven over 1,400 miles with one Alaskan in the bed of his truck, and one in tow.  We had never seen an Alaskan on the East Coast, and still haven't to this day.
That's not to say that Alaskan Campers are common sights on the West Coast either, but we've seen quite a few during our travels through California, Oregon, Washington, and British Columbia.  They're still rare birds and cause much excitement when one is spotted, "Look, there's an Alaskan!"
Aaron Barber likes the fact that not everyone has an Alaskan Camper.  In fact, he was shocked when he saw an Alaskan Camper driving down the road during a hunting trip a few years ago.  He was on foot and had wandered away from his rig to explore.  Had his Alaskan truck camper rig just been stolen?  He considered shooting out the tires to stop the thief.  There were only moments to decide…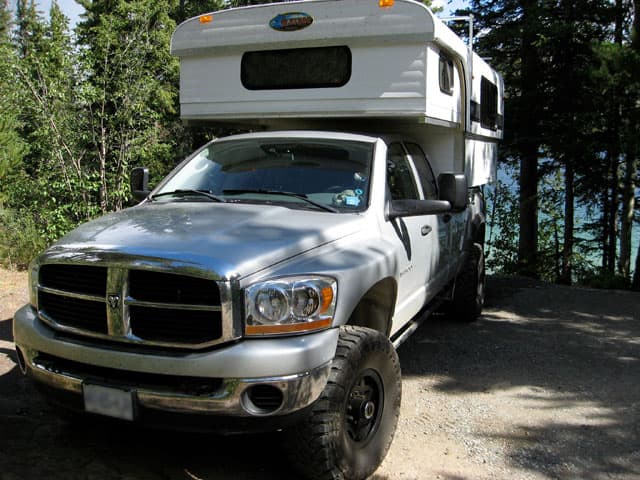 Above: Aaron's 2006 Dodge 3500 and Alaskan 8.5 truck camper at Horn Lake
TCM: Looking at your rig, the truck really grabbed our attention.  It looks like you really tricked it out.  Tell us about it.
Aaron: When I go truck camping, I like to go a few hundred kilometers off the pavement.  When I built out my truck, I wanted to make my suspension as comfortable as I could while still carrying everything.  I think I found best way to do it.  The modifications also help when I'm going through rough roads and cross ditches.
First, I got the Carli Suspension three inch Pro Baja kit.  The truck was built in a pre-runner style for Baja races.  I have Deaver springs in the front and back, three inch King shocks with an external reservoir, a shock tower brace in front, and eleven inch travel airbags from Carli Suspension.  Carli Suspension specialize in Dodge Baja suspension.
I had customized rock rail/step bars built that also connect my front Torklift Fastguns.  I have front fiberglass fenders, a Banks Power Pack performance system, thirty-seven inch Toyo Open Country Mud/Terrain tires, Walker Evans Beadlock race wheels, and off-road lights with a custom light bar on the front.
You'll also see the hitch mount tire carrier on the back of my rig.  It swings out of the way, so I can easily access the camper and it still allows me to tow trailers.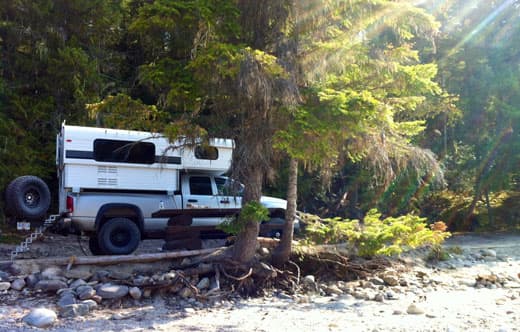 Above: Adams Lake, British Columbia
TCM: That's quite the off-road ready rig.  Is the Alaskan your first truck camper?
Aaron: The Alaskan is the first truck camper I've owned.  I discovered truck camping in 2002.  I was biding time until I got the money to buy the right truck.  I knew what I wanted for about eight years before I bought the Alaskan.  I was saving up for it.  Leading up to buying my Alaskan, I was was tenting.  Once I got my Dodge, I slept in the truck box.
Camping has been a lifelong passion for me and my wife.  Her family used to rent truck campers every summer as kid.  The Alaskan was important because we like to get remote.  We go as far as a tank of diesel can get us off-road.  I didn't want a camper that would hamper our ability to go off-road.  That was a big selling point.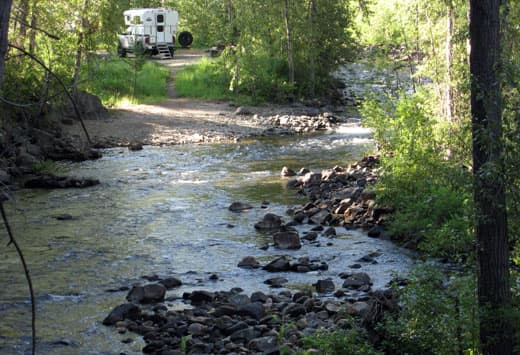 Above: Yahk, British Columbia
TCM: Was it the hard-sided pop-up aspect of the Alaskan design that made the difference?
Aaron: Yes, it was.  We do a lot of camping in cold weather and snow.  And we do a lot of camping in grizzly territory.  It's nice to have a little added protection with the hard side even though a determined grizzly would still easily get in.  With our hard-sided Alaskan, we can also get away from that damp, tent feeling that I feel when I'm in a soft-side pop-up camper.