Find out how Aaron Barber found himself deep in the Kootenays seriously considering shooting the tires out of an Alaskan Camper rig driving in the distance.  Stop, thief! … … … … … … … … …

The first time we ever saw an Alaskan truck camper was the Truck Camper Show in Ogallala, Nebraska in 2007.  Bryan Wheat, President of Alaskan Campers, had driven over 1,400 miles with one Alaskan in the bed of his truck, and one in tow.  We had never seen an Alaskan on the East Coast, and still haven't to this day.
That's not to say that Alaskan Campers are common sights on the West Coast either, but we've seen quite a few during our travels through California, Oregon, Washington, and British Columbia.  They're still rare birds and cause much excitement when one is spotted, "Look, there's an Alaskan!"
Aaron Barber likes the fact that not everyone has an Alaskan Camper.  In fact, he was shocked when he saw an Alaskan Camper driving down the road during a hunting trip a few years ago.  He was on foot and had wandered away from his rig to explore.  Had his Alaskan truck camper rig just been stolen?  He considered shooting out the tires to stop the thief.  There were only moments to decide…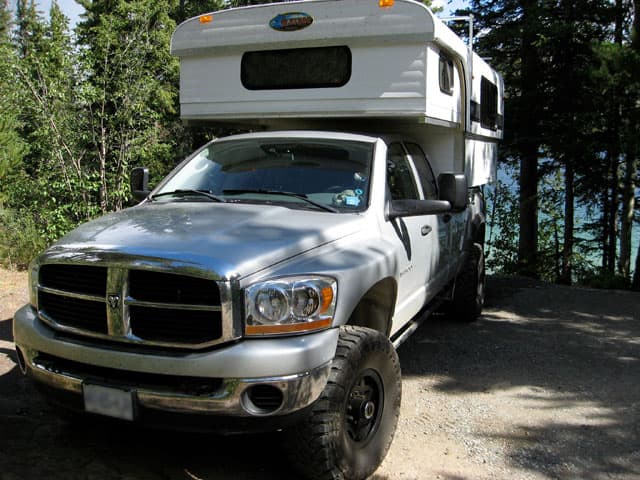 Above: Aaron's 2006 Dodge 3500 and Alaskan 8.5 truck camper at Horn Lake
TCM: Looking at your rig, the truck really grabbed our attention.  It looks like you really tricked it out.  Tell us about it.
Aaron: When I go truck camping, I like to go a few hundred kilometers off the pavement.  When I built out my truck, I wanted to make my suspension as comfortable as I could while still carrying everything.  I think I found best way to do it.  The modifications also help when I'm going through rough roads and cross ditches.
First, I got the Carli Suspension three inch Pro Baja kit.  The truck was built in a pre-runner style for Baja races.  I have Deaver springs in the front and back, three inch King shocks with an external reservoir, a shock tower brace in front, and eleven inch travel airbags from Carli Suspension.  Carli Suspension specialize in Dodge Baja suspension.
I had customized rock rail/step bars built that also connect my front Torklift Fastguns.  I have front fiberglass fenders, a Banks Power Pack performance system, thirty-seven inch Toyo Open Country Mud/Terrain tires, Walker Evans Beadlock race wheels, and off-road lights with a custom light bar on the front.
You'll also see the hitch mount tire carrier on the back of my rig.  It swings out of the way, so I can easily access the camper and it still allows me to tow trailers.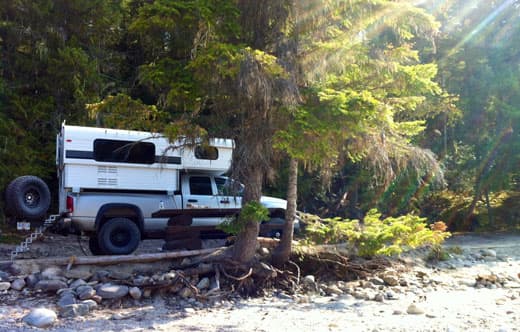 Above: Adams Lake, British Columbia
TCM: That's quite the off-road ready rig.  Is the Alaskan your first truck camper?
Aaron: The Alaskan is the first truck camper I've owned.  I discovered truck camping in 2002.  I was biding time until I got the money to buy the right truck.  I knew what I wanted for about eight years before I bought the Alaskan.  I was saving up for it.  Leading up to buying my Alaskan, I was was tenting.  Once I got my Dodge, I slept in the truck box.
Camping has been a lifelong passion for me and my wife.  Her family used to rent truck campers every summer as kid.  The Alaskan was important because we like to get remote.  We go as far as a tank of diesel can get us off-road.  I didn't want a camper that would hamper our ability to go off-road.  That was a big selling point.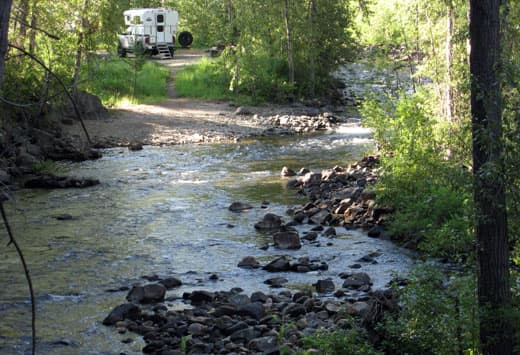 Above: Yahk, British Columbia
TCM: Was it the hard-sided pop-up aspect of the Alaskan design that made the difference?
Aaron: Yes, it was.  We do a lot of camping in cold weather and snow.  And we do a lot of camping in grizzly territory.  It's nice to have a little added protection with the hard side even though a determined grizzly would still easily get in.  With our hard-sided Alaskan, we can also get away from that damp, tent feeling that I feel when I'm in a soft-side pop-up camper.
TCM: Alaskan is factory direct.  Tell us about working with the company.
Aaron: We live almost exactly three hours from Alaskan.  When I was ready to buy, we went to look at their facility.  We talked to Bryan Wheat, President of Alaskan, and he answered all the questions we had.
On that first visit to Alaskan, we designed and ordered our camper.  We confirmed that design and order a week later, and carefully went through the option list.  Not that decorating the camper interior is that much of a priority, but we did get to choose our own flooring and fabric.  The personal touch was nice.
TCM: What options did you chose?
Aaron: We got a different table shape, a bigger sink, our own kitchen faucet, an upgraded electric only marine style refrigerator, and our cabinetry is custom.  Having the option to customize is not an option with many of the manufacturers without paying a lot more money.  It was no problem with Alaskan.
Above: Elco, British Columbia and Anahim Lake, British Columbia
TCM: You regularly meet up with another Alaskan owner.  Tell us how you met.
Aaron: I go on an annual hunting trip near Elko, British Columbia in the Kootenays.  On my 2010 trip, I walked about 1,000 feet up a mountain side near camp and could see the road down below.  From that vantage point, I saw a truck with an Alaskan camper driving past.  My immediate reaction was that someone was stealing my truck and there was nothing I could do.  I briefly considered shooting out a tire.
As it went further down the road, I saw that it was a smaller Alaskan with a dark grey Toyota Tundra.  I thought, "That's weird" and didn't think too much past that.
Later that night I was setting up my rig and there he was.  So I started talking to Jim, the owner of the other Alaskan camper.
Jim is retired and has an eight foot Alaskan camper.  He's been going to the Elko area for twenty-five years or so, close to the same time each year.  He also gave me a couple of pointers about my Alaskan.  That was it the first year.
Last year, Jim showed up with another friend who also owns an Alaskan.  It turned out that Jim was on his second Alaskan and had sold his older one to his friend.  They both showed up last year at the end of October.  So the three of us were there in that remote location with our Alaskans.  It was funny to see them all together with no one else around.
I was fully expecting to see them again this year but, unfortunately, they didn't show up, at least not while we were there.  Hopefully I'll get his contact information in the future.  I know he spends a lot of time in his camper, like three or four months a year.  It may be harder to keep in contact than I anticipated.
Above: Bella Coola, British Columbia and Kootenay Lake, British Columbia
TCM: What draws you to go truck camping in British Columbia?
Aaron: There are lots of remote, rugged areas in British Columbia and not much of it is restricted.  For the most part it is all open.  The southeast Kootenay region is definitely a favorite.  Peace country in northern British Columbia is another with a combination of different terrains; prairies, foothills, mountains, and rivers.  There is everything there except the ocean.
We also like the coastal rainforest area around Bella Coola on the mainland coast.  It is roughly even in latitude with the top of Vancouver Island, and it's a relatively small town.  There is definitely a lot of native history in that area.  It's not terribly populated, except for when there are big salmon runs in fall.  I also love the Canadian national parks, but they fill up in the summer.  We enjoy less popular spots that are more remote.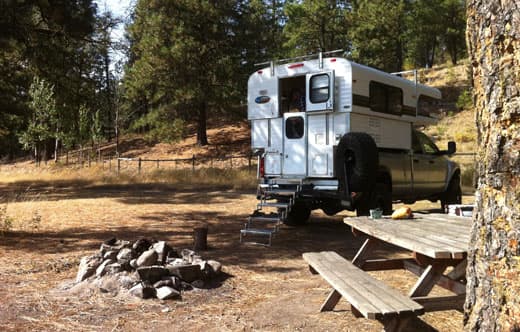 Above: Okanagan Valley, British Columbia
TCM: Where else do you like to go truck camping?
Aaron: My wife and I still work.  We get out for three weeks to a month each year.  We do a couple of trips that are a week and a half or so long where we pick an area we want to go to.  We don't make hard plans.  We'll say, "Let's go to the coast or up north".  Then we play it by ear from there.  We also go on a few trips that are a couple days in between our work cycles.
Our jobs give us a few days off quite frequently.  That way we don't get tied down to a traditional weekend.  It's is nice to be out during the week when everyone else is at work.  On top of that, I do the one longer hunting trip and then two or three shorter trips that are three or four days of hunting.  The camper serves double duties.  It's a hunting rig and a camper rig for traveling with my wife.
We occasionally go to national parks, but mostly stick to forest service roads and old mining roads.  We make our own adventure.  I'll look at satellite photos and find places.  We'll go on roads that are washed out or not maintained, but even some of those we can't get through because they'll narrow into quad trails.
Above: Some of Aaron's favorite truck camping spots around British Columbia
A lot of the adventure is to find places.  We try to go to places most people don't, which is ideal.  We'll go off road and not see another soul in sight for days.  Our GPS and satellite photos help us find our way anywhere we go.
One hundred percent of our truck camper traveling is discovering new places.  We don't seem to set up for more than two nights in the same spot.  We want to get going, find something new, and see more wildlife.  Campers are perfect for being nomadic.  If I wanted to sit around, I'd probably have a trailer.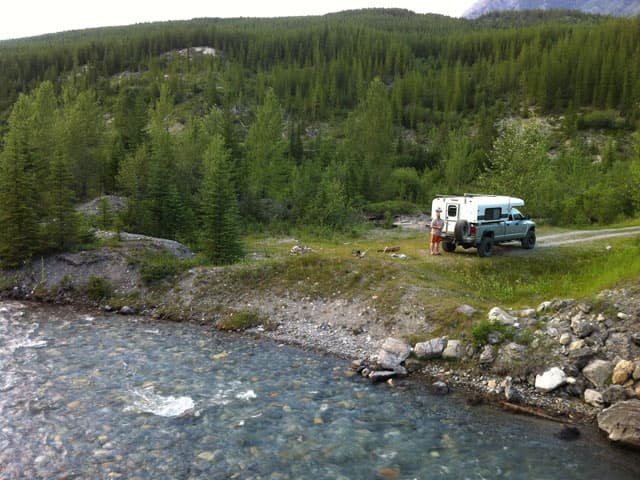 Above: Top of the World Provincial Park, British Columbia
TCM: Have there been any unexpected challenges as you've been truck camping that far off the beaten track?
Aaron: I am diligent with the upkeep and maintenance on my truck because of the remote driving I do.  Most of the time we are one hundred kilometers away from cell service, so I need to be fairly good with truck maintenance.  I haven't had any break downs, knock on wood.
The worst roads we've been on are through areas that were washed out and, in a couple of instances, the bridge was never installed and we've had to backtrack a long way.  A few times I have come close to my fuel reserve running out.  I usually do carry extra fuel, but not always.  Those have been the trips where I've cut it close.
TCM: What are your upcoming plans with the Alaskan?
Aaron: Next year we want to go to the Queen Charlotte Islands.  There are white phase black bears there and it's very wild and beautiful.  That's the only place we've narrowed down for next year.
The Queen Charlotte Islands are a twenty nine hour ferry ride from the tip of Vancouver Island with a couple stops along the way.  We are going to put the camper on the ferry.  There are small communities between the three islands, and you get on ferries to get from island to island.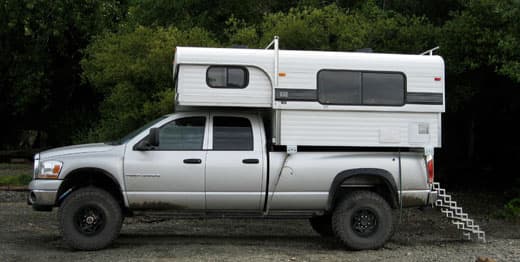 TCM: That sounds amazing.  We may follow you.  Is there anything else that you would like to add to your interview?
Aaron: I'm a guy who likes to have unique things.  I don't like to have what everyone else has.  For me, that's a big part of the attraction of an Alaskan camper.
My Alaskan attracts a lot of attention.  I was on the Alaska highway and met up with people going in a different direction.  They came over to say that they had seen me before.  We don't roam as much of North America as you do, but we have been throughout British Columbia, Alberta, and the Yukon and people always ask about our camper.
I also like quality of craftsmanship, and am very happy with my Alaskan.  I've put a lot of care and attention into my truck to build it for functionally.  I think people can see an idea of who I am by looking at my truck and camper.
We also try to live as green a lifestyle as possible and the fuel savings with an Alaskan helps with that.