US Army Veteran Kent Phyfe and his service dog Iris travel to America's VetDogs events in their CampLite 5.7 to help raise money for fellow military veterans in need of a guide or service dog.

Although most of us are fortunate enough to not need a service dog, I believe we can all relate to the powerful connection, endless positive energy, love, and intuitive understanding a dog can bring into our lives.  In a difficult chapter in my own life, a dog made a very significant difference.
As a US Army veteran, Kent had injuries that precluded him from living a fully independent life.  Then Kent contacted America's VetDogs, a Long Island based 501(c)(3) non-profit organization that provides guide and service dogs as well as custom training at no cost to veterans of all eras.  With the help of America's VetDogs, and an amazing service dog named Iris, Kent has regained his independence, turned his entire outlook around, and found a new mission in life.
Together in their CampLite 5.7 truck camper rig, Kent and Iris now travel to events supporting America's VetDogs and giving back to fellow veterans in need.  Thank you Kent, Iris, and America's VetDogs for your wonderful work.  We have made a donation to America's VetDogs to aid in your important and heart warming mission.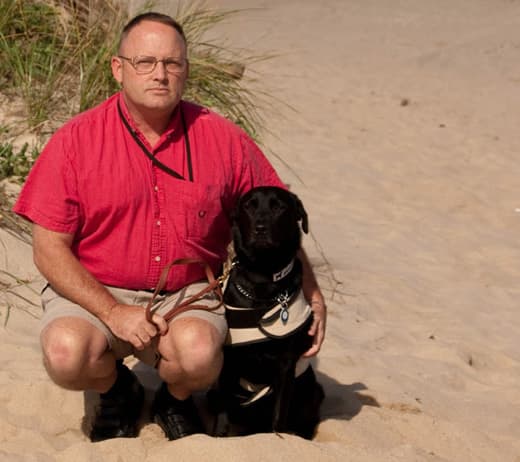 Above: Kent Phyfe and Iris
TCM: How did you get into truck camping?
Kent: When I retired from the Army in 1996, I wanted a truck camper.  I ended up with a fifth wheel because it offered more room for our kids.  When my medical issues got worse, I sold the fifth wheel and bought a Class A motorhome.  That was easier to drive, but required a lot to keep up.  When my youngest turned eighteen, I sold the Class A.  That was two years ago.
After selling the motorhome, I was resolved to get a truck camper again.  At first, I was going to trade in my Toyota Tacoma, but then I saw a CampLite 5.7 posted on Truck Camper Warehouse's website.  We went up to see the camper in New Hampshire and my wife said it looked perfect.  It met our needs, so we bought it.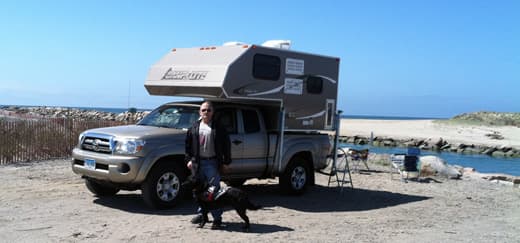 Above: Camping at the beach with Iris in the CampLite 5.7
TCM: What was it about the CampLite 5.7 that appealed to you?
Kent: With my physical issues, I need to be able to lie down.  The CampLite has a sofa and a queen bed where I can stretch out.
The camper doesn't have a lot of bells and whistles which helps keep the weight and cost down.  That was a big plus.  Also, the camper is all aluminum and composite making the camper easier to maintain.  I can take care of this camper myself.  Finally, it gets decent fuel milage with the Tacoma.  Overall, the CampLite 5.7 is a good fit for us.
There's no bathroom in the CampLite 5.7.  We have a portable chemical toilet system which is easy to maintain.  In my opinion, the chemical toilet is cleaner to maintain than a cassette toilet or a black tank.
Most of the time it's just me and my service dog, Iris.  My wife only comes camping when we go to the beach.  When I'm speaking at an event, it's a place for me to sleep with a queen size bed.  It's all that I need.  I've been in New York City and Boston and dry camped in the cities on the street for fundraisers.  We stayed in the camper and people didn't even know we were in there.  This camper has been the dream of dreams for me.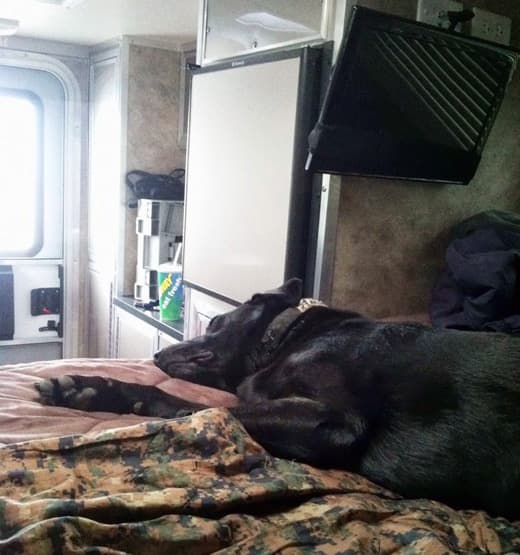 Above: Iris takes a nap in the CampLite 5.7's queen-sized bed
TCM: What was it like to go from a Class A motorhome to a truck camper?