From Australia comes a cautionary tale of what happens when a truck and camper are not properly secured with modern tie-downs and turnbuckles.

We all take for granted that our truck campers regularly face 55 mile per hour winds as we drive down the road at highway speed.  Push deeper onto your fuel pedal, or add a strong headwind, and that wind force can exceed hurricane force levels (74 miles per hour, or more).  At that level, wind can tear the roof off buildings, but truck campers are designed to handle this kind of stress, and handle it well.
Another products we take for granted are modern tie-downs and turnbuckles.  While the wind is howling down the highway at hurricane force, we don't worry that our truck campers will be lifted up and out of our trucks.
But what would happen if we used compromised tie-downs and turnbuckles?  Given just the right conditions, those tie-downs and turnbuckles couldn't just crack in half throwing your camper off the truck, could they?  As you're about to read, the answer is more spectacular, and potentially dangerous than most of us realize.
Northstar Campers put us in contact with Rob Horan, an Australian with a Northstar pop-up truck camper.  His story is a strong demonstration of the strength of Northstar Camper frames, and the critical nature of properly installed modern tie-downs and turnbuckles.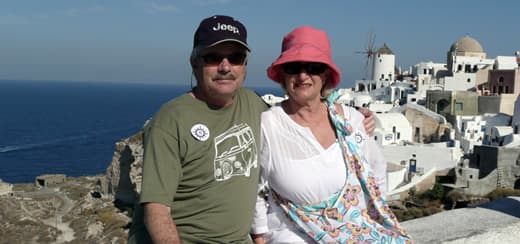 A Northstar Downunder: Up Over and Right Again
by Rob Horan
One weekend in 2009, I was traveling on one of our narrow roads when I made my mind up; a slide-on camper would be a good idea.  I had come upon a vehicle with a camper on the back.  As I was quite close behind him, I noticed I could see through the back window of the camper and out past the driver's windscreen to the road ahead.  That made it easy for me to see what was coming in the other direction and he could see me coming up behind him.
Above: The scene out of the window of Rob's Northstar while camping
After that experience, I started looking for a camper in earnest and found a Northstar slide-on camper in Perth.  Perth is our capital city in Western Australia and is about 700 kilometers from my hometown of Esperance.  For those of you who might remember when the Skylab space station came back to earth in July of 1979, it broke up over Esperance.
At earliest opportunity, I got into my 2005 Holden Rodeo duel cab 3L turbo diesel utility and drove to Perth to do some hard bargaining and purchase the Northstar for $22,000 Australian.  As the camper was second hand, I used the turnbuckles that came with it.  That was my first mistake.
After checking all was okay I drove to a mate's place (retired engineer) down a busy freeway.  I stayed a couple of days with my mate who decided the anchor bolts where the turnbuckles attached were a bit undersized so we replaced them not really checking the turnbuckles, which was my second mistake.
I left early in the morning as I was looking at a slow ten hour drive with very strong head winds.  I could only drive 75 kilometers per hour with my foot flat to the floor.  I continued on for approximately seven hours west into the wind before turning south and traveling across the wind.
I had traveled about thirty kilometers and was going on about 70 kilometers per hour when I heard this loud roaring noise.  When I looked into the rear view mirror, I was shocked to see the camper lifting off in one single motion and flipping over the tailgate area!
Above: The accident scene with Rob's truck and camper
Then the camper dragged on the ground on its back, tore the back two turnbuckles off, and somersaulted down the road at least three times before finally coming to rest in an upright position facing the opposite direction of travel.
In the meantime, I was thrown against the door (despite wearing a seat belt) and struggled to regain control as the vehicle went from one side of the road to the other.  Luckily no one was coming in the opposite direction or behind me as two of the heavy corner jacks where torn off and went flying down the road.
As I sat down wondering what to do next, I came to the conclusion that the camper was a write off as I had no way of getting it back on the vehicle.  My next move was to strip what I could out, which included the refrigerator, gas cylinder, water pump, cushions, radio, and battery charger.  I loaded everything onto my vehicle, which was also damaged at the rear, and continued on my way home.
A close inspection revealed the front two turnbuckles had snapped allowing the front of the camper to lift up.  When you look at the photos, you can see why as the previous owner had shortened the tie-downs, but had not welded them back properly.  In the photo you can still see the hacksaw marks with most of the weld around having been ground off (which is why we didn't notice it had been done).
I rang my insurance company who had previously led me to believe the camper was covered because it was attached to the vehicle.  But, because I hadn't told them the year and make of the camper, they would repair my vehicle, but not the camper.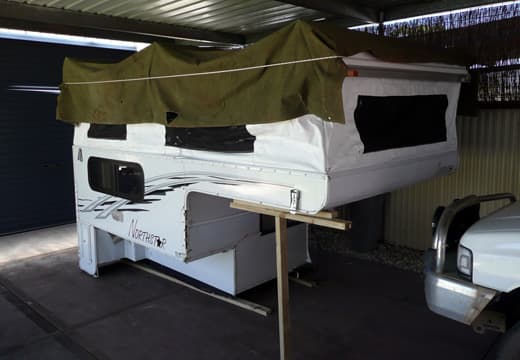 Above: Rob's Northstar getting repaired by his oldest son
My oldest son and his mate came to my rescue with his mate's car trailer.  They set off and dragged the camper on the trailer with a winch and returned the next day.   As seen by the photos, the camper was damaged but the frame was good.
While it was still on the trailer, my other son, who lived near Kalgoorlie, offered to repair the camper for me.  So we towed the camper to his place where it stayed for about four months while he repaired it.
Above: His Northstar after the repairs and new tie-downs and turnbuckles
All added up, it cost me another $2,000 in parts plus a lot of bribery as my son did an excellent job.  It was amazing how well it came back together.  The hot water system worked well, the jacks were repaired, and new turnbuckles were purchased.  I have used the camper three times since the repairs and it all works well.