After everyone ate their fill, we each voted for one chili.  These votes were quickly evaluated and PJ announced the winners on stage.  Pam Beers won first place, Jim Woods won second place, and John Wells won third place.  Everyone laughed when Pam Beers told the crowd that (a) her first place winning chili recipe included canned ingredients and (b) it was her first time making chili.
During the festivities, there were serious conversations about how to improve the Chili Cook-Off for next year.  It was suggested that there should be at least four or five chili categories set up including hot chili, sweet chili, no-bean chili, vegetarian, and most unusual chili.  Once a winner is selected from those categories, the rally could have a final round of tastings to choose a grand prize winner from those four or five finalists.  I second this idea.
The next morning I immediately checked Harley for signs of life.  He was still breathing, but seemed quite agast.  Sorry Harley.  You'll get over it.
Minute To Win It
I know there's a popular perception within our community that truck campers attract only the most proper and sophisticated individuals.  Those who hold strong to these beliefs may want to turn away now.  This story is about to get completely ridiculous, slightly obscene, and a little gross.  You've been warned.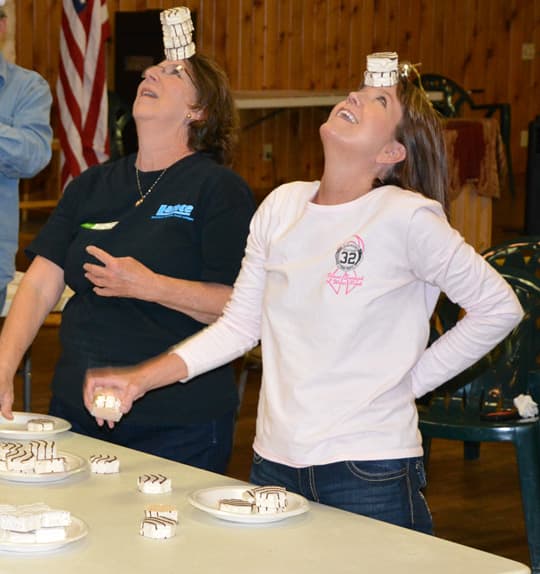 Above: Marie and Ronda balancing stacked cakes on their foreheads
As someone who tries to avoid reality television, I was not completely aware of what exactly Minute To Win It was all about, outside of what I had seen on television promos.  If this describes you as well, allow me to explain the game as I now understand it.
Above: Contestants completing the Minute To Win It challenges (click to enlarge)
The premise is to challenge competing contestants to accomplish a simple but somewhat absurd task during a one-minute trial.  For example, shake ping-pong balls out of a tissue box strapped to your butt.  I can't believe I just wrote that in Truck Camper Magazine.
Want more examples?  Of course you do.
Above: Contestants completing the Minute To Win It challenges (click to enlarge)
The other contests include throwing playing cards at half-watermelons until they stick, whacking plates with marshmallows and trying catch the flying mallos in red cups, balancing stacked cakes on your forehead, and the biggest attraction; dipping one's nose in a bucket full of vaseline, using said vaseline-dipped nose to pick up cotton balls, and moving the cotton balls onto a plate.  I can't make this stuff up folks, it happened.
SATURDAY
Saturday morning brought another well attended tech seminar and more truck camper tours.  Some rally attendees went on a Texas hill country tour bus.  Quite a few attended the wine tasting with Pam Beers.  Others meandered around the campground and enjoyed the best part of a truck camper rally; meeting the other truck camper owners, talking, laughing, sharing favorite routes and destinations, having an adult beverage or two, and just generally having a great time.  Cheers!
Barbeque with the Lawson Boys
Above: The Lawson Boys and the BBQ dinner (click to enlarge)
If the fellas from ZZ Top retired and started a dynamite barbecue catering company, I imagine they would be something like the Lawson Boys.  I honestly have no idea where these guys are from, but they have their Texas barbecue down, and it was delicious.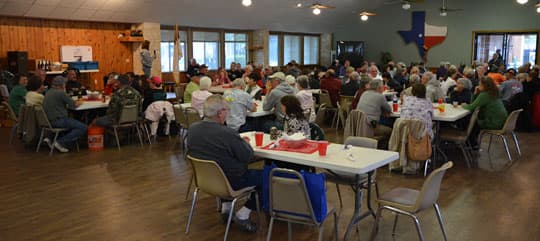 Above: After dinner prizes were given out