Nearby, everyone was guessing the weight of the new aluminum Torklift Talon tie-down system.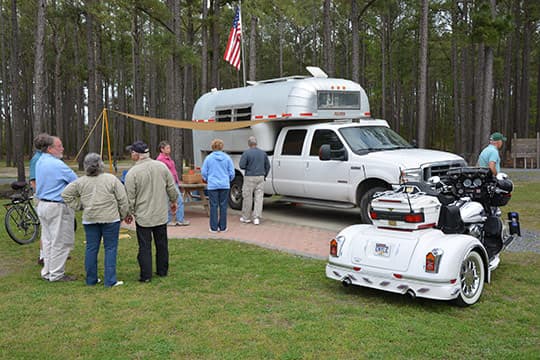 Jane Adams and D. Gorton's 1967 Avion was a feature attraction all rally long.  This scene was a repeat from the Texas Truck Camper Rally where D and Jane's Avion also attracted a lot of attention.  If D and Jane wanted a low profile camper, they sure made the wrong choice.  Their Avion is truly beautiful, inside and out.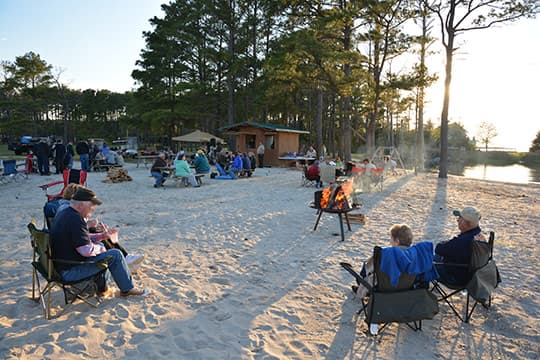 That evening the rally partied on the beach with hot dogs, s'mores, and music.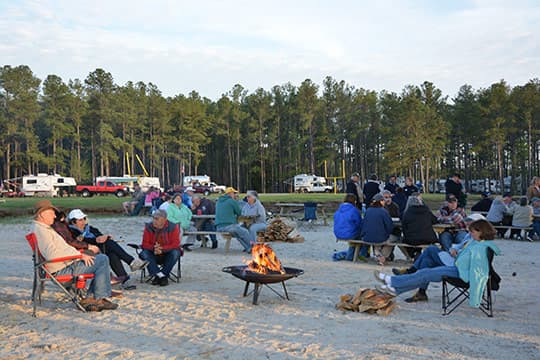 The temperature was a bit on the brisk side as the sun went down, but that's what the campfires were for.
The conversations about anything and everything went long into the night.  Moments like this are why we hope everyone gets the opportunity to come to a truck camper rally.
Angela and Gary Whistler spent the next morning measuring truck campers for his "Truck Camper Driving Safety 102: For Good Measure" article.  Of course I didn't realize that meant Angela would be galavanting around on Gary's motorcycle or I would have put the kibosh on things right then and there.  You think you know a girl…
That afternoon I walked around and took some photographs of truck camper rigs.  It's always fun to look at the different truck and camper models, rig combinations, and various towed and attached toys and modifications.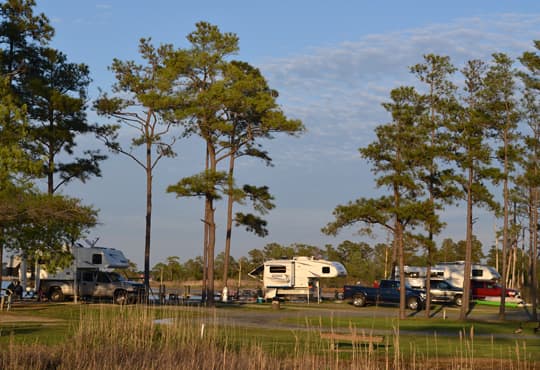 You can see how Tall Pines Harbor Campground got its name.  Here are some campers down by the water.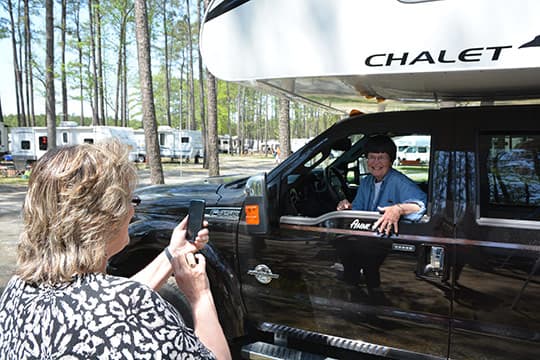 Somewhere along the way I found this scene.  Anne Brown was very excited about the new monogram on her Ford F-450, but she wanted to hide her husband's name for reasons we never quite grasped.  I think his name is Bob, or Fred, or maybe Elmer.  I'm not sure.
After the pie-eating contest at the 2013 Mid-Atlantic Truck Camper Rally, and the "Minute to Win It" insanity at the Texas Truck Camper Rally, we are now prepared for anything at these once civil events.  Thankfully, the obstacle course at the 2014 Mid-Atlantic Truck Camper Rally was more ridiculous and funny and less obscene than the aforementioned activities.  Thank goodness for that.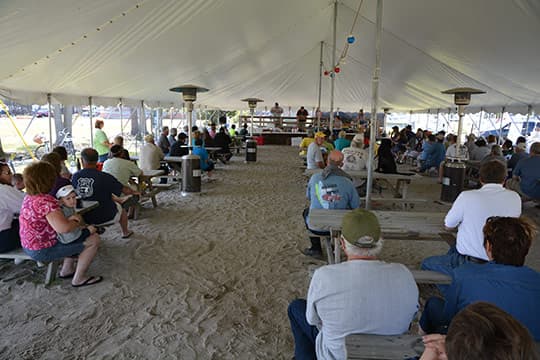 On Saturday night, Ron and Michelle assembled the rally under the big tent to raffle and gave away another amazing pile of prizes.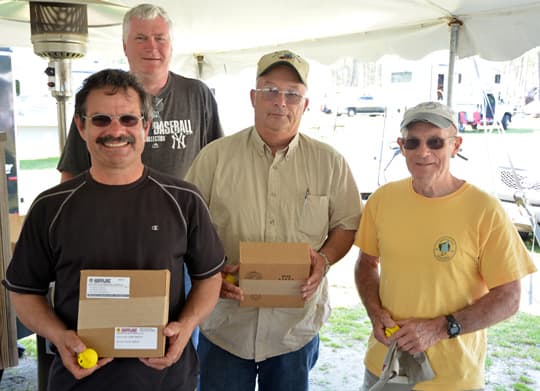 Above: Happijac Company gave wireless remote controls to a few lucky attendees
There were MaxxAir II vents, Happijac turnbuckles, Linx Levelers, Adco truck camper covers, and a seemingly endless supply of camping gear products, mugs, hats, and more.  It's no wonder that we're often surprised when we weigh our truck camper rigs.