After over a month on the road, we drove north from the Outer Banks to attend the ninth-annual Mid-Atlantic Truck Camper Rally from Thursday, May 1st through Sunday, May 4th.

This year we actually arrived that Tuesday and enjoyed the brand spanking new shower house and laundry facilities at Tall Pines Harbor Campground.  This is the facility we've been waiting to see for at least three or four years, and it's been worth the wait.  The new building is easily the nicest shower house and laundry building we've ever seen; with the possible exception of Disney's Fort Wilderness.  Nice work Tall Pines!
On Wednesday night, Angela and I took part in a serious BINGO tournament compete with tear-away cards and BINGO markers.  BINGO is the perfect game for a truck camper rally as (a) everyone knows how to play, (b) it's great for folks of all ages, and (c) it's social and fun.  I even won a camping chair.
The next morning we welcomed truck camper after truck camper, seeing old friends, and meeting new ones.  Quite a few MATCR regulars were unable to attend due to the late Easter and other schedule conflicts.  They were certainly missed, but we were happy to meet many new attendees, most of whom discovered the rally through Truck Camper Magazine.
Thursday night the rally was buzzing at the spaghetti dinner after which there was a community sugar high from the potluck dessert meet and greet.  As you can tell, we spent our time being social and eating rather than taking pictures.  Hey, it's our rally too, right?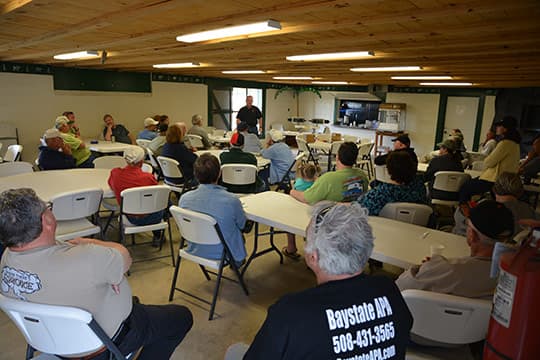 First thing Friday morning, we met Gary Scothern from Happijac Company.  Gary was there to present Happijac Products and answer questions.  We couldn't have asked for a better representative as Gary has been with the company since it started in a garage with its founder Marty Rasmussen.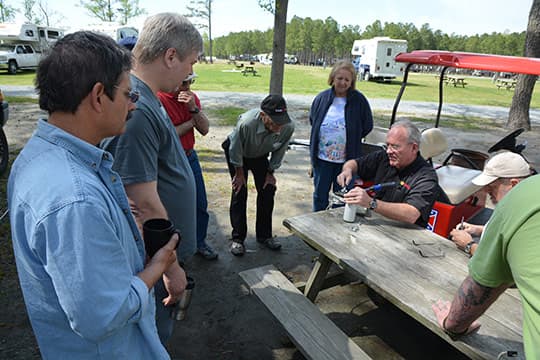 To say Gary knew everything we could throw at him would be an understatement.  He even took apart a few jack gear assemblies from truck campers at the rally and showed us what needed maintenance, and how to address common problems.  Not every company representative will take apart and reassemble their own products in-the-field, with an audience.  Gary made it look easy.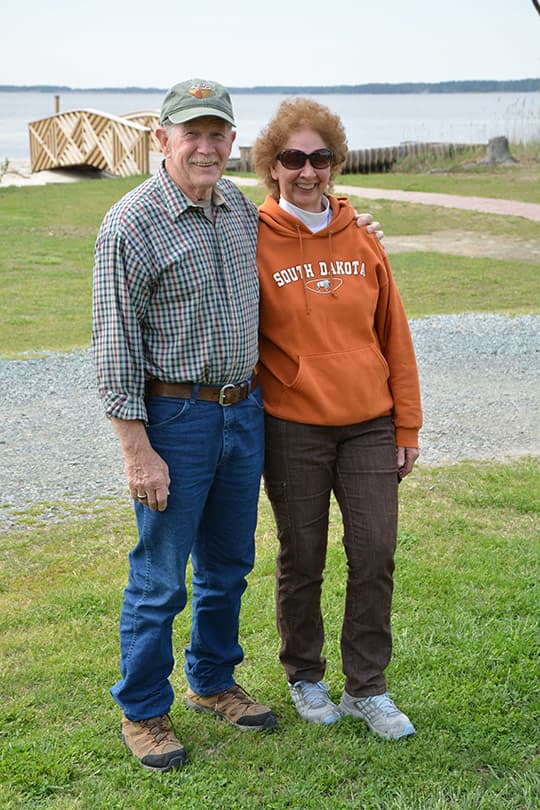 Ed and Connie Spertzel celebrated their 50th wedding anniversary at the rally.  Naturally, Ron took the opportunity to pull them aside before the group shot and tell everyone.  Everyone cheered, and then this happened: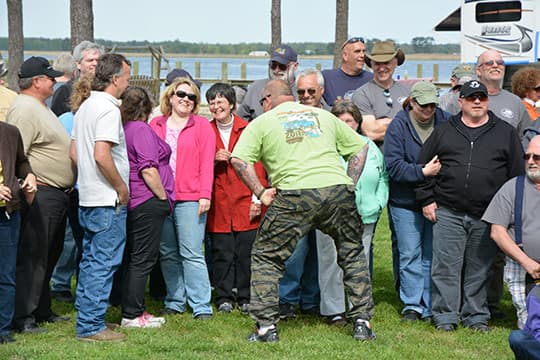 As the saying goes, there's one knucklehead in every bunch.  For reasons that still escape me, Lee decided to spontaneously show me his better side just before the group shot.  Hopefully now he knows not to mess with the media, especially when they're holding a camera.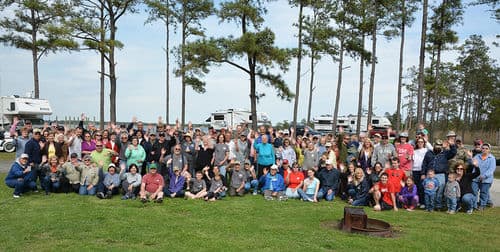 Once again it was my privilege to take the group shot at the Mid-Atlantic Truck Camper Rally.  Click to enlarge the above group shot.
Angela brought our cat, Harley, to the group shot and he was a popular attraction.  Honestly I think we could pass him around the rally and he wouldn't mind.  That is until Gizmo put his nose right into his face (right photo).  If this picture had been video, you would hear Harley's ferocious, "back-up buddy" growl.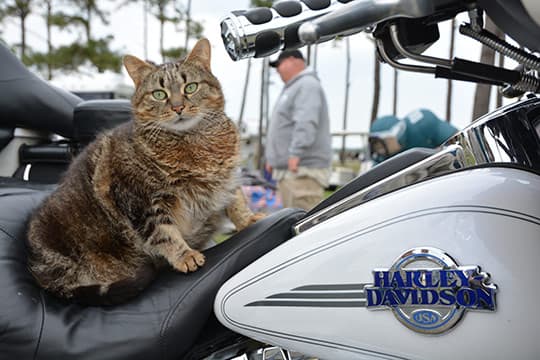 The dog encounter must have really upset Harley as he immediately got on Gary Whistler's motorcycle and sped off.  Take that Toonces!  My cat drives a motorcycle.