Our report from the most cannon firing, rocket exploding, tie dying, pie eating, band playing, and party downing event ever in the history of truck camper rallies.

The annual Mid-Atlantic Truck Camper Rally has become one of my favorite moments of the year, like Thanksgiving.  In fact, like Thanksgiving, the Mid-Atlantic Truck Camper Rally is full of turkeys.  Now before anyone gets their feathers ruffled, these turkeys happen to be some of our best truck camping friends on Earth.  If they're turkeys, we're fowl too.
We arrived just in time to watch two vans full of said turkeys arriving back from a trip to nearby Berlin for an all-out seafood feast.  The turkeys later told us they ate so much fish, crabs, and other fried, broiled, and blackened sea creatures that they were stuffed to the gills.  Stuffed turkeys?  That's just funny.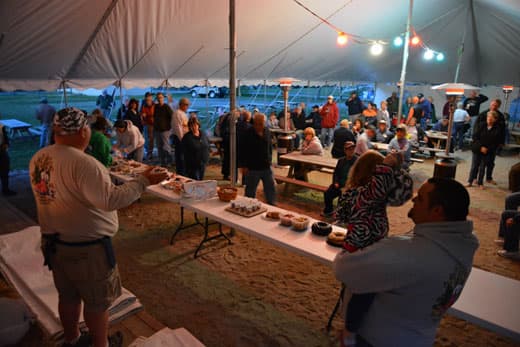 I admit it.  I took some cookies at the dessert social before Ron gave permission to get in line.  Others did it too, but I won't tell.  Okay, I saw John Ross take a cookie too.  In fact, he told me no one would notice.  He made me do it.
If anyone was on a no-carb diet, the Meet and Greet Pot Luck Dessert Social on Thursday night was the last place on the planet you wanted to be.  There were two huge watermelon halves full of delicious fruit, but almost everything else was sugar, flour, and spice.  I had second helpings, even after John made me take the cookies.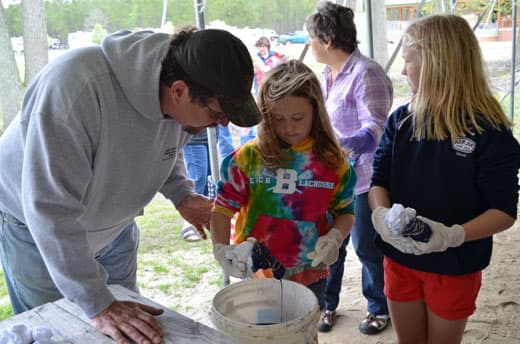 The tie-dying had a few folks openly reminiscing about the late 60's and early 70's.  Somehow the T-shirts were suddenly, "Far out" and, "Groovy, man".  The shirts were pretty groovy, and fairly far out.  Yeah baby!
As I have about as much coordination as a drunken parrot, I skipped the dance lessons.  Just watching other people dance can make me fall over.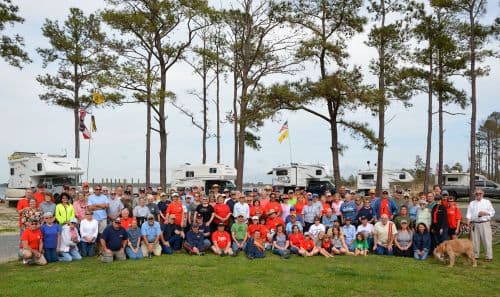 Above: Click to super-size the group photo.
For the past six years, I have had the duty and privilege of taking the group picture at the Mid-Atlantic Truck Camper Rally.  That means the usual herding of cats, and a lot of "can everyone please come in a bit on this side", and "will someone tell Don Kingfield to pay attention?"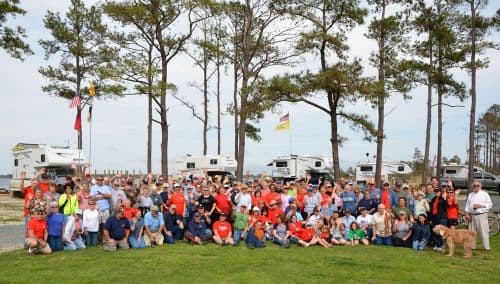 Above: Click to super-size the, "everyone wave" group photo.
Then a quick count down, two pictures, and my favorite, "Everyone wave".  It's amazing that I can get so many people to wave, just by asking.  Oh, the power.
That evening, DJ Steve spun the proverbial wax as the sun went down.  Again I didn't go as I'm (a) no fun, and (b) a bit of a curmudgeon.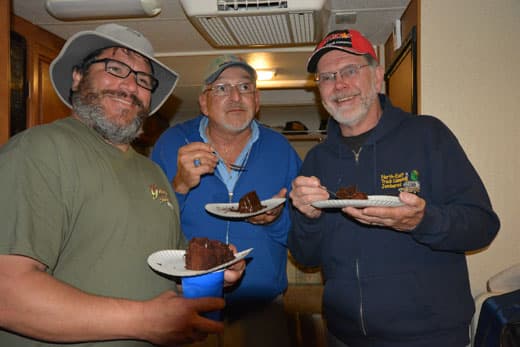 I'm not entirely sure what the reason was, but we discovered Mike Olesnevich, Don Kingfield, and Joe MacDonald eating chocolate cake around 9pm Friday night.  This is the kind of random, obscene, and utterly delicious gluttony that has become commonplace at truck camper rallies.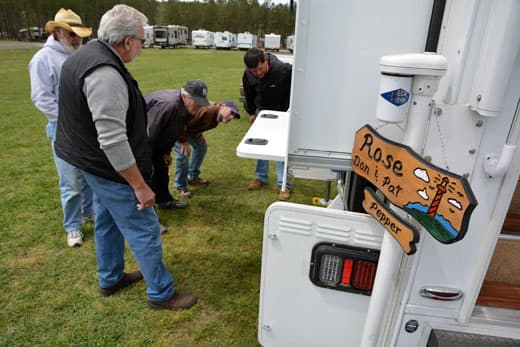 The main events on Saturday morning were the swap meet and the 2013 Chalet TS116 Prototype rally review.  The swap meet was full of folks buying, selling, and trading everything from turnbuckles to belt buckles, and a few hand made knives and creative food items in between.
The rally review was very exciting as we welcomed Don and Pat Rose, the Owners of Chalet RV, and explored their 2013 Chalet TS116 prototype.  You will see the full rally review here and my take on this forward thinking camper in TCM soon.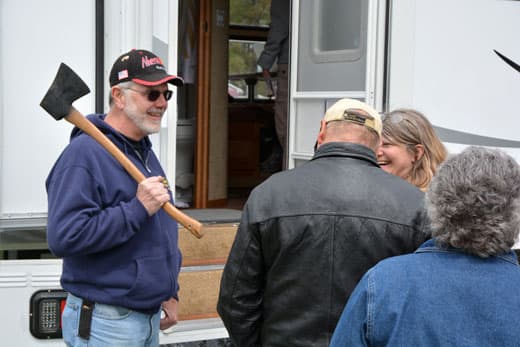 During the rally review Joe MacDonald temporarily relieved me of my gatekeeper duties just in time to take possession of an axe one of the rally goers brought to the review.  And we thought we were just kidding when we warned Don and Pat that some folks may have an axe to grind.  Yikes!
I wish I could tell you about the patriotic site decorations, judging, and parade, but we were at the Chalet rally review during all of those events.  I know, no fun.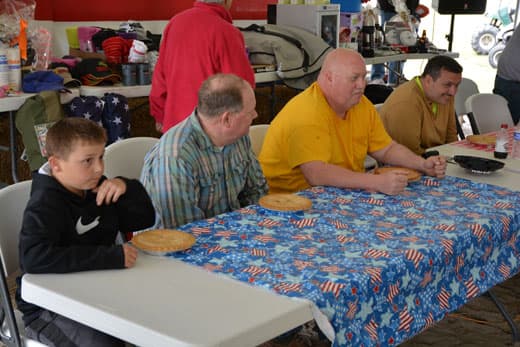 The pie eating contest was, by far, the most hysterical and disgusting thing I've ever seen at a truck camper rally.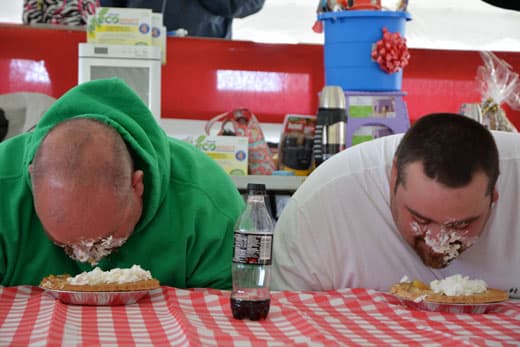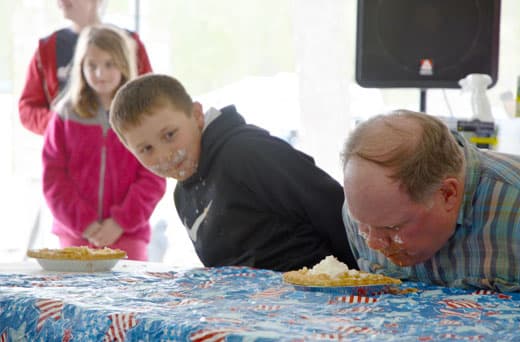 Honestly, I'm at a total and complete loss for words to describe what happened beyond that.  I'll let the pictures speak for themselves.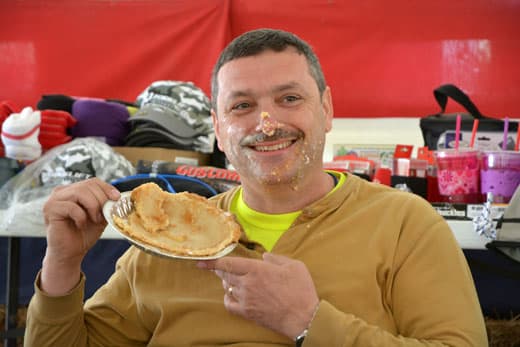 Somehow Bruce Scott, aka SPOTT, managed to out eat the considerable competition.  When I immediately interviewed him about his incredible achievement, Bruce said, between burps, "Mom always told me I ate too fast."  For his gastronomical abuse and glory, Bruce won a PowerArmor DH battery box from Torklift International.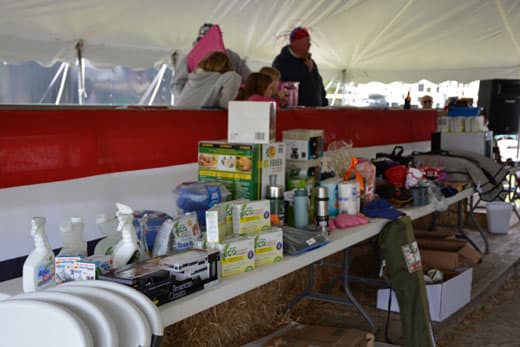 As we all attempted to digest that experience, Ron fired up the raffle prize giveaway frenzy.  Tickets were called and prizes awarded for over an hour.  You wouldn't believe how excited people get about winning some Thetford RV toilet chemicals.  Other much more enticing prizes were donated from Happijac, Atwood, and Fantastic Vent.
As the sun was setting Saturday evening, the band Midnight Country Express stuck a chord with the rally.  The party may have gone all night until – BOOM!  – John Wells fired his Winchester signal cannon by the waterside three times, then two times, then just once.  It would soon be time for the fireworks.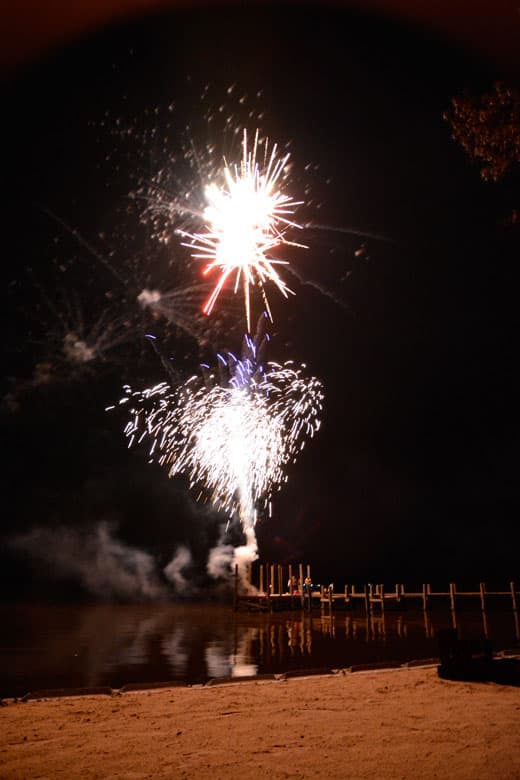 When I saw fireworks on the docket for Saturday night, I had visions of a few bottle rockets, a string of firecrackers, a couple of roman candles, a sparkler or two, and maybe some of those pop snappers thrown at our feet for effect.  You know, a bang-bang, whoop-de-doo, and try not to blow off a fingernail kind of show.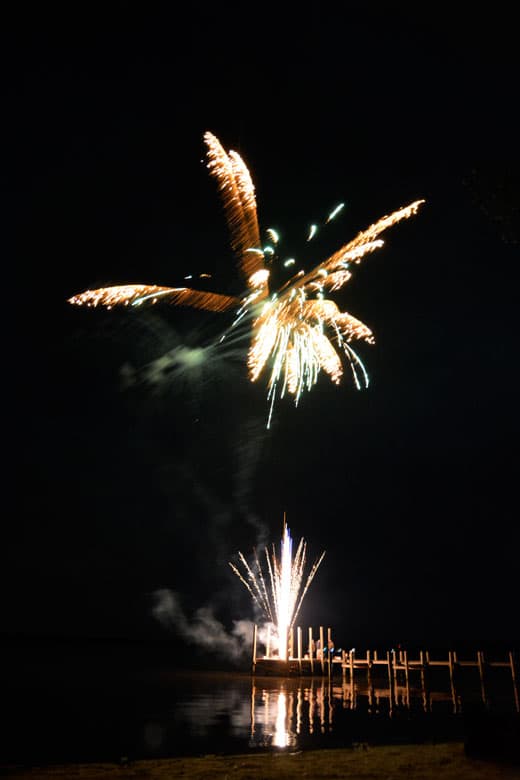 Boy was I wrong.  I don't know who Ron called, but these guys showed up ready to push their luck to the end of the pier, literally.   When no one was looking, they took what appeared to be a dozen or two beer case sized boxes stuffed with fireworks to the end of the fifty foot Tall Pines Harbor pier.  One at a time they put a box at the far end of the pier, lit the fuse, and backed up.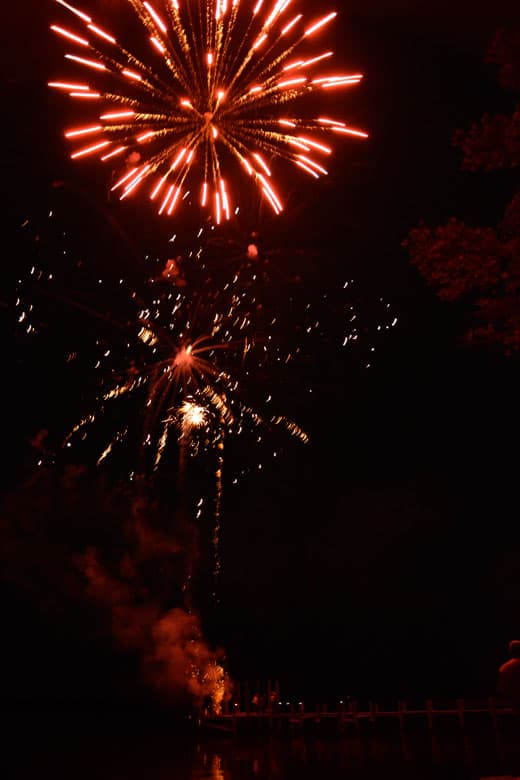 What followed was an impossibly good, honest to goodness, big shooting rockets, real fireworks show.  I'm not kidding, these guys brought the party.  Box after box, the fireworks were some of the best I've ever seen, or at least some of the closest I've ever seen.  Well done Ron.  That was unbelievable.  If they survive until next year, please invite those brave knuckleheads back!
The Sunday morning pancake, scrapple, sausage, eggs, and coffee breakfast (sponsored by Tall Pines Harbor Campground and Xtreme Campers) is always a bitter-sweet moment of spending a few last moments with our truck camping friends.
Angela and I walked around saying good-bye and handing out TCM postcards for all the truck camping folks we see down the road.  We are so appreciative and thankful for how supportive the community has been to us.  You guys rock.
Speaking of thankful, we're also incredibly thankful for all of the hard work and dedication Ron and Michelle Humphress put into the Mid-Atlantic Truck Camper Rally.  There's a reason why this is the largest truck camper rally on the planet, Ron and Michelle always knock it out of the park.  The rally has become an important annual milestone in so many of our lives and we owe that to Ron and Michelle.  Thank you!
Ron sent us the following email with their thanks as well.
"Michelle and I would like to thank everyone who attended.  Every year is made possible by those who travel from far and wide to attend.  We met and exceeded our expectations this year and owe it all to our passionate fellow campers. 
Who knows what we will do next year to top Fireworks but you can be assured that we will try to come up with something.  Until we all meet again we wish you all safe travels this year."
We can't wait Ron and Michelle!  See you next year.