Our report from the most cannon firing, rocket exploding, tie dying, pie eating, band playing, and party downing event ever in the history of truck camper rallies.

The annual Mid-Atlantic Truck Camper Rally has become one of my favorite moments of the year, like Thanksgiving.  In fact, like Thanksgiving, the Mid-Atlantic Truck Camper Rally is full of turkeys.  Now before anyone gets their feathers ruffled, these turkeys happen to be some of our best truck camping friends on Earth.  If they're turkeys, we're fowl too.
We arrived just in time to watch two vans full of said turkeys arriving back from a trip to nearby Berlin for an all-out seafood feast.  The turkeys later told us they ate so much fish, crabs, and other fried, broiled, and blackened sea creatures that they were stuffed to the gills.  Stuffed turkeys?  That's just funny.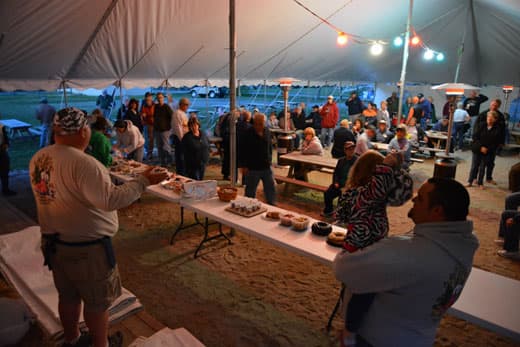 I admit it.  I took some cookies at the dessert social before Ron gave permission to get in line.  Others did it too, but I won't tell.  Okay, I saw John Ross take a cookie too.  In fact, he told me no one would notice.  He made me do it.
If anyone was on a no-carb diet, the Meet and Greet Pot Luck Dessert Social on Thursday night was the last place on the planet you wanted to be.  There were two huge watermelon halves full of delicious fruit, but almost everything else was sugar, flour, and spice.  I had second helpings, even after John made me take the cookies.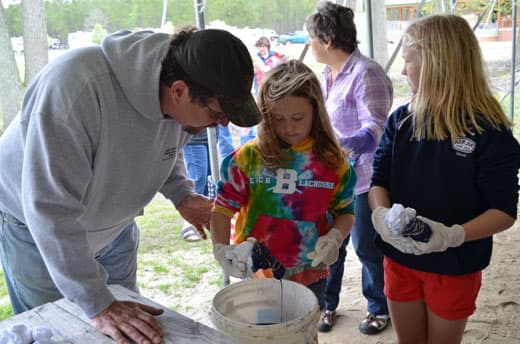 The tie-dying had a few folks openly reminiscing about the late 60's and early 70's.  Somehow the T-shirts were suddenly, "Far out" and, "Groovy, man".  The shirts were pretty groovy, and fairly far out.  Yeah baby!
As I have about as much coordination as a drunken parrot, I skipped the dance lessons.  Just watching other people dance can make me fall over.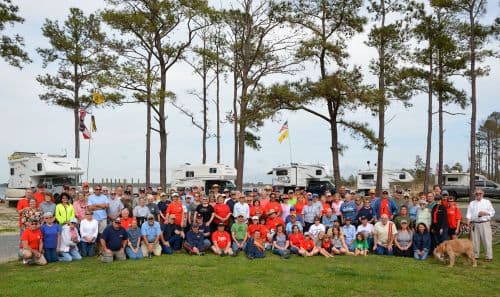 Above: Click to super-size the group photo.
For the past six years, I have had the duty and privilege of taking the group picture at the Mid-Atlantic Truck Camper Rally.  That means the usual herding of cats, and a lot of "can everyone please come in a bit on this side", and "will someone tell Don Kingfield to pay attention?"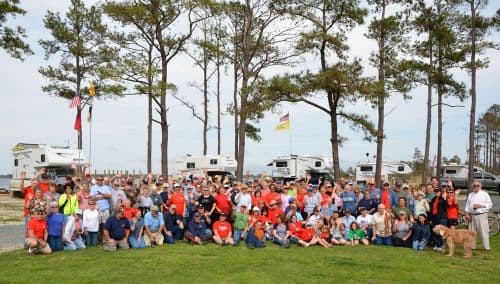 Above: Click to super-size the, "everyone wave" group photo.
Then a quick count down, two pictures, and my favorite, "Everyone wave".  It's amazing that I can get so many people to wave, just by asking.  Oh, the power.
That evening, DJ Steve spun the proverbial wax as the sun went down.  Again I didn't go as I'm (a) no fun, and (b) a bit of a curmudgeon.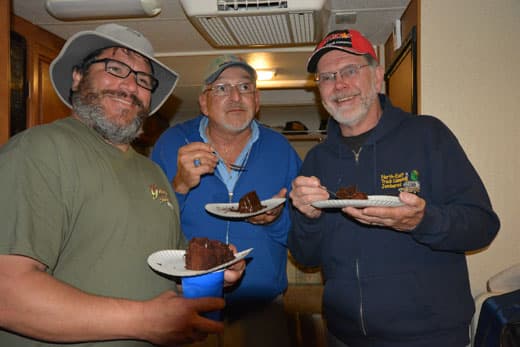 I'm not entirely sure what the reason was, but we discovered Mike Olesnevich, Don Kingfield, and Joe MacDonald eating chocolate cake around 9pm Friday night.  This is the kind of random, obscene, and utterly delicious gluttony that has become commonplace at truck camper rallies.