September: Dave Ruane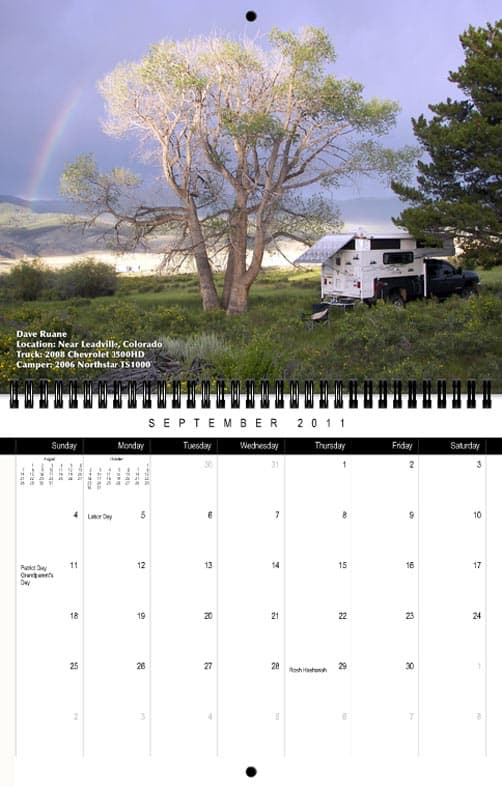 Photo Location: Near Leadville, Colorado
Truck: 2008 Chevrolet Silverado 3500HD Duramax
Camper: 2006 Northstar TS1000
"The annual Colorado Bowhunters Association Jamboree attracts over 200 people every year and it is a great place to camp and shoot targets.  I was able to find a place away from the masses and this late morning shower made for a great picture of my camp.  The yellow lab named Cooper that accompanied me wasn't all that impressed with the rainbow but enjoyed the cooler temperatures on this hot July day.  I made seafood shish-kabobs that evening and enjoyed great conversation." – Dave Ruane
October: Alex Blasingame
Photo Location: White Rim Trail, Canyonlands National Park, Utah. This area is know as Murphy's Hog Back.
Truck: 2007 F250 4×4 extend cab, long bed, 6.0 PSD
Camper: 2003 Lance 815
"This photo was taken on the backside of Murphy's campsite on the White Rim Trail in Canyonlands National Park, Utah.  This was the second expedition on this rugged trail.  Murphy's Hog Back poses a huge challenge for truck campers.
Jeff Reynolds joined us for this adventure.  This was his second time, first time was twenty plus years ago, on the White Rim Trail as well.  Murphy's Hog Backs is a steep trail that has up to a 30% grade and at its summit is a campsite of the same name.  We were headed to campsite named Candlestick, some ten miles from Murphy's Hog Back.  White Rim Trail was closed at Upheaval Wash due to the August 19th storm.  My wife, Julie, enjoys going on adventures like this and with the vast off-road experience that Jeff Reynolds brought, it made for a much more enjoyable trip.  I do my picture posting on Travelingman2, travelingman2.smugmug.com< and post trip reports at RV.net in the Truck Camper Forum." – Alex Blasingame
November: Margaret Hawley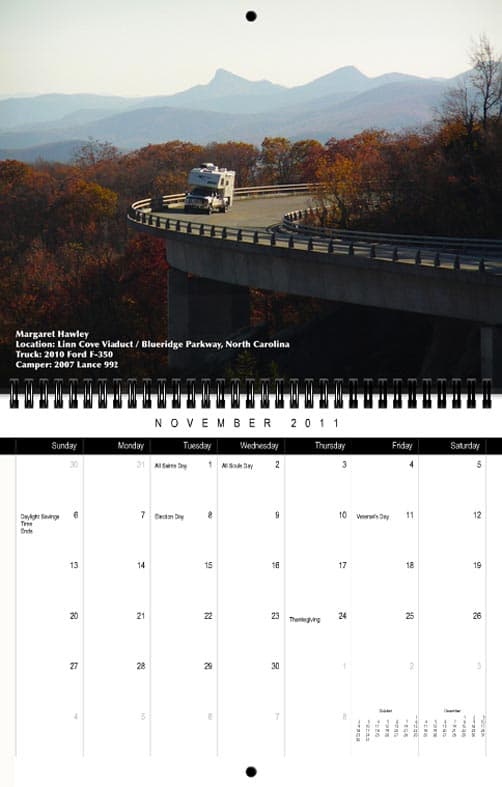 Photo Location: Linn Cove Viaduct / Blueridge Parkway, North Carolina
Truck: 2010 F350 Ford
Camper: 2007 Lance 992
"As the fall leaves were very colorful this year, my husband, our son, Austin, and I headed out to stay with some friends in Asheville, North Carolina.  We headed East on the Blue Ridge Parkway to Mount Mitchell, and then on to the Lynn Cove Viaduct.  We couldn't get over how beautiful all the foliage colors, the mountains, and the viaduct were.  We knew we needed a picture of this with our camper coming around the viaduct.  With our son, Austin, perched high on a rock above, he snapped several pictures; this one obviously being the best.  We were grateful to get the shot with no cars; the parkway was very busy with leaf lookers.  Amazing!  We were reluctant at first about putting this picture in the contest, (Can you believe that?).  I was the one, who pushed for it to be put in.
Thank you so much, to everyone who voted for us.  It was unexpected.  I also want to thank Gordon and Angela for their work and the great job that they do with Truck Camper Magazine." – Margaret Hawley
December: Dave Ruane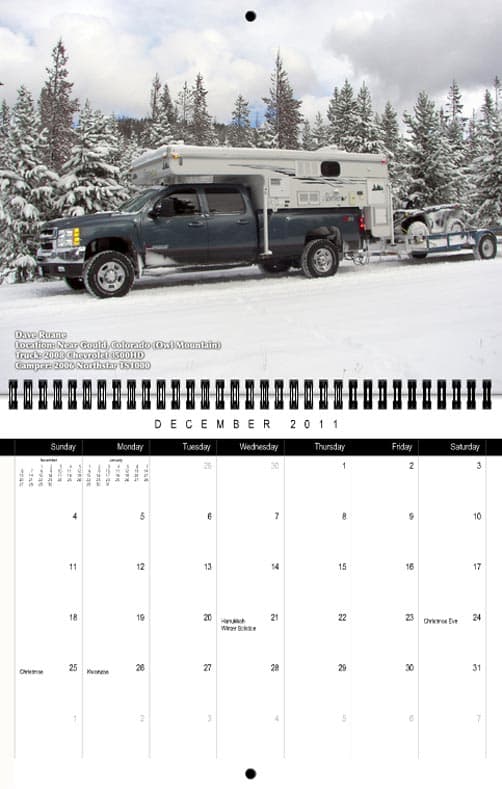 Photo Location: Near Gould, Colorado (Owl Mountain)
Truck: 2008 Chevrolet Silverado 3500HD Duramax
Camper: 2006 Northstar TS1000
"An early October snowstorm caught me by surprise while camping alone up by Owl Mountain in Jackson County, Colorado.  There was no snow in sight on the way up, but eight-inches fell overnight.  I wasn't sure if I was going to make it out since the roads weren't traveled yet and I was deep in.  The only casualty was a slightly frozen water line inside the Northstar and some white knuckles!  Note to self – bring a bigger shovel in October!" – Dave Ruane