Jason and Becca have built a truck camper that has completely blown our minds. Per square foot, this is easily the most technologically advanced DIY truck camper we've ever seen. It's truly, Wild!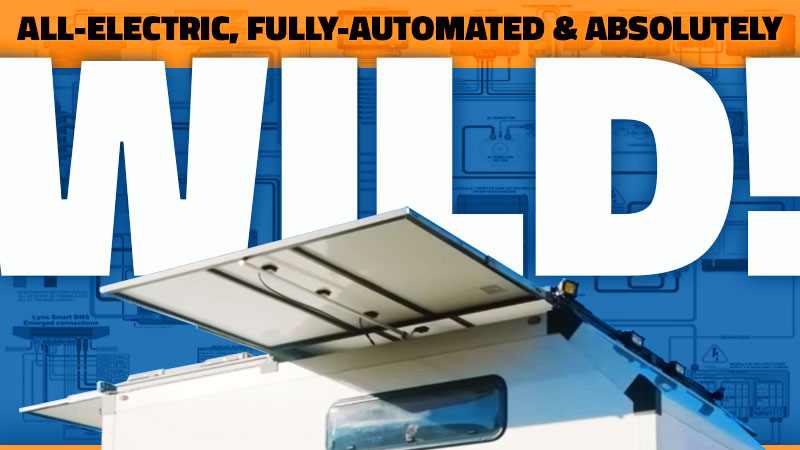 Tiny Home Tours recently released a video showcasing two brilliant young designers and a DIY truck camper they've named, "Wild" that has us literally re-evaluating the potential of truck camper design.
Jason and Becca of decidetheld live full-time in their all-electric, fully automated, and phone-controlled camper with their dog, Lou. It's honestly hard to know where to begin on their complex creation, but what caught our eye first was the all-electric headline. To make their all-electric camper work, Jason and Becca have 10-kilowatts of lithium batteries running at 48-volts. In the video, Jason explains how that converts to approximately 800-amp hours at 12-volts. That's one serious battery bank for any RV, much less a half-ton truck camper.
Above: Jason and Becca's video is a must watch
To keep this lithium mega battery bank charged off-grid they have six layered solar panels that splay out on drawer slides powered by 40-inch actuators. Read that last sentence again so it sinks in, and then brace yourself for the next. The six solar panels total a whopping 2,200-watts. Jason says he has seen as high as 2,150 watts coming in. Holy cow! And we thought our 490-watts was impressive. Never mind.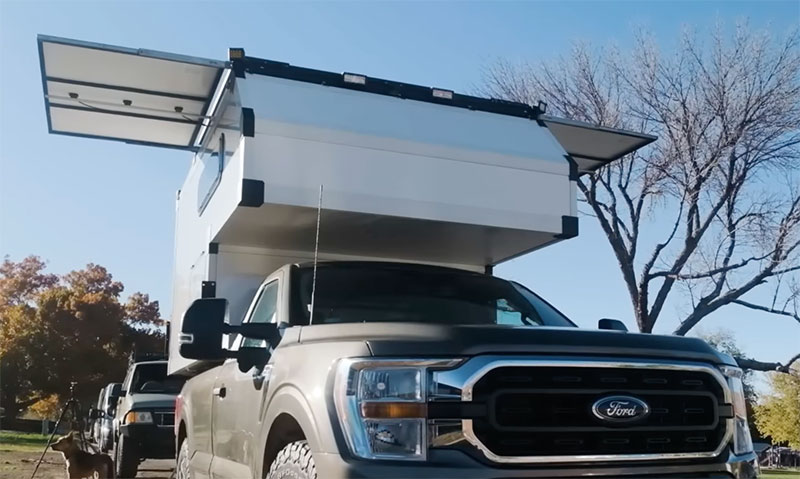 Above: Six layered solar panels open out the sides and back on actuators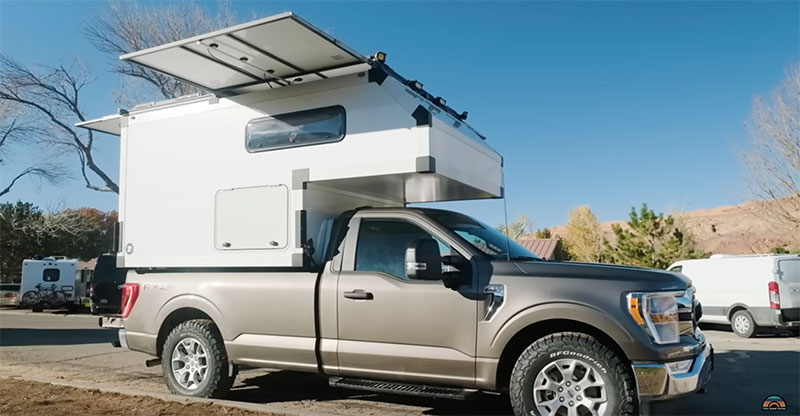 Above: Note the panel extending off the rear – all controlled by Jason's phone
If that's not off the scale enough, nearly every feature and component of Wild is tied into three ESP32 computers connected to a series of relays. These relays turn on or off their mini split heater and air conditioner, inside our outside cameras, heated floors, water pump, recirculating shower, air compressor and more.
The ESP32 (shown above) is a small low-cost and low-power computer with WIFI and Bluetooth allowing them to see and control everything from their phones. There are three of these computers built into Wild.
Next, they added an Apple HomePod Mini with SIRI digital assistant so the interior lights and music are all voice-activated, and Starlink so they have high-speed internet for work everywhere they go. Wild is literally a smart camper, which makes us wonder what ours is now.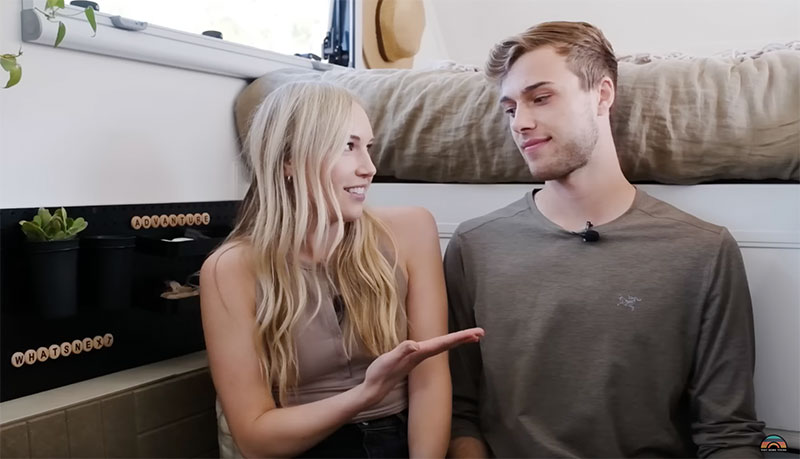 Above: Jason and Becca, the team behind Wild
I was initially concerned that they matched their camper creation with a Ford F-150, but this couple has a firm grasp on payload matching and considered weight in every aspect of their build. Again and again, in the video, they reveal how they saved weight through careful design and material choices; expanded PVC, aluminum composite panels, and beyond.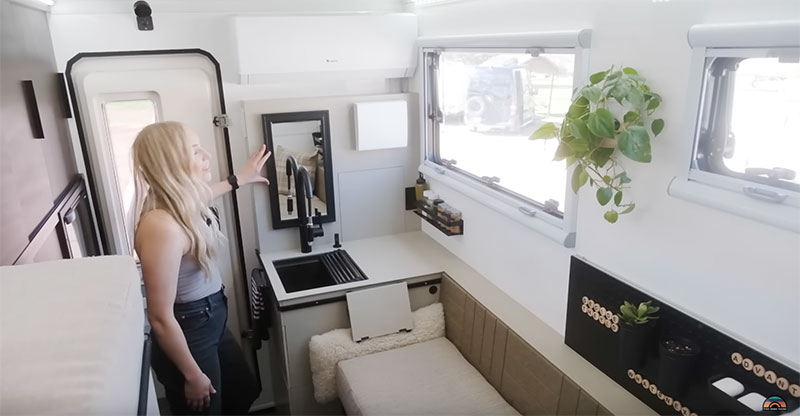 Above: The details of Wild are way beyond what we're revealing in this article. Watch the video!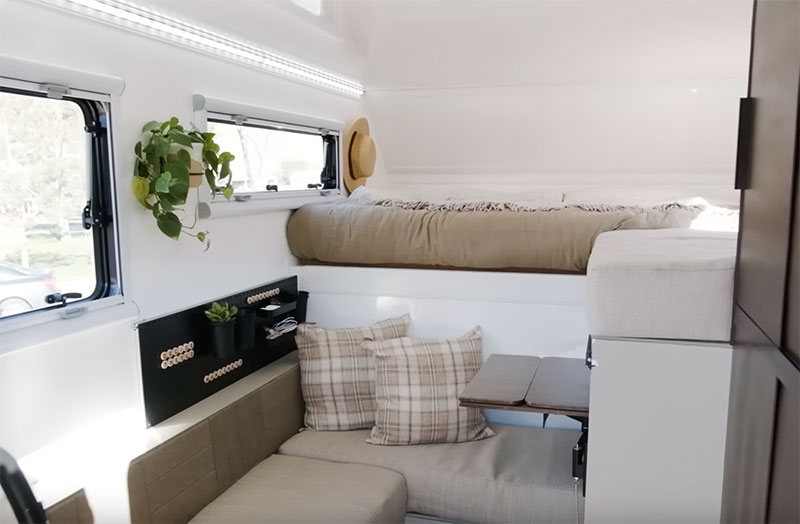 Above: The bright and modern tiny home design is spot on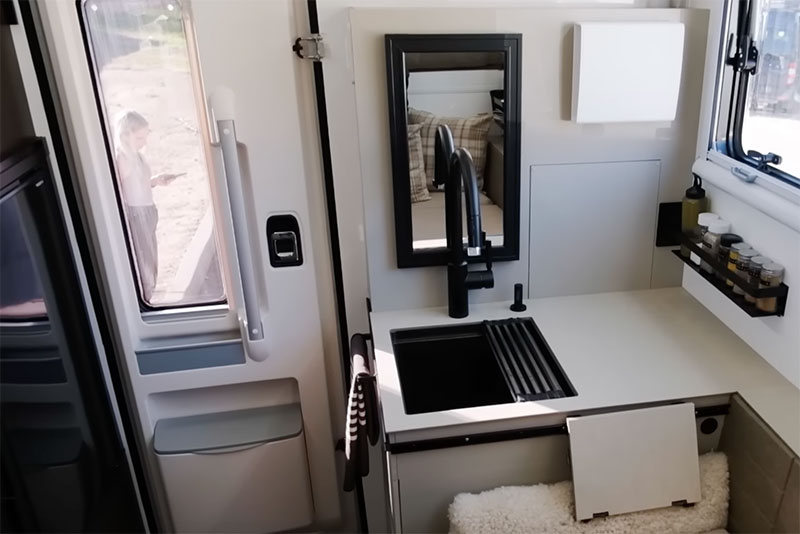 Above: The dinette table and rail alone should have people talking
Toward the end of the video, they reveal a pass-through between the truck and the camper that's large enough for them to crawl through. If there's one coveted feature that is missing from the truck camper marketplace, it's a pass-through. The fact that these two found a way to make that happen in a camper this size puts this build into our best ever list.
Jason and Becca have designed and built one of the most – if not the most – forward-thinking and well-thought-out truck campers we've ever seen. Just the way they approached storage is worthy of study across the truck camper industry and marketplace. I honestly hope a manufacturer hires these two to consult on their future truck camper designs. I may take some flack for that statement, but this camper feels more like what truck campers should be in 2023 than most of what we see on the market today.
There's an absolute TON more information about their Wild camper design and build on Instagram. Some of what's posted there is even more impressive than what's in their video. Check it out here.
Truly stunning work, Jason and Becca. We're gobsmacked.