From a top-secret location, a Tischer truck camper emerges on an electric dolly. Loaded on a VW Amarok, Mr.007 and Lady Ans are ready to go. OK, boys… That's the brief!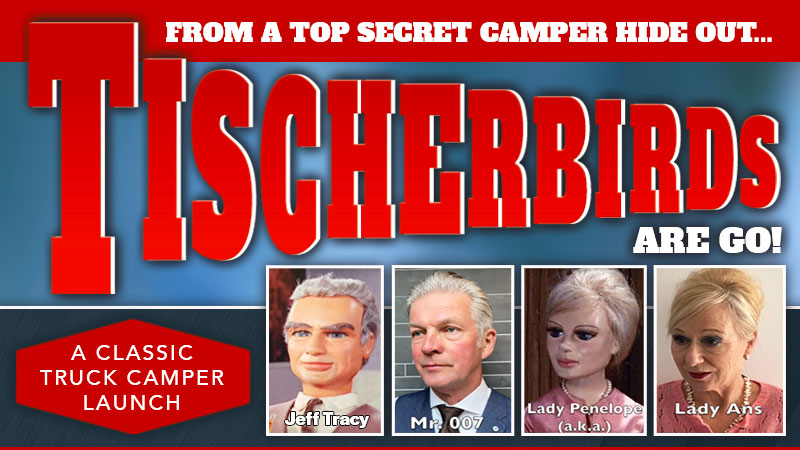 In late June, we received an unsolicited transmission from an individual who identified himself as only Rob (aka Mr. 007). From the brief dispatch; "Please find my homemade solution (parking my camper unit as low as possible in its shelter) in the attached video."
The provided YouTube link was designated as unlisted and not publicly available for search. There was no further indication of what awaited us.
The video opens with a spin on the classic mid-60s television show, Thunderbirds. You know – the sci-fi electronic marionette puppetry program about ex-astronaut, Jeff Tracy, and his family-run secret International Rescue organization?
IMPORTANT! Click the above video to watch Tischerbirds Are Go!
All you 60's kids are all saying, "Yeah, man!" The rest of us are thinking, "What the?" It's good old-school campy fun, with a heavy dose of 60's weird. Gotta love it.
After the Thunderbird's opening countdown, explosion, and Barry Gray's hit theme song, the real surprises begin. As the military drums build tension, potted trees roll away and a cleverly hidden truck camper hideout is revealed. Everything is perfectly herky-jerky, just like the sets and marionettes of the 60's show.
On cue, our hero – aka Mr. 007 – guides the camper out with what appears to be an electric dolly. With his trusty dog at his side, Mr. 007 directs the camper out of its lair and towards the loading pad. Note how the electric dolly drives, turns, and even reverses. About fifty truck camper dealers across the world just said, "I want one of those!"
In the next sequence, a double gate opens and a gorgeous blue Volkswagen Amarok truck arrives. Rumor has it we may finally get this mid-size truck on this side of the pond with the all-new 2023 version. It's about time.
After the tonneau cover and tailgate magically disappear, Mr. 007 uses an unspecified controller to lower the truck down. Backed under and loaded, the Tischer and VW triumphantly roll out to Barry Gray's brilliant military drums and horn section.
Well done Mr. 007 (Rob) and Lady Ans, whoever you are. We will follow your adventures with anticipation – and Voorpret!
For a refresh (or introduction) to the nearly 60's inspiration behind this video, check out the Thunderbirds television intro. Thunderbirds are go!