You read the headline right.  As long as the truck and camper are properly payload matched this should be perfectly safe, right?  Don't miss this hot opportunity!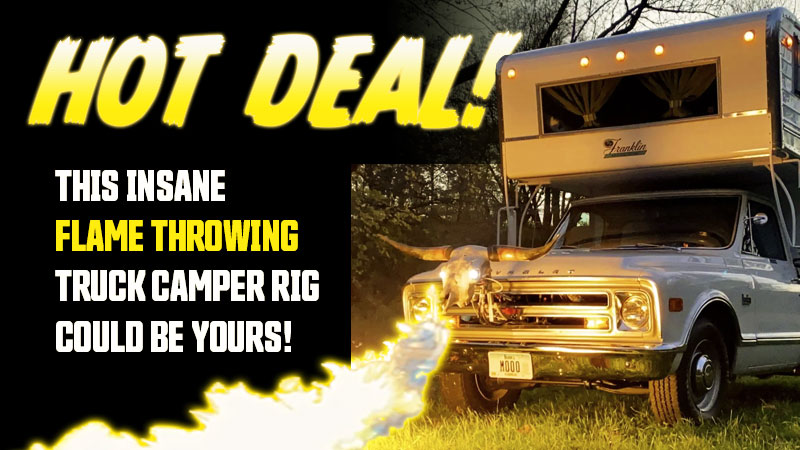 If at all possible, put aside the fact that the following truck camper set-up has a flame thrower mounted inside an animal skull on its front hood.  Even without the fire-breathing hood ornament, this completely rebuilt and reimagined mid-60s truck and camper would be a head-turner.
The '68 Chevrolet C20 Longhorn is actually something of a Frankenstein truck.  The "refurbishment" included a replaced truck cab, repaired bed sides, whole body repaint, wood-lined bed, and a rebuilt 396ci L66 V8 engine and carburetor.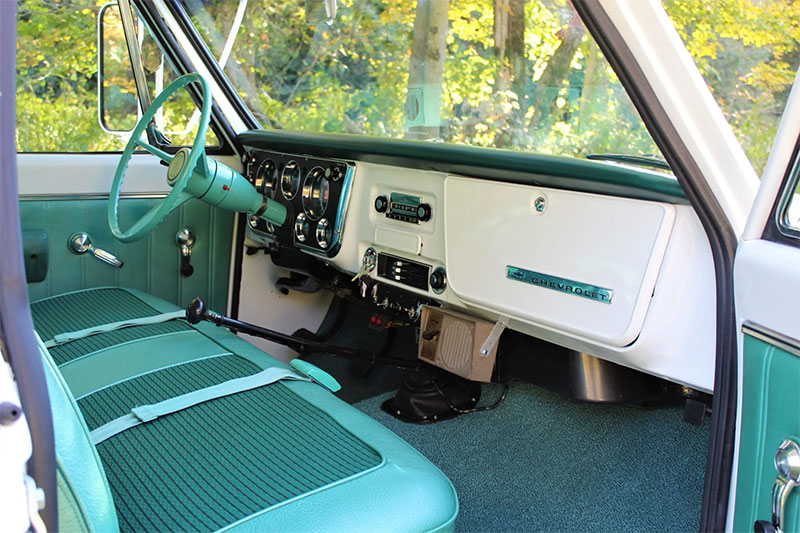 If you are the kind of collector who matches serial numbers and original paint, you might get burned on this one.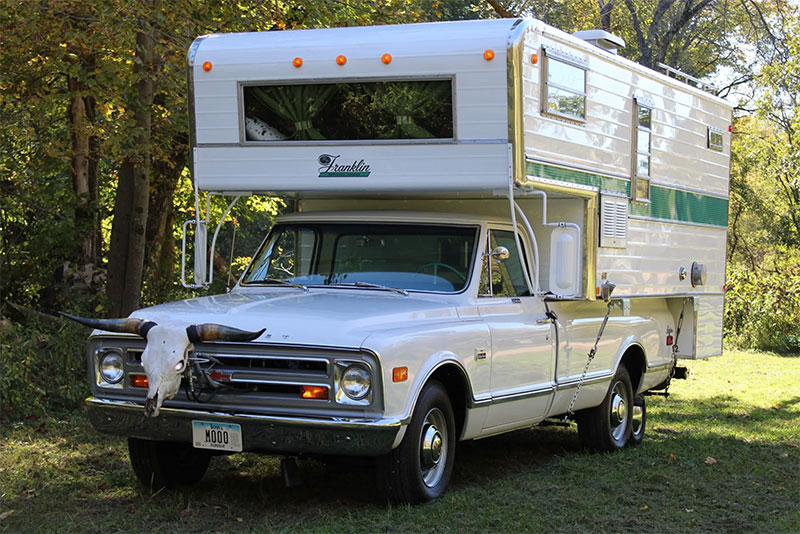 The Franklin 11FK6 truck camper has also strayed from original spec having been extended by 6-inches to fit the 8.5-foot Longhorn bed plus an extensive makeover inside and out.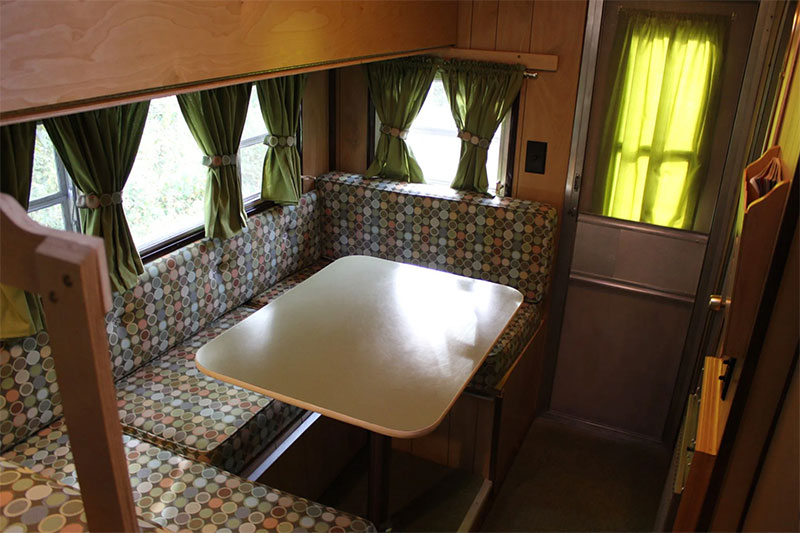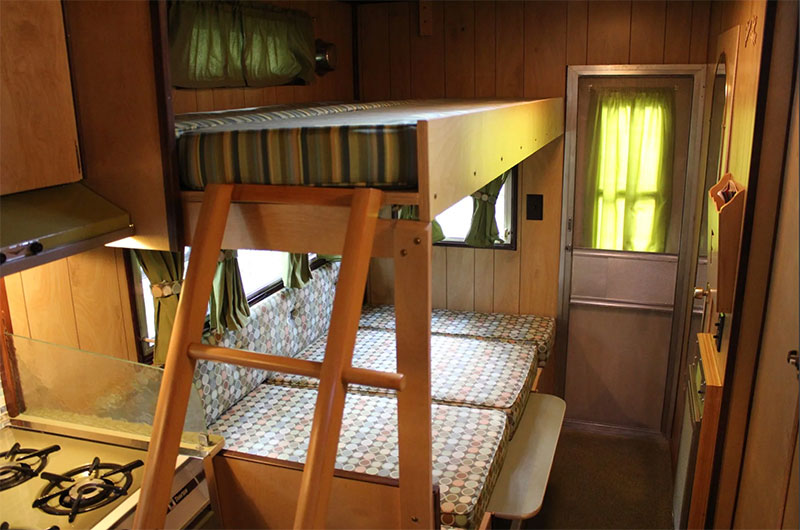 Even by today's standards, this is a big truck camper complete with a rear U-shape dinette, wet bath with shower, kitchen with sink, four-burner cooktop, refrigerator, and a cabover bedroom.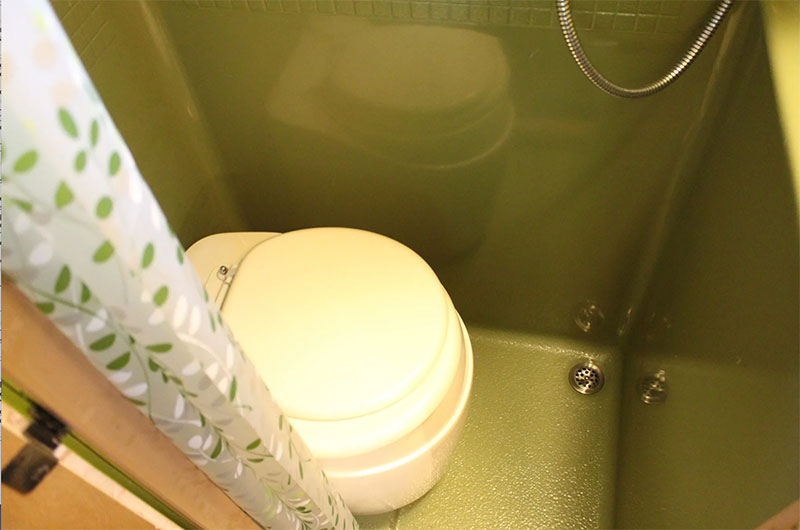 It's incredible that truck campers from half a century ago had the majority of features we enjoy today.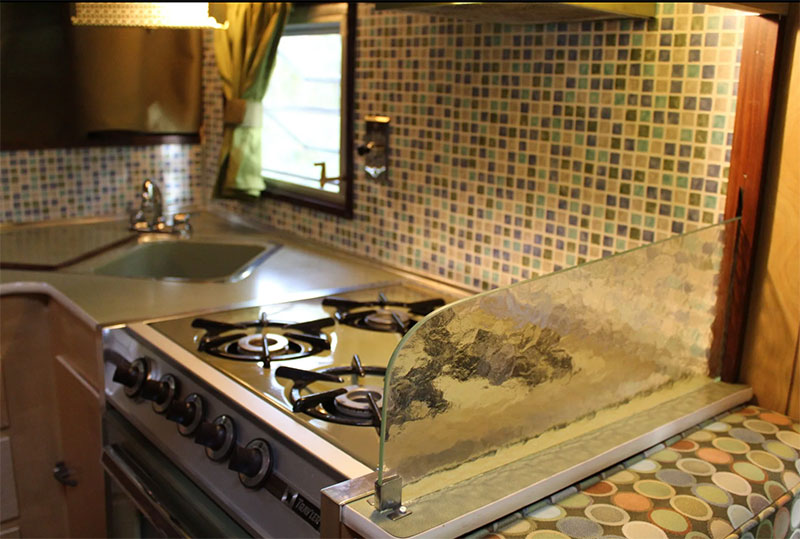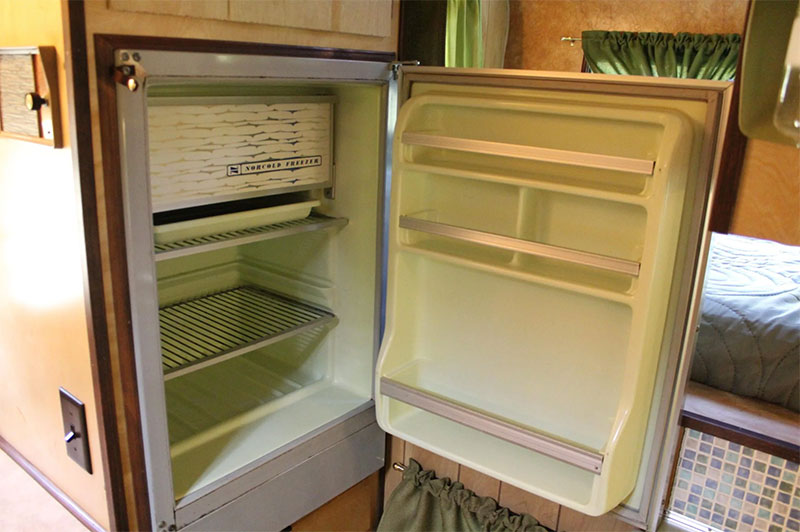 Okay, the flame thrower. The Bring-A-Trailer listing describes it as a, "longhorn-skull hood ornament… fitted with a liquid propane torch and CO2 sprayer." I guess as long as the truck and camper are properly payload-matched this should be perfectly safe, right?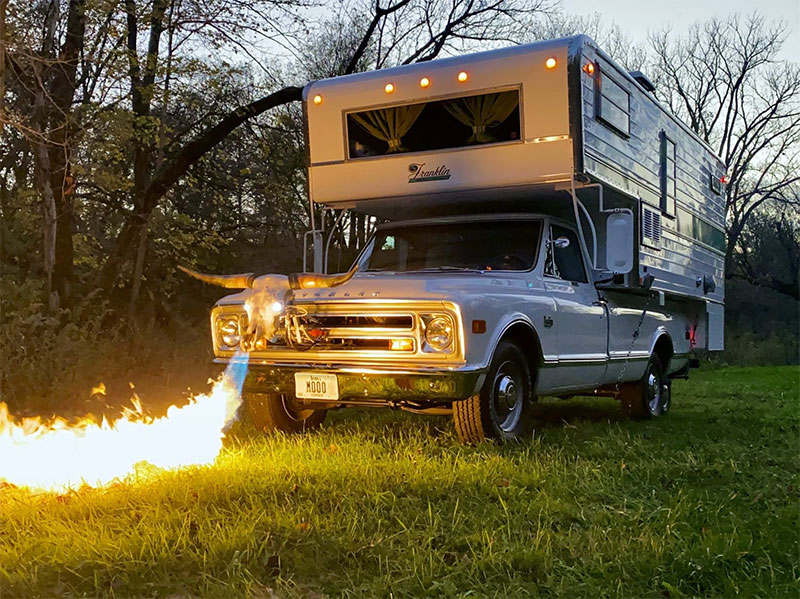 If that doesn't trip your risk tolerance alarm, the truck's dual exhaust is also "plumbed" with a propane torch. All you need is a punk guitar player shredding acid metal on the camper roof and you can be the next Mad Max. Imagine the hit you could be at that next truck camper rally, and possibly the national news shortly thereafter.
A note of caution; evidently there's a leak in the "secondary black water tank". The idea of two black tanks is interesting, but if one of them leaks it could be serious trouble. Never mind the fact that the truck is belching fire front and rear. You might be seeping sewage. Oh, the horror.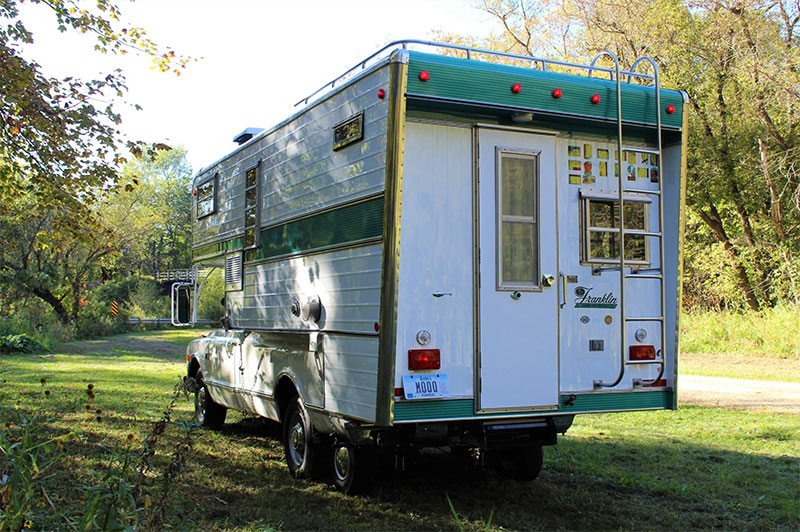 My personal, "What the…" moment was when I saw the rear tag axle. Rear sag has challenged truck camper set-ups since they were invented. Tag axles have long been teased and even produced as a possible solution, but have never found much success in the marketplace. Everyone else might be focused on the horny inferno that leads this vintage set-up, but I'd like to see how the tandem axle works in real life.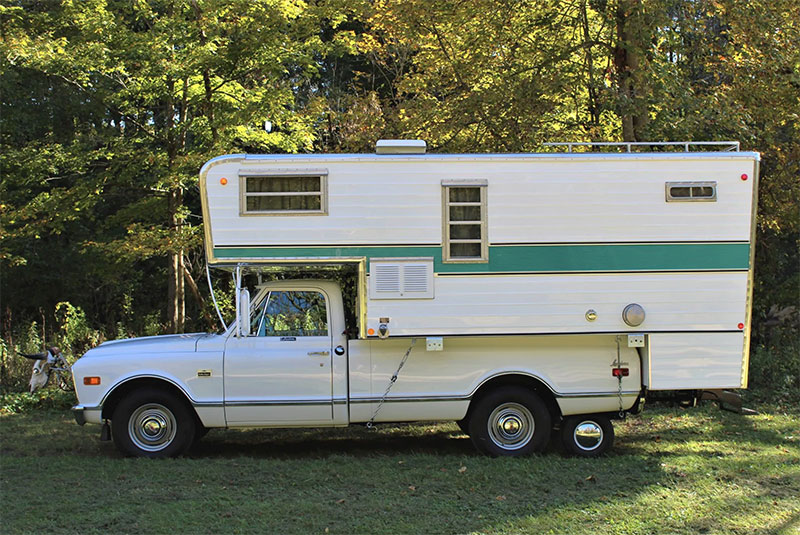 One more thing. This truck and camper are actually for sale through the end of this week. As of this writing, the bid was $34,700. You can barely buy a headlight for that kind of scratch right now. Just be sure to call your insurance company first. And your next of kin.
Don't miss the 200-plus photos in the Bring A Trailer ad including the restoration process and tons of detail shots. And more fire!
Thank you, Dave Riddle and Drew DeBois, for sending in this very unique truck camper rig.  If you find an interesting rig online, feel free to contact us.
Response From Joe Caldwell, owner of the Flame Throwing Truck Camper:
I'm the owner of the fire breathing truck camper reviewed by Mr. Gordon White on 28-Feb in your Camper Beast segment.  I sincerely appreciate the exposure.  I respect Mr. White's opinions.  Not everyone can like it and I guess he made it clear that he is one of them.  His biggest negatives seem to be "originality," the flame thrower risk, and the black water tank leak.
There was a huge focus to make the rig as original as possible with numbers matching components and era correct detail, colors, etc. with the exception of the attention grabbing skull that matches the longhorn theme of the truck.
The fire breathing option was an attention grabber idea that does just that.  It can be removed easily in about 5-minutes if the future owner doesn't like it.  If they are risk averse then they don't have to use it.  No problem.  I provided photos in the listing with it both in place and removed to try to communicate that.  I'm sure you realize that BaT (Bring a Trailer) listing text is not very flexible beyond what BaT procedures allow so I couldn't add a lot of detail explanation.  I've had the flame thrower on the truck now for around 8-years and haven't started any unintentional fires yet.
The tag axle was added for nostalgic purposes rather than out of necessity.  It's a fixed mount unit and it does help with porpoising and sway.  The intent was to show a rare era correct accessory for folks to learn about and enjoy.
The secondary black water tank leak awareness comment was provided for listing transparency.  For me, and I suspect most users, this doesn't impact usability because the recirculating toilet has its own holding tank and it can be drained directly through the black water tank at the dump station.  Voila, no leak.
Thanks for the write-up and the added exposure for the BaT listing.  I appreciate that.  I suspect I won't sway Mr. White's opinion much but hoping maybe a little clarification might help him see a more positive side of my build results/intents.
Regards.
Joe Caldwell
Thank you, Joe!  I love the build. – Gordon