Matt's Off-Road Recovery rushes to help a Lance 1161 and Ford F-350 dually that sank to the frame in a mud swamp far from the reaches civilization. We try to look away, but we can't. This one isn't for the faint of heart.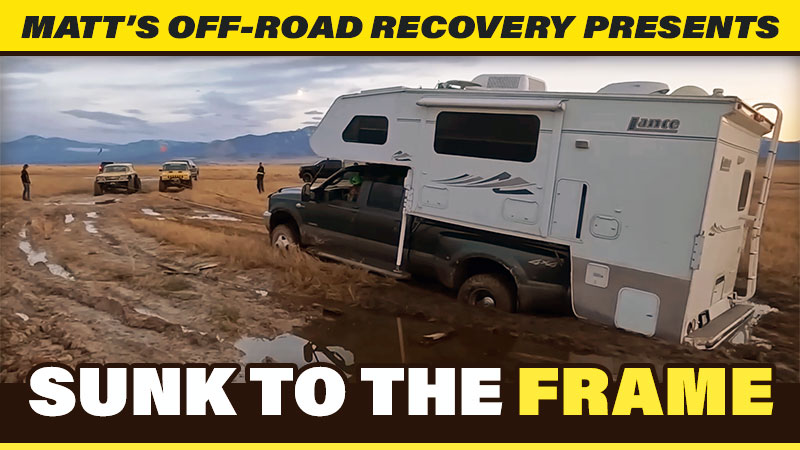 This year Angela has gone into overdrive with Facebook and Instagram posting content more often and studying what those audiences like. During this almost daily effort, she frequently comes across truck camper posts, images, and videos that are fun, but rarely capture more than fleeting attention.
"Holy cow!" said Angela across our camper dinette.
I was in the middle of writing an upcoming article on Scout Campers and looked up.
"What?"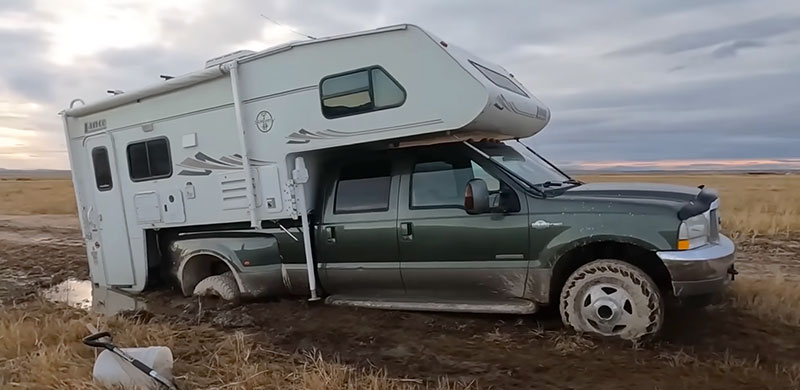 She turned her laptop around and showed me a Lance 1161 and Ford F-350 dually literally sunk in a mud swamp to the truck frame. Holy cow, indeed.
Above: Click to watch the harrowing video. To watch the video on YouTube, click here.
Unable to look away (I tried), I pushed my laptop and work aside and watched. An organization called Matt's Off-Road Recovery was speeding to the rescue, setting up their winches with the yellow 'Banana', and making bets about whether or not the Lance rear bumper would literally tear off when the rig was pulled forward.
As the horror unfolded, I was already writing another article in my head. This one.
Our Tagline Needs An Asterisk
For at least fifteen years, Truck Camper Magazine's tagline has been, 'Go Anywhere. Camp Anywhere. Tow Anything.' We made that our tagline because that's what our reader surveys told us were the top three reasons people chose truck campers over other RV types. That makes sense, right?
Watching Matt's Off-Road Recovery teamwork, I thought, "Our tagline needs an asterisk."
Truck camper rigs all have different levels of 'go anywhere' capability. For an extreme example, a Four Wheel Camper Project M topper on an off-road tricked-out Jeep Gladiator can go to many, many more places than our 11-foot hard side camper on a Ram 3500 dually.
We frequently find ourselves turning around or just not attempting roads or trails that are potentially beyond our rig's capability, not to mention our off-road driving experience. That's what smaller and lighter pop-up truck camper rigs are for, not our one-ton dually and 5,000 pound (wet and loaded) hard side behemoth.
In all fairness, darn near any truck and camper rig would have had difficulty with the situation showcased in Matt's Off-Road Recovery video. Going anywhere also means having common sense about when not to go somewhere. However, there are times when you have no choice. You drove out on a dry packed trail, an unforeseen rain or snow sets in, and your escape route turns into a hair-raising YouTube video. It happens.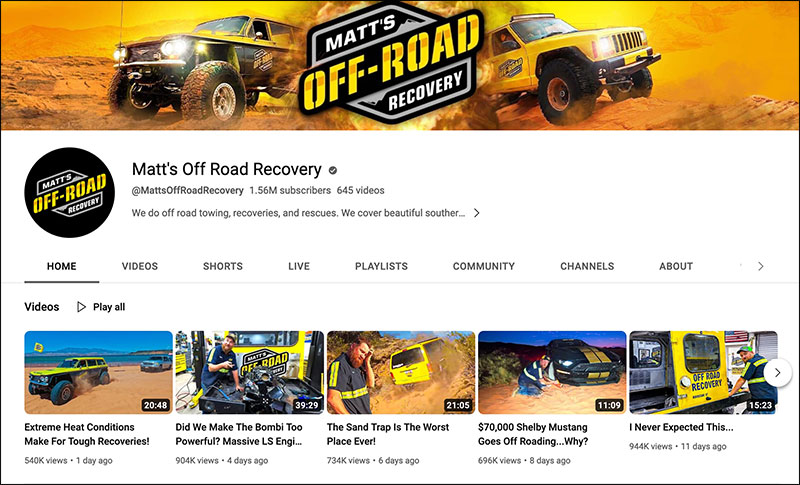 Matt's Off-Road Recovery
Matt's Off-Road Recovery performs off-road towing, recoveries, and rescues in and around southern Utah. Together with their popular YouTube channel, they have one of the most unique, clever, and interesting businesses I've seen in a long time. Never mind they call their Jeep XJ, "Banana" and seem to have a good time doing something most of us would rather never encounter.
If you're the kind of truck camper that pushes your off-road luck now and then, you might want to have Matt's information (and other off-road recovery teams) on hand. Just know that Matt will get you unstuck and make you a star.