Skinny Guy Campers has developed a new version of their groundbreaking pop-up truck camper for the Jeep Gladiator; the Skinny Guy 5.0 GLR.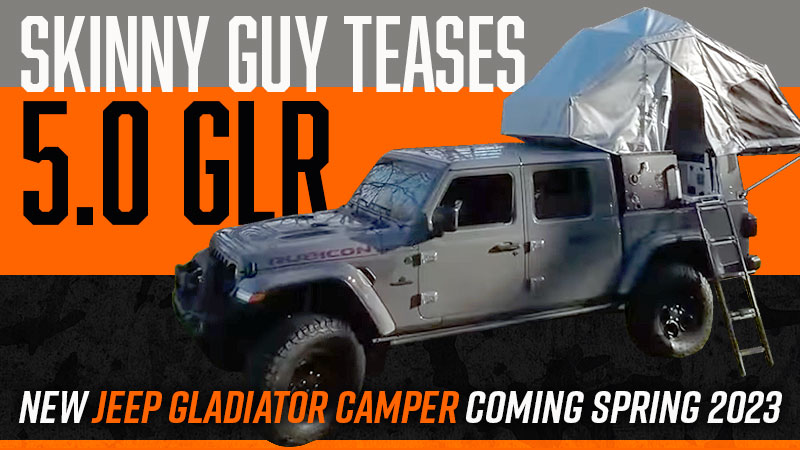 The combination of a Jeep pickup and truck camper has always been something of a holy grail; a real Jeep pickup, with a real demountable camper.
The innovative team at Skinny Guy has worked their magic and created a remarkably well featured truck camper for the Jeep Gladiator. Upping the ante, the Skinny Guy 5.0 GTR remains 100-percent garage-able, can be optioned all the way to the Kit 'N Kaboodle trim level.
The Skinny Guy 5.0 GTR is already available for pre-order and will start shipping in next Spring. Of course we will feature a deeper dive into this exciting new camper in the new year; our usual full skinny. In the meantime, Coddiwomple Overland has released a short video showcasing the first 5.0 GTR model off the line.
Skinny Guy fans will be excited to learn that more Skinny Guy models are on the way. We can't say too much, but medium-truck owners are about to have another compelling option from Skinny Guy.
Thank you, Bill from Coddiwomple Overland, for producing this video.
For more information on Skinny Guy, visit their website at SkinnyGuyCampers.com.  Click here to request a free Skinny Guy brochure.