Get ready to be served an "excellent camper recipe" from Rock&Sand Campers. This is a real truck camper with some clever ideas. Put your coffee down, and brace yourselves. Hysterical fun ahead.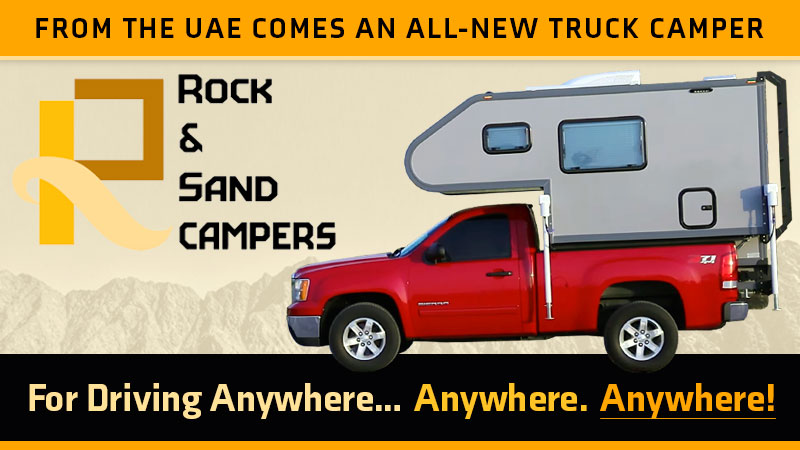 You can't make this up, folks. From the UAE comes a fascinating and very real truck camper from a company called Rock&Sand Campers.
The following video, and the way it's presented, is absolutely worth the 7 minutes and 42 seconds of your life. I watched it twice it was so much fun. And I may watch it again. Heck, I may give Truck Camper Magazine to Dmitriy (Founder of Rock&Sand Campers) just so we can all have more fun for the foreseeable future. Watch. The. ENTIRE. Video.
Above: Watch Dmitriy, Founder of Rock&Sand Campers
Putting what's left of my serious hat on, it seems that every new camper from around the world is embracing composite panel construction. If every truck camper manufacturer is not at least experimenting with composite panels, they may be missing a huge opportunity.
It's also interesting to see the external diesel water heater. I don't think we've seen that before, but I'm also not entirely sure it's a good idea. On the flip side, I do like the rounded composite door with a window and built-in trash can, ala Cirrus. Hey Dmitriy, are you reading TCM?
Inside the camper is bright and white with light-colored wood cabinetry. It's something of a blank slate for the future owner, another trend that I think is worth considering across the truck camper industry.
The wet bath is fully featured; impressive for a camper this size. In fact, innovative details are everywhere. The way the dinette table opens and closes. The way the dinette converts into a second sleeping area. Rock&Sand may have a decidedly comedic bent, but they're also producing a smart camper. Albeit, a few thousand miles away.
And most importantly, this camper is for driving anywhere. Anywhere! Anywhere! Love it.