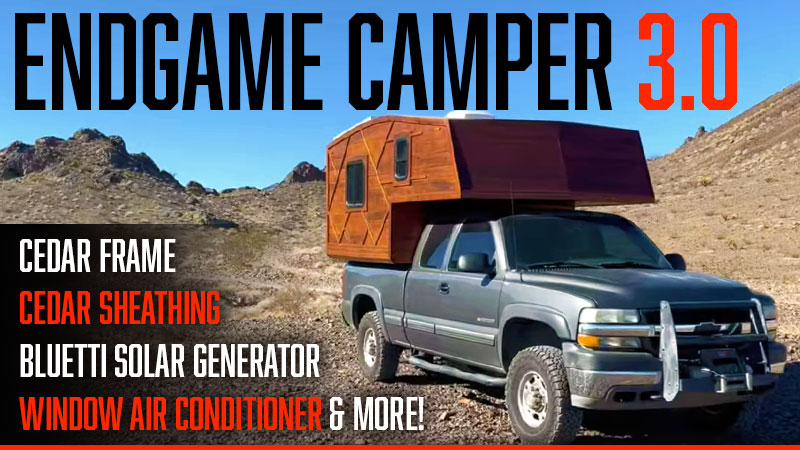 Woodworker, Dave, of Endgame has built yet another ingenious custom truck camper pushing his ideas of camper construction, systems and storage forward. This is his third homebuilt camper, which he simply titles Camper 3.0.
Of particular note is Dave's selection of cedar wood for the frame, exterior sheeting, and interior cabinetry. He explains how this material resulted in a camper that weighs in at just 900-pounds dry. Dave also explains how an exterior grade caulking waterproofs the unit, helps hold it together, and allows the wood material to move with changes in temperature and moisture.
Another raised eyebrow is warranted for the exterior hatch that opens to reveal a 5,000-BTU window unit air conditioner. Dave explains how the camper's Bluetti portable power station and solar generator can run the 110-volt air conditioner. With so many manufacturers working on 12-volt air conditioning solutions, Dave's solution is worth a look.
In the kitchen, Dave uses a real copper sink and a USB-rechargeable pump fed by two 7-gallon tanks under the sink. From Dave's perspective, the simpler and more modular the better. That theme continues with a chest-style 12-volt compressor refrigerator.
The Bluetti EB240 unit includes a lithium battery, 1000-watt inverter, and solar controller all in one unit. As remarkable multi-function units like the EB240 become wider known and appreciated, I believe they will be utilized more and more throughout the truck camper marketplace.
Dave is an original thinker and approaches his campers from a practical and open-minded perspective. There must be a dozen unique truck camper ideas in this video. Well done, Dave! And thank you for sharing your camper designs and concepts with us.