The 2018 Truck Camper Magazine Calendar showcases 13 stunning truck camper rigs in spectacular locations throughout the United States, Canada, and the World.  Order your 2018 Truck Camper Magazine calendar today for just $14.99.

CLICK HERE TO ORDER THE CALENDAR
The world's most incredible truck camper calendar is back!  The 2018 Truck Camper Magazine Calendar might be the best yet, and that's really saying something.  Not only are the images astonishing, but the rigs and the adventure stories behind them have us reaching for our truck camping bucket list for next year.
Thank you to everyone who entered the contest this year.  Once again, you have inspired our truck camping community to explore new places, and visit old favorites again.  Thank you!
Cover: Russell Goodin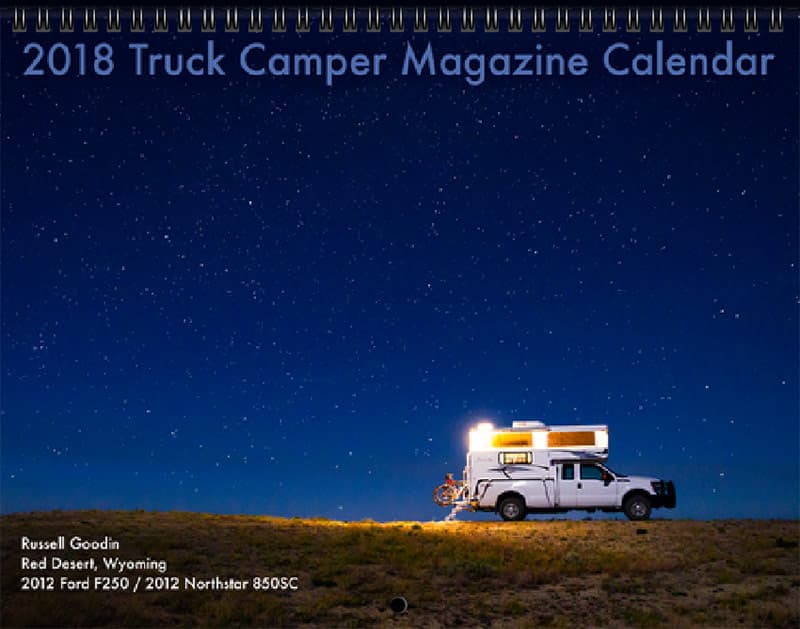 Red Desert, Wyoming
2012 Ford F250
2012 Northstar 850SC
Wyoming's Red Desert is an astonishingly beautiful place.  Many people dismiss the 108-mile stretch between Rock Springs and Rawlins as a desolate wasteland.  To be fair, it certainly seems like a wasteland from the comfort of a climate controlled passenger vehicle.  For some, the only things worth stopping for are the emerald green lawns and fifty-cent ice cream cones at the Little America Travel Center.  On the first leg of a solo ten-day road trip, I was attempting to drive non-stop from my house in Oklahoma City to my parents' home in Ogden, Utah.  I really had no reason to attempt such a long drive.  It seems silly now.
With the truck fueled and packed earlier in the week, I left Oklahoma before 4am on Friday, June 30th as mid-summer thunderstorms passed overhead.  I headed north on I-35 to Salina, Kansas, west on I-70 to Denver, then north on I-25 before exiting to US 287 for a scenic shortcut to Laramie, Wyoming.  On schedule to arrive in Ogden at 10pm, I had time to take a few sunset photos.  As the sun approached the western horizon, I exited I-80 at Tipton North Road (exit 158), a well-maintained gravel road that appears to service oil and gas facilities in the Wamsutter Field.
Traveling north past a gas processing plant, I was struck by the number of Pronghorn Antelope in the area.  A little further up the road, I passed a small herd of elk.  Apparently, the Red Desert is home to the largest population of desert-dwelling elk in the world.  Recognizing that I didn't have much sunlight left, I decided to follow an unmaintained dirt road to the crest of a small ridge where I thought I could find a good photo location.  A faint clearing in the sparse vegetation indicated an old camp site.  The ridge provided an overlook to a high-elevation desert basin; one that does not drain to any of the world's oceans.  Here, the continental divide splits and wraps around both sides of what has been named the Great Divide Basin.
From my overlook, I could see north past the Oregon Buttes and Killpecker Sand Dunes.  In fact, the jagged peaks of the Wind River Range, over 75 miles away, were visible just above the horizon.  While taking photos, the crisp desert air, huge skies, and complete solitude created and overwhelming sense of home.  I could not bring myself to leave.  I let my parents know I'd be delayed and popped the top on the Northstar and a Founder's All Day IPA.
Other than the occasional chorus of howling coyotes and curious antelope, the night was completely still.  Taking photos well into the night, I woke up at sunrise and reluctantly continued my journey to Ogden, Moab, the Abajo Mountains, and Hovenweep National Monument.  I'm not sure why, but the Red Desert was the highlight of my trip.  It is a place that stays with me.  I can't wait to go back and really explore.
January: Angela Klinger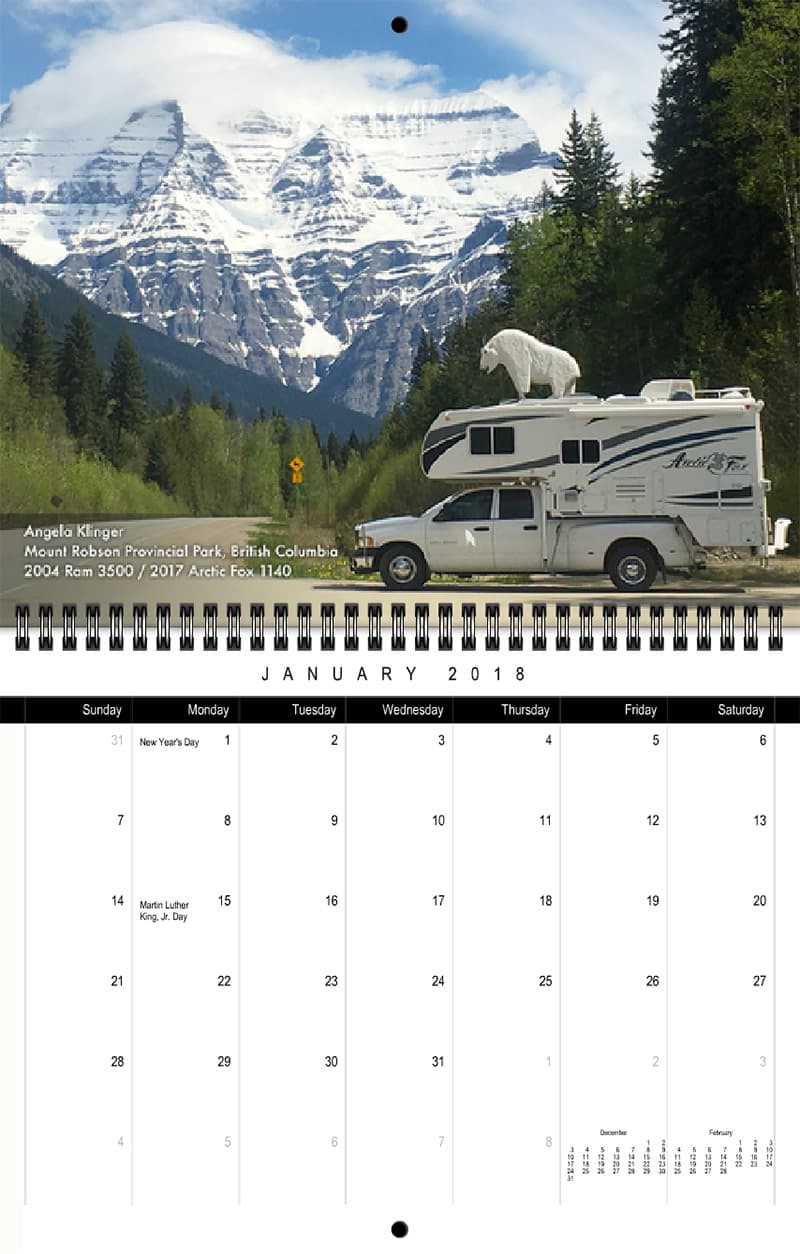 Mount Robson Provincial Park, British Columbia
2004 Dodge Ram 3500
2017 Arctic Fox 1140
Ralph and I took a four month trip to Canada and Alaska.  This year the Canadian parks are celebrating their 150th anniversary.  We spent lots of time in Alberta and British Columbia exploring many of their magnificent national parks.
While taking in the beauty of the Canadian Rockies as we were traveling along Route 16, the Yellowhead Highway, we pulled into a pull-off that displayed this beautiful Mount Robson Park sign.
I got out to photograph the sign with the very realistic mountain goat.  As I walked back to truck camper I had an idea!  I had Ralph maneuver the camper in such a way that it looked like the mountain goat jumped on our camper.
When I posted this picture on Facebook many of my friends thought it was a real mountain goat and asked if the goat did any damage to our roof.
Mount Robson Provincial Park was established in 1913.  It is located entirely within British Columbia bordering Jasper National Park in Alberta and is the highest peak in the Canadian Rockies at 12,972-feet.
Our four month trip through Canada and Alaska was better than I could have ever imagined.  Because we had a truck camper, we were able to enjoy many secluded off the beaten path places to camp.
February: Guttormur Björn Thorarinsson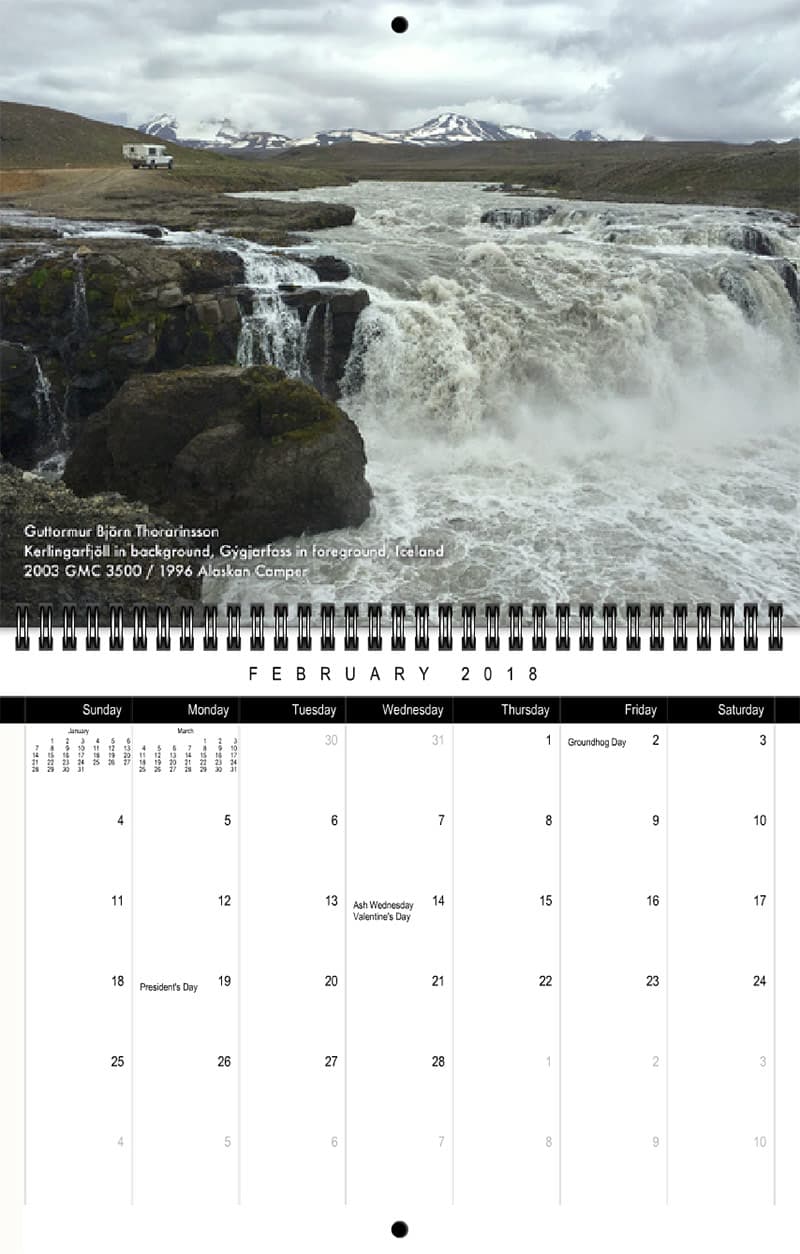 Kerlingarfjöll in background, Gýgjarfoss in foreground, Iceland
2003 GMC 3500
1996 Alaskan Camper
Kerlingarfjöll is mountain range just south west of Hofsjökull.  Another old path to cross Iceland is Kjalvegur.  From Kjalvegur is F347 where Gýgjarfoss thumps just by the road.  This time the weather was good and we had a nice moment for a photo.
March: Corey Barnett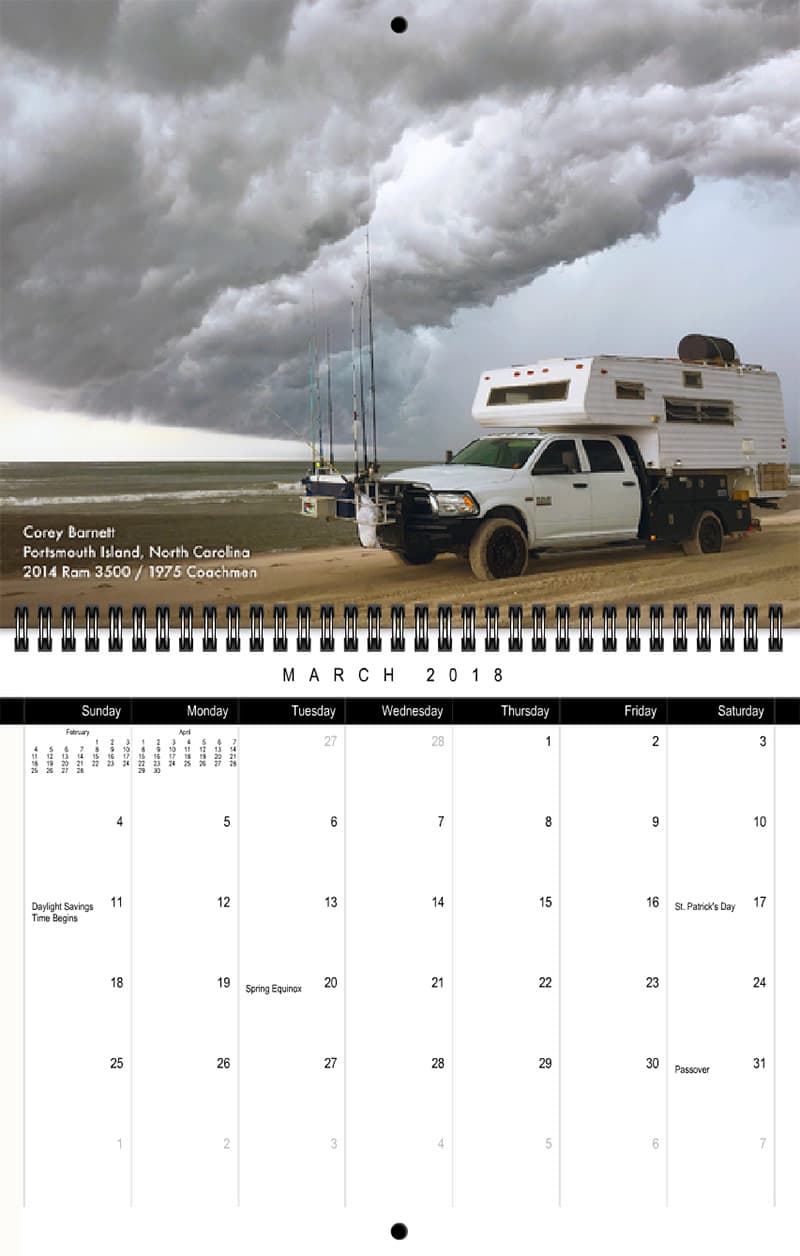 Portsmouth Island, North Carolina
2014 Ram 3500
1976 Coachmen
We had been camping at Portsmouth Island for three nights in 100% humidity, no air conditioning, no wind at night, and a really hot camper.  We had battled giant mosquitoes, big gnats, and biting green flies the entire trip.
We drove through 10″ of marsh water for half a mile to get to the village and hiked all of it while constantly swatting all kinds of biting flies.  We hiked a mile long trail that was full of more biting flies than we had ever seen.  Finally, we ran through hundreds of giant Japanese hornets buzzing on the trail, and got lost on a trail trying to frantically and in a panic, get back to our camper.
After four days of pure hell we were waiting for the ferry back to the mainland and this insane storm blows in.  It blows away everyone else's tents on the beach.  That's when I captured this photo.  We then got a call from the ferry saying that we were late and would be stranded on the island for another day if we didn't get back within ten minutes. So I booked it down the island to the ferry as fast as possible to get away from this death trap of an island.
April: Mike and Lisa Johnson
Grand Teton National Park, Wyoming
2008 Chevrolet 3500HD
2008 Eagle Cap 1160
Leaving out of one of our favorite campgrounds around the Tetons, Gros Ventre, we headed out looking for bears in the Tetons.  We found Blondie (grizzly bear) and her new cubs and took a few photos.  Talking with a ranger we learned of more good places to look for wildlife.  This photo was taken near Jenny Lake after looking on the side of the Tetons for wildlife.  It's impossible to see in this photo, but there was a mom and cubs on the side of the mountain.  While looking at the bears, a group of college-age hikers came by.  We shared views through the scope, binoculars, and had a great time.
May: Hannah and Jimmy Wynd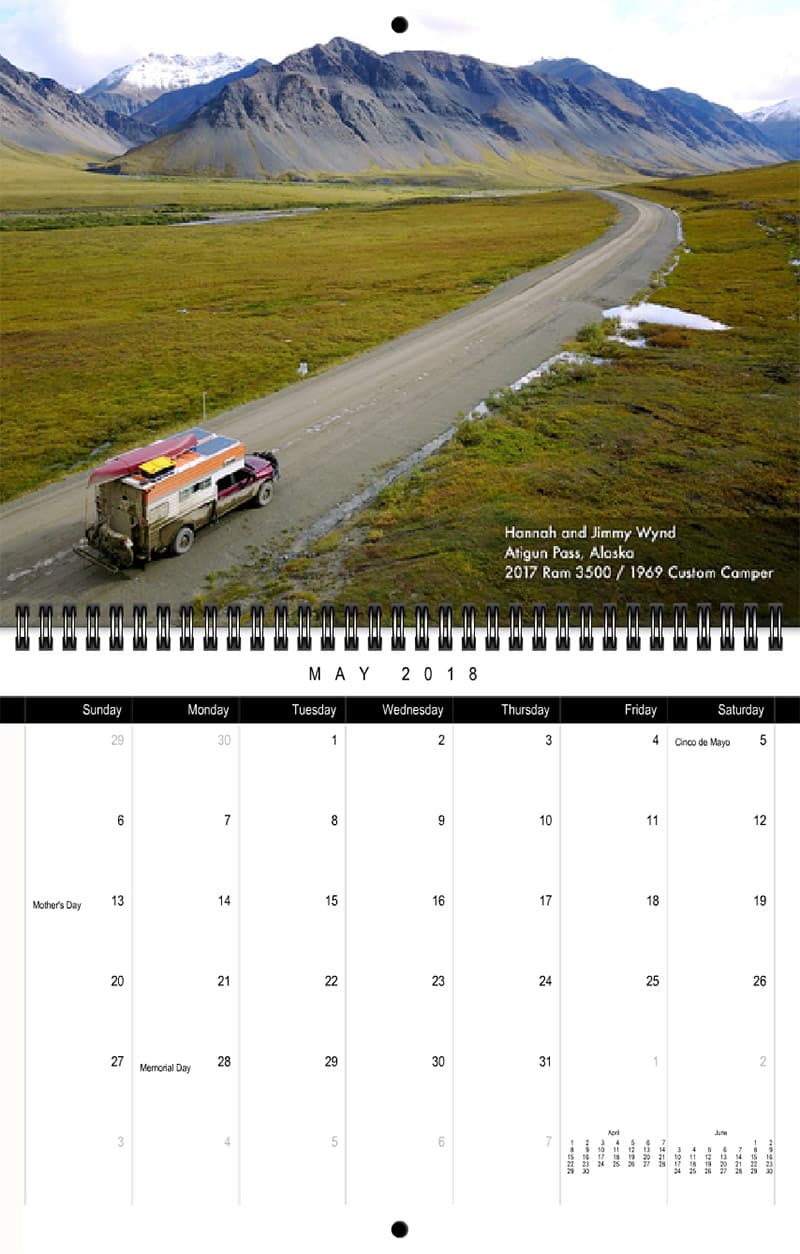 Atigun Pass, Alaska
2017 Ram 3500
1969 Custom Camper
The summer of 2017 we spent traveling around Alaska.  We soon heard about the beautiful route up the Dalton Highway to Prudhoe Bay, Alaska.  It is one of the furtherest roads north one can drive.  Nearing the end of our journey in Alaska we chose to travel the Dalton Highway in late August.  The Dalton Highway is around 500 miles in length from Fairbanks to Prudhoe Bay and is primarily a dirt road traveling north of the Arctic Circle and passes through the vast arctic tundra.
We became members of the Polar Bear Club by swimming in the Arctic Ocean and camping in Prudhoe Bay.  The following day we began the 500 mile trek back to Fairbanks choosing to spend one night along the highway.  We took this picture at the beginning of Atigun Pass which is the highest drivable mountain pass in Alaska.  The lighting was phenomenal.  It was just after a storm with a massive rainbow following behind us.
We took a few photos before climbing Atigun Pass and then we began the steep incline up the pass.  It slowly began getting colder, foggier, and soon we were in a full fledged snow storm!  We were both so enthralled by the scenery.  We are both suckers for a good snow storm that we pulled over at the summit of the pass and called that pull-off home for the night.  We cooked dinner, read, and enjoyed our very unique and desolate surroundings.
We appreciate memorable moments like this one that are made possible by owning an off-grid truck camper.  We took off the next morning for Fairbanks to continue our journey south towards the lower 48.  Our trip on the Dalton Highway was by far one of our favorite trips that we have taken in our truck camper.  Traveling one of the most remote roads in the United States and experiencing the boundless wilderness was nothing like we had ever experienced before and probably never will again.
June: Scott Zeitler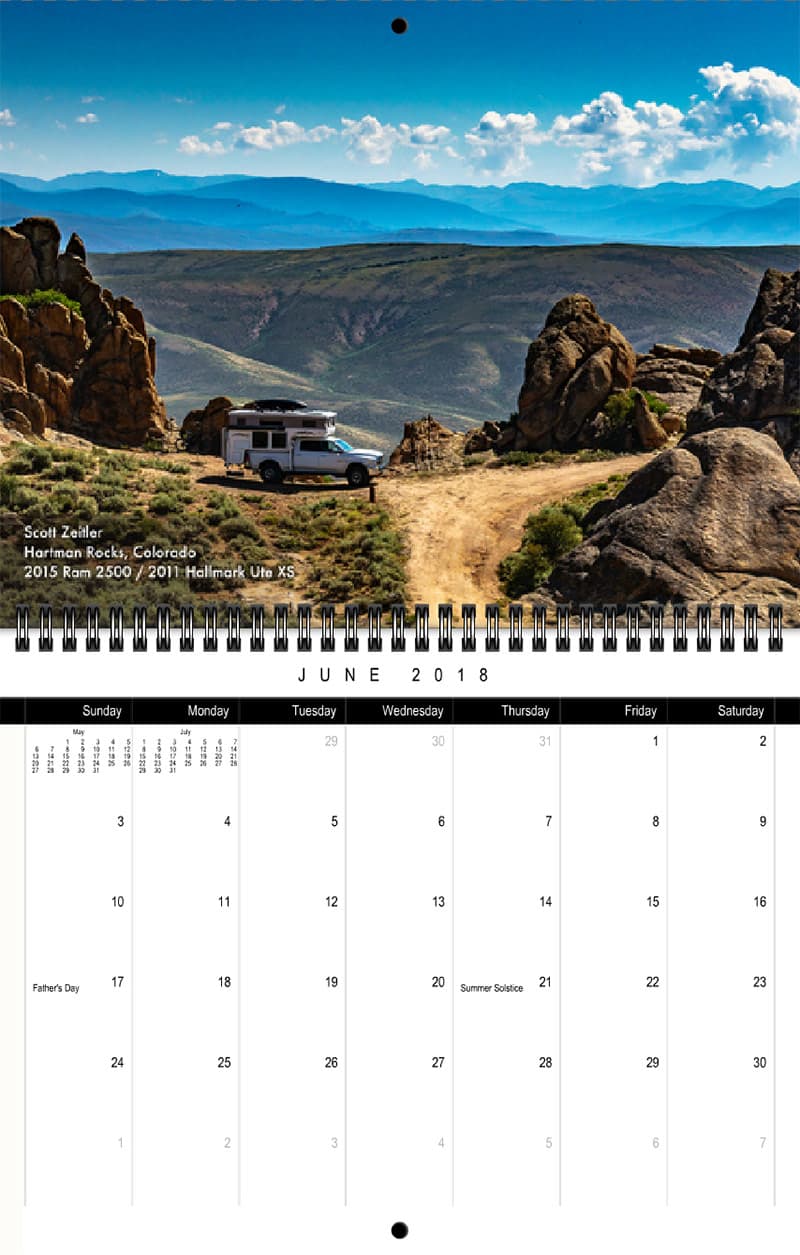 Hartman Rocks, Colorado
2015 Ram 2500
2011 Hallmark Ute XS
The photo was taken at Hartman Rocks Recreation Area just three miles outside of Gunnison, Colorado.  There is over 8,000 acres of rolling sagebrush covered hills and small granite outcrops that create a multi-use, multi-sport area that's great for climbing, mountain biking, dirt biking and camping.
BLM has free designated campsites with fire rings.  It's dry camping only.  There are no restrooms, so plan accordingly.
We usually plan to spend at least one night here on our way to or from Crested Butte.  It's a great location for photography as well.
July: Chaucer KC Wong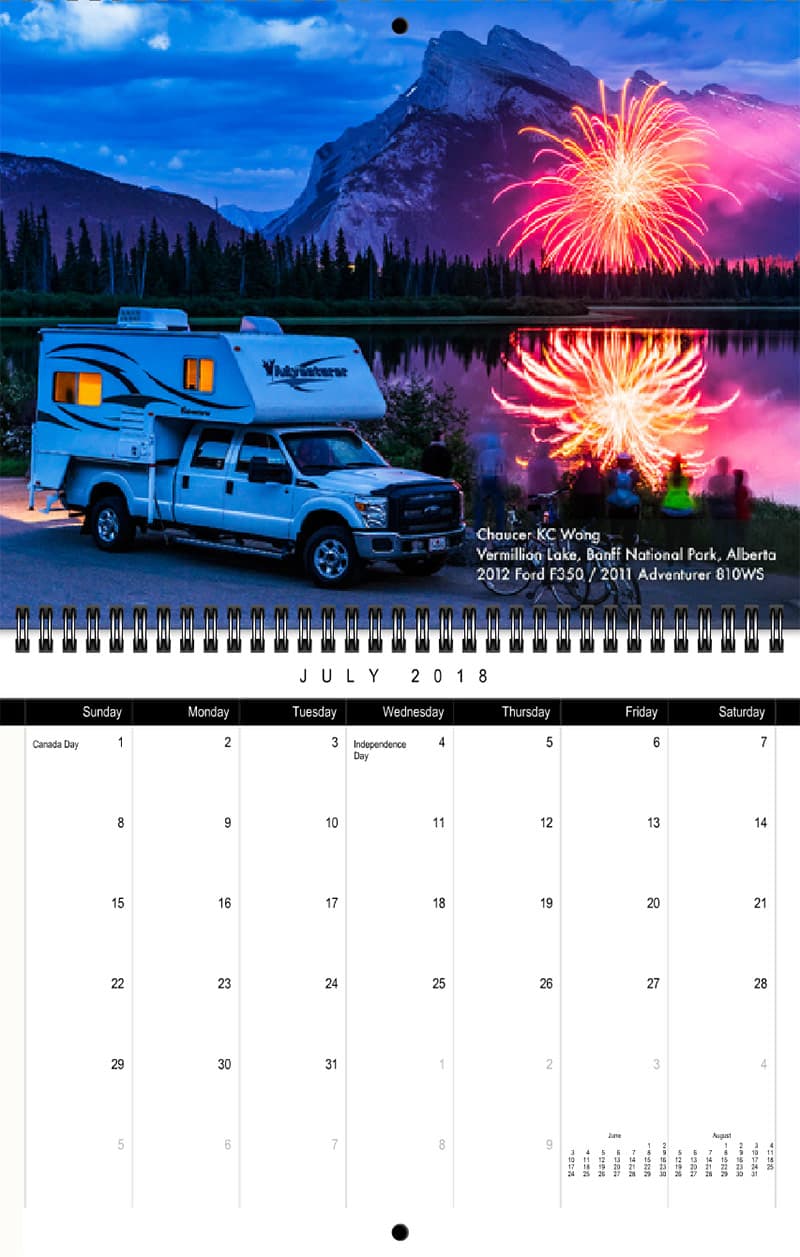 Vermillion Lake, Banff National Park, Alberta
2012 Ford F350
2011 Adventurer 810WS
After a thirty year career in automobile and sports photography in Hong Kong and China, I moved to Calgary to start my Canada National Park project.  The road trip started at the Banff National Park on the Canada Day.  I located the spot in front of Vermillion Lake with Google Maps.  Using the iconic Rundle Mountain as the background, I wanted to present the beauty of Banff National Park in such a meaningful 150th-anniversary fireworks.
August: Andrea Kelsey and Jeremy Lach
Moyie, British Columbia
2013 Toyota Tacoma
2017 Four Wheel Camper Fleet
After a month and half on the road, driving across the United States from Massachusetts, we crossed the border into Canada from Idaho.  The border agent informed us that all forest roads would be closed the following day due to uncontrolled forest fires.  We took advantage of our only night allowed on forest roads and drove up a mountain road and camped above a lake.  Upon nightfall, what started as a small smolder turned into a raging fire across the lake.  We watched in shock and awe at the blaze, faintly smelling the smoke and hoping the wind's direction would stay in our favor.
September: Cayetano Gil
Sequim, Washington
1995 Ford F350
2002 Lance 1130
This is one of the few little surprises and unexpected moments in our short experience as full-timers.
We started our adventure late in the summer from northern California.  We wanted to be able to experience as much as possible of what the Pacific northwest has to offer before the cold would make us turn back south.
After spending about a month in Oregon and a few days in the beautiful Olympia, the road found us driving through the Olympic Peninsula, close to the town of Sequim in Washington, with our bucket list in mind.
Although off season at the time, we wanted to see some of the lavender farms in the area, and we got lucky enough to get the okay from the owners to spend a night in one of them.  With the whole farm just to ourselves, my wife and I enjoyed the solitude and quiet that such a unique environment can offer.
This is just a capture of that special moment and the freedom that we recently discovered with our beloved camper.  Lavender farm… check.
October: Neilie Goodwin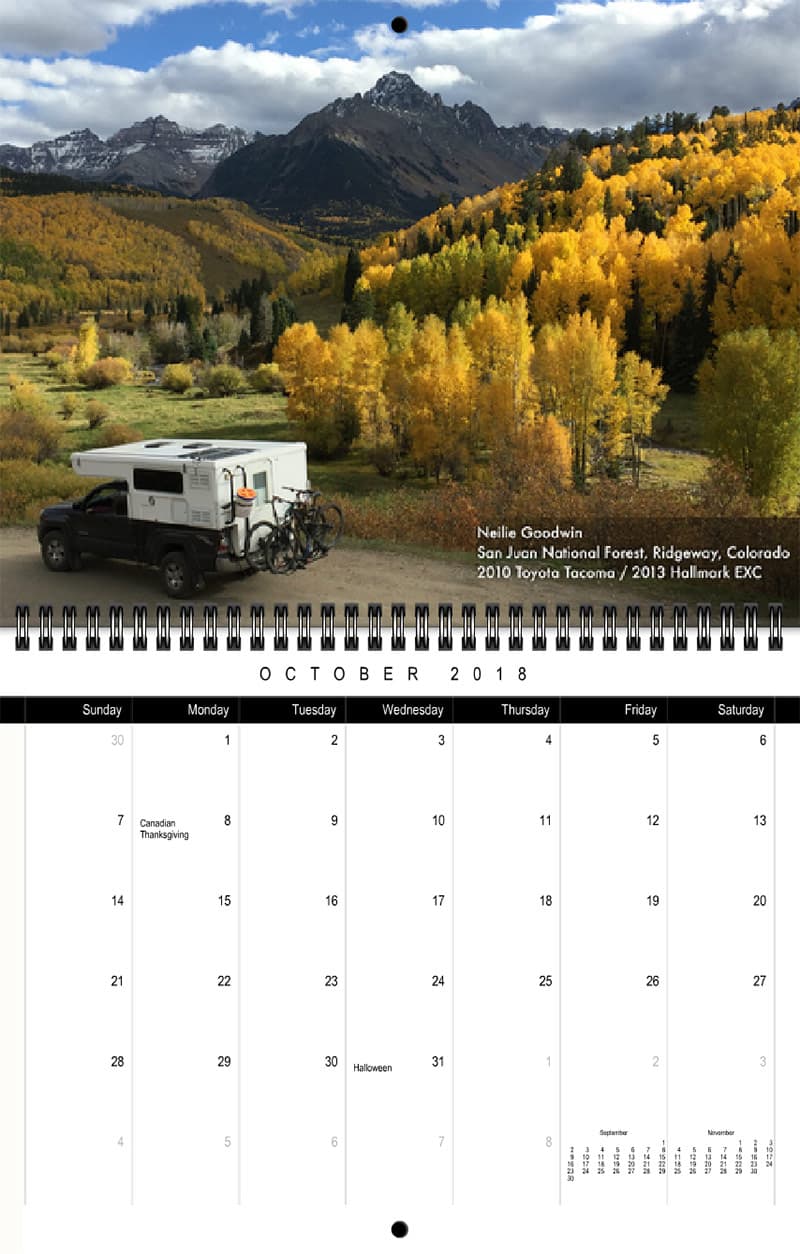 San Juan National Forest, Ridgeway, Colorado
2010 Toyota Tacoma
2013 Hallmark EXC
My husband and I had just moved to Montrose, Colorado and we were exploring around our new home.  We were heading back from mountain biking in Telluride, Colorado and decided to drive up to the Blue Lakes trailhead to camp for the night and hike the next day.  The Blue Lakes trail is one of the access trails to climb Mount Sneffels, a 14,000 footer in the San Juan Range, just outside of Ouray and Ridgeway (the main peak you see in the photo).
It was a beautiful fall weekend, and we had never seen so many people with huge cameras on tripods.  Fall is a great time of year in these parts and it is our favorite time of year to camp!
November: Nolan Sturgeon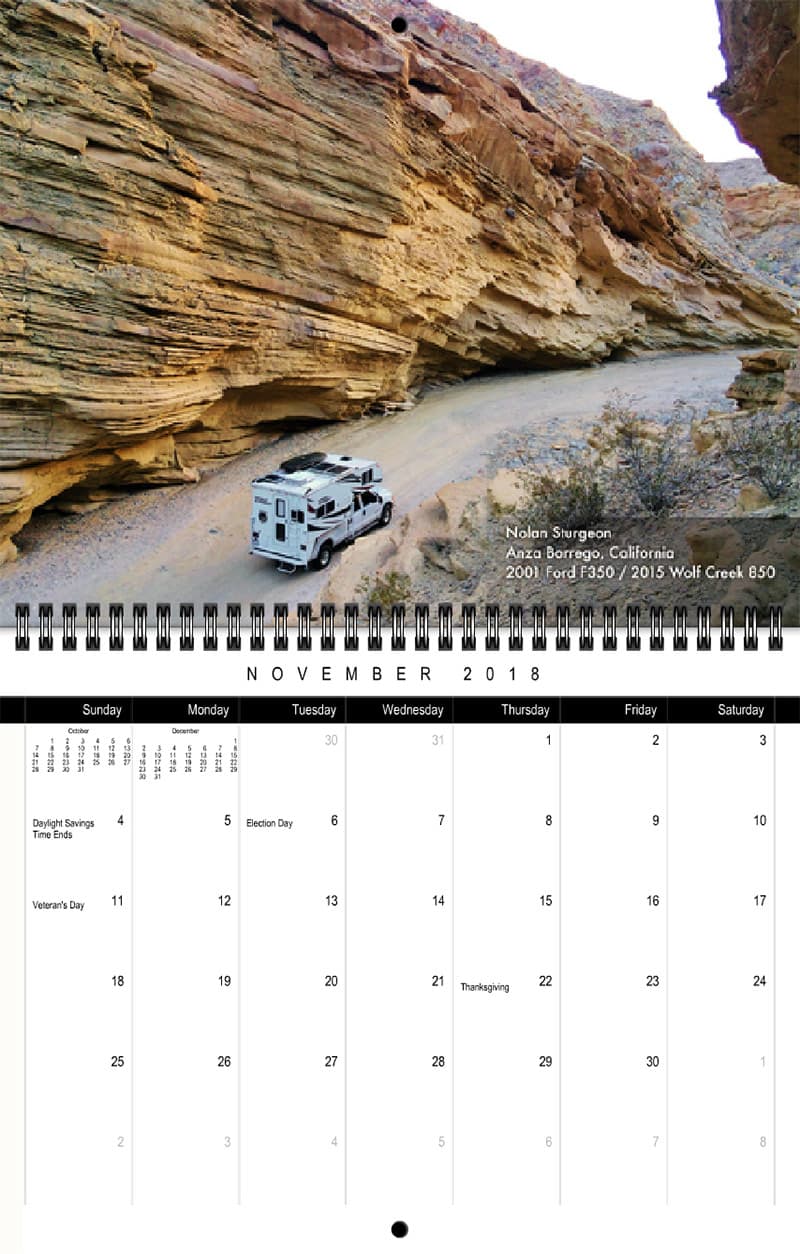 Anza Borrego, California
2001 Ford F350
2015 Wolf Creek 850
This photo was taken in the Fish Creek Wash area of Anza Borrego Desert State Park up Split Mountain Road.  Fish Creek wash is known as a geological wonderland.  You truly feel like you are driving on another planet.  This is one of the best areas one can take a truck camper through in the park.  If you have high clearance and four wheel drive, this is a place to put on your bucket list for sure.
The road starts out from the desert, transitions to marine estuary, changes to ancient Savannah to delta back to the desert.  Some of the main attractions include beautiful twisting canyons, oddly shaped caves, strange concretions, fossil reefs, ancient fossilized forests and interesting Indian village sites.  The open camping policy ensures you will always have a campsite with not another soul around.  There are no campground fees to pay, which is just the way we like it.
December: James McCoy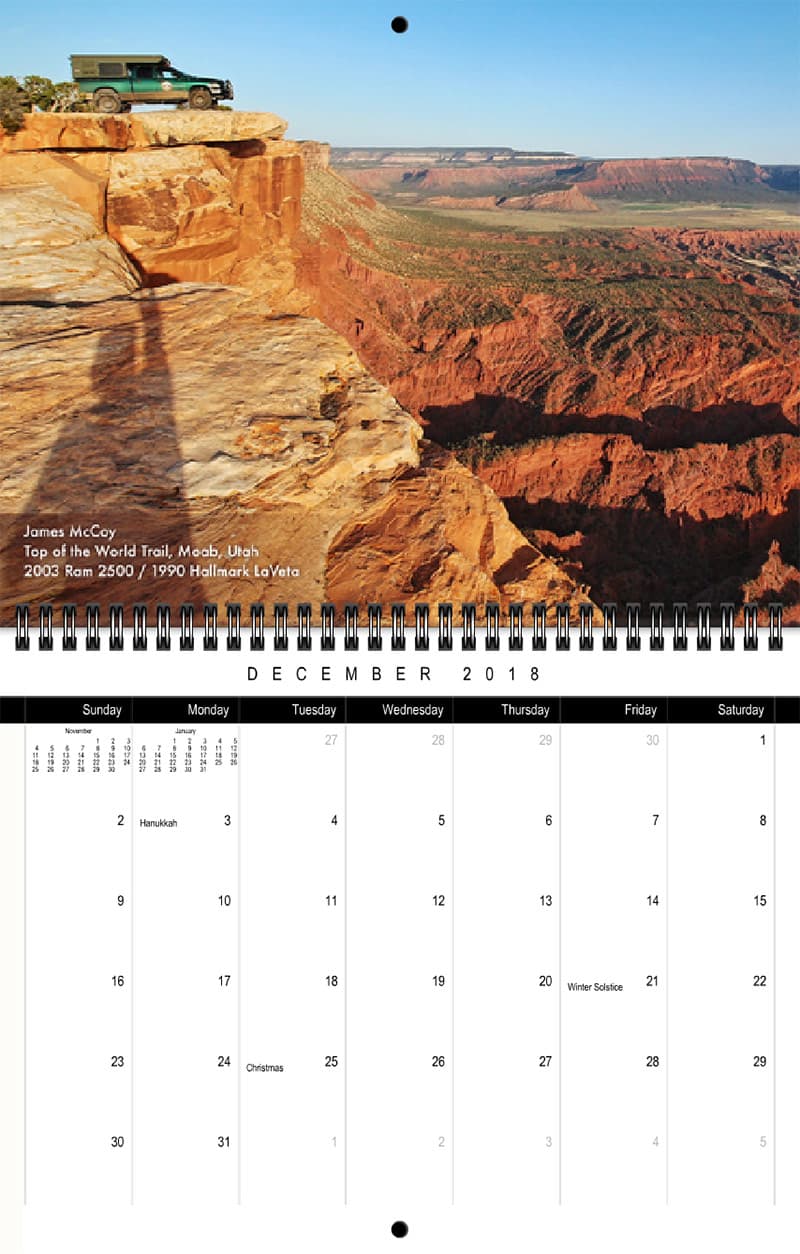 Top Of The World, Near Moab, Utah
2003 Dodge Ram 2500
1990 Hallmark LaVeta
In April 2017, I went to Moab, Utah, to check out the Easter Jeep Safari.  Before I got there I explored the backcountry in the Delores Triangle on the Colorado/Utah border.  Then, I decided to try and get my truck camper up the Top Of The World trail.  It's a fairly moderate trail for a Jeep, but the truck camper throws in a different challenge.  I knew it would be a slow and careful technical ride.  It was rough in four wheel low for over four and a half miles.  I went from about 4800 feet to 7000 feet at the trail's end.  The reward was one of the most amazing views in the area, peering down 2000 feet into the Fisher Valley and Onion Creek with vistas to the snow covered LaSal Mountains and 12,331 foot Mount Wass thirteen miles south.
I stayed up there for three days and two nights.  Each day dozens of Jeeps from the Safari came up for the views, but scurried down before dark.  Sunsets, the full moon and stars, and sunrises were all mine with the comfort of the camper.  It's a tough trail for a big truck and camper.  It's not for the faint at heart.
CLICK HERE TO ORDER THE CALENDAR