The 2018 Truck Camper Magazine Calendar showcases 13 stunning truck camper rigs in spectacular locations throughout the United States, Canada, and the World.  Order your 2018 Truck Camper Magazine calendar today for just $14.99.

CLICK HERE TO ORDER THE CALENDAR
The world's most incredible truck camper calendar is back!  The 2018 Truck Camper Magazine Calendar might be the best yet, and that's really saying something.  Not only are the images astonishing, but the rigs and the adventure stories behind them have us reaching for our truck camping bucket list for next year.
Thank you to everyone who entered the contest this year.  Once again, you have inspired our truck camping community to explore new places, and visit old favorites again.  Thank you!
Cover: Russell Goodin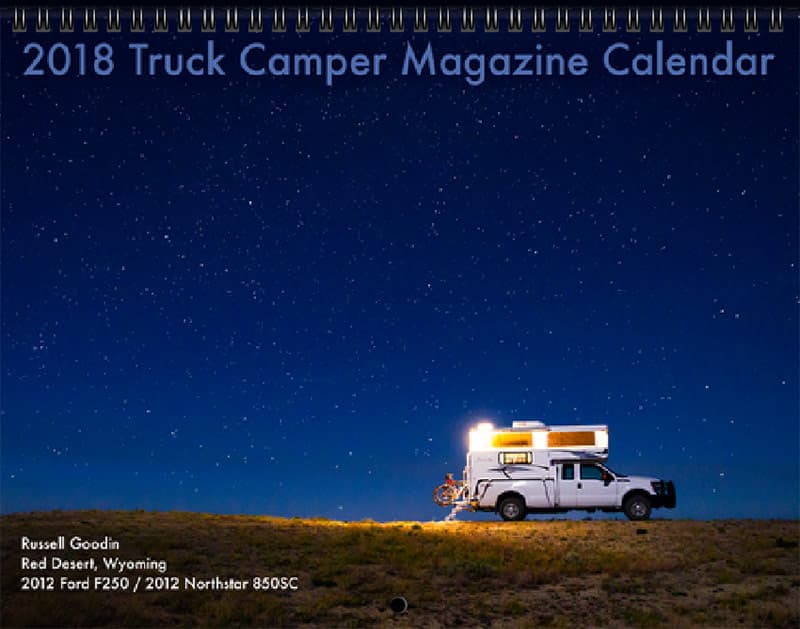 Red Desert, Wyoming
2012 Ford F250
2012 Northstar 850SC
Wyoming's Red Desert is an astonishingly beautiful place.  Many people dismiss the 108-mile stretch between Rock Springs and Rawlins as a desolate wasteland.  To be fair, it certainly seems like a wasteland from the comfort of a climate controlled passenger vehicle.  For some, the only things worth stopping for are the emerald green lawns and fifty-cent ice cream cones at the Little America Travel Center.  On the first leg of a solo ten-day road trip, I was attempting to drive non-stop from my house in Oklahoma City to my parents' home in Ogden, Utah.  I really had no reason to attempt such a long drive.  It seems silly now.
With the truck fueled and packed earlier in the week, I left Oklahoma before 4am on Friday, June 30th as mid-summer thunderstorms passed overhead.  I headed north on I-35 to Salina, Kansas, west on I-70 to Denver, then north on I-25 before exiting to US 287 for a scenic shortcut to Laramie, Wyoming.  On schedule to arrive in Ogden at 10pm, I had time to take a few sunset photos.  As the sun approached the western horizon, I exited I-80 at Tipton North Road (exit 158), a well-maintained gravel road that appears to service oil and gas facilities in the Wamsutter Field.
Traveling north past a gas processing plant, I was struck by the number of Pronghorn Antelope in the area.  A little further up the road, I passed a small herd of elk.  Apparently, the Red Desert is home to the largest population of desert-dwelling elk in the world.  Recognizing that I didn't have much sunlight left, I decided to follow an unmaintained dirt road to the crest of a small ridge where I thought I could find a good photo location.  A faint clearing in the sparse vegetation indicated an old camp site.  The ridge provided an overlook to a high-elevation desert basin; one that does not drain to any of the world's oceans.  Here, the continental divide splits and wraps around both sides of what has been named the Great Divide Basin.
From my overlook, I could see north past the Oregon Buttes and Killpecker Sand Dunes.  In fact, the jagged peaks of the Wind River Range, over 75 miles away, were visible just above the horizon.  While taking photos, the crisp desert air, huge skies, and complete solitude created and overwhelming sense of home.  I could not bring myself to leave.  I let my parents know I'd be delayed and popped the top on the Northstar and a Founder's All Day IPA.
Other than the occasional chorus of howling coyotes and curious antelope, the night was completely still.  Taking photos well into the night, I woke up at sunrise and reluctantly continued my journey to Ogden, Moab, the Abajo Mountains, and Hovenweep National Monument.  I'm not sure why, but the Red Desert was the highlight of my trip.  It is a place that stays with me.  I can't wait to go back and really explore.
January: Angela Klinger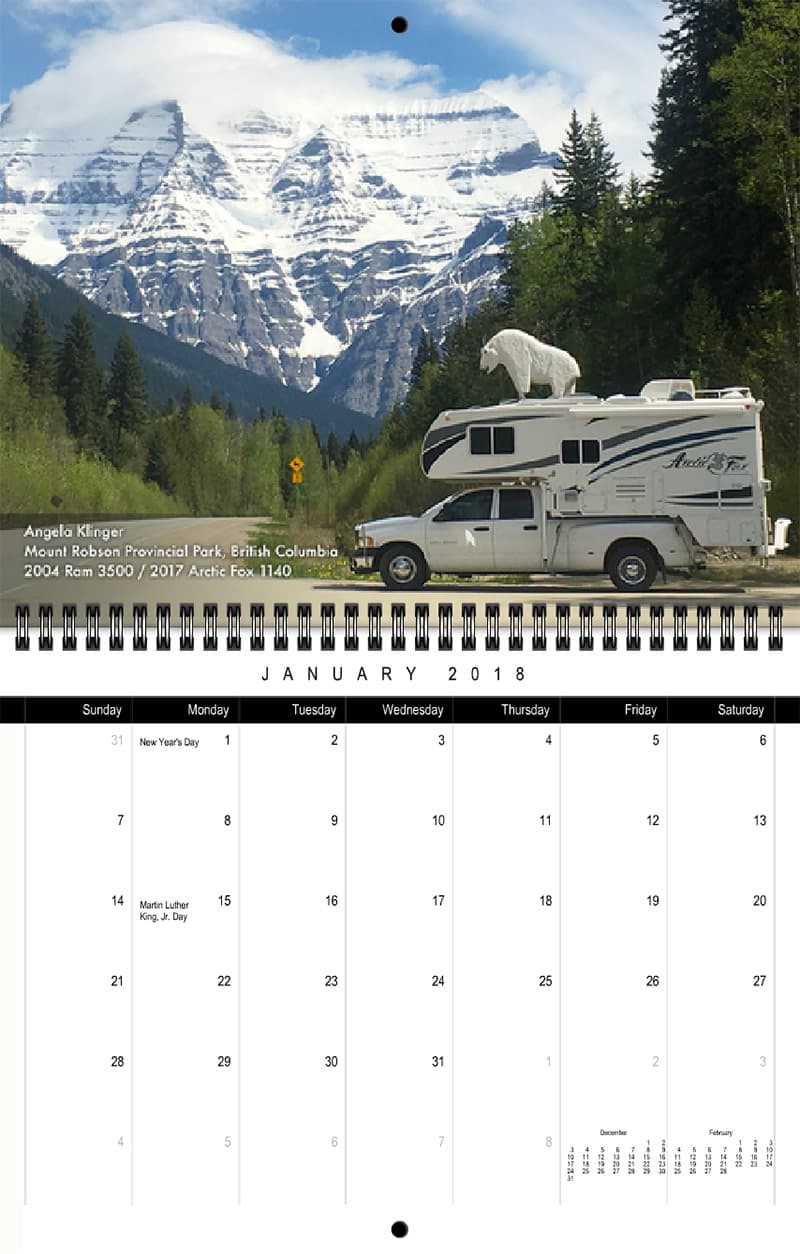 Mount Robson Provincial Park, British Columbia
2004 Dodge Ram 3500
2017 Arctic Fox 1140
Ralph and I took a four month trip to Canada and Alaska.  This year the Canadian parks are celebrating their 150th anniversary.  We spent lots of time in Alberta and British Columbia exploring many of their magnificent national parks.
While taking in the beauty of the Canadian Rockies as we were traveling along Route 16, the Yellowhead Highway, we pulled into a pull-off that displayed this beautiful Mount Robson Park sign.
I got out to photograph the sign with the very realistic mountain goat.  As I walked back to truck camper I had an idea!  I had Ralph maneuver the camper in such a way that it looked like the mountain goat jumped on our camper.
When I posted this picture on Facebook many of my friends thought it was a real mountain goat and asked if the goat did any damage to our roof.