The 2023 TCM Calendar is ready to order for the low-low price of just $14.99. Click to see who made the cover, who made which month, and how these inspiring truck camping images happened. Order your 2023 TCM Calendar today!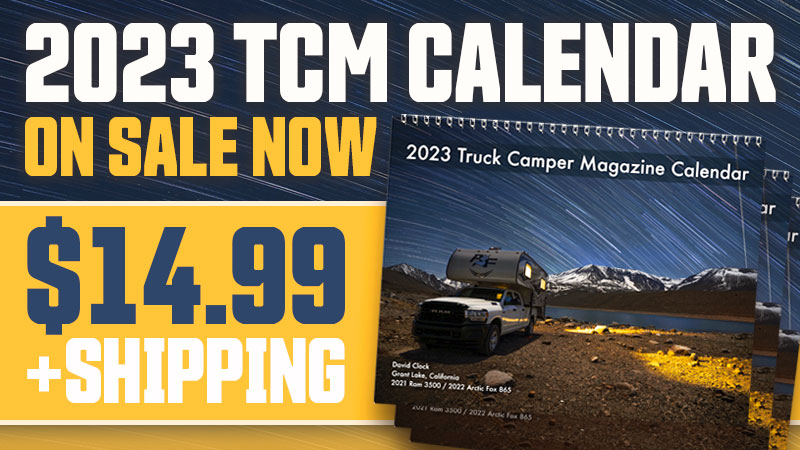 CLICK TO ORDER A 2023 TCM CALENDAR
What follows proves beyond any doubt that our truck camper community is out having fun and living their lives to the fullest. You can't look at these winning calendar photos and not be inspired to get out into the world and explore. If anyone out there needs a reminder as to why you love truck camping, just scroll down.
To maximize the inspiration, post the 2023 Truck Camper Magazine calendar in your house, camper and/or office wall and dream big for next year. Then make the plans to make those dreams happen, take pictures of your rig in amazing places, and enter the calendar contest for 2024!
Thank you to everyone who participated in this year's calendar contest.
Here's to 2023.
Cover – David Clock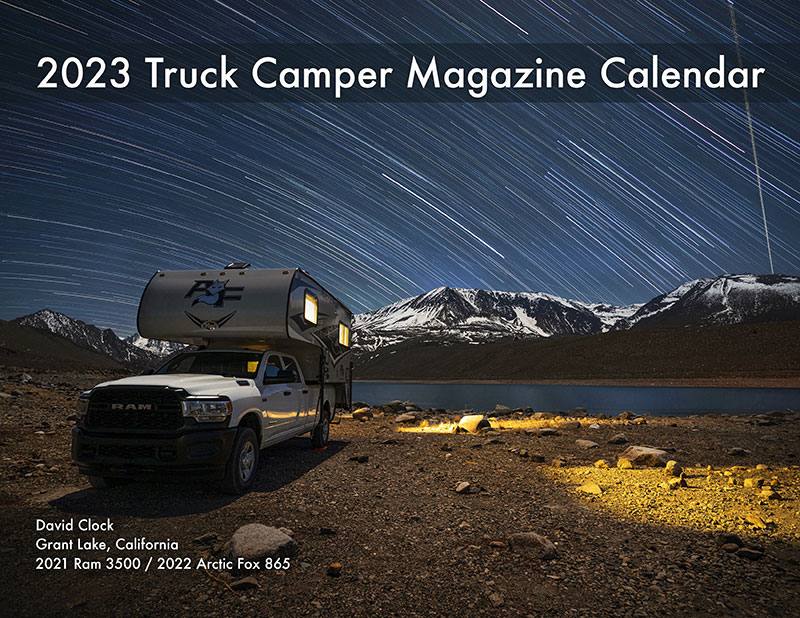 Grant Lake, California
2021 Ram 3500
2022 Arctic Fox 865
This photo was taken on a weekend trip for my birthday. I planned this quite a few months in advance checking all the moon dates. The conditions needed to be right. My wife and I had done some hiking and kayaking over the weekend with this spot in mind for those activities and photography.
We often weekend camp in this area. Usually, there's no one around. It's quiet, on a lake with a big mountain backdrop which makes it special. Luckily, we had clear weather. That's often not the case for early April in the eastern Sierra.
I have done a good amount of night photography, so I knew what I was after with this shot. What was needed was enough moonlight to show some foreground detail, yet not so much to drown out the stars in the sky. This shot took some time to do. It is 80 individual long exposure images stacked to produce one finished shot for the sky, then I shot one for the foreground. Once all images were on my computer, I blended the two shots together for a high-quality finished image.
I often use my camper for my photography, and we always mix in activities like hiking, rock climbing, mountain biking, snowboarding, and kayaking.
Having the Arctic Fox 865 has been fantastic. It's such a solid-performing, comfortable camper year-round. I really like the versatility of a truck camper when it comes to getting out there. Dry camping allows us to go deeper into the backcountry or just about anywhere we choose to explore. Our home is in Tahoe, but the freedom gained while truck camping is incredible.
January – Heidi Besen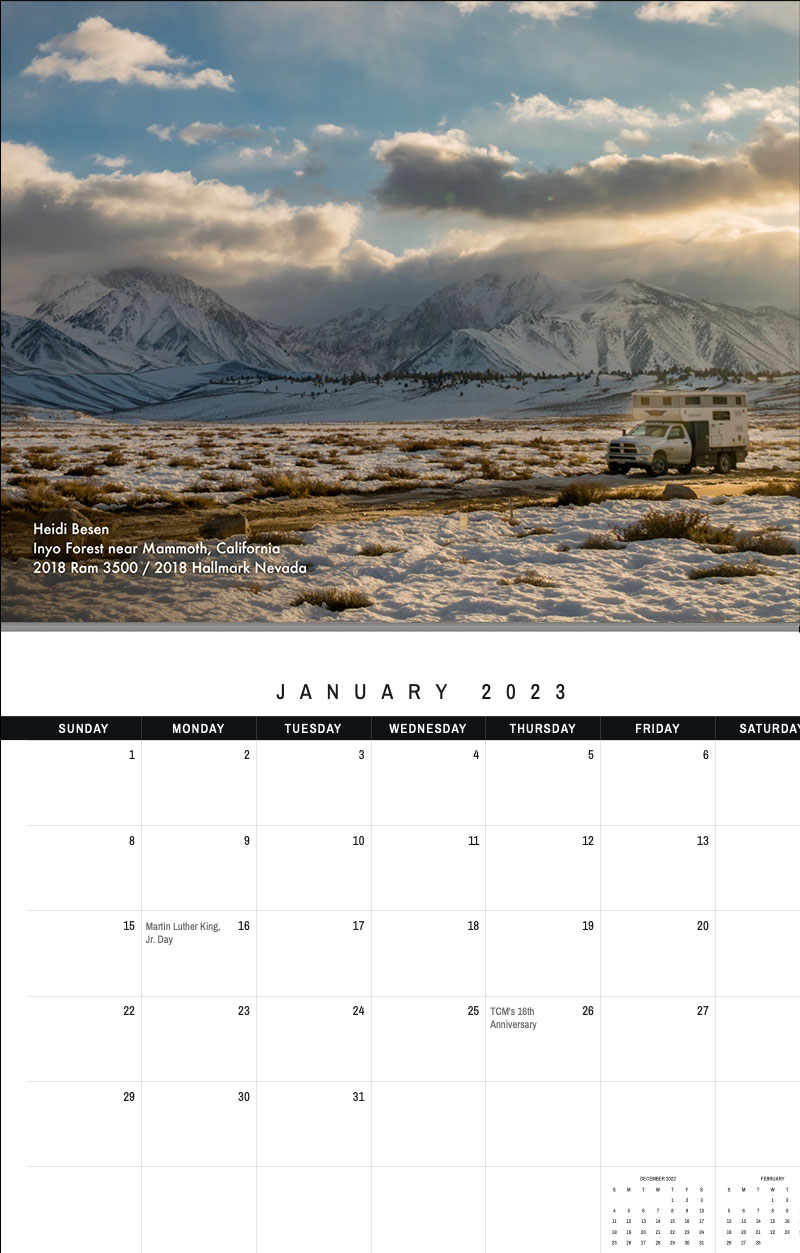 Inyo Forest near Mammoth, California
2018 Dodge Ram 3500
2018 Hallmark Nevada
We love to take long trips in our Ram 3500 and Hallmark Nevada; a truly comfortable and home-like combination. Our trips are often during the winter months and encompass a combination of visiting friends and family, skiing, and then seeking warmth in the southern and southwestern states.
When this photo was taken, we had been on the road for about five months and were spending time at a number of ski resorts in The West. This day we skied at Mammoth in California and were seeking a convenient nearby spot to spend the night. We hadn't done much planning.
We checked our usual resources like iOverlander, Free Campsites, and Campendium and felt lucky to find this spot just at the bottom of the mountain in the Inyo Forest near Whitmore Hot Springs. There are several campgrounds in this area as well as plenty of dispersed spots. We did not actually make it down to the springs on this visit as we were dog-tired and the driving was icy. I hear the springs are awesome. They're definitely on our list to check out next time.
We stopped in this open area with a fabulous view of the Sierras. It was very cold when we got there late in the day. As a photographer, I find this to be the most beautiful time of day. The light is gorgeous and the sky was filled with puffy clouds. It was worth hiking in the treacherous icy snow and freezing temperatures. What you can't see in the photo are the amazing views in every direction. The view back to our camper really captured it; golden light, a majestic view, and our awesome home on wheels.
February – Scott Gregson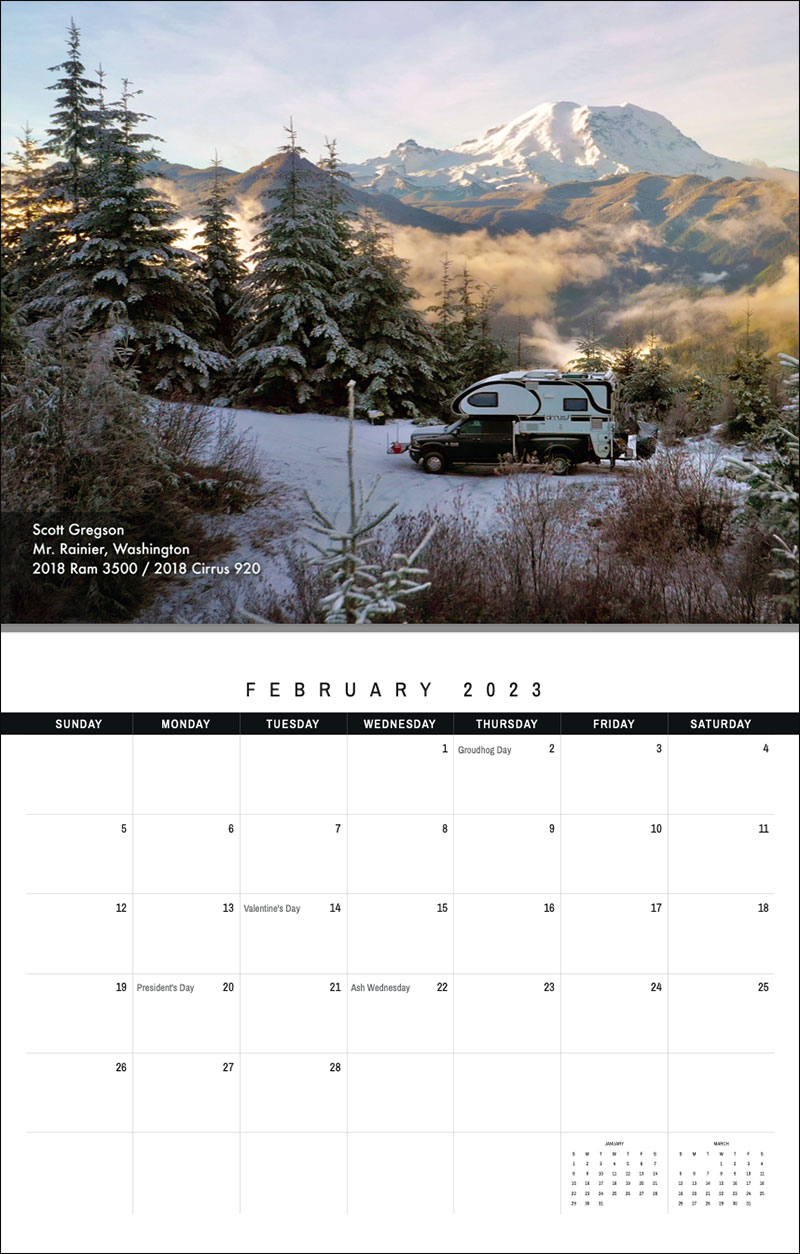 Mt. Rainier, Washington
2018 Ram 3500
2018 Cirrus 920
This photo was taken on National Forest land along service road "NF-7220 2" near Greenwater, Washington. Our time here was a mixture of some of our best and worst travel experiences. Sasha and I were on our way through the Pacific Northwest and heading south toward California. We had gotten a late start in the season and were camping in near-constant rain with temperatures in the 30s and 40s. We spent a little time in the area visiting friends and doing some work-related projects.
After a couple of weeks, we were ready to leave the area and seek out some sun when we had some unexpected medical needs arise. We had previously found this free boondocking spot and decided to use it as our home base while we waited for test results and upcoming appointments. The location was challenging to get to and very remote; we never imagined that we would be here for another month.
Sasha and I had plans to spend Thanksgiving Day with friends in Seattle and decided to do our own Thanksgiving dinner in our camper a few days before Thanksgiving 2021. It was early in the morning, the rain had stopped, and there was an unusually clear sky. The sun had just started to peek above the mountaintops to the east and I knew I had to capture this spectacular scene.  It was almost always cloudy and rainy, and we seldom got to see Mt. Rainer's striking beauty in the distance. But on this morning, the clouds parted, the sun came out, and this has become one of our most memorable adventures.
We also captured this special day in a video on our YouTube Channel "Stonyboot" titled "Thanksgiving in a Truck Camper". The video shows the area in much greater detail and shares our mountainside Thanksgiving.
Feel free to follow us on Facebook, Instagram, and YouTube.
March – Cher Graham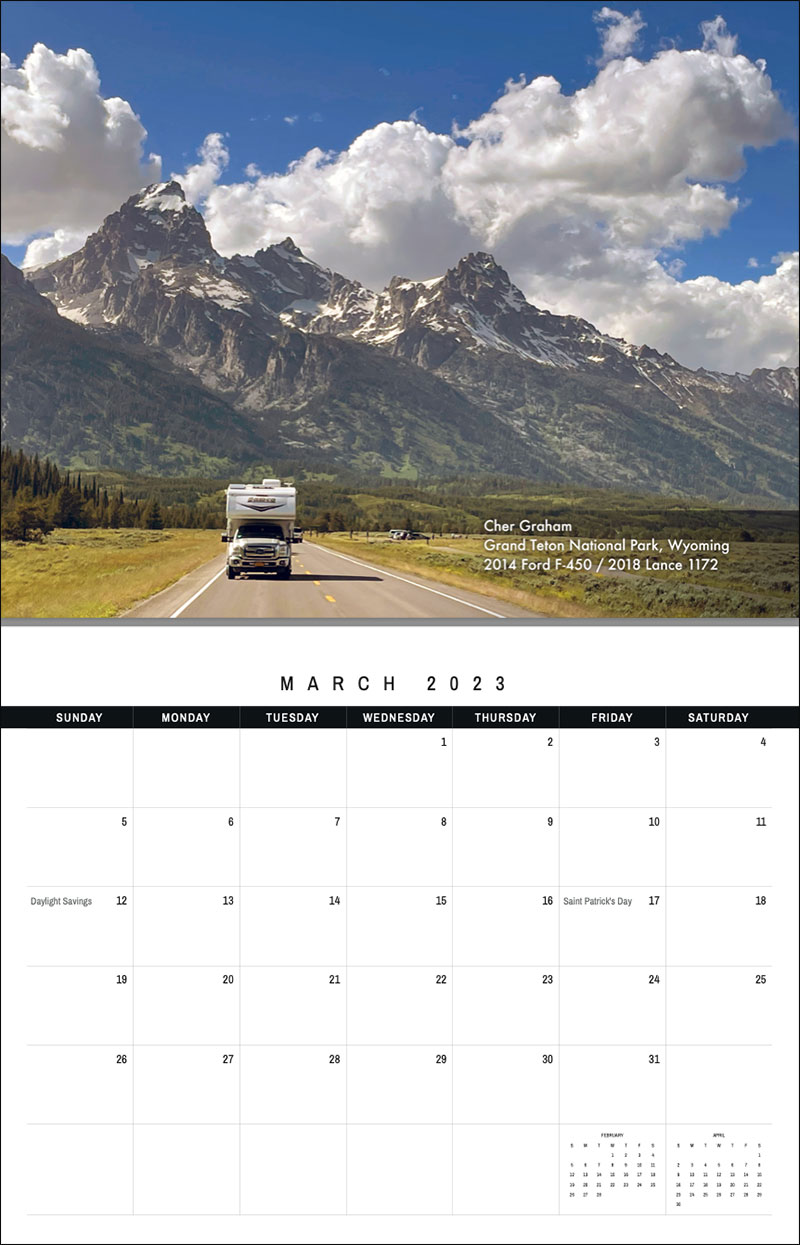 Grand Teton Park Road, Wyoming
2014 Ford F-450
2018 Lance 1172
My husband and I bought our first truck camper in 2018, an Arctic Fox 811, after owning a variety of tow behinds, fifth wheels, pop-ups, and tents.
We wanted to be able to tow our pontoon boat behind our camper. We live in the Finger Lakes area of New York, just south of Lake Ontario, and enjoy many local camping and boating adventures during the summer months. We retired in January of 2020 in time to make two cross-country trips during Covid.
We safely explored Colorado in July and loved returning east along rural Route 36. We later traveled from our home base in western New York to Southern California for Christmas with family, exploring as many different Harvest Hosts spots as we could. We enjoyed traveling along Routes 20 and 10, and returning on Route 40.
Cross-country trip number three was to visit all five national parks in Utah before traveling from San Diego, California to Portland Oregon along the beautiful coastal highways, and returning east on Routes 90/94.
This photo was in our 2018 Lance 1172 as we were on our fourth cross-country adventure. Our final destination was Bliss, Idaho for a family reunion. On this trip, two of our daughters, their spouses, and eight of our nineteen grandchildren caravanned with us from New York and Ohio to Idaho.
We would let the grandkids ride in different vehicles to keep them happy. I was riding in a minivan ahead of our Lance when I looked back to see the gorgeous Grand Tetons. I popped my head out of the moonroof (not recommended) to snap this photo!
We find truck camping the best of all worlds; mobile, easy to park, easy to set up and break down, driving off-road, or in large cities. It's so versatile, yet comfortable! We go through withdrawals whenever we return to our permanent home.
We look forward to more truck camping in 2023 and our Truck Camper Magazine calendar will be with us, as always! Thank you to all fellow truck campers who voted for our entry.
April – Matthew Breiter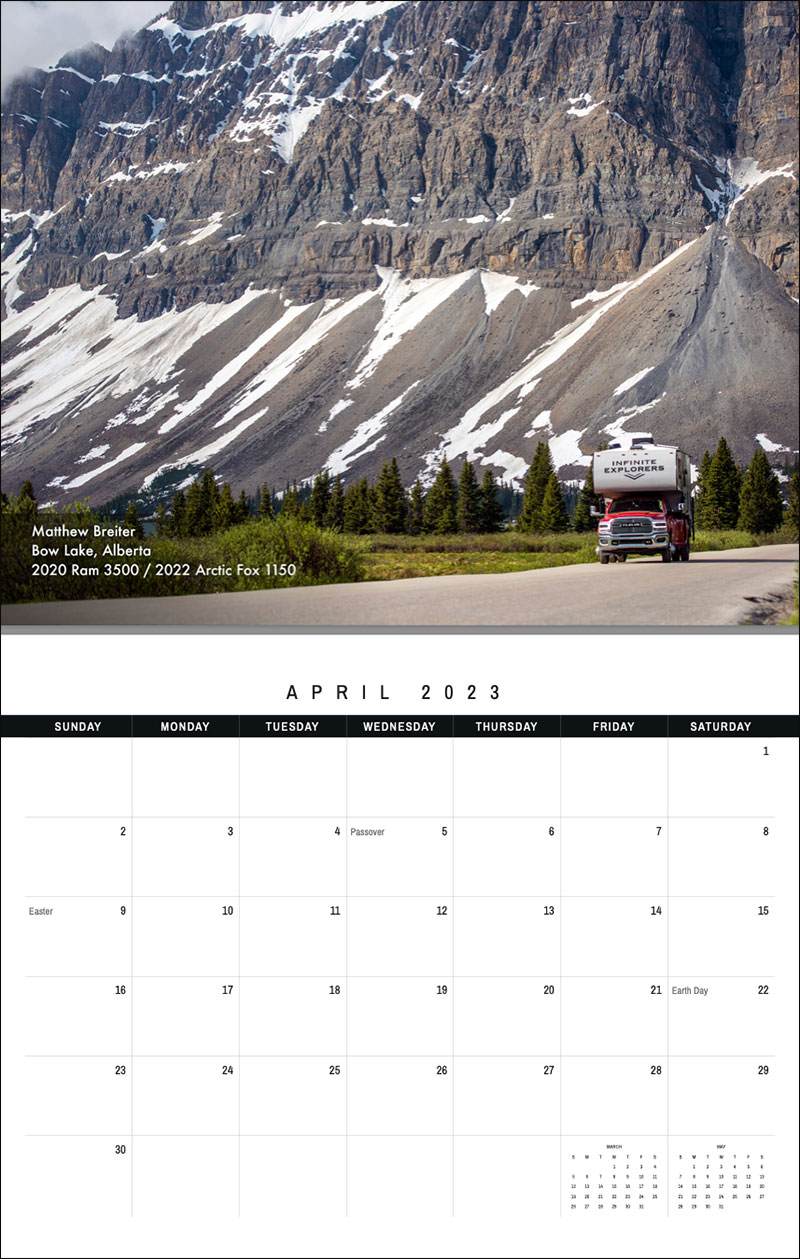 Bow Lake, Alberta
2020 Ram 3500
2022 Arctic Fox 1150
We traveled to Canada in June and July of 2022 with our 2022 Arctic Fox 1150 truck camper. We spent most of our time in Banff and Jasper National Parks. Even though those areas can be very crowded, we got up at 4:00 or 5:00am each day to beat the crowds and see the best sites before the tour buses started coming.
Bow Lake was one of our favorite stops in our time in Canada. As we left Bow Lake in Alberta, we noticed how tall the mountains were surrounding us. We stopped to take a photo and show how little our Ram 3500 and Arctic Fox 1150 were compared to the scene around us. Clouds were flowing over the mountains to block the peaks from view. Every mile (or kilometer in this case) had a completely new view as we drove up the Icefields Parkway.
Feel free to check out our Infinite Explorers travel pages on Facebook, Instagram, and YouTube as we travel all over the world!
May – Ken Pastorius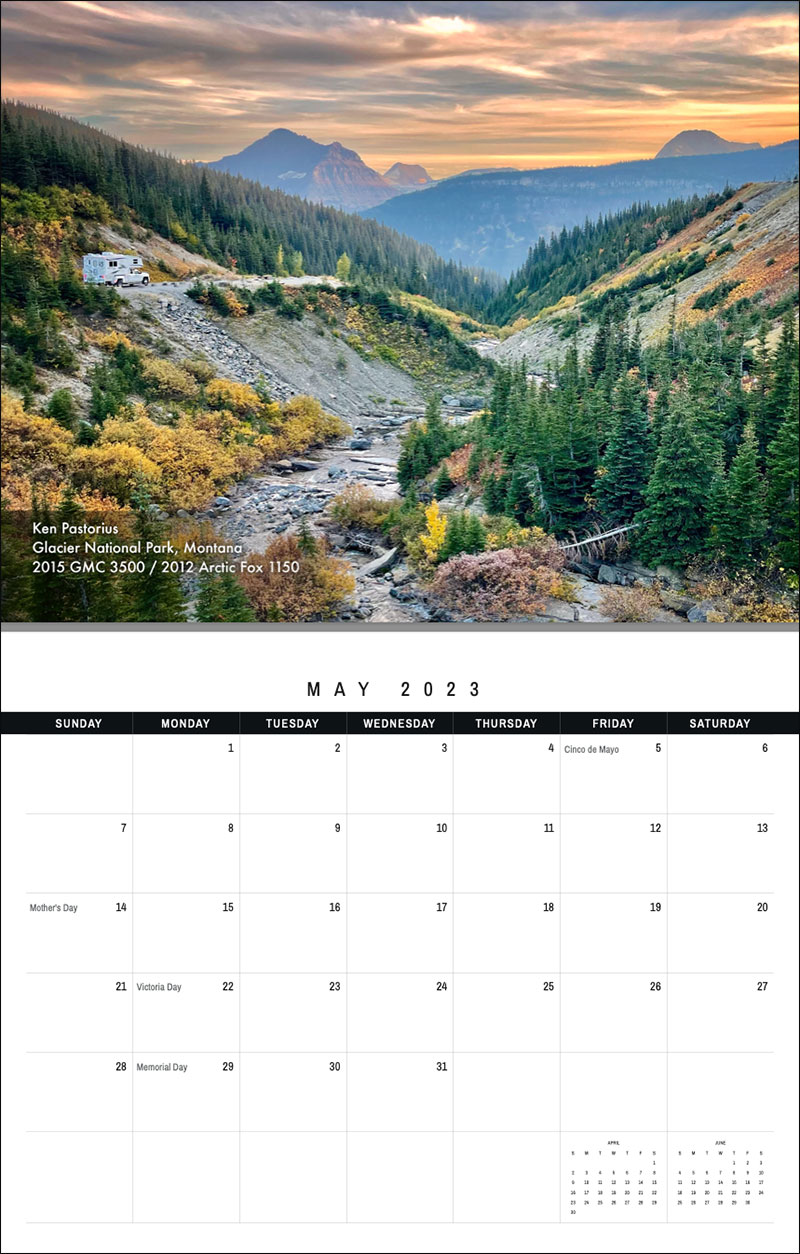 Glacier National Park, Montana
2015 GMC 3500
2012 Arctic Fox 1150
My wife and I are from a little town in northern Michigan called Petoskey. For the past several years, we've been taking road trips in both the fall and winter. We never travel with reservations or camp at independent campgrounds. Unless we're at a National Forest or National Park, our home for the night may be a Walmart, rest area, Bass Pro Shop, truck stop, Cracker Barrel, BLM area, or often just the side of the road.  Our destinations are normally the National Parks where we love to go hiking.
On this particular road trip, I got on the road on September 16th of 2022. I began at Picture Rocks National Shoreline in Michigan's Upper Peninsula for a 12-mile hike along the cliffs of the Lake Superior Shoreline. Next was Theodore Roosevelt National Park, followed by Little Bighorn National Monument. I then took a magnificent drive over the Beartooth Mountains into Yellowstone National Park. From Yellowstone, I decided to finally visit Craters of the Moon National Park in southern Idaho, then roam over to the Sawtooth Mountains. It was while I was in the Sawtooth Mountains that I received a call from my sister.
My baby sister, her youngest daughter, and daughter's husband were flying into Glacier National Park for a short visit to get in some hiking. They flew into Kalispell, Montana on a Tuesday and had reservations at hotels in West Glacier and Browning. Wednesday and Thursday were their only days to hike before returning home.
I had no plans to visit Glacier because we had been there many times before and the entire Going to the Sun Highway was closed from the west entrance to Logan's Pass due to construction. But, the east entrance at St Mary's to Logan's Pass was open and that's where we chose to explore. So, with Glacier National Park eight -ours directly north of me, that's where I headed.
The day they arrived at their hotel in West Glacier, I spent the night at a pullout on Highway 89, about a mile north of the St Mary's east entrance to the park. On Wednesday morning, we all met up at the St Mary's visitor center.
Our rig dimensions are about 30 feet long and 12'4" tall. I'm familiar with the vehicle length and height restrictions for the Going to the Sun Highway, but with traffic being light at this time of the year, I crossed my fingers and hoped I could slip under any tunnel I might meet up with. Besides, all my hiking gear, food, and conveniences are in the truck and camper. So, I elected to give it a shot and I was followed by my sister in her rental car. Fortunately, it turned out there was no problem. The truck easily handled the tight switchbacks and the one tunnel to Logan's Pass had plenty of clearance.
Our first hike on Wednesday was the four-mile Saint Mary and Virginia Falls trail, followed by a five-mile hike from Logan's Pass to Hidden Lake. By the time we returned from the Hidden Lake hike, the sun was beginning to set and we decided to part ways and meet up at the amazing Grinnell Glacier Trailhead the following morning.
At the end of Many Glacier Road is the Many Glacier Campground where I decided to camp for the night. While returning east on the Going to the Sun Highway to the St Mary's exit, I was making a turn on a switchback when to my right, I noticed a beautiful valley with glowing orange clouds to the south. Wow, a beautiful setting for a picture, but no place to park. So, I continued a ways around the bend and found a spot with just enough room to park my rig. I had to hurry and walk a distance to reach the middle of the switchback before losing the beautiful orange glow in the clouds. As I was taking the picture, I noticed my rig was visible from where I parked and decided to include it in the shot.
June – Mike Tumchewics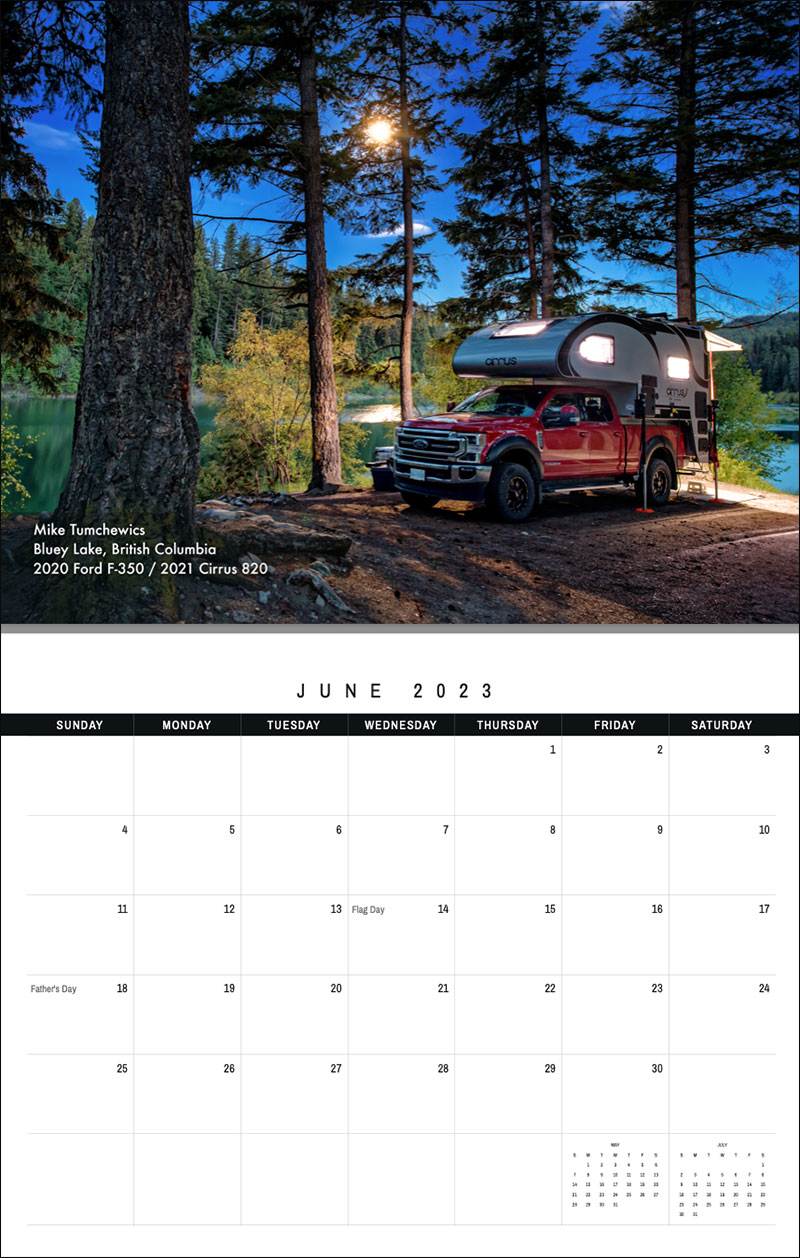 Bluey Lake, British Columbia
2020 Ford F-350
2021 Cirrus 820
Our Cirrus 820 is set up for off-grid camping and, coupled with the four-wheel drive capability of the F-350, it makes for a great rig for camping and exploring far off the beaten path. We were drawn to this particular location from the photos of the gorgeous Bluey Lake found on the BC Sites and Trails website. In British Columbia, the Sites and Trails site is a terrific resource when searching for the particular kind of camping locations we enjoy; far from civilization, and on a lake or river for kayaking.
The website description on accessing the campsite briefly mentions that the road to the site is best accessed by high clearance four-wheel drive vehicles. While navigating to the campsite we soon realized how understated that bit of information was.
We have confidence in our rig, but the road definitely put it and our nerves to the test. The road was exceptionally rutted and eroded with several steep hair-raising descents. It was barely wide enough to accommodate our F-350, so we were grateful that we did not encounter an oncoming vehicle. This white knuckle road continued for what seemed like an eternity before giving way to a crystal clear, aquamarine-hued lake and a campsite worthy of the harrowing journey.
The weather, though cool with the occasional rain shower, cooperated allowing us to take to the water with our kayaks and have drinks and dinner by the fire. The last day of our four-day stay was gloriously clear and sunny. Upon nightfall, I was able to capture this photo of the moon rising and illuminating our shoreline campsite.
July – Linda Duke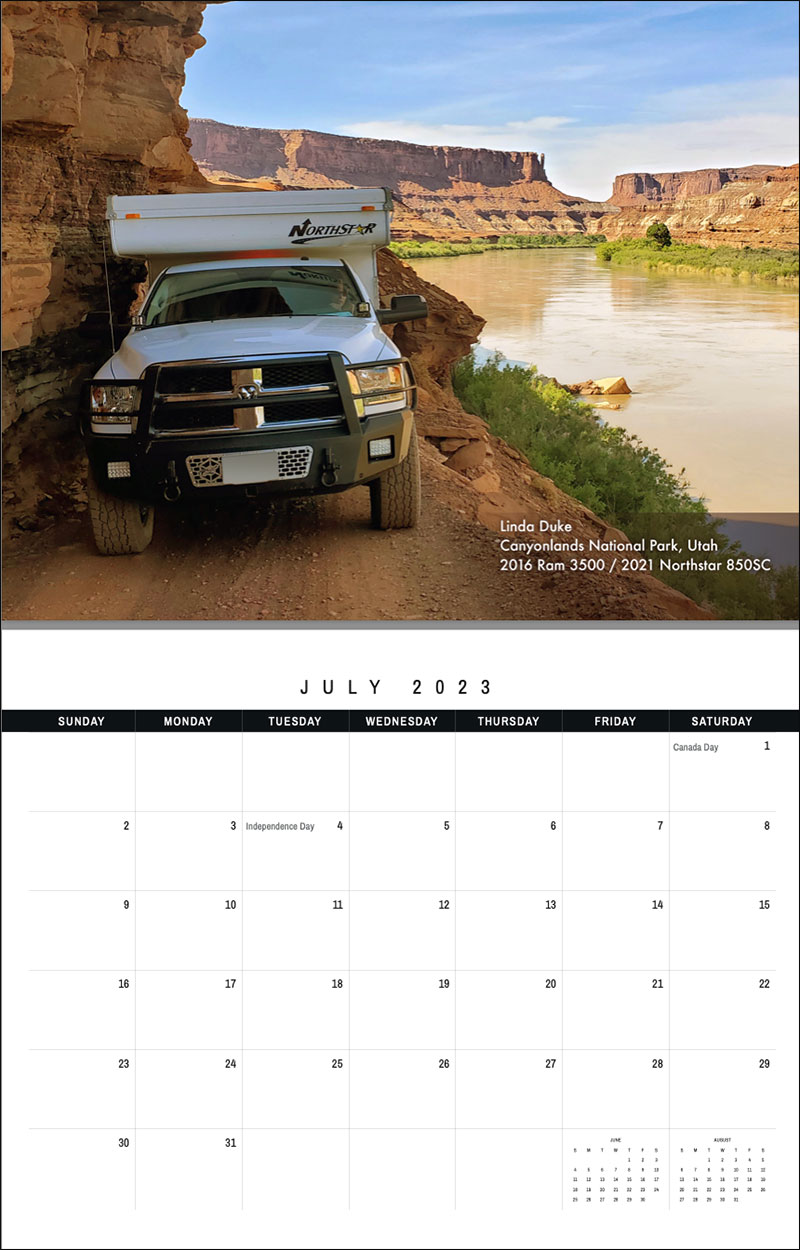 Canyonlands National Park, Utah
2016 Ram 3500
2021 Northstar 850SC
We had wanted to explore the White Rim Trail in Canyonlands for several years but the campsites along the trail are hard to reserve in the right sequence. For 100 miles, this road circles around the Island in the Sky mesa, taking you past canyons, buttes, and the Colorado and Green Rivers. These two life-sustaining rivers converge on the southern end of Island in the Sky.
This past spring the stars aligned and we were able to reserve five nights along the trail. What we didn't know was that would be the week that the Bureau of Reclamation would ramp up the flow out of Flaming Gorge Dam 360 miles upstream to raise the level of Lake Powell. Because of this, the Green River was flowing at twice its normal volume which caused it to back up into Upheaval Wash which covered a portion of the White Rim Trail. This made it questionable whether we would be able to cross the trail at that point, which was about 70 miles in, and make it around the entire loop. We did not like the prospect of backtracking that many miles as our average speed was about nine miles per hour.
As is typical with the best-laid plans, we decided to adjust our route. We ventured down the switchbacks on the Colorado River side of Island in the Sky and spent two wonderful nights about 30 miles in. Then, we went back up the switchbacks and over to the Green River side and down those switchbacks for three more nights. We did make it to the flooded area from that side and the water was about 30-inches deep over the road. It was good that we turned around and didn't try to make the whole loop.
The last two days we camped in complete solitude, did some hiking during the day, and spent the evening watching and listening to the river as it glided by. We never realized how many noises a river, without rapids, can make. The sunset and swirling gurgling sounds of the currents were mesmerizing. You realize these are the moments that are not just desired, but essential to our souls. Hence the reason we have our truck and pop-up camper. We love it!
August – Lori Dasko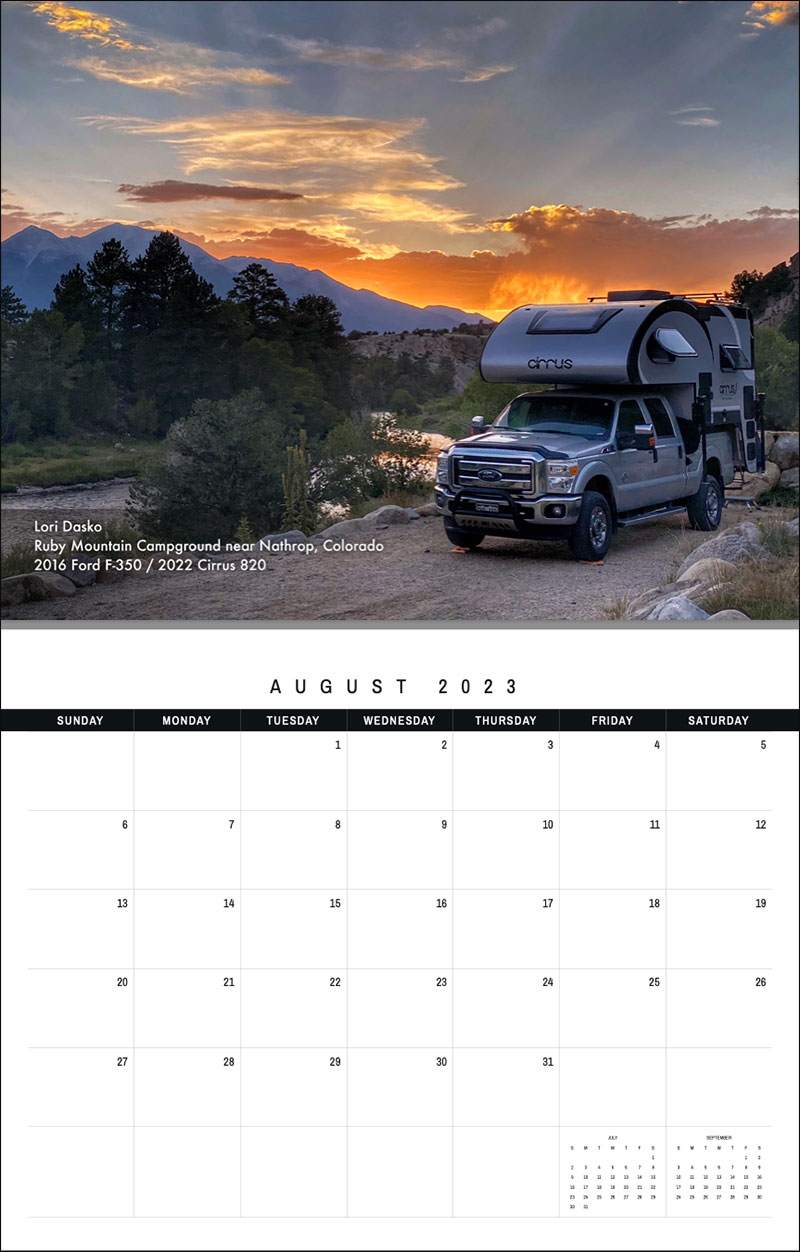 Ruby Mountain Campground near Nathrop, Colorado
2016 Ford F-350
2022 Cirrus 820
We have been avid campers exploring Colorado and beyond since 2011. Our go-to camping spot by our Cirrus dealer near Salida, Colorado is Ruby Mountain Campground, a Colorado Parks and Wildlife-managed campground on the shores of the Arkansas River and right next to Browns Canyon National Monument.
We find the area to be a recreational paradise offering rafting, fishing, ATVing, and hiking, not to mention hot springs and the famous St. Elmo ghost town are nearby. The majestic 14,000-foot Collegiate Peaks tower to the west showcase striking white cliffs.
We are always on the lookout for amazing sunsets. On the evening this photo was taken, a powerful thunderstorm swept through and we were treated to a beautiful rainbow to the east. Not to be outdone, a little later the setting sun to the west filled the sky with piercing rays and glorious color.
September – Derek Hansen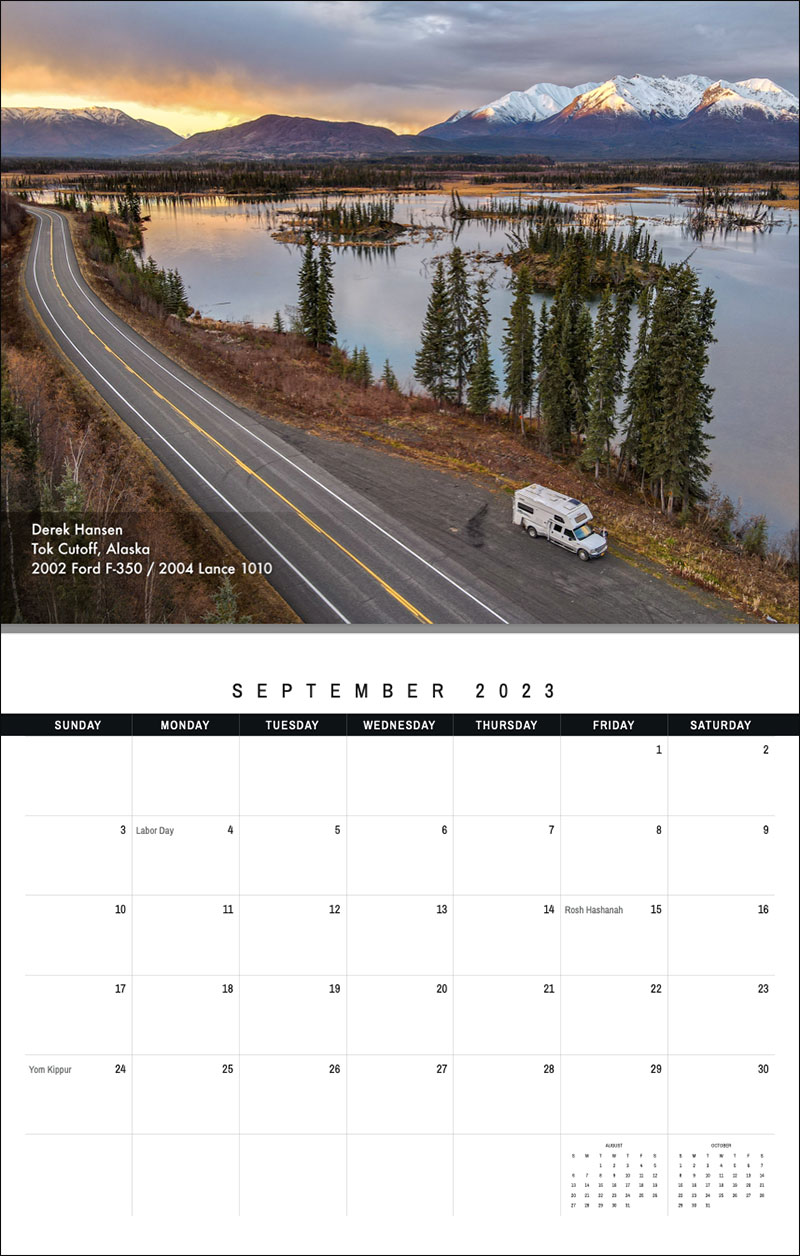 Tok Cutoff, Alaska
2002 Ford F-350
2004 Lance 1010
I've lived in Anchorage, Alaska for sixteen years and have loved every bit of it. I feel very lucky and blessed to have spent so much time in a place famous throughout the world for natural beauty and adventure.
Having a truck camper for the last five years has allowed my family of five to explore Alaska and make many wonderful memories together. But, now it is time to move on because I'm starting a new job in Idaho.
We headed down the Alcan Highway in October for a ten-day, 3,000-mile scenic road trip to my new work. I was planning to make it to Tok that first night but got a late start from Anchorage. After driving in rainy darkness for a couple of hours, I was starting to get drowsy and decided to stop for the night at a pullout about 45 miles short of Tok, near Mentasta Lake. In the darkness, I couldn't see much about what this spot looked like, but there was a geocache here named, "Alaska the Beautiful", and that sounded like as nice a place as any to spend my last truck camper night in Alaska.
I woke up at 3:00am to find the rain was gone and the northern lights waving slowly and silently among the stars overhead. An owl hooted nearby and coyotes howled far away. It was a surreal and beautiful night and I felt as though Alaska herself was giving a final salute and farewell on this rig's last night there.
I spent the next hour outside, soaking it up and taking long exposure photos of the stars and aurora until the light show faded away. I slept in the next morning and wasn't ready to hit the road until sunrise. I wanted to have a good look at this spot in the daylight, so I launched a Mavic quadcopter to capture the view from above. This photo was my favorite shot from that quick flight.
This road is called the Tok Cutoff. I like the way it stretches into the distance towards the sunlit mountains behind the truck camper. I suppose there's a metaphor here about roads already traveled and the journey of life. A new day for a new chapter on that journey. The way ahead is the future and cannot be seen yet. Farewell to the Last Frontier. We sure had some good times.
Feel free to check out our Instagram page.
October – Brent Koops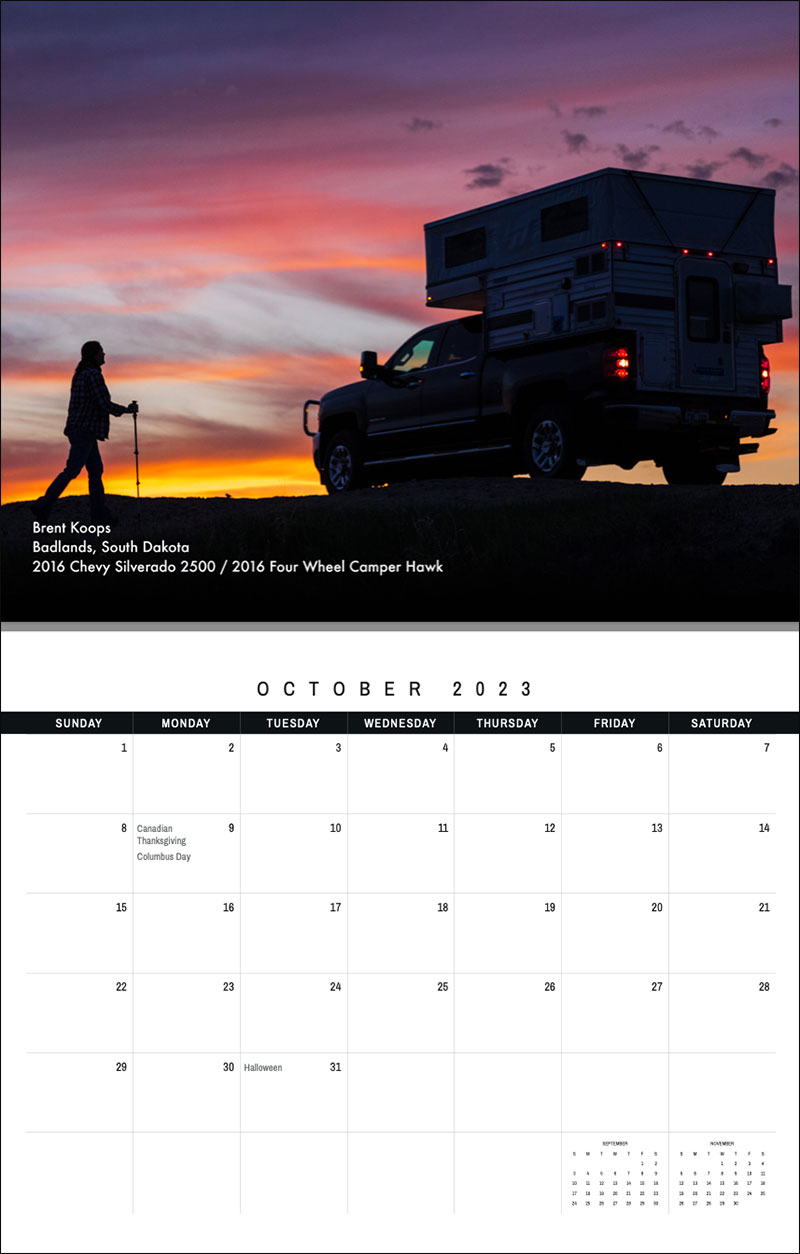 Badlands Boondock Campspot, South Dakota
2016 Chevy Silverado
2016 Four Wheel Camper Hawk
Come early May, after a cold winter in the midwest, we were itching to get back out in the camper and enjoy God's country. This was our first stop on a larger Badlands Trip exploring the unique rugged landscapes of South Dakota, North Dakota, Montana, Wyoming, and Nebraska.
While Badlands National Park in South Dakota might be the most well-known, each Badlands area we visited had similarities along with its own unique features. The iconic landscape presents a different look every time we visit. My wife and I love to visit a BLM area at the edge of South Dakota's Badlands for peace, solitude, and exploration.
By late afternoon we arrived at the west edge of the Badlands National Park and briefly set up camp. Just feet from the rim, there are endless hours of hiking right out of the back door. After a relaxing evening hike around the periphery of the Badlands landscape, we arrived back at the camper as the last light of the day dimmed. We enjoyed our supper under the stars as the prairie coyotes were singing in the background.
November – Jim McCoy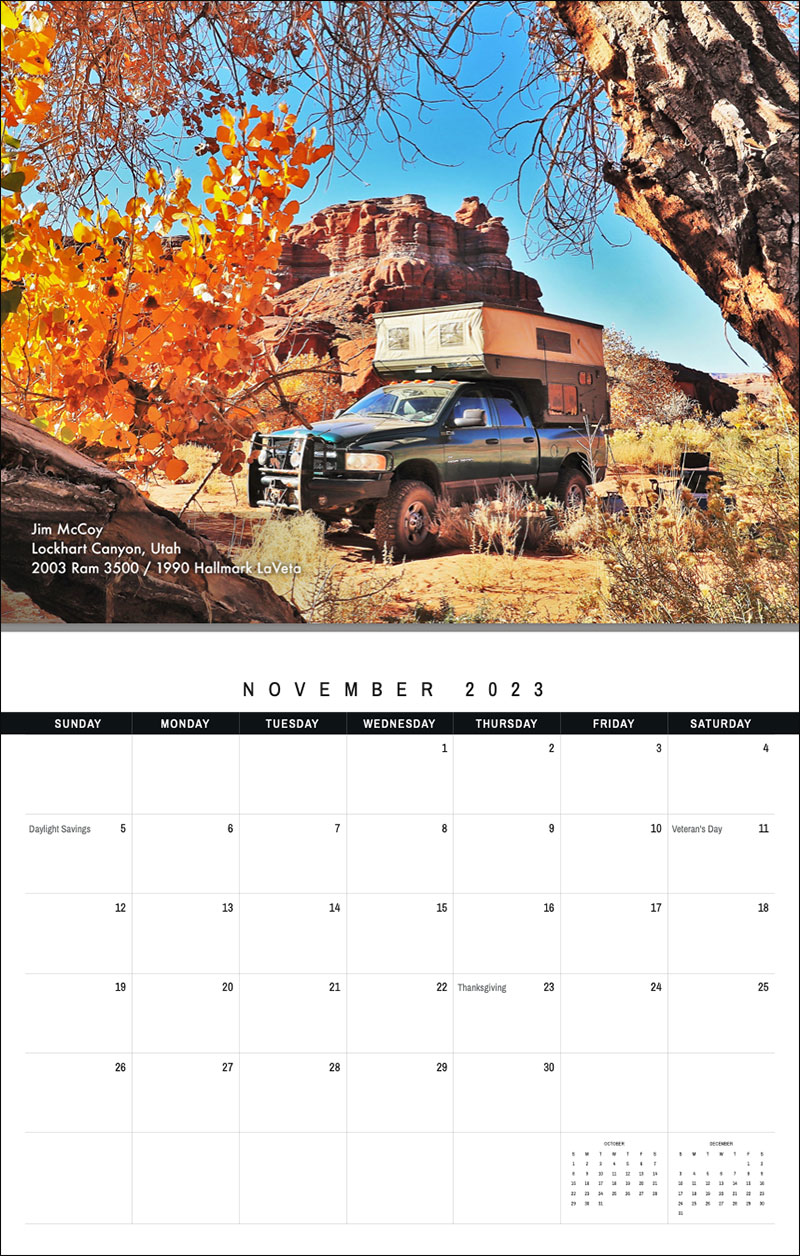 Lockhart Canyon, Utah
2003 Dodge Ram 2500
1990 Hallmark LaVeta
My truck camper calendar photo for this year was taken a day or so before Thanksgiving 2021, in Lockhart Canyon, Canyonlands, Utah. I was north of The Needles District portion of the National Park in BLM Land, about six miles west of the Lockhart Basin Road.
Not making a calendar spot for a few years, I was actually thinking, "TCM photo" when I took the image and used my DSLR on a tripod with manual camera settings. I guess I had the right formula!
I had been on a jaunt from home, heading west, not exactly sure where I was going to end up, and totally winging it day by day with loose ideas. Initially, I spent a few days around Moab and then decided to head south to Lockhart Basin entering from the Indian Creek area.
After entering Lockhart Basin, I worked my way in quite a few miles to where the basin road starts climbing and getting rough, requiring four-wheel drive and low range to get to a camp I have used in the past. I knew I would have a high vantage point over canyon country and a good open view of the sky, knowing a blood moon lunar eclipse was on the way.
The camp also put me in good proximity to where the infamous "Utah Monolith" was discovered in a hidden narrow canyon a few years ago. When I'm in the area, I like to hike into that location. The silver metallic three-sided monolith is now gone, and just a pile of rocks mark where it once stood. But I still like that hidden spot, and secretly hope the aliens that had placed it there will show up when I visit.
[Insert "the five tones", from "Close Encounters" here….. ;-)] The lunar eclipse ended up a bust for me due to clouds that night.
Next, I decided to travel down into Lockhart Canyon, take it all the way down to the Colorado River, and try to find an old hidden historic cowboy camp I was reading about. Along the canyon bottom road are stretches of deep sand, some rocks to negotiate, and a few ledges or steeps to climb out of dry washes. The road condition changes frequently with rain and use.
Near the terminus of the Lockhart Canyon Road is a cattle fence and gate giving access to a little remote piece of the national park. It's somewhat isolated on the east side of the Colorado River. That would be the starting point for my cowboy camp search.
You cannot camp on the NPS property in the canyon area beyond the gate, but day use is permitted. I set up a camp on fair game BLM land nearby. The cottonwood trees down there were in peak fall colors of brilliant gold and red, contrasting nicely against the red rock canyon walls helping to frame my photo. Days were warm with blue skies, and nights were cold and clear. An occasional breeze rustling the cottonwood leaves gave that autumn touch. No one else was around; probably because it was just about Thanksgiving.
I spent the daytime exploring, riding my fat bike, taking photos, and looking for that cowboy camp. Evening time I was strolling the canyon road star gazing, and photographing the International Space Station passing over on long exposure times.
As loose as my plans were, I was ready for the arrival of Thanksgiving Day. I knew I would be "somewhere out there" when it arrived and had planned for it. My truck camper Thanksgiving meal was made of sliced turkey with jarred gravy, instant stuffing and mashed potatoes, and canned green beans. For dessert, a mini four-inch cherry pie and good ground coffee from the French press. It was a nice enough afternoon to sit by the colorful cottonwoods to eat and listen to the leaves, and an occasional raven caw or cackle echoed off the canyon walls.
While four-wheeling back out of the canyon, I hadn't yet thought that far ahead as to where I was going to go next.
Hmmmm… I was thinking… Then a light bulb went on over my head and I said to myself, "You know what !? I think it's just about the perfect season for… Death Valley!"
And that's what I ended up doing! I had cool unplanned adventures along the way, checking out new things and places, and I made some new friends. I spent about ten amazing days around and in Death Valley National Park. I rolled back into my driveway around December 15th. It turned out to be one amazing off-the-cuff journey and adventure, and a memorable backcountry truck camper Thanksgiving!
December – Mike Simmons
Park City, Utah
2001 Ford F-350
2021 Palomino Backpack SS-1500
My photo was taken the week of Christmas on Main Street in Park City, Utah.
BACK COVER: All The Runners Up!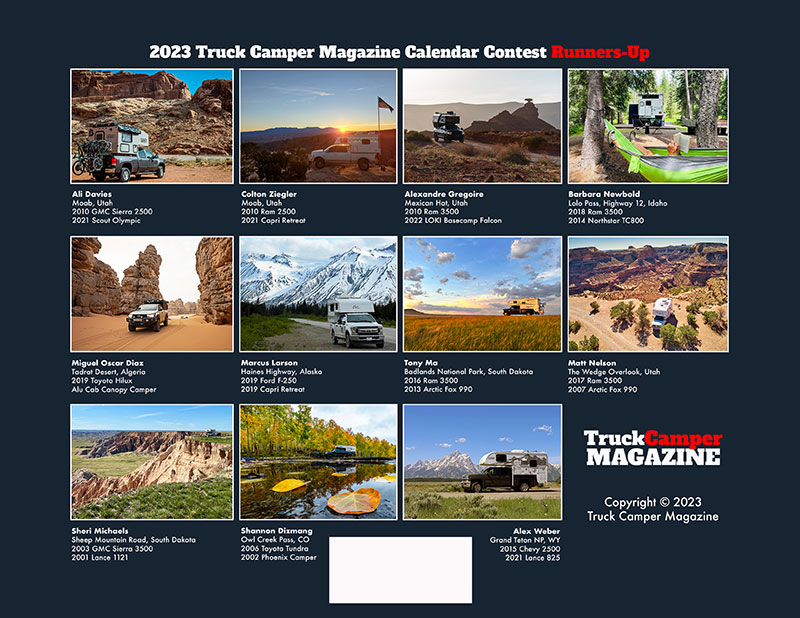 For a second year, we are showcasing all 11 Runners-Up on the back cover of the calendar. They are displayed on the back cover in numerical order:
Ali Davies
Moab, Utah
2010 GMC 2500
2021 Scout Olympic
Colton Ziegler
Moab, Utah
2010 Ram 2500
2021 Capri Retreat
Alexandre Gregoire
Mexican Hat, Utah
2021 Ram 3500
2022 LOKI Basecamp Falcon
Barbara Newbold
Lolo Pass, Highway 12, Idaho
2018 Ram 3500
2014 Northstar TC800
Miguel Oscar Diaz
Tadrat Desert, Algeria
2019 Toyota Hilux
Alu Cab Canopy Camper
Marcus Larson
Haines Highway, Alaska
2019 Ford F-250
2019 Capri Retreat
Tony Ma
Badlands National Park, South Dakota
2016 Ram 3500
2013 Arctic Fox 990
Matt Nelson
The Wedge Overlook, Utah
2017 Ram 3500
2007 Arctic Fox 990
Sheri Michaels
Sheep Mountain Road, South Dakota
2003 GMC 3500 Sierra
2001 Lance 1121
Shannon Dizmang
Owl Creek Pass, Colorado
2006 Toyota Tundra
2002 Phoenix
Alex Webber
Grand Teton National Park, Wyoming
2015 Chevy Silverado 2500
2021 Lance 825
CLICK TO ORDER A 2023 TCM CALENDAR