The 2022 TCM Calendar is ready to order for the low-low price of just $14.95.  Click to see who made the cover, who made which month, and how these inspiring truck camping images happened.  Order your 2022 TCM Calendar today!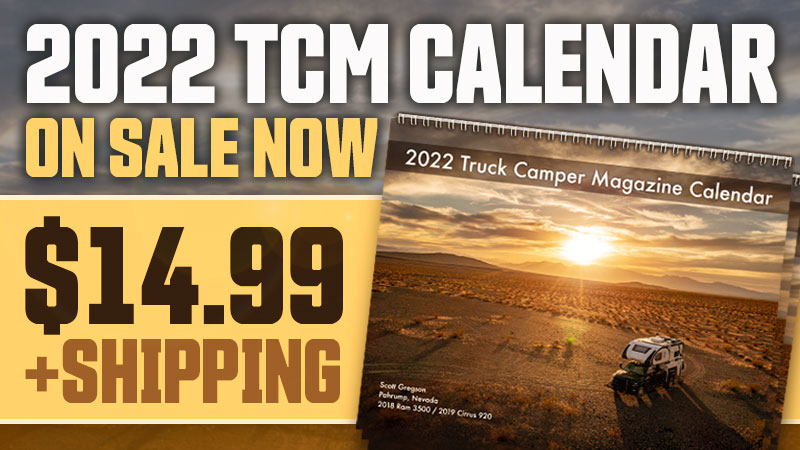 CLICK HERE TO ORDER A 2022 TRUCK CAMPER CALENDAR
Despite what can only be described as another atypical year, Truck Camper Magazine readers managed to get out, have fun and take some jaw-dropping calendar photos.  The spectacular cover and monthly photos offer reminder after reminder of why we love truck camping, traveling, and the endless opportunities for adventure the lifestyle represents.
Our best advice is to put this calendar on your home, camper, or office wall, dream big and make it happen.  And while you're at those amazing places with your rig, for goodness sakes take a picture.  You could win in 2023!
Thank you to everyone who participated in this year's calendar contest!
Here's to 2022.  We have big plans.
COVER: Scott Gregson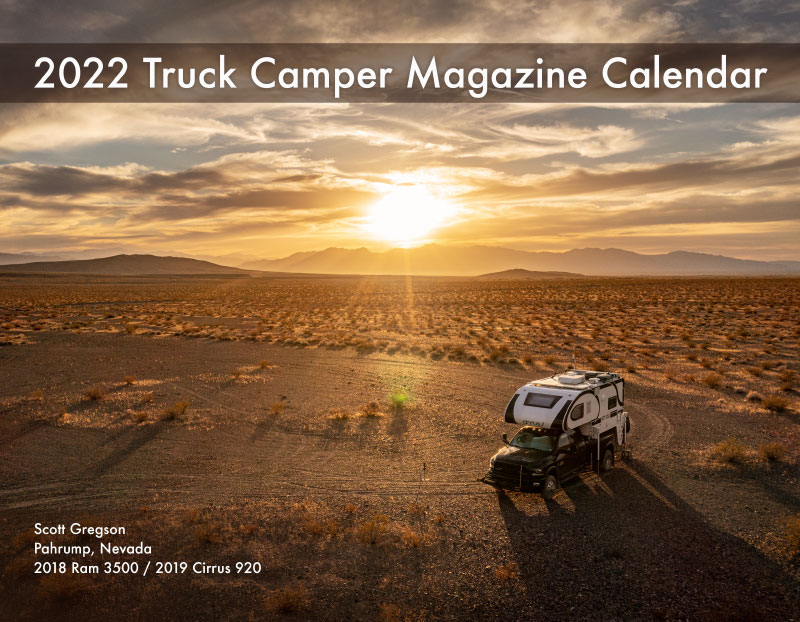 Pahrump, Nevada
2018 Ram 3500
2019 Cirrus 920
We live and travel full-time in our Cirrus 920 and Ram 3500. When this photo was taken, we'd been on the road for about 18-months and were touring around the southwest. It was spring and the heat was just starting to pick up, but it was still comfortable for camping. We ventured into Death Valley to explore the vast National Park, which is such an incredible place to experience.
After touring around Death Valley, we needed to find a place to camp for a few days and started checking our usual resources like iOverlander, BLM maps, and Campendium, but the options weren't exactly what we were hoping for.
Since we work online, we were searching for good cell service and a quiet, private spot. The area between Death Valley and Pahrump, Nevada is mostly desert and everything is visible from satellite images; that's when Google Earth comes in handy.
We searched the satellite images for an access road or trail and started to look for a good place to park. Once we found a few potential locations, we started to make our way out to them. Along the way, we paid attention to the cell signal as we looked to find a sweet spot.
After about an hour of driving around dusty desert roads, we located the perfect place to set up camp; flat, quiet, very isolated, and it had pretty good cell service. The spot was about a mile and a half from the nearest highway and roughly seven miles from the nearest town.  The silence of the desert is so relaxing and peaceful!
During a particularly beautiful sunset, we decided to take a few photos with our drone. What you can't see in the photo are the amazing views in every direction. The sunrise, sunset, and dark night sky were incredible. We stayed there for four nights and enjoyed every minute. Aside from a couple of pickup trucks that passed by along the access road, we had complete privacy and silence.
We took full advantage of the warm sun, went on long walks, a few bike rides, and thoroughly enjoyed the peace and quiet. It was a truly relaxing and memorable experience!
YouTube, Instagram, and Facebook: @Stonyboot
January: Colton Ziegler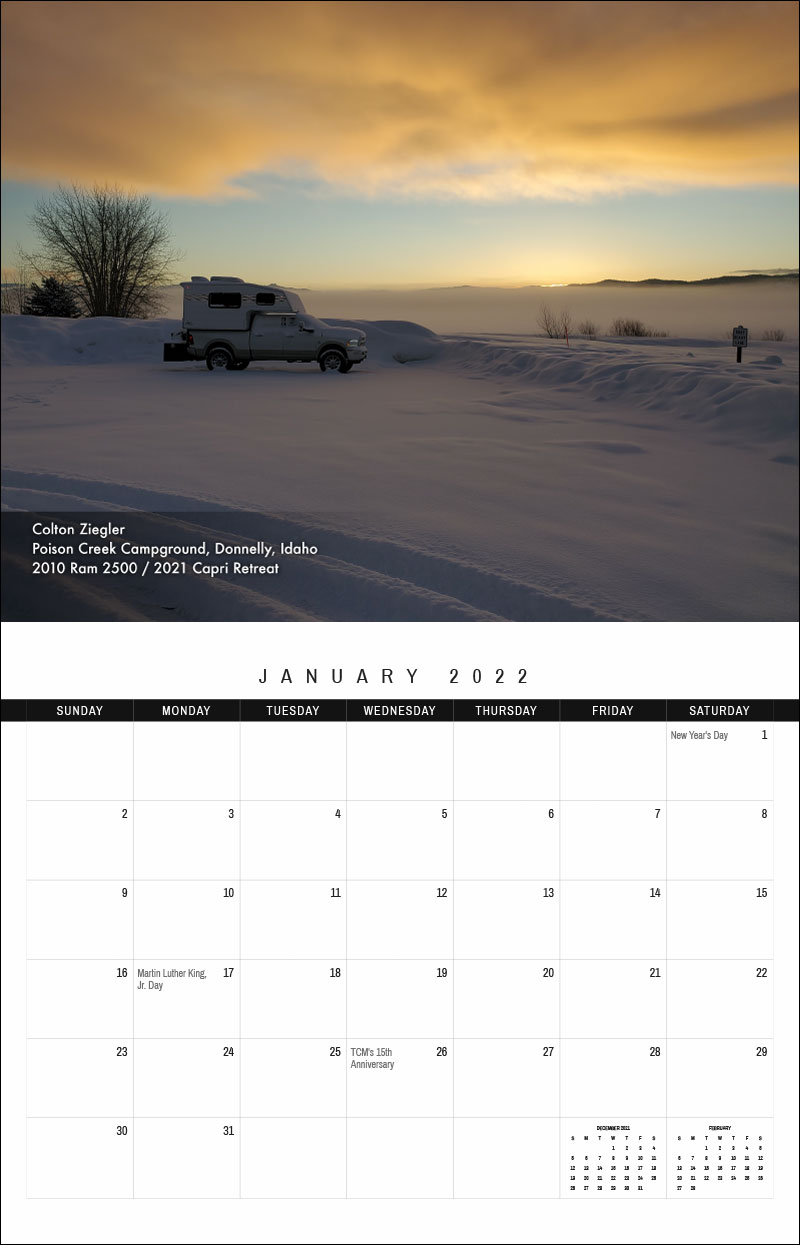 Poison Creek Campground, Donnelly, Idaho
2010 Ram 2500
2021 Capri Retreat
I grew up in eastern Pennsylvania skiing on small local ski hills and I have always been drawn to the mountains of the western US.
For the past few years, I have dreamt of taking a "skibatical"; a three-month sabbatical from work to drive around the western US skiing.
My dream was placed on hold after I suffered a broken leg requiring surgery in Salt Lake City in 2019. I made a full recovery and when the winter of 2021 rolled around, it was finally my time to hit the road.
After months of research, I settled on purchasing a custom Capri Retreat for my adventures. They are conveniently only two hours from my house. I picked up my camper in October of 2020.
The morning I took this photo, I was staying off the grid in a campground at Lake Cascade State Park right outside of Donnelly, Idaho.  No snow was predicted in the forecast so I was pleasantly surprised when I woke up to 6-inches of fresh powder and a beautiful sunrise over Lake Cascade. It was a perfect day of skiing at Tamarack Resort and one I will never forget. While traveling through the Pacific Northwest, I came to love skiing in Idaho and all it had to offer.
Over the course of my skibatical, I was super fortunate to meet awesome people along my travels, experience many incredible resorts, and enjoy lots of epic powder days.  I managed to travel to 13 states, ski 51 days at 32 different ski resorts, shred 1.3 million vertical feet, visit 7 national parks and drive 15,000 miles all in the comfort and warmth of my Capri camper.
A big thanks to Pete and Tyson at Capri Campers for building the perfect skibatical rig!
February: Matt Breiter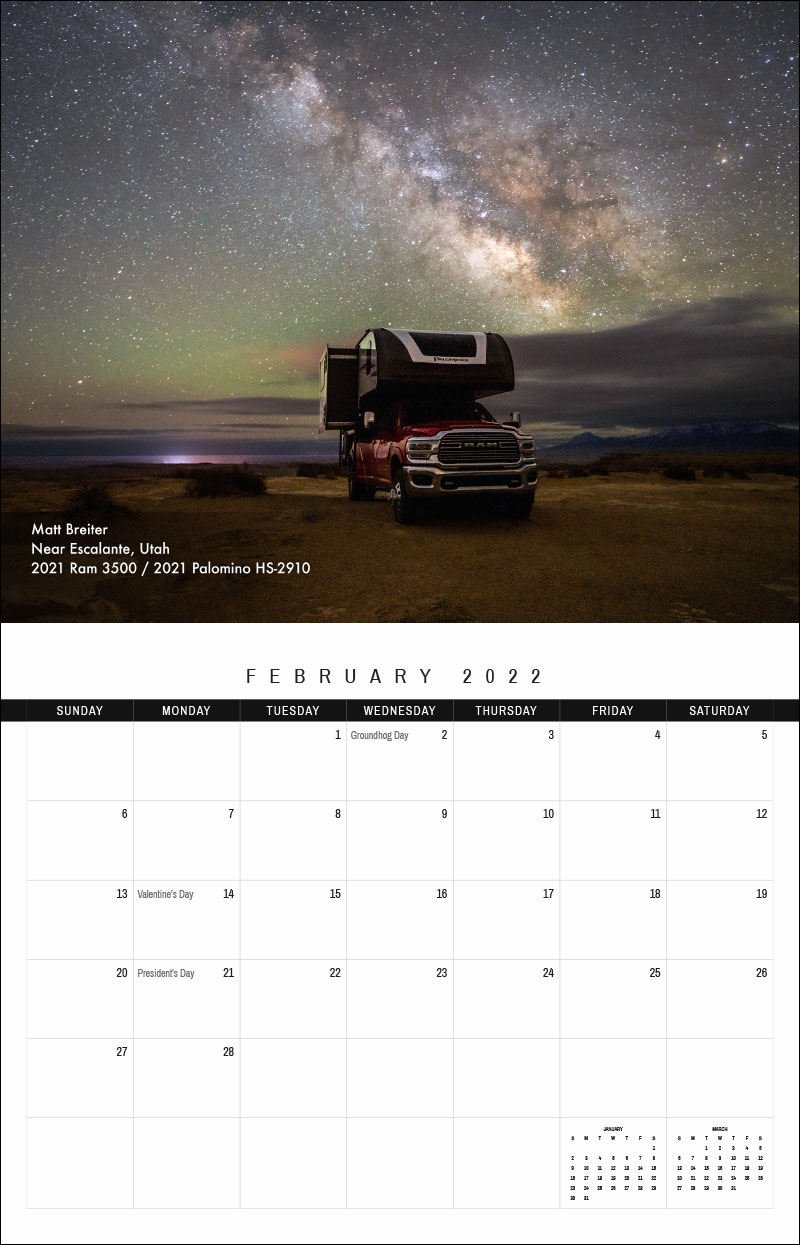 Near Escalante, Utah
2021 Ram 3500
2021 Palomino HS-2910
Escalante, Utah has some of the most unique landscapes. We wanted to explore them for two weeks.
During our time there in March of 2021, we had a few moonless nights making for great night photography.  We woke up around 1:00 am to shoot a time-lapse video of the Milky Way rising over our truck camper. We planned this shot when we camped south of Escalante, Utah.
We had clouds a few nights, but the one night it was perfect. We actually shot over 200-photos to turn into a timelapse video, but this one was our favorite of the truck camper with the Milky Way.
It's a long exposure to capture all of the details of the Milky Way and the details of the truck and camper as well. We spent almost two weeks in the Escalante area and hiked around 70-miles.
Facebook, Instagram, and YouTube: @Infinite Explorers
March: Scott Zeitler
Alstrom Point, Utah
2015 Ram 2500
2019 Hallmark Guanella/K2
The image was taken at Alstrom Point, Utah, which is one of my favorite spots on the north side of Lake Powell overlooking Gunsight Bay. It's a 35-mile dirt road to the location. You would want to have four-wheel drive and be sure it hasn't rained heavily recently.
April: Terrill Graham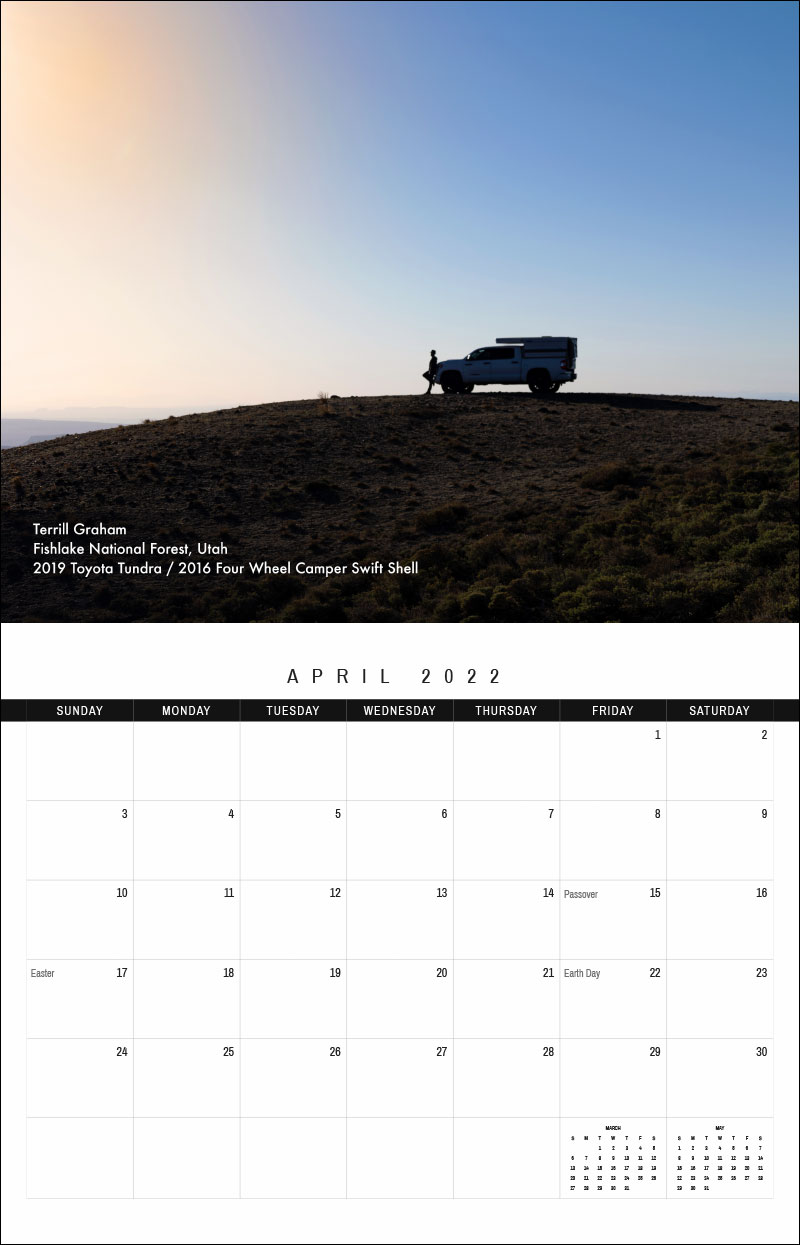 Fishlake National Forest, Utah
2019 Toyota Tundra
2016 Four Wheel Camper Swift Shell
Some may say that I'm the quiet one. The one who thinks before he speaks. The one who avoids long deep conversations. And, oftentimes, the one who likes being alone.
These people are 100-percent correct. I love nothing more than being out in nature with room and time to think. It is during times like these that I feel the strongest connection with myself and the world.
This photo of me watching the sunset in Fishlake National Forest atop a mountain is the perfect pictorial representation of who I am. Just a silhouette off in the distance, looking and thinking.
This was day number 14 on a 19-day long road trip through New Mexico, Arizona, Utah, and Colorado. After leaving our first camp in Fish Lake National Forest, we ventured down FR20 in order to see more of the scenery that this place offers.
We traveled south and slowly watched the sun peak over the horizon. It was the perfect way to start our drive. Eventually, we took a random turn down a dirt track that led us up to Windy Ridge. Even though our drive had just begun, we knew spending a while in this area would be worth it. So we parked our trucks on top of the ridge and enjoyed the view.
May: Kolin Smith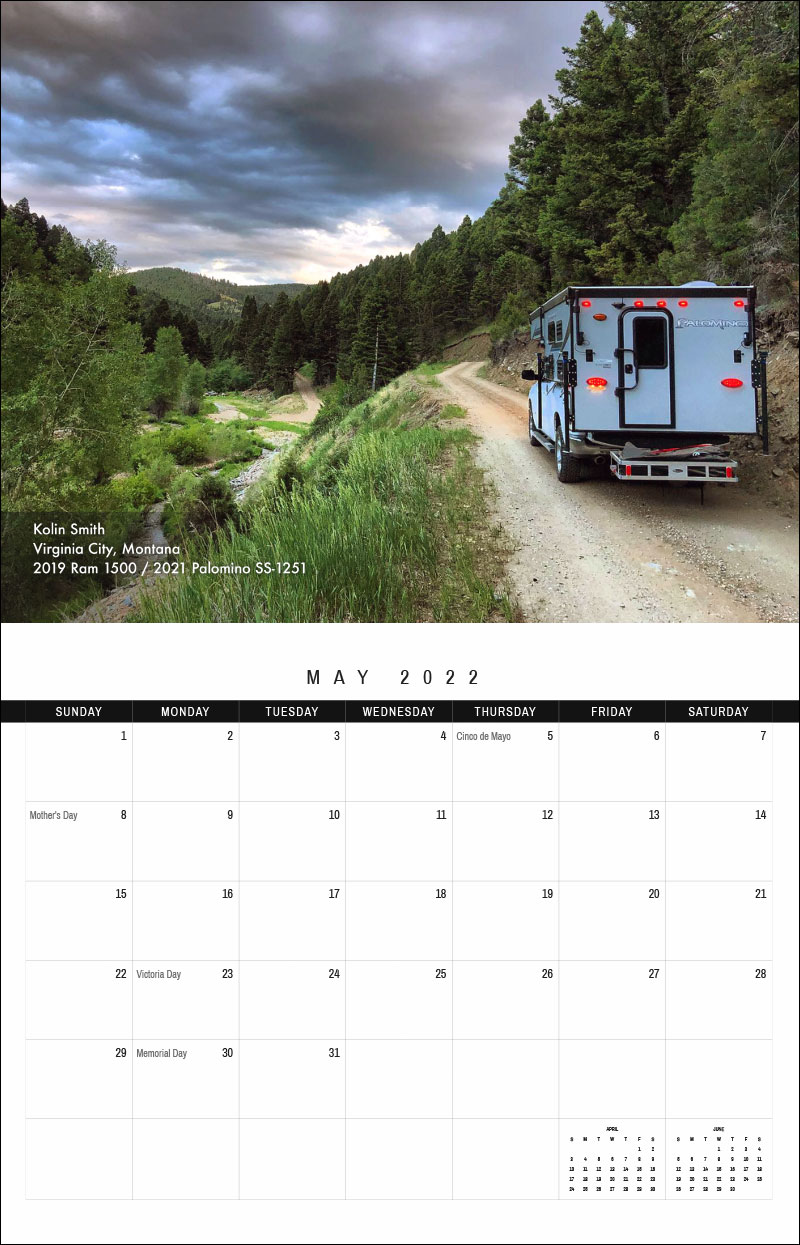 Virginia City, Montana
2019 Ram 1500
2021 Palomino SS-1251
We decided to visit the historical Virginia City ghost town of Montana, home of the Montana Vigilantes 3-7-77 and Gold Rush of 1863. Today it can only be traveled via 4×4 truck over 20-miles into the Montana Wilderness.
What makes this particular picture and location special is the history behind it. Alder Gultch is located between the first and second capital cities in Montana which was established in May 1864 being Bannack, and then Virginia City, Montana in 1875.
The discovery of gold in Alder Gulch diggings were the richest gold placer deposits ever discovered. In three years $30,000,000 was taken from them, with $10,000,000 taken out in the first year.
Today Bannack is a ghost town that anyone can visit and see the old buildings that are still standing today. Virginia City is an active Ghost Town that many people choose to visit in the summer months to take in, "The Old West".
Generally speaking, my wife and I frequent forest service roads. Along our journey, we always try to incorporate historical landmarks such as the case with Alder Gulch.
We call Idaho Falls, Idaho our home full-time, but we are always adventuring across Wyoming, Montana, and Idaho in search of the past. Utilizing our truck camper is the absolute best way to access so many of the old wagon routes or even railroad beds that have been transformed into first service roads today. I would highly recommend anyone visit Virginia City, Montana on their next adventure our west!
June: Gillian Holwerda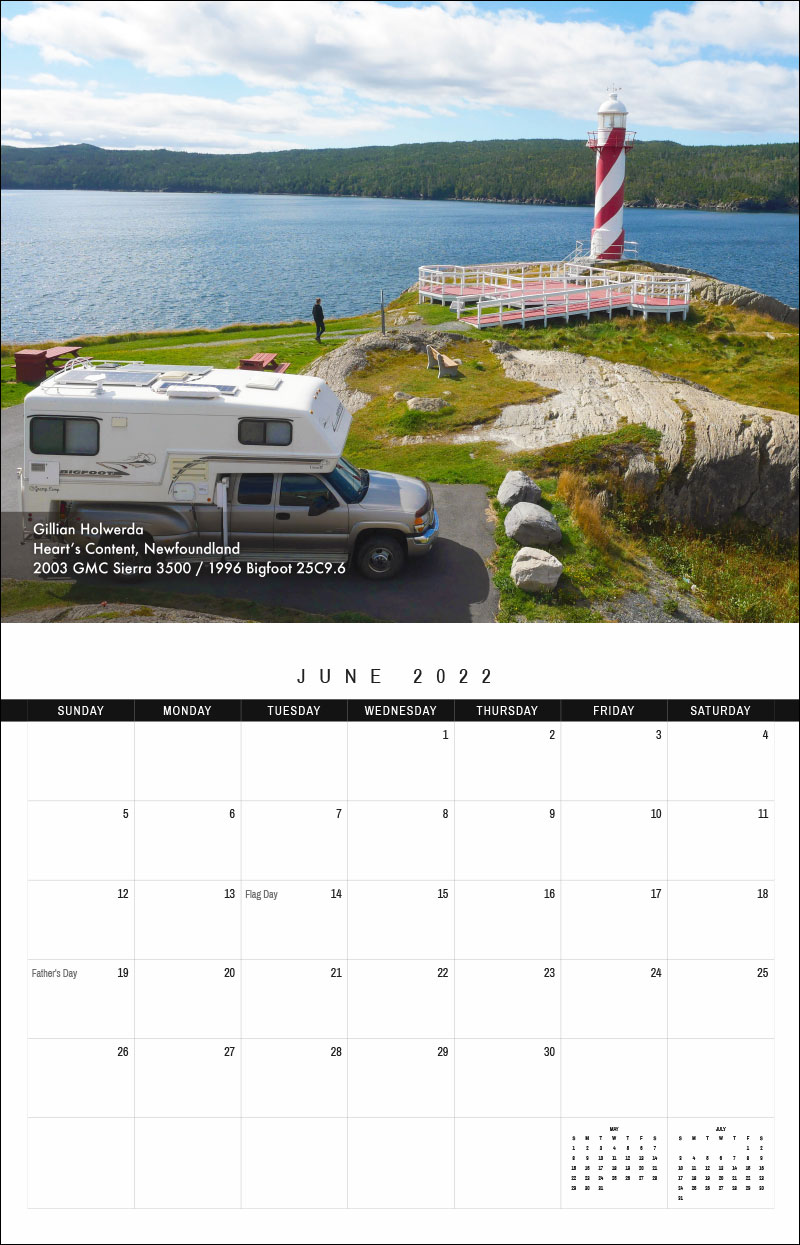 Heart's Content, Newfoundland
2003 GMC Sierra 3500
1996 Bigfoot 25C96
In October 2020, my husband and I purchased our 1996 Bigfoot camper, which we lovingly call Gramps. We spent the winter renovating the interior, installing a diesel heater, and polishing him up. We sold our condo, stored our belongings, then quit our jobs in May 2021. We moved into Gramps allowing us the freedom to travel full-time. We spent the summer traveling across Canada and made it to Newfoundland.
This photo was taken at a lighthouse we stumbled upon in Heart's Content while enjoying the many peninsulas in Newfoundland. One thing we know for sure is that Newfoundland sure has a knack for naming towns. Heart's Content is just up the road from Dildo, and many other uniquely named towns. We absolutely adored Newfoundland and would recommend everyone experience what this friendly province has to offer.
July: Jonathan Williams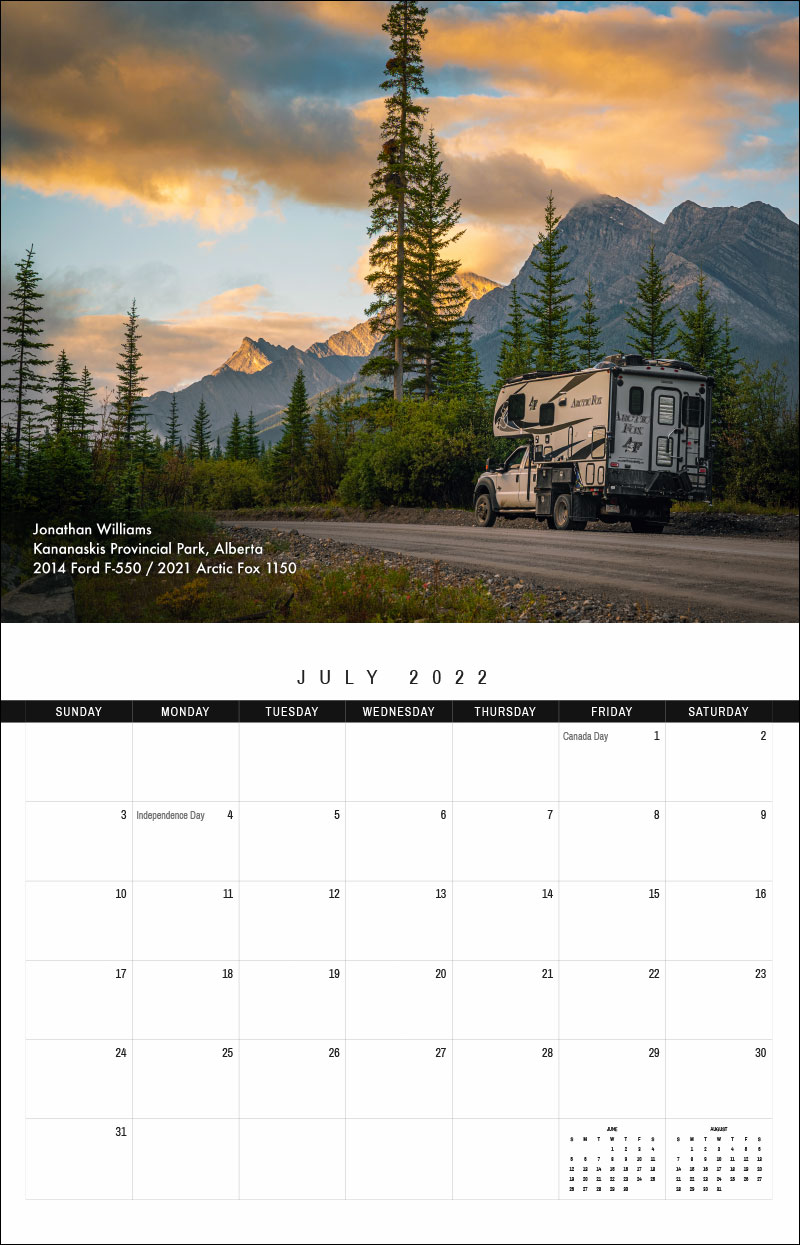 Kananaskis Provincial Park, Alberta
2014 Ford F-550
2021 Arctic Fox 1150
During the winter months, you can usually find my fiancé and I leaving the country to explore what our world has to offer. After meeting in Guatemala, we have explored many spectacular places outside of our home country.
Summers are for exploring the Great White North; the country we call home. Every summer we would take off in our 1992 Bigfoot 11.6C and travel around Alberta and British Columbia, enjoying everything our country has to offer.
The past few years left a twist in our plans, leaving us to adapt to our current situation. We sold our beloved Bigfoot and purchased an Arctic Fox 1150 in February 2021.
This was going to be a very different experience for both of us; winter in Canada! We built a custom flat deck with the help of family, installed a 670 lithium-based solar system, and added extra insulation in every single crevice exposed to lower temperatures.
We were ready to go, or so we thought. Unable to walk, I figured out I needed back surgery. Six months later we were given the green light to travel short distances. What better way than to work out all the kinks before winter sets in.
We took a month-long trip to our favorite area, Kananaskis. On this trip, we accidentally dumped all our fresh water (the valve was open when we picked up the new unit) and replaced a shear pin on the slide. Little unexpected issues began to arise leaving us slightly frustrated and eventually we laughed at our silly mistakes. 

Venturing down Spray Lakes Road, we took this photo. Kananaskis is no longer this hidden gem. It has grown so much in popularity in the last few years, but it is still home to some amazing backcountry entry points. We are looking forward to finding new and exciting places as we make our way into British Columbia. If you happen to see us, come say hi or give a wave.
August: Mike Tumchewics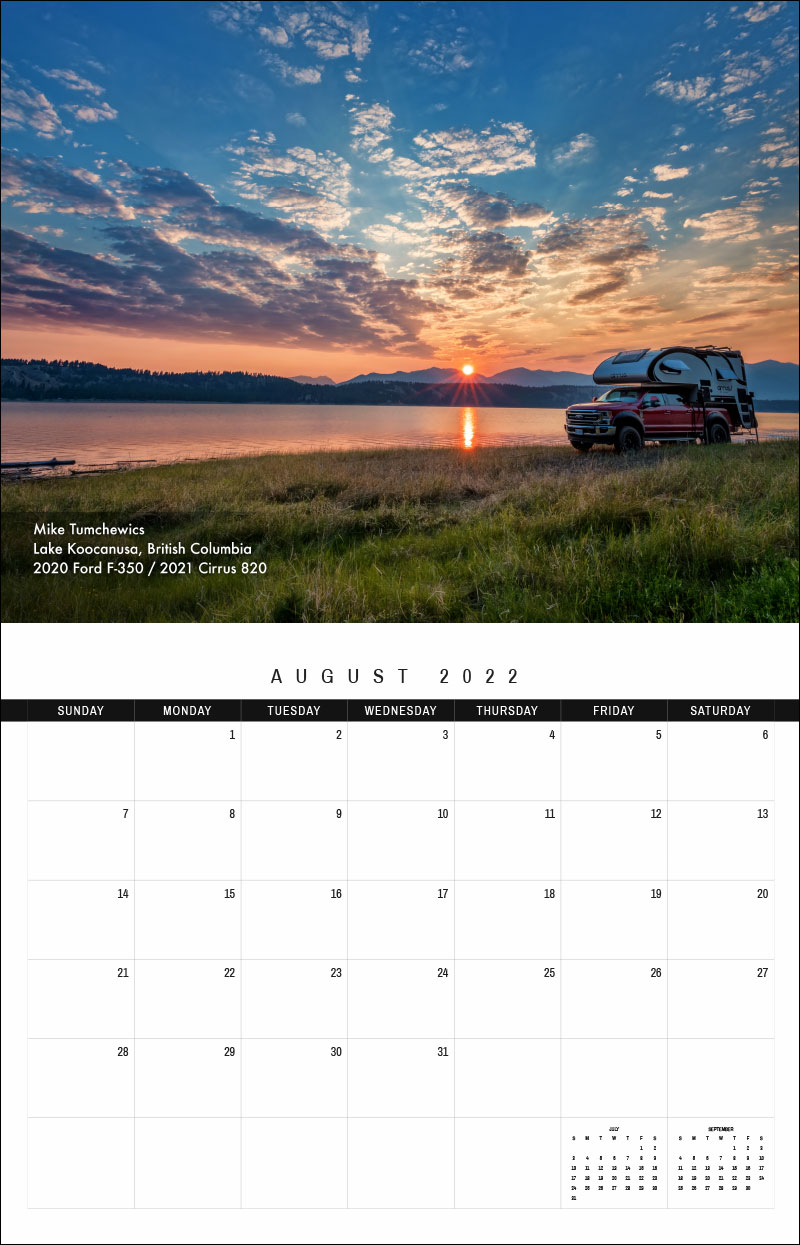 Lake Koocanusa, British Columbia
2020 Ford F-350
2021 Cirrus 820
The forces of a puppy and a pandemic would collide and return us to the wonderful world of camping, something we never envisioned doing in our retirement. We had been avid campers in our younger years with a tent, a canoe, and a dog. This time around there would be no tent, and kayaks would replace the canoe.
After much discussion, endless online research, and test driving a Winnebago Revel, the versatility of a four-wheel drive pickup truck with a slide-in camper won out.
With a little help from TCM, we quickly narrowed down the field and nuCamp's Cirrus line of campers. With their clean modern design and four-season off-grid capability, a Cirrus 820 became our camper of choice.
Living in British Columbia, we have access to some of the most breathtaking scenery that Canada has to offer. Being home to majestic mountain ranges, lush valleys, rolling grasslands, temperate rainforests, semi-arid desert, glacier-fed rivers, and thousands of lakes, it's an outdoor enthusiasts and landscape photographers paradise.
We shy away from provincial parks and prefer to access the backcountry using the vast number of  BC recreational sites throughout the province. The majority of these are found along a network of forestry logging roads. These sites are user-maintained and often free of charge, usually with a picnic table and fire ring. They often don't offer amenities such as power, water, or waste disposal. Many are only accessible with four-wheel drive or a small RV. We are never limited by our truck camper.
This particular site along the shore of Lake Koocanusa (near the border of BC and Montana) is even more rustic (no amenities at all) and is classified as an "undeveloped camping area". This lends itself beautifully to our self-contained rig.
Being a landscape photographer I am usually up early or waiting late into the day for that perfect light. I had to wait a couple of mornings before a smattering of clouds appeared and mixed with lingering smoke from nearby forest fires to produce this dramatic sunrise.
September: Nolan Sturgeon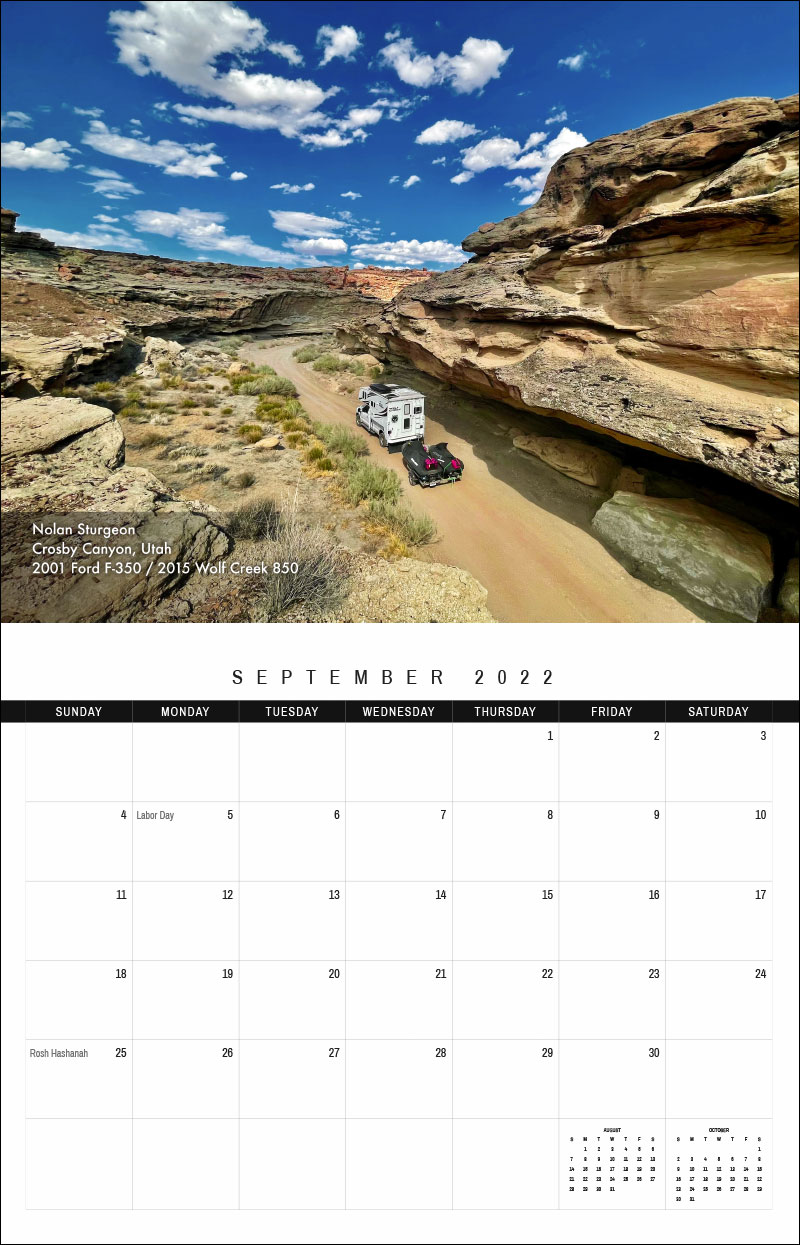 Crosby Canyon, Utah
2001 Ford F350
2015 Wolf Creek 850
Two of the main reasons we own a truck camper are to get beyond the campground and to tow our toys. Crosby Canyon, where I took this picture, offers a unique experience to utilize both.
This remote canyon is an amazing scenic drive. You feel like Mark Watney driving his Mars rover. We were able to get well beyond the campground while also being able to access the northern shore of Lake Powell.  Our PWC trailer is set up to launch in remote locations, save on access/camping fees and get far away from the crowds.
Our trip to Lake Powell this year was just for my son and me. Our plans were to spend a week finding cliff jumps, touring the remote canyons, wakeboarding, and chilling in our Wolf Creek 850.  Once we reached the Crosby Canyon drainage into Lake Powell, we were blown away to find the lake so low. It was almost half a mile away from where we camped last year!
We were unable to reach the water's edge because the beach is now a mud flat due to the mega-drought in the western United States.  Instead of playing in the mud for a week we headed over to Lone Rock Campground and set up camp there.  We were still able to enjoy the amazing things Lake Powell has to offer while bonding as father and son. We could have made this trip in a tent, but it is so much better in a truck camper!
October: Julia Truver
CC Gideon Tunnel, Hwy 16A Iron Mountain Rd, Keystone, South Dakota
2012 Ford F350
2018 Capri Retreat
We wanted to go to Mt. Rushmore and the surrounding area for the scenery and, especially, the roads. We found in our research that the roads were mostly car or motorcycle roads because of the tunnels that are not wide or tall enough to accommodate RVs and campers. The roads are posted with warnings.
We knew at 10'9" that the tunnel in this photo could be done with our Capri. Our truck and camper rig is 10'1" tall. This road is not suitable even for most campers because of the height limit, so we were basically the only camper we saw on this road. I got out and my husband, Mike, drove through while I took the photo.
We also went to Sundance Wyoming, Deadwood, Sturgis, and the Badlands in South Dakota. In the Badlands, we stayed with electricity for $7 with our Senior National Parks card. We call it our Geezer Card. There is also a Lodge and Casino called The Lodge at Deadwood that had electric-only hookups at $19 per night. That also includes access to showers, laundry, and a swimming pool in the lodge.
November: Derek Hansen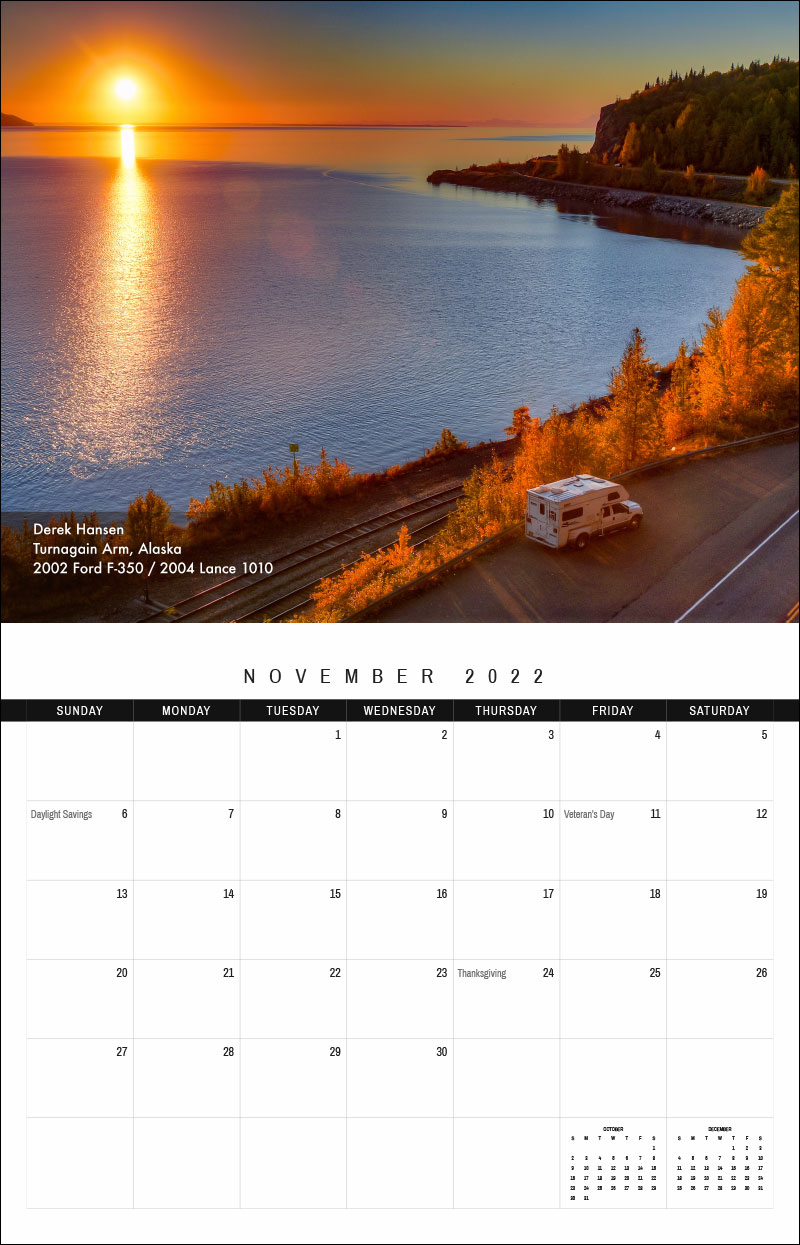 Turnagain Arm, Alaska
2002 Ford F350
2004 Lance 1010
The Seward Highway from Anchorage to Seward has some incredible scenery, especially along Turnagain Arm. It is not uncommon to see eagles, moose, Dall sheep, and beluga whales, along with the occasional bore tide sweeping up the Arm with some hardy souls surfing it.
I especially enjoy hiking the many trails along the Arm on autumn evenings, when the setting sun makes the fall foliage glow. I parked at a random pullout along the highway on one such evening to look for a geocache and decided to climb the cliff across the road for this sunset shot with my camper rig.
December: Ron Chandler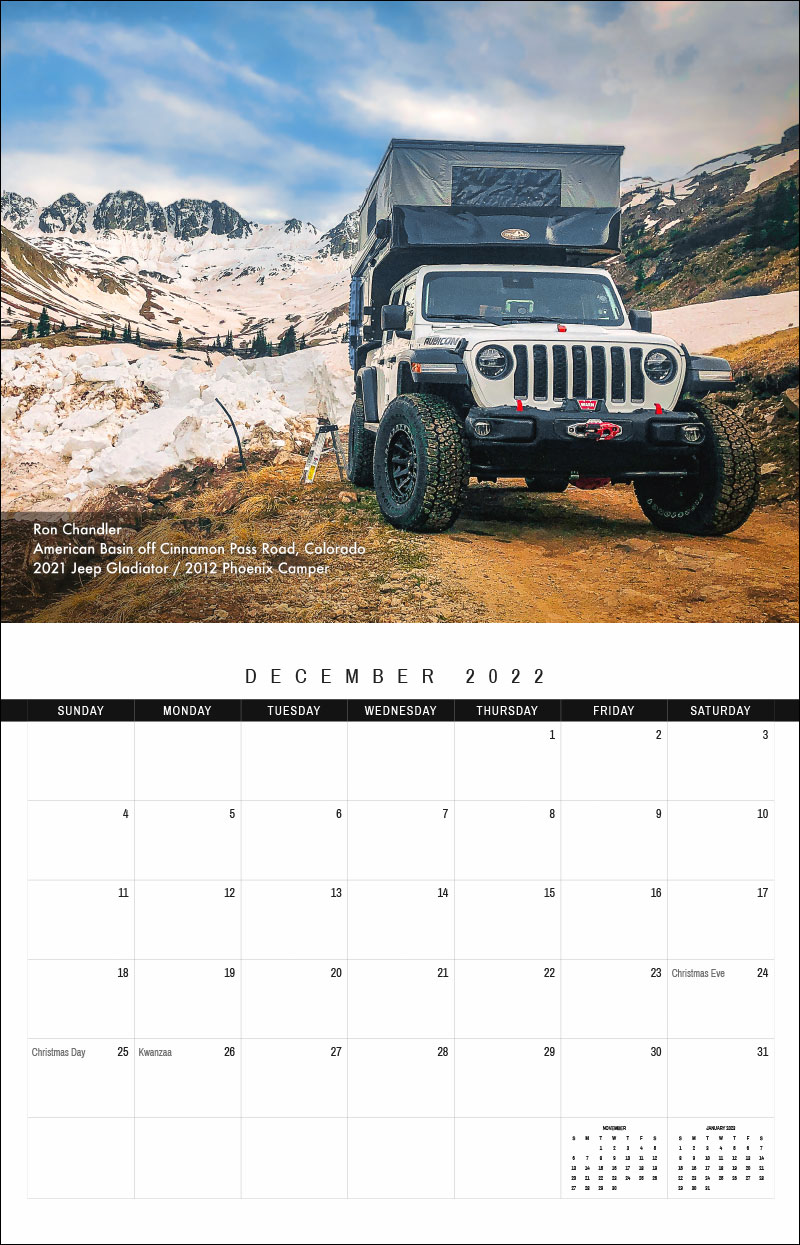 American Basin off Cinnamon Pass Road, Colorado
2021 Jeep Gladiator
2012 Phoenix Popup
Living in Utah, there are literally thousands of unique geological sites to visit. Boasting five of our nation's 63 national parks, it has been one of the most spectacular places to call home. During the hot summer months, our overlanding travels lead us to the higher elevations for cooler weather to camp and explore.
I commonly first use Google Earth to search for an area that is accessible mainly by 4×4 vehicles. Most of our stunning camping spots have been uncovered this way. We plot our way-points, routes, and possible dispersed camp spots using Garmin Explore. Then we download the points into our Garmin Overlander GPS to guide us.
Over our lives, we have accumulated thousands of places to disperse camp all over North America. Camping 30-feet from neighbors in an established campground is not for us and is the main reason for our extreme build.
Our custom-built Phoenix Camper and the mid-size 2021 Jeep Gladiator Rubicon EcoDiesel truck have opened up many more places we can journey in true comfort and safety. Seldom do we find a back trail that someone might say, "you can't take that up there!". I just say, "watch us".
We often travel to our sister state, Colorful Colorado, to explore the high altitude scenic mountain passes and turn-of-the-century abandoned mining towns. Since we have relations living in Lake City it was a must to make the trip across the Cinnamon Pass summit.
This pass had just recently been opened up to the public for travel between Lake City and Silverton, Colorado. On our way to the summit, we found this beautiful spot to camp at the base of the American Basin. There are so many historic mining sites to visit and most of these roads were carved from the landscape establishing new mines for silver and gold. Imogene pass and Black Bear passes are also off our bucket list, with so many more to go.
Our journeys have been from Victoria Island and Puget Sound Islands to the top of Alaska. We have traveled the Northwest Territories, the Yukon, across all of the Great Lakes, Canada, to the most eastern part of North America, St. John Newfoundland – with numerous breathtaking locations during these travels. My wife and I relish finding the solitude of these remote and mostly untouched wilderness areas to explore and camp alone.
If you ever cross our path we would love to hear of your stories and share some of ours around a secluded evening campfire watching the heavens unfold their brilliance. Safe travels everyone.
BACK COVER: New for 2022!  All the Runners Up!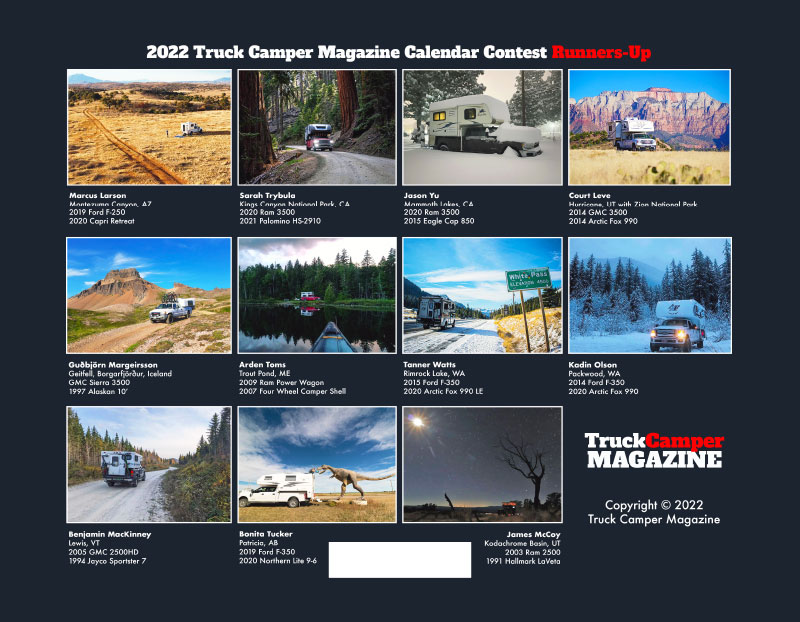 For the first time ever, we are showcasing all 11 Runners-Up on the back cover of the calendar!
They are displayed on the back cover in numerical order:
#003 – Marcus Larson
Montezuma Canyon, Coronado National Forest, Arizona
2019 Ford F250
2020 Capri Retreat
#053 – Sarah Trybula
Kings Canyon National Park, California
2020 Ram 3500
2021 Palomino HS-2910
#096 – Jason Yu
Mammoth Lakes, California
2020 Ram 3500
2015 Eagle Cap 850
#197 – Court Leve
Hurricane, Utah with Zion National Park in the background
2014 GMC 3500
2014 Arctic Fox 990
#212 – Guðbjörn Margeirsson
Geitfell, Borgarfjörður, Iceland
GMC Sierra 3500
1997-ish 10′ Alaskan camper
#213 – Arden Toms
Trout Pond, Maine
2009 Dodge Power Wagon
2007 Four Wheel Camper Hawk Shell
#245 – Tanner Watts
Rimrock Lake, Washington State
2015 Ford F350
2020 Arctic Fox 990 LE
#355 – Kadin Olson
Packwood, Washington
2014 Ford F350
2020 Arctic Fox 990
#391 – Benjamin MacKinney
Lewis, VT
2005 GMC Sierra 2500HD
1994 Jayco Sportster 7
#476 – Bonita Tucker
Patricia, Alberta
2019 Ford F350
2020 Northern Lite 9-6
#491 – James McCoy
Near Kodachrome Basin Utah
2003 Dodge Ram 2500
1991 Hallmark LaVeta